Is Nickelodeon Resort Worth it in Riviera Maya?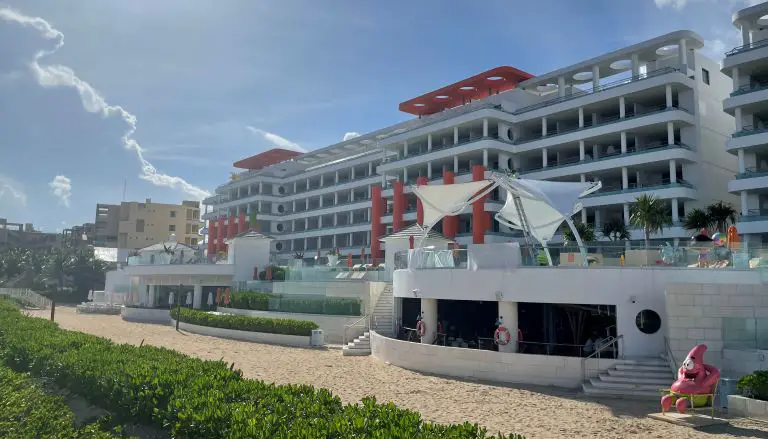 This hotel has a lot to offer. It just opened in the summer of 2021 and has already closed for maintenance, so everything is shiny and new. The rooms are amazing, the waterpark is great, and the food and drinks are good. This experience doesn't come cheap. Is Nickelodeon Resort worth it in Riviera Maya?
Is Nickelodeon Resort Worth it?: Things to Consider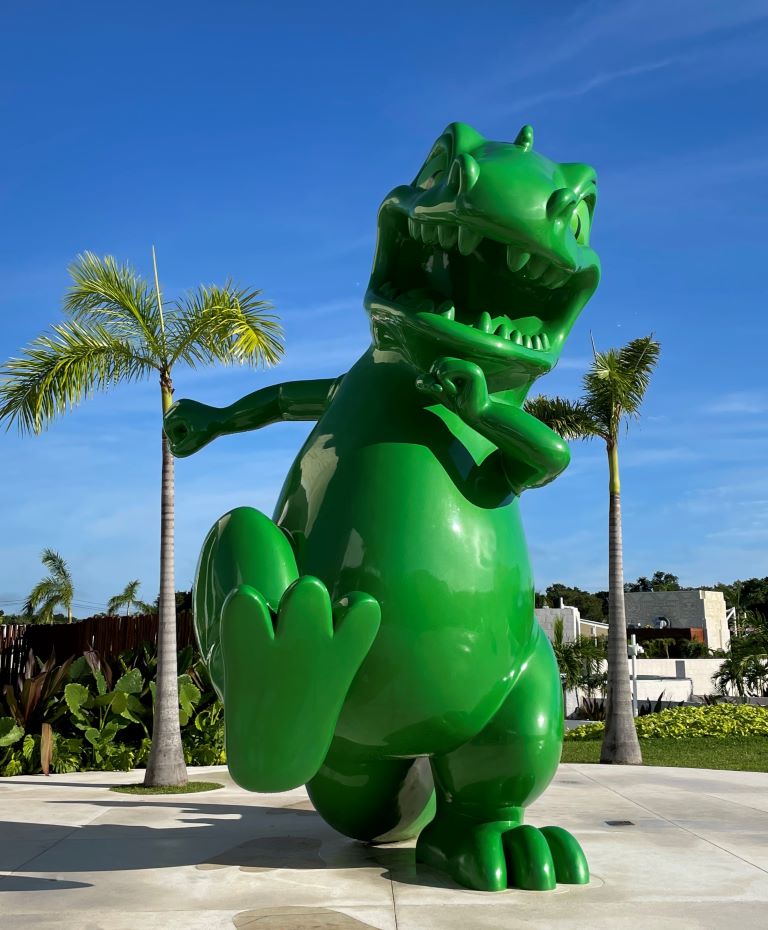 As an Amazon Associate, I earn from qualifying purchases.
DISCLOSURE: This post may contain affiliate links, meaning when you click the links and make a purchase, we receive a commission.
Is Nickelodeon Resort Worth it?
1. Where is the Nickelodeon Resort?
The resort is located in Riviera Maya, Mexico near Cancun and Tulum. There is absolutely nothing to do within walking distance. The resort exits onto a highway. Book a tour if you want to venture off property.
The nearest airport is Cancun International, located about 30 minutes away.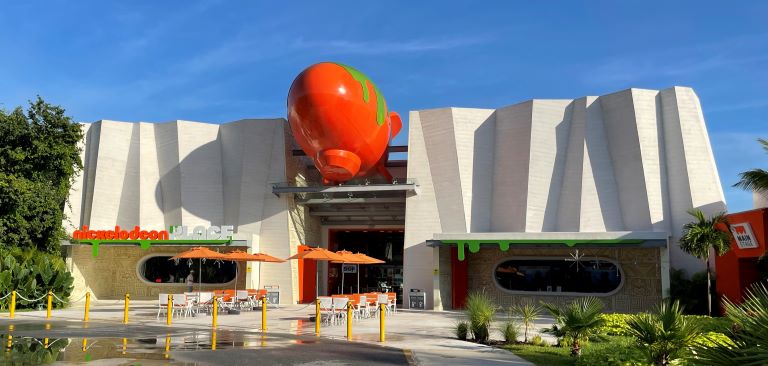 2. Airport Transportation is Free
Transportation to and from Cancun International Airport is provided for free through Lomas Travel. Be sure to provide your flight details to Karisma, the company that owns the resort, prior to your trip.
Pro tip: When you exit the plane, you will need to go through Customs and retrieve your bag. You then begin a long walk through hundreds of people trying to get you to enter their cars. Lomas is all the way at the end of this parade. You have to cross a street to find it. The employees wear teal. Most of the vans are decorated with a Nickelodeon theme.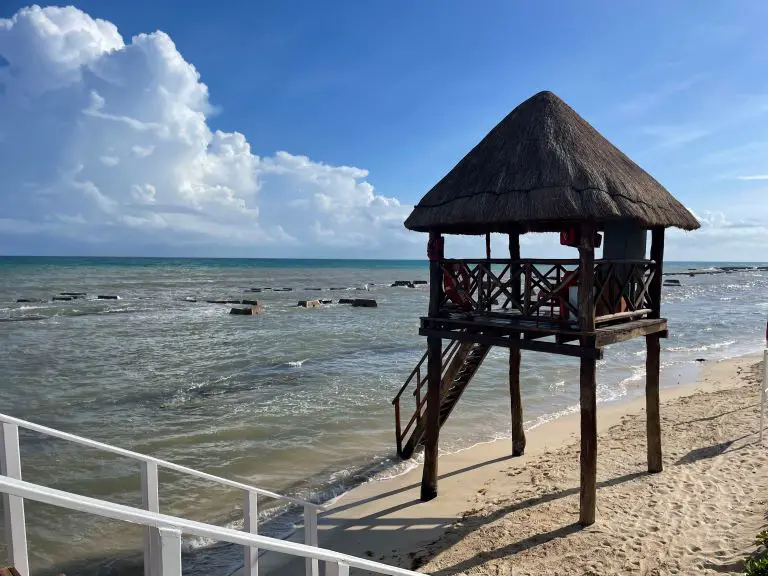 3. Every Nickelodeon Resort Suite Has a Swim-Up Pool and an Ocean View
Why is Nickelodeon Resort so expensive? The room quality is a big reason.
The resort has 280 rooms in total. Every single one is a suite with an ocean view, a swim-up pool, two bathrooms, and a soaking tub.
Rooms have a mini-bar with beer, soda, and water that is included with your room rate. Housekeeping restocks it daily.
Amenities include hair dryers, coffee makers, bathrobes, umbrellas, and a scale (as if you want to weigh yourself at an all-inclusive resort).
Pro tip: The resort provides strollers, baby monitors, and changing tables. Confirm availability with the resort before you travel.
Bonus pro tip: If the phone rings, have your kid answer it. It is probably a character.
As of the time of this writing, options are as follows:
Oceanfront Nickelodeon Resort Swim-Up Suites
The vast majority of the suites fall into this category. They have a master bedroom with a private bathroom, a pullout couch and/or Murphy bed in the living room, and a second full bathroom. You can book these rooms with one king or two queens.
Ground-level rooms have terraces that access the large pools, while upper-level rooms have small private pools that are shared with three other rooms. Note that the private pools are cold.
Prices vary depending on your date of travel and the floor you choose, but expect to spend several hundred dollars per night.
Sleeps: 5 (maximum of 4 adults if there are no children)
Size: 581 square feet
Lair Suite
The Lair Suite is larger than most American houses. Modeled after the Ninja Turtles' home, it has a master bedroom with a private bathroom, a second bedroom with two queens and a bathroom, and a living room with a pullout couch and Murphy bed.
You also get a 700 square foot balcony with an infinity pool and a butler.
This sounds great, but expect to shell out several thousand dollars per night for this room.
Sleeps: 7 (2 adults and 5 children or 2 adults and 3 teens)
Size: 3,000 square feet
Pineapple Suite
Note: If you have seen the pictures of the private pineapple you can rent at the Punta Cana location, this is not it. That structure is not at this location.
The Pineapple Suite is another massive room. It is similar to the Lair Suite in size and amenities but comes with a SpongeBob theme.
It has a master bedroom with a private bathroom, a second bedroom with two queens and a bathroom, a living room with a pullout couch and Murphy bed, a 700 square-foot balcony with an infinity pool, and a butler.
This suite also goes for several thousand dollars per night.
Sleeps: 7 (2 adults and 5 children or 2 adults and 3 teens)
Size: 3,000 square feet
Big Kahuna Suite
The Big Kahuna Suite is yet another massive room. It is similar to the Lair Suite and Pineapple Suite but seems to have a general Nickelodeon theme.
It has a master bedroom with a private bathroom, a second bedroom with two queens and a bathroom, a living room with a pullout couch and Murphy bed, a 700 square foot balcony with an infinity pool, and a butler.
This suite also goes for several thousand dollars per night.
Sleeps: 7 (2 adults and 5 children or 2 adults and 3 teens)
Size: 3,000 square feet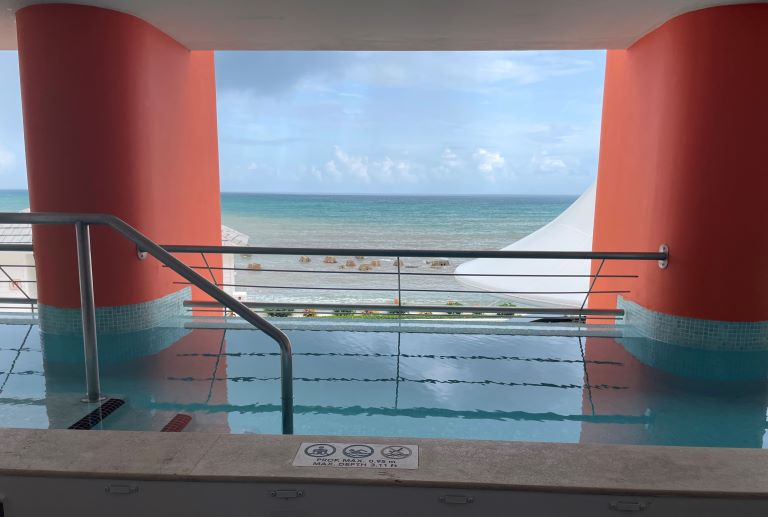 4. Most Food and Alcohol are Included
Is Nickelodeon Resort all-inclusive? It sure is. The vast majority of the food and alcohol are included.
Each restaurant has a unique cocktail menu and a mocktail menu for kids. They'll even make baby food.
Room service is included and is available 24 hours per day.
Pro tip: The restaurants can accommodate food allergies. Let them know what you need. Several gluten-free options were available at every location.
Bonus pro tip: The Nickelodeon Resort restaurants claim to have a dress code that requires your shoulders to be covered. This is absolutely not enforced in any way. Not only did I see shoulders, but belly buttons and butt cheeks as well.
Extra bonus pro tip: Check out our free Nickelodeon Resort packing list to bring what you need.
As of the time of this writing, dining options are as follows:
Bikini Bottom Bar
Bikini Bottom Bar is a table service restaurant that is open for lunch and some dinners. It serves things like tacos and seafood. It also has a bar where you can take drinks without sitting down for a meal.
Good Burger
Good Burger, themed after the Nickelodeon show, serves burgers, fries, and awesome corn chowder. A dedicated fryer is used for gluten-free food, and gluten-free buns are available.
The restaurant has an ice cream truck in the middle of the restaurant. This seemed more exciting than it turned out to be (extremely limited flavor and topping selection), but it did a lot for the theming.
Le Spatula
Le Spatula is a buffet serving breakfast and an occasional specialty dinner. The breakfast is quite good.
There are a million choices, lots of cheese and raw fish, made-to-order omelets, heavily themed kid food, and a mimosa bar. Gluten-free muffins are available. Two big thumbs up for this one.
Nick Bistro
Nick Bistro is a small buffet located within the Aqua Nick waterpark for hotel guests only. It has salads, soups, proteins, Mexican food, and a kids' section.
Pro tip: You can pay extra for a character meal here. Don't. You get free food and character interactions in plenty of other places.
Piazza
Piazza is an Italian restaurant that wants to be elegant. It is the only place that requires a reservation at the hotel. Entertainers sing the same song that Brennan sang at the Catalina Wine Mixer on a staircase. There is lots of glass.
There are also Ninja Turtles. Like actual, Ninja Turtle statues taking up table space.
Pro tip: This restaurant has gluten-free pasta, pizza crust, and untoasted white bread slices rolls. You get your own pizza cutter to avoid cross-contamination.
Yacht Club
Yacht Club is only open when attendance warrants. When it is available, it serves a sit-down breakfast. Check the menu at the time of your visit.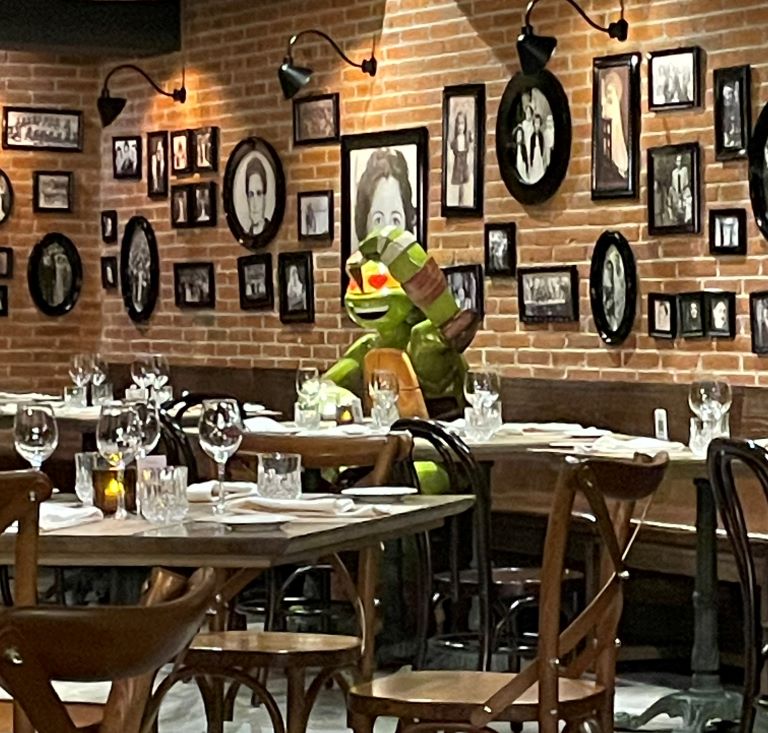 5. Nickelodeon Resort Water Park Admission is Included
Aqua Nick is an amazing waterpark located on the resort property. Day passes cost a small fortune for those staying elsewhere, but unlimited admission is included for hotel guests.
The waterpark has a ton to do, including unique slides, multiple lazy rivers, large play structures, and an activity pool with a rock climbing wall.
Pro tip: Hotel guests get in before the general public. Be sure to take advantage of that uncrowded time.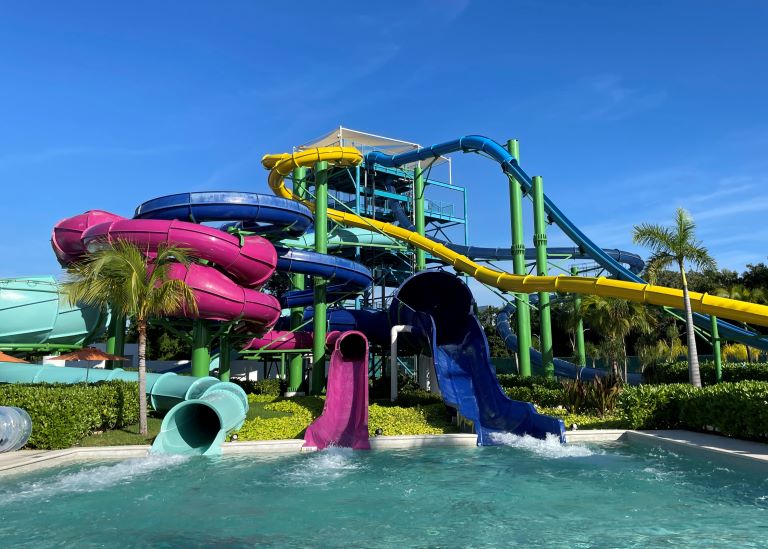 6. The Resort is Not Walkable
The resort covers a lot of ground, most of which has nothing for guests. One building holds the guest rooms and some restaurants, another building houses the lobby, some restaurants, and a lounge, and a third area has the waterpark, kids' club, and stage. You can walk pretty easily between the waterpark and lobby, but the walk to your hotel room would be a long one down a dark road.
Vans transport guests where they want to go for free. We never waited long. Visiting at an off time would certainly cut down on the competition for transportation.
Pro tip: Check out the Nickelodeon Riviera Maya Resort map before you go.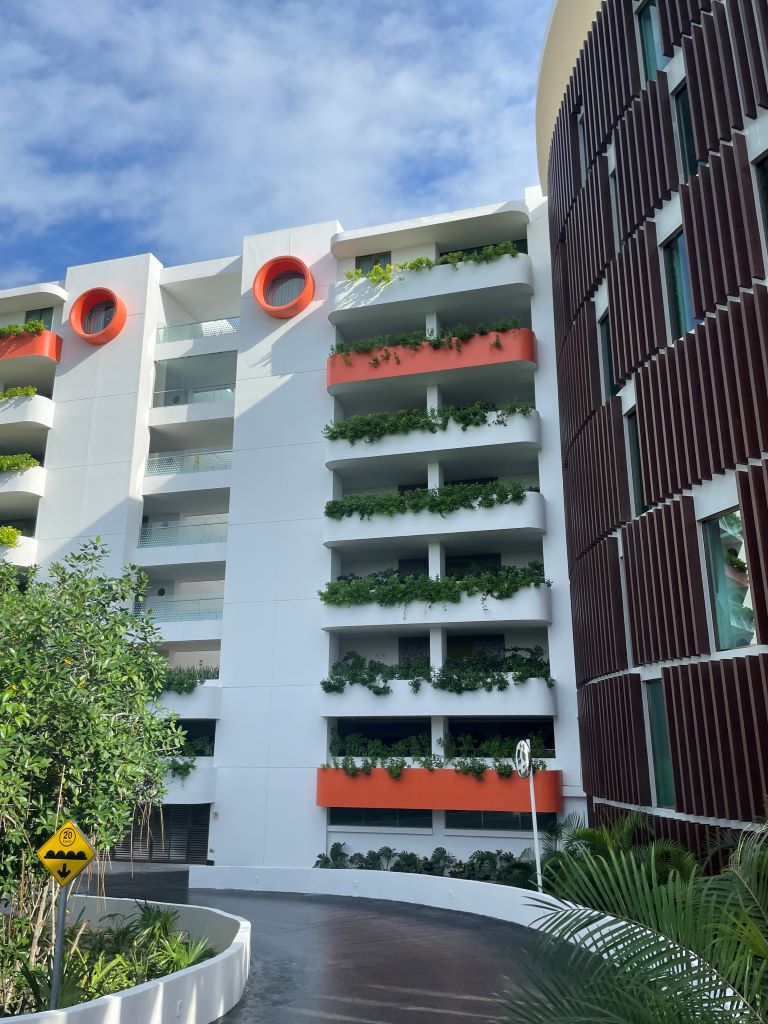 7. There Are a Ton of Characters
The resort is swimming with Nickelodeon characters. Ninja Turtles, Paw Patrol dogs, and SpongeBob's friends are both in the lobby and at the waterpark on the regular.
Pro tip: The schedule for characters, activities, and dining, as well as menus for the restaurants, are all posted on the hotel's app. Be sure to download it before you go.
Note: There is a paid character breakfast. Skip it. There is no shortage of opportunities to meet characters and eat free food.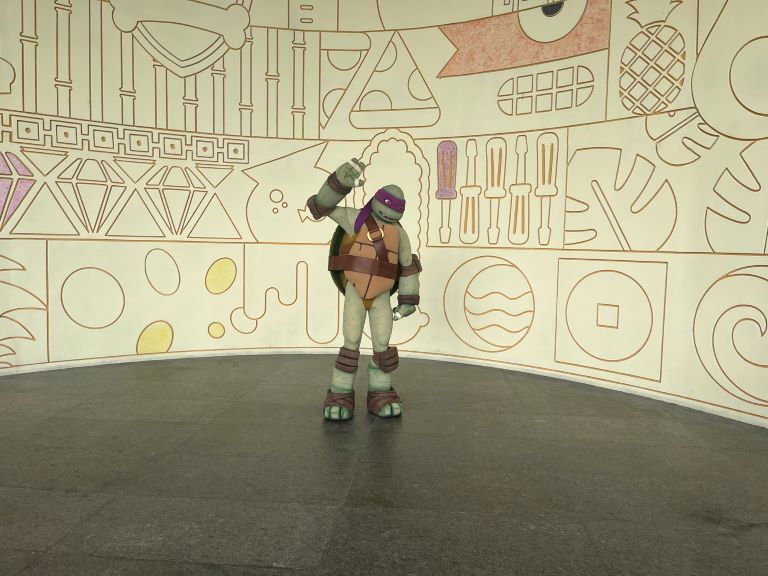 8. There is a Kids' Club (That is Not Exciting)
Club Nick is a kids' club that is free to use. You can stay or drop your kids off and come back later. It has a small play structure, a TV, and some organized activities. Characters make appearances. The majority of the offerings appeal to younger children.
If you're used to the clubs on cruise ships with long hours and a lot to do, this will disappoint. Hours are limited (generally 9:00 a.m. through 5:30 p.m. with a midday closing for lunch). It is really only open when you will be at Aqua Nick anyway.
While we make good use of kids' clubs elsewhere, other than one spin down the slide, we didn't use this one at all.
Note: Your kid must be at least four years old to go alone.
Pro tip: If you want to go out at night without the kids, you can pay for a private babysitter through the hotel.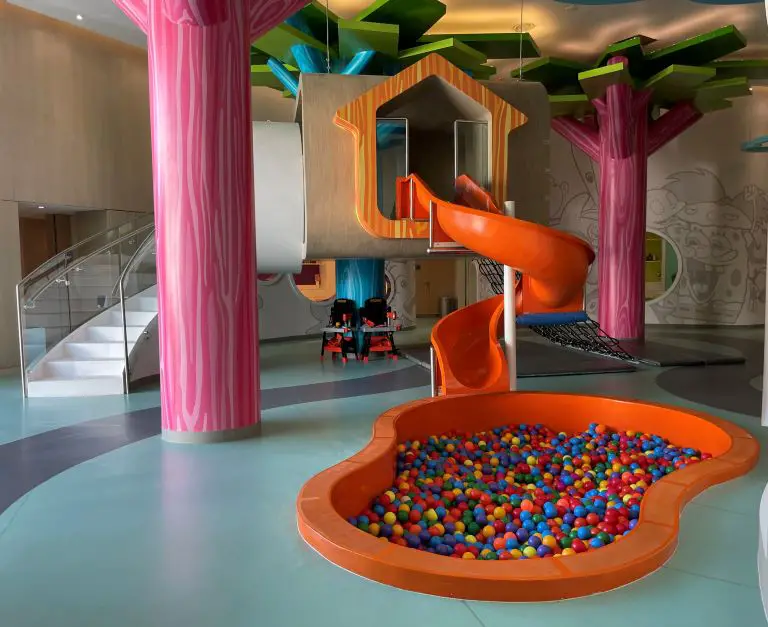 9. The Pools Have Swim-Up Bars
There are a couple of pools at the resort with swim-up bars and views of the beach. They aren't crowded during the day because most people hang out at the waterpark.
Note: The pools at the hotel are accessible from the terraces of first-floor guests. This seems cool, but people are constantly swimming in front of your window unless you close the blinds. Is easy access to the pool worth a lack of privacy? If not, pick a higher floor that will have a more private pool on the balcony.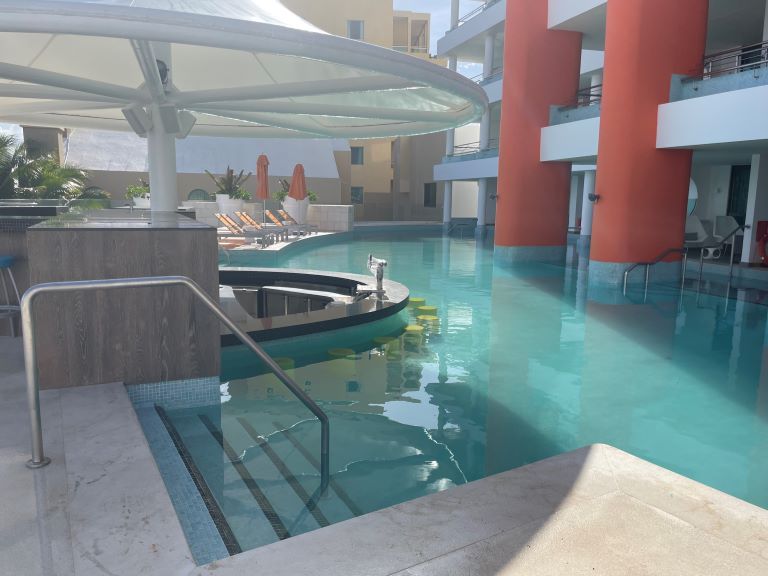 10. Wi-Fi is Free
Wi-Fi is included with your stay, which is good because you need it for the app.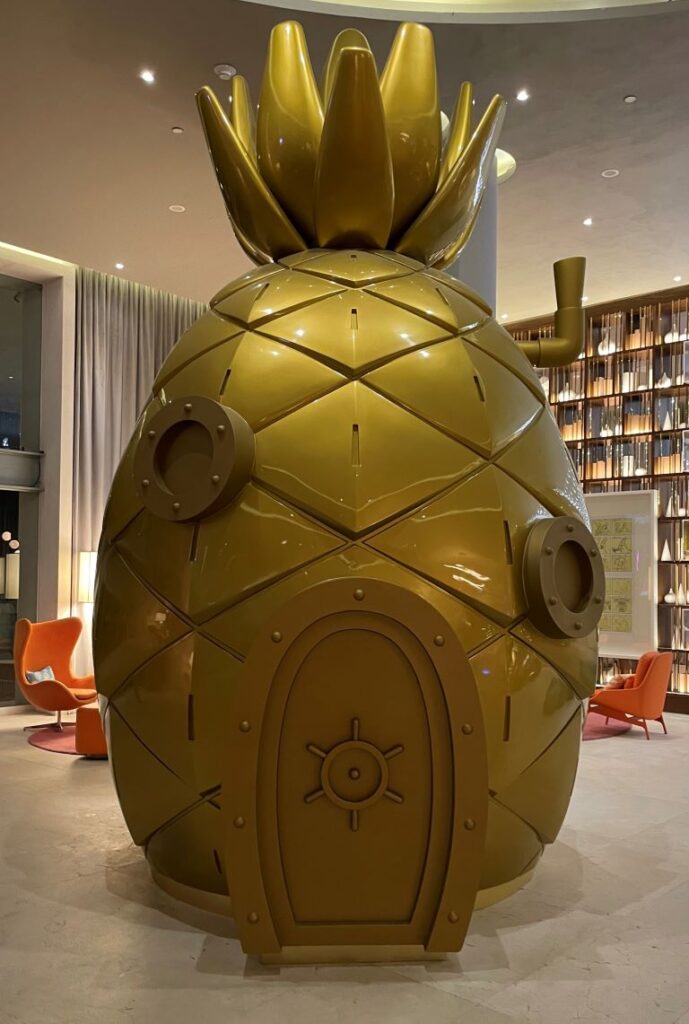 11. Activities Are Scheduled Throughout the Day
The resort has scheduled activities throughout the day. Some options include dance parties, pool games, and organized events in the kids' club. There is at least one mass sliming per day. Check the schedule in the app.
Note: You can book a private sliming session at an extra charge. Save your money. The mass sliming comes with a show and without the awkward experience of strangers staring at you.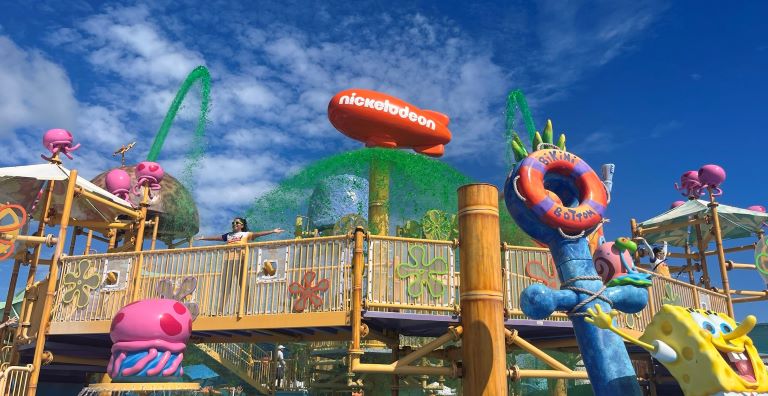 12. Don't Miss the Snick Lounge in the Afternoon
The Snick Lounge is a 90s-themed bar located in the lobby. It has one pool table and a total of four arcade games. All are free to use. Why do I emphasize the total number of games? Because that isn't a lot of games.
The Snick Lounge is a great place to hang out and have a drink during the afternoon before it gets crowded. It becomes dramatically less ideal as the night goes on.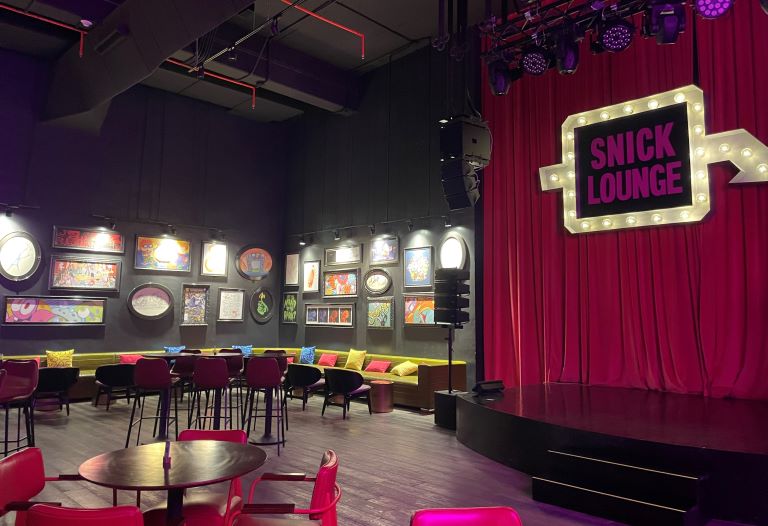 13. There is Nightly Entertainment
Each night, the resort offers some kind of entertainment. Options may include magicians, movies, shows with characters, and live music.
Note: A lot of this entertainment will be in Spanish.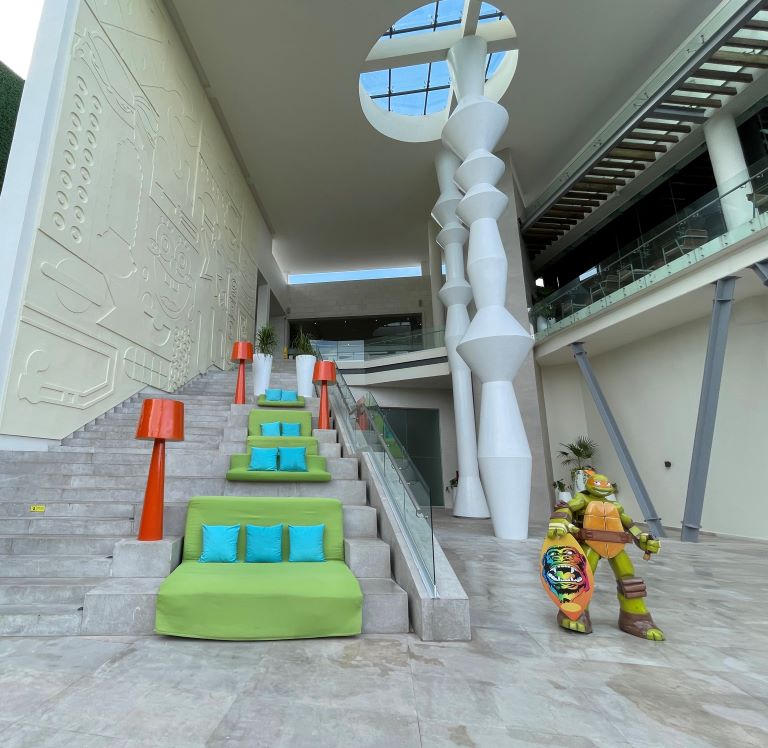 14. Visit When it Isn't Crowded
The resort is crowded during peak times. When it is crowded, you will have to wait in long lines at the waterpark, transportation will take longer than it otherwise would, and rates will be higher.
If you have the luxury of choice, visit while most schools are in session.
Pro tip: The resort closes annually for maintenance. Call the resort, find out when it will be closed, and book your trip for dates immediately upon reopening. It will be a virtual ghost town for the first few days of your trip.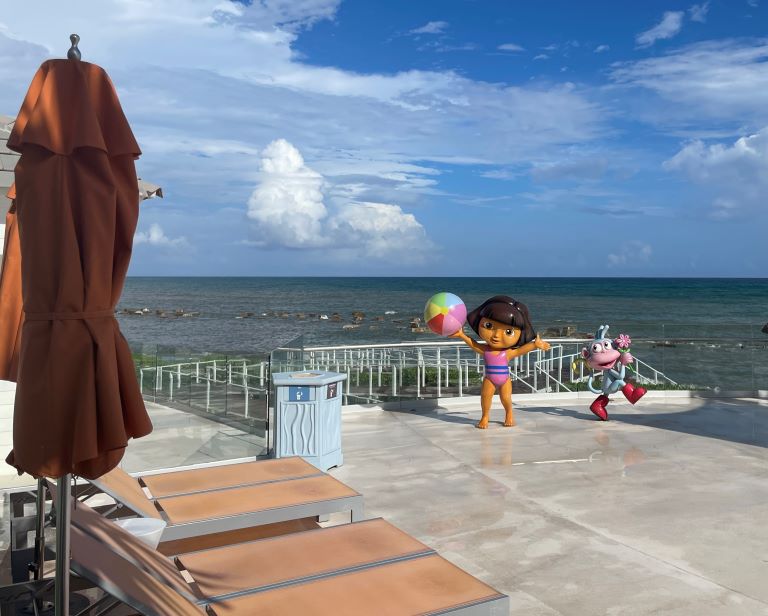 15. The Staff is Great
The staff at this resort is great. They may not always give you the correct answer, but they are super nice when they attempt it. Every encounter we had, even the one with the timeshare salesman Concierge (see below), was positive and pleasant.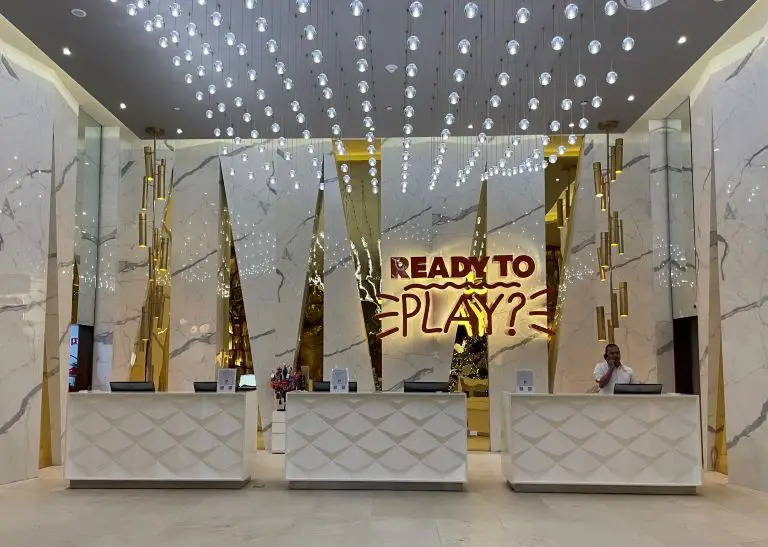 16. There is a Nickelodeon Resort Spa
If you need a break from the kids, there is a spa available. You can book services like massages, facials, manicures, and pedicures. All services are at an extra charge.
Pro tip: There is a fitness center in this area in case all those trips up the stairs at the waterpark aren't enough cardio.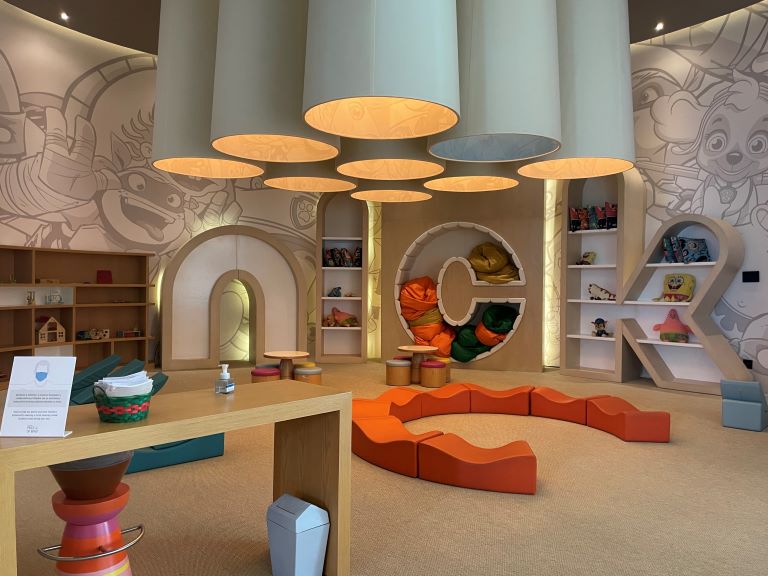 17. Tipping is Not Required
Gratuities are included with your hotel rate. I asked about the tipping protocol when I checked in. The person with whom I spoke said we could leave a couple of dollars if we wanted but it was not expected. No one ever declined our tips, but leaving money is optional.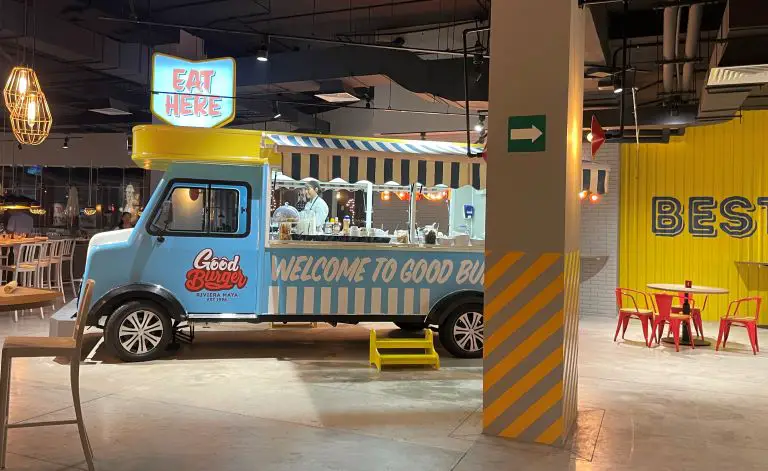 18. Don't Miss the Resident Cats
The resort has several stray cats that roam the property, all named Nicky. They boldly approach guests with food.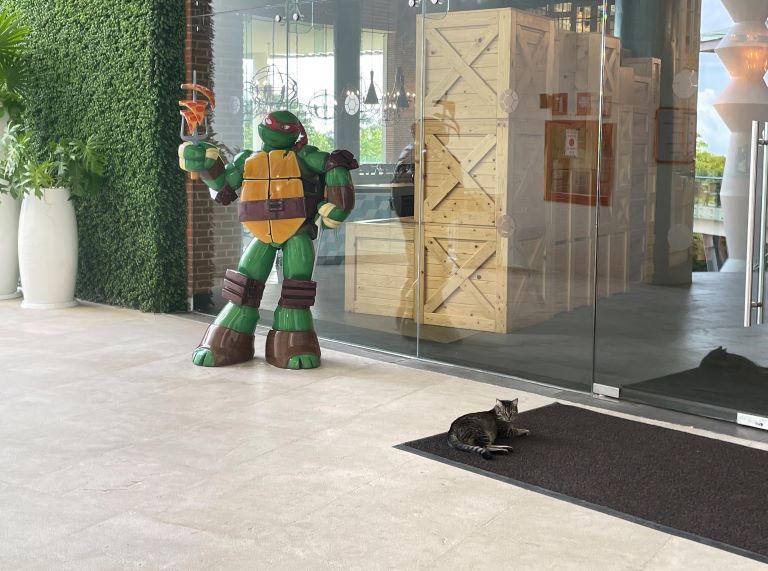 19. Avoid the Gift Shop Like the Plague
There is a small gift shop in the lobby. It is not special and stupid expensive. Avoid. Avoid. Really. Avoid.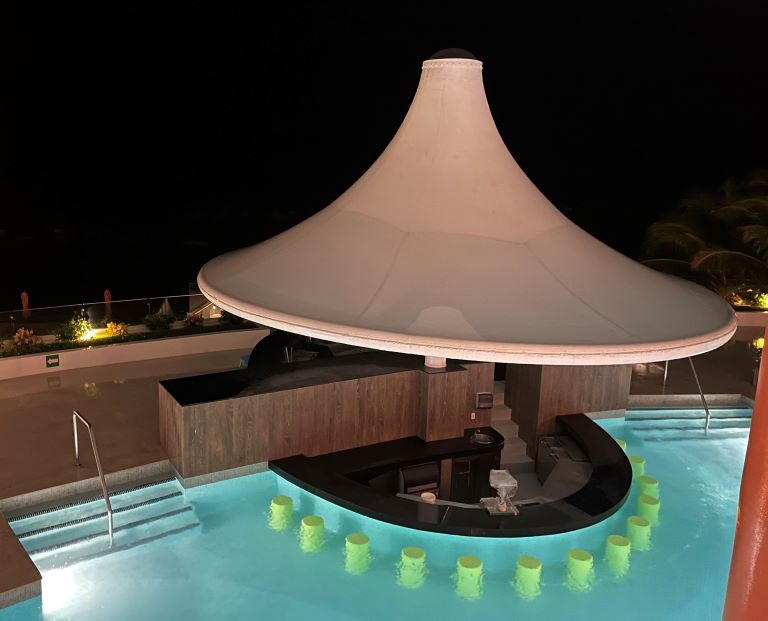 20. You Probably Won't Be Able to Access Your Room Early
Check-in time begins at 4:00 p.m. We arrived well before then. Although the resort was eerily empty and I am certain our room was ready, we couldn't get in before official check-in time.
This policy is a big negative for me. Given the room rate, I would expect guests to be allowed in early if their rooms are ready. Your mileage may vary, but I would not bank on seeing your room before 4:00 p.m.
Pro tip: The porters will hold your luggage before your room is ready and after you checkout.
Bonus pro tip: Don't forget sunscreen in your carry-on.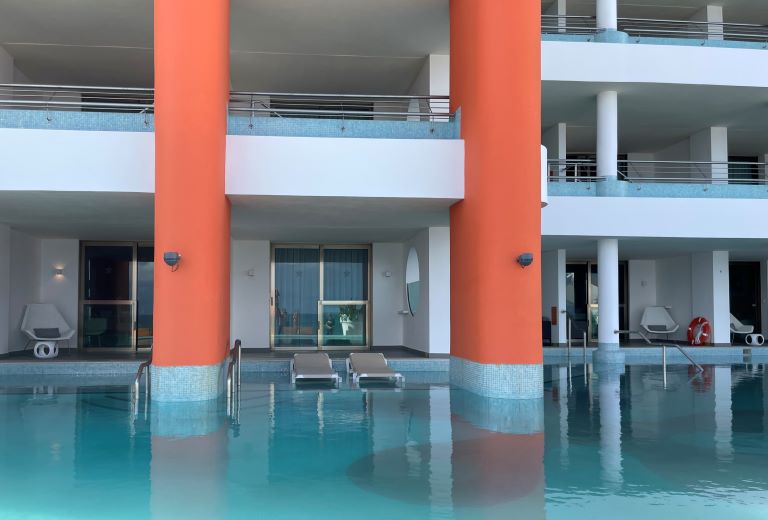 21. Your Concierge Representative Will Try to Sell Your Something
When you check in, you are assigned a concierge. This person can make reservations for you at Piazza, book services, and field your requests. The concierge is clearly tasked with coordinating timeshare presentations.
We are low maintenance, only requesting that he make the dining reservation for us that we couldn't make ourselves. I thought that a five-minute meeting would be our only encounter. That was until he chased me down at the waterpark explaining that he had been looking for me all week (and wouldn't I like to attend a presentation?).
I politely declined and thanked him for the invitation. Rather than picking up on basic social cues, he doubled down by offering me a gift shop credit for attending (as if that is a sufficient incentive). I told him I didn't want to waste vacation time sitting through a timeshare presentation. He said it wasn't a timeshare (it absolutely was).
A less assertive person would have found him or herself in that meeting. Don't fold under the pressure. You paid a lot of money. Don't waste time doing something you don't want to do.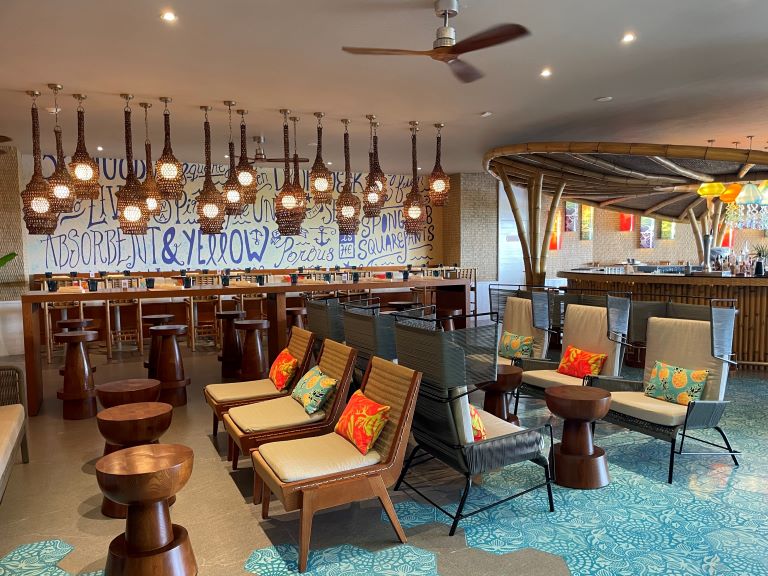 22. The Beach is Crap
While the view of the water from your balcony is bliss, the beach itself is teeny tiny, rocky, windy, and has almost no chairs. It is only open until 6:00 p.m., and no food is allowed. They don't seem to actually expect guests to spend time on it.
This resort is all about the waterpark. If you want a nice beach, stay elsewhere.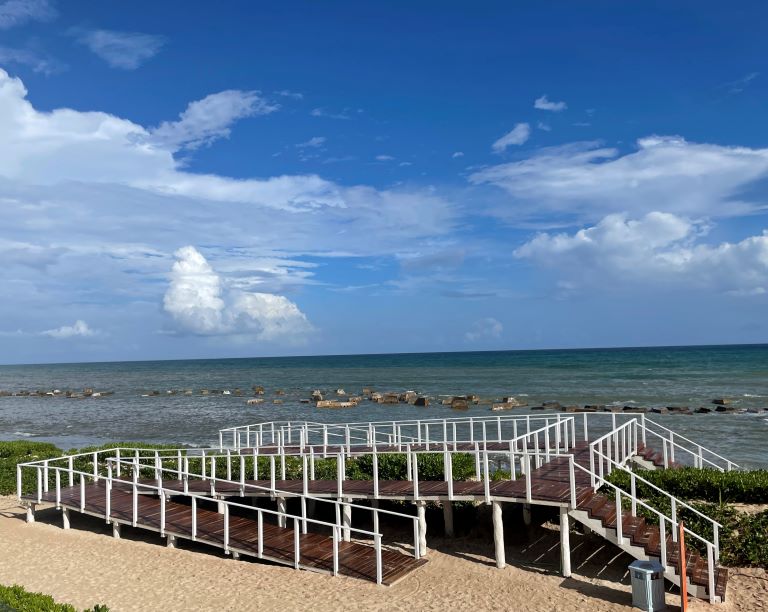 23. For What Age is the Nickelodeon Resort Best?
Is the resort good for an adult-only trip? God. No. There are plenty of all-inclusive resorts in Riviera Maya that don't allow kids. Pick one. You will have a much better time at any of them.
While I wouldn't stay here with adults only, I wouldn't hesitate to stay with kids of any age. This resort caters to all kids, from toddlers to teens. Young kids will enjoy the characters and Paw Patrol Adventure Bay in the waterpark. Teens will enjoy the bigger waterslides and unlimited food.
24. There Are Ways to Save on Nickelodeon Riviera Maya Packages
How much is Nickelodeon Resort? A lot (think several hundred dollars per night), but there are ways to save.
Check for Direct Booking Nickelodeon Resort Deals
The resort offers specials. Check to see what is available at the time of your visit.
Note: The reservation process can be a little sketchy. You may encounter unexpected fees and not get what you think you're getting. Take screenshots. If you have to speak to someone over the phone, ask them to email you the confirmation and read it BEFORE you hang up the phone. We had to pay a nominal fee upon checkout, and I'm still not entirely sure why.
Pro tip: If your package includes a resort credit, read the fine print. More than likely, it will be a credit that will require you to spend more. If you weren't going to spend that money anyway, that isn't a good deal. Make sure you are getting the best deal for what your family wants to do.
Visit at an Off Time for Nickelodeon Resort Discounts
If you aren't bound by a school schedule, try to visit when most schools are open. Rates will be cheaper, and crowds will be lighter. If your kids have a random long weekend that isn't connected to a holiday, it would likely be a great time to go.
Pro tip: Consider both American and Mexican school schedules when picking your dates.
Third-Party Providers
You may be able to find deals and/or incentives to book on sites like Booking.com, Hotellook, Tripadvisor, Expedia, Hotels.com, and Travelocity.
Nickelodeon Resort Groupon Deals
You can sometimes find deals on Groupon. Be sure to do the math here. Groupon doesn't necessarily mean cheaper.
Use Miles and Points
Travel credit cards are a great way to put a huge dent in the cost.
American Express
This hotel can be booked using American Express Membership Rewards Points through the American Express travel portal. These points can be earned with several cards.
Capital One
The Venture line of credit cards allows you to erase travel expenses from your statement. Book directly with the hotel, then erase it from your statement.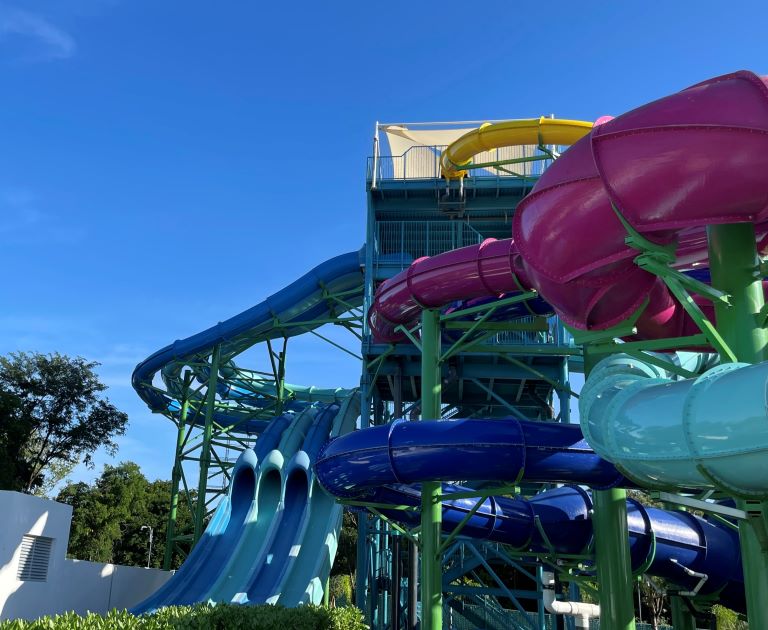 Final Thoughts – Is Nickelodeon Resort Worth it in Riviera Maya?
Is Nickelodeon Resort worth it in Riviera Maya? For the right price, absolutely. The rooms are amazing, the waterpark is awesome, and the food and drinks are well above average. Get a good deal, maximize your time, and make memories with your family.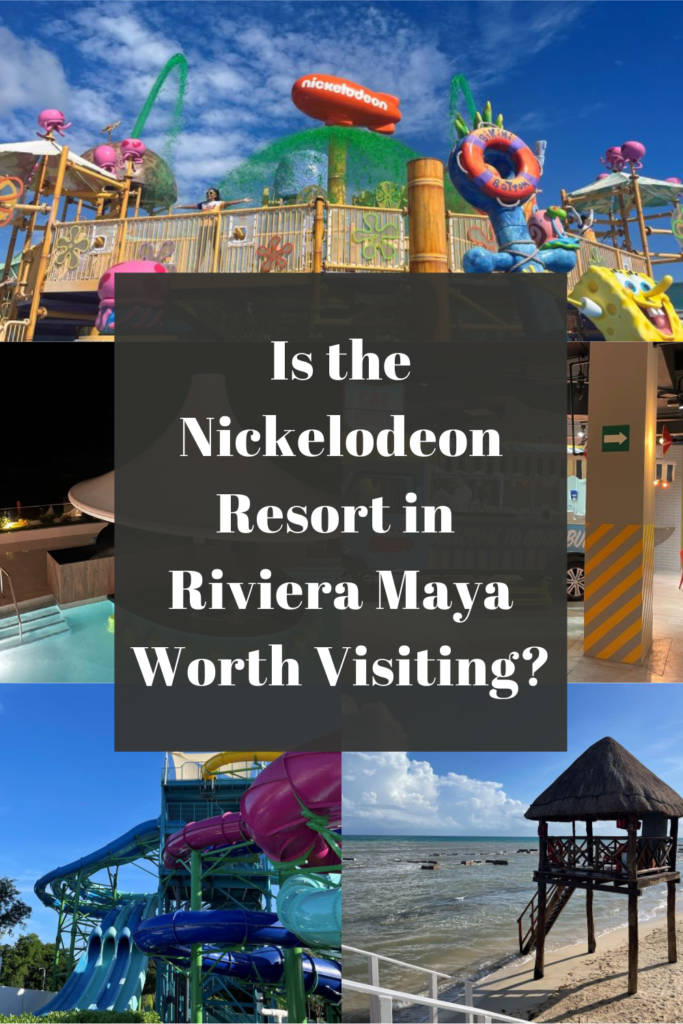 Related Articles to Is Nickelodeon Resort Worth it in Riviera Maya?:
Is Nickelodeon Resort Worth it in Riviera Maya?