Last Updated on April 26, 2022
Disney's Grand Californian Hotel & Spa is a beautiful resort with a great location. It is an easy walk to Disneyland, Downtown Disney in California, and Disney California Adventure. Unlike Disney World, there is no public transportation required to access everything the Disneyland Resort has to offer.
The convenience and lack of exposure to bus poles freshly licked by children come at a premium. Bring a bag of money.
Why Stay at Grand Californian?
As an Amazon Associate, I earn from qualifying purchases.
DISCLOSURE: This post may contain affiliate links, meaning when you click the links and make a purchase, we receive a commission.
1.
Disney's Grand Californian Hotel & Spa Location
The resort's location is the single biggest reason to stay. It is conveniently placed in the center of Downtown Disney. This means easy access to restaurants and Downtown Disney stores, including the Downtown Disney LEGO store, where you can play with LEGOs, but should only purchase them if you haven't heard of the internet.
It is an easy walk to both theme parks from the resort. There is a Grand Californian entrance to DCA (Disney California Adventure), and Disneyland is not much further.
The other two on property hotels, Disneyland Hotel and and Disney's Paradise Pier Hotel, can also be accessed through the Grand Californian entrance to Downtown Disney. This expands your character dining options to two other resorts with equally overpriced experiences. Paying more than one ever should for cantaloupe is part of the Disney experience.
2.
Grand Californian Hotel Rooms
The resort has a tree theme, so the rooms have a woodsy feel. There are several room options, all of them jaw-droppingly expensive. The rooms are fine, but the Waldorf Astoria will certainly not be asking Disney for design tips.
Standard Hotel Rooms
The standard rooms sleep up to five people with several options for sleeping arrangements. There are also multiple views from which to select, including:
1. Grand Californian Standard View – Street, Parking Lot, Rooftop
2. Woods-Grand Californian Courtyard View
3. Deluxe Partial View – Partial View of Theme Park or Downtown Disney California
4. Grand Californian Downtown Disney View
5. Grand Californian Premium Pool View – Pool or Theme Park
The standard rooms are basic Grand Californian studio hotel rooms where privacy can only be found in the bathroom (if your children don't follow you in there). The rooms are sufficient and clean, but nothing about which to write home.
Our balcony had a view of Disney California Adventure (by luck). The kids were excited to see the rides for five seconds until they realized there was a television in the room. I would not pay extra for a specific view unless you think you will actually spend time enjoying it.
Club-Level Rooms
Club-level rooms also sleep up to five. They are similar to the other standard rooms, but include access to Grand Californian's Craftsman Club. The rooms are available in two views:
1. Standard – Grand Californian Woods Courtyard View or Street View
2. Premium – Pool or Grand Californian Theme Park View
Club-level rooms come with the following perks (some actual perks and some fluff):
1. Access to The Craftsman Club – Includes breakfast, refreshments throughout the day, afternoon tea, and wine and dessert with a Grand Californian fireworks view at night (Huge perk if the math makes sense)
2. Grand Californian Concierge Desk Service (Help with bookings)
3. Nightly Turndown Service (Eh)
4. DVD Players (Don't forget your copy of Titanic)
Is Grand Californian Club Level Worth it?
We didn't stay Club-Level at Grand Californian, but we have done it at Animal Kingdom Lodge at Disney World. I booked it because the room was only a few dollars more per night, so we saved money by eating breakfast there. You might be able to save money by eating the Grand Californian breakfast buffet there each morning.
It is unlikely you will chill in the the lounge all day like Elle Woods does in that pool. It is worth the upgrade if the Grand Californian cost or experience make sense for you, but you can easily skip this experience.
Grand Californian Suites
Don't price the suites out unless you are sitting down. Keep in mind when deciding what to book that you will probably not spend as much time in your room as you would at a resort with less to do.
I love a wall as much as the next guy, but the thousands of dollars you will spend on a suite can probably cover your hard seltzer supply for a decade. The suites do not come with full kitchens, so if you thought you would save money by cooking, think again.
The suites come with views of everything except the parking lot and street. The options are:
1. Grand Californian 1 Bedroom Villa Suite – Sleeps 6
2. Grand Californian 2 Bedroom Villa Suite – Sleeps 11
3. Grand Californian 3 Bedroom Suite – Sleeps 12
4. Grand Californian Signature Suites – Sleep 12
3.
Disney Grand Californian Pools
The resort has three Grand Californian pool areas. All are gloriously uncrowded. There is very little I enjoy more than avoiding strangers, so this was a big plus. It is easy to watch your children swim from the comfort of a chaise lounge chair.
Life jackets are available to borrow, and there is a station to exchange towels.
Servers come around regularly to take food and drink orders for the Disneyland Grand Californian pool bar, so there is no reason to leave before you are ready.
The pools also come with hyper vigilant lifeguards. Nothing is going down on their watch. One lifeguard blew his whistle to signal an emergency, dove into the water partially clothed and rescued……..a T-shirt. I was just happy it wasn't our T-shirt.
Fountain Pool
Fountain Pool is a basic pool with a turtle fountain. It is surrounded by lounge chairs. There are more than enough to go around.
Grand Californian Redwood Pool
Redwood Pool has a ninety foot Grand Californian water slide that curves around a tree. That might sound intense, but the slide is slow and mild. Most children can handle it. This section also has a Mickey shaped kids' pool and a hot tub.
When we were there, there were a ton of bees on the ground around the hot tub. Watch your child's feet around that area.
Mariposa Pool Grand Californian
Mariposa Pool is another basic pool with a whirlpool. You can also rent the Grand Californian pool cabanas in this area.
Grand Californian Cabanas
Cabanas include two private lounge chairs, a love seat, a coffee table, a sofa, a television, a clock radio (why?), a mini-fridge, and a fruit platter, among other things. They hold a maximum of 6 people. Reservations are required.
Are cabanas worth it? Honestly, probably not. Grand Californian cabana rental prices are not available online, but unless you are dying for a TV and a couch, I don't see much benefit. Seats are plentiful, servers take orders from the public chaise lounges, and you probably aren't going to miss that fruit platter.
4.

Activities
Grand Californian Resort offers a few organized activities. I'm not going to sugarcoat this. They are not interesting. Spend your break day at the pool.
A Magical Night at the Movies
A Magical Night at the Movies is simply a Disney movie played on a bigger screen. This is offered on select nights only.
Art of Craft Tour
This Grand Californian tour takes you through the Grand Californian architecture and design throughout the resort. This tour lasts one hour. My kids would be more interested in a trip to the dentist, but someone with more culture may enjoy it.
Get Up & Go Power Walk
Get Up & Go Power Walk is a brisk, two mile walk through California Adventure. At 6:00 a.m. For real. Guests must be at least 14 to participate. Athletic shoes, as well as reservations, are required.
You are going to walk briskly through the parks the rest of the day. I would skip this and sleep the extra hour before rope drop.
Eureka Fitness Center
The Grand Californian Fitness Center has strength training and cardio machines. I didn't enter the fitness center, but I did walk past it lots of time holding a fruity cocktail filled with sugar. The area was a ghost town, so you will probably have that to yourself.
Guests must be at least 14 to use the facility, and at least 17 to visit alone. Grand Californian gym hours are 24/7.
There are a couple of stretching and pilates classes offered. Reservations are required to attend.
Grand Californian Grand Quest
The Grand Quest is a scavenger hunt recommended for kids ages three through 12. Kids receive a surprise upon completion.
Trivia Challenges
This just sounds like a lot of work. You pick up a trivia sheet at the hotel, then find the answers in Disneyland. I promise you, you have bigger fish to fry in Disneyland trying to keep up with your touring plan. You can collect a prize, but I cannot imagine it is worth sacrificing ride time to complete the sheet.
5.
Gluten Free Dining at the Resort
The resort has several restaurants on property. Because of its great location, you can also access restaurants from the other on property hotels and Downtown Disney dining with only a short walk.
Grand Californian Restaurants
Table Service
Grand Californian Napa Rose Restaurant
Napa Rose is nice and extremely expensive. It is only open for dinner. You can order off the Grand Californian Napa Rose menu, which has proteins and things like a side of green beans that are $11.00 as of the time of this writing. You can also reserve a time to dine at the Chef's Counter.
Napa Rose Chef's Counter
The Chef's Counter is a lengthy experience where the chef serves you whatever he or she wants. We tried it.
You need to call the restaurant to reserve the Chef's Counter. Availability is limited, so you want to make your Napa Rose reservation as soon as possible. As of the time of this writing, the Napa Rose Chef's Counter price is $100 per person.
Before we went, I read the chef asks a bunch of questions about your likes and dislikes, then makes you a personalized five course meal. What actually happened was the chef asked us exactly two questions, whether we have allergies and whether we hate anything, then just started bringing stuff out.
The food was good, but my husband in particular would have ordered very different things from the menu than he was served. He was silently punished for being married to a gluten intolerant wife. Green beans or gooey delicious mac and cheese that was served to the rest of the gluten eating counter? We should definitely give him green beans.
They did present us with a nicely decorated dessert for our anniversary. Napa Rose gluten free. My husband's fave.
I have read rave reviews online, so your experience might be better.
On Property Childcare
Napa Rose Grand Californian Hotel is the most upscale restaurant on property. While kids are allowed, I have a strong feeling adults paying those Grand Californian prices do not want to listen to your kids cry.
We visited Napa Rose restaurant on a date night sans kids to celebrate our anniversary. How did we dispose of the kids, you ask? We hired a babysitting agency to send a complete stranger to the hotel room for the night. What could go wrong? Seriously though, the kids were still alive when we got back.
The hotel has a list of babysitting agencies. The companies are well reviewed and do background checks. By that point in the trip, the kids were probably safer with a stranger anyway.
Disney Grand Californian Princess Breakfast Adventures
Princess Breakfast Adventures is a Grand Californian character breakfast with princesses. As of the time of this writing, the Napa Rose Princess Breakfast price is $125 per person for adults AND kids ages three through nine. Children under three are free. For a family of four, you are dropping Five. Hundred. Dollars. to eat here before you even tip anyone.
Do I think this is worth it? Nope. Would anyone? I guess, but I am having a hard time imagining why.
Grand Californian Napa Rose Lounge
Napa Rose Lounge is located within Napa Rose Disneyland. This Grand Californian bar menu includes appetizers, snacks, and cocktails.
Storytellers Cafe
Storytellers Cafe is a Grand Californian buffet that serves breakfast and dinner. Characters appear during breakfast only. It serves largely American fare like many Disney World buffets. It is pricey, ranging from $35 to $60 per adult as of the time of this writing.
World of Color Dining Package
The World of Color Dining Package gets you priority seating to World of Color. I use the term "priority" in the loosest sense of the word here. As of the time of this writing, packages for Storytellers Cafe start at $50 for adults and $25 for children ages 3 through 9. Children under three are free.
Hearthstone Lounge
This Grand Californian lounge menu has appetizers, pizzas, and cocktails. If you drink like I do, and by that I mean only beverages in the White Claw family, do yourself a favor and order the Pina CoLAVA. It is basically a raspberry pina colada. I have no idea why it is so good, but it is so good.
Grand Californian Hotel Quick Service
GCH Craftsman Grill
GCH Craftsman Grill (formerly Grand Californian White Water Snacks) is fine, but grossly overpriced. It purports to have a gluten free menu, but when I tried to order from it, the girl taking my order was thoroughly confused. After checking with the manager, she said the menu was not updated and they didn't have a lot of the things on the menu.
It is convenient to grab Grand Californian food from here and take it to the pool. That would be the only time I would personally bother with it.
Does Grand Californian Have Room Service?
Yes. If you are really in the mood to bend over and take it, there is room service. Room service comes with a 19% service charge and $3 delivery fee on top of the prices on the Grand Californian Room Service Menu. It is worth the savings to walk to GCH Craftsman Grill yourself.
Restaurants Near Grand Californian Hotel
Disneyland Hotel
Trader Sam's Enchanted Tiki Bar
Trader Sam's is a bar. Not too sure what is happening there. It has a tiki-type vibe and the bartender bangs on things loudly from time to time, but if there is a backstory, I missed it.
Trader Sam's serves appetizers, a couple of kids' meals (I am shocked kids are allowed in at all), and fruity cocktails with umbrellas.
Goofy's Kitchen Disneyland Hotel
Goofy's Kitchen buffet serves breakfast, brunch, and dinner. It is basically the California equivalent of Chef Mickey's at the Contemporary. Goofy's Kitchen characters walk around and wave napkins in the air periodically for some reason that escapes me.
There are some gluten free options. The server will bring gluten free pancakes. In keeping with the theme of Disneyland, it is expensive.
Is Goofy's Kitchen worth it?
Goofy's Kitchen prices range from $35 to $60 per adult. I would have a hard time justifying this price a second time. The buffet is small, and the food is just OK. I might have thought the Goofy's Kitchen food was good rather than just OK had I not known what we paid for it.
My younger son is a wild one (read: a——). Everyone is his next wrestling opponent, including characters and infants. I enjoy this picture because if you look closely, you can see Goofy pushing on his head with force. Yeah, Goofy, I noticed that, but he deserved it, so we're cool.
Downtown Disney Restaurants
Tortilla Jo's
Tortilla Jo's is a Downtown Disney Mexican restaurant that serves food you can probably get at home. It serves lunch and dinner only. The theming isn't overly special. The food was good. It would be overpriced by normal standards, but for a restaurant located on Disney property, I thought it was reasonable.
Downtown Disney Salt and Straw
Salt & Straw is a Downtown Disney ice cream chain that serves several unique flavors. Like Tortilla Jo's, the prices are a little high by your hometown standards, but reasonable for a store located on Disney property.
6.
Grand Californian Early Entry to Park
Guests at the hotel (and other Disneyland hotels) receive a Grand Californian extra magic hour. I cannot state strongly enough what a huge perk this is. We basically had the parks to ourselves for that hour.
The last day, I finally stopped cracking the whip enough to let everyone sleep in and miss the extra hour of park time. I regretted it the rest of the day. We battled the crowds all day and didn't get to ride nearly as much. Lesson learned. Vacation is not about having fun. It is about sticking to our touring plan.
7.

Miscellaneous Planning
Grand Californian Check In Time
You can check in anytime after 3:00 p.m.
The Grand Californian lobby is grand and impressive. I am told it is reminiscent of the Wilderness Lodge at Disney World.
The woman checking us in at the Grand Californian front desk was very friendly and liberally passed out buttons for every occasion she could possibly relate to us.
That was nice and all, but we had to wait over an hour for our room to be ready. We were not the only people in the Grand Californian hotel lobby waiting for a room. There is a TV in the corner with a bunch of chairs for kids (all occupied), so I'm guessing this is a daily occurrence. Grand Californian early check in does not seem to be a common occurrence.
Key to the Magic
The Grand Californian Resort and Spa doesn't have magic bands like Disney World. Instead, you are given a Key to the Magic card that acts as your room key and parking permit. You can also make charges on this card to your room.
How Much is Parking at Grand Californian Hotel?
Grand Californian parking is $25 per night for self parking and $35 per night for valet parking as of the time of this writing. Disney Vacation Club members (and those renting their points) do not have to pay.
Parking for Grand Californian Hotel can be validated for people visiting select restaurants at the hotel who are not staying on property.
Wi-Fi
Free Grand Californian WiFi is included with your stay. It can be accessed in both guest rooms and common areas.
Grand Californian Check Out Time
Check out time is 11:00 a.m.
8.

Ways to Save on Your Trip to Grand Californian
Hotel Booking with Rented Grand Californian DVC (Disney Vacation Club) Points
We booked Grand Californian Hotel and Spa Disneyland by renting Disney Vacation Club points from DVC Rental Store. Here, you rent points from Disney Vacation Club members at a much cheaper rate than you would pay if you booked directly through the hotel. Each time I have rented DVC points, I have paid roughly half of what I would have had I booked directly.
DVC Rental Store worked out well. My only complaint is you have to pay a fee to book with a credit card. I sent them a check, but would have preferred to earn points on this large purchase.
Downsides to Renting Disney Vacation Club Points
There are some downsides to renting Disney Vacation Club points:
1. You need to book far in advance (starting as early as 11 months out)
2. You cannot get a refund (Buy trip insurance if this is a concern)
3. You do not get regular housekeeping
4. You sometimes get Grand Californian villas with different configuration (Think one bed with a pullout couch. My kids don't have bad backs yet, so what do I care?)
Pro tip: If you are unable to book using Disney Vacation Club points, you may be able to find deals on sites like Tripadvisor, Travelocity, Hotels.com, or Expedia.
Final Thoughts
Grand Californian at Disneyland is nice. The location cannot be beat. The hotel kind of needs to get over itself, but isn't that part of the charm of Disney in general?
Disney properties tend to have a plethora of entitled people wearing Mickey Ears who don't always have the best manners. I assume their thought process goes something like this: "If I avert my gaze, no one will notice I am occupying two bus seats with my bags while that three year old is clinging to that bus pole for dear life. I can't be expected to stand, I just ate three turkey legs." There was some of that here, but a lot less than, say, on a Disney Cruise.
Is the Grand Californian Hotel worth it?
The resort was worth the price we paid, but double that? Absolutely not. To save money, I recommend renting Grand Californian DVC points and buying discounted Disney gift cards before you arrive to pay for everything while you are there.
Overall, we love Grand Californian in Disneyland. We would definitely go back. Visit Disneyland. You will not regret it.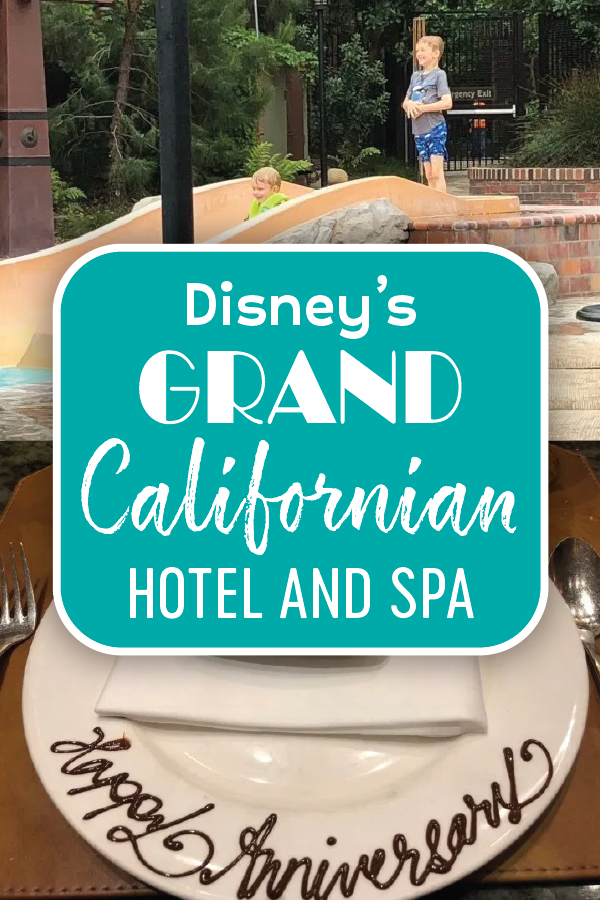 Related Articles:
Grand Californian Disneyland