Why Should I Stay at the Grand Californian Hotel?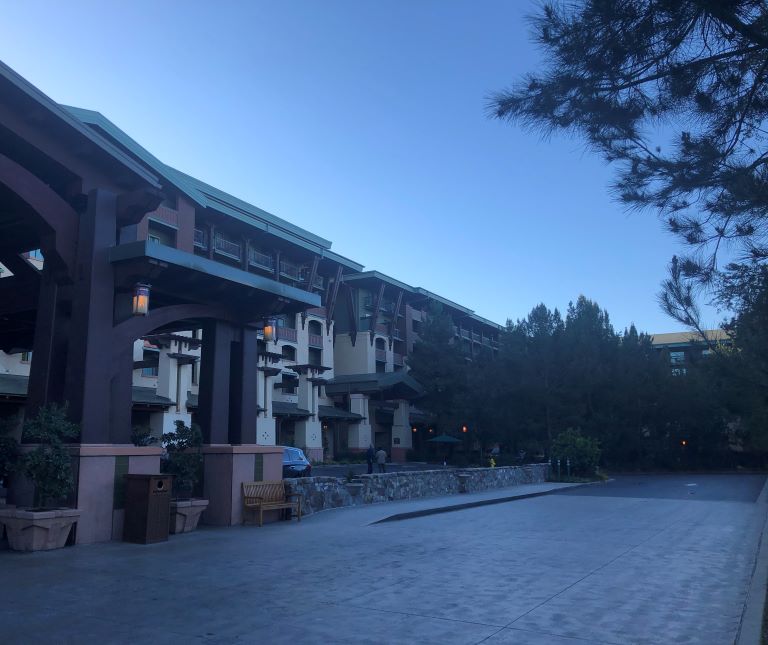 This hotel has a great location. You can walk to both Disneyland parks and Downtown Disney in a matter of minutes. The convenience and lack of exposure to bus poles freshly licked by children come at a premium. Is it worth it? Why should I stay at the Grand Californian Hotel?
Why Should I Stay at the Grand Californian Hotel?: Things to Consider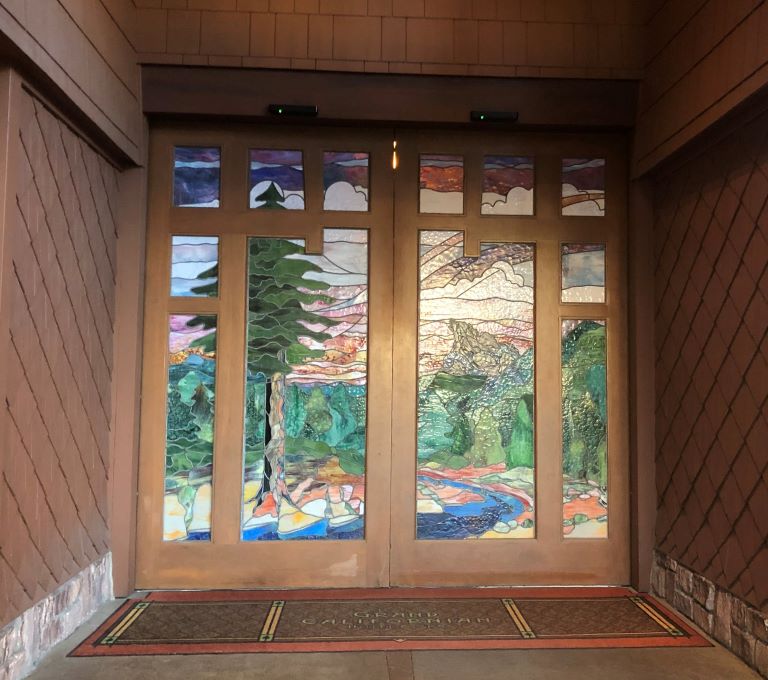 As an Amazon Associate, I earn from qualifying purchases.
DISCLOSURE: This post may contain affiliate links, meaning when you click the links and make a purchase, we receive a commission.
Why Should I Stay at the Grand Californian Hotel

?
1.
Disney's Grand Californian Hotel & Spa Location
Why stay at a Disneyland hotel? This resort's location is the single biggest reason.
The hotel is conveniently placed in the center of Downtown Disney. This means easy access to restaurants and Downtown Disney stores, including the LEGO store, where you can play with LEGOs, but should only purchase them if you haven't heard of the internet.
Can you walk through Grand Californian to Downtown Disney? You will need to pass through security to enter Downtown Disney, but yes, you can.
The other two on property resorts, the Disneyland Hotel and Disney's Paradise Pier Hotel, are also nearby. This expands your character dining options to two other resorts with equally overpriced experiences. Paying more than one ever should for cantaloupe is part of the Disney experience.
In addition to easy access to shopping and dining, it is an easy walk to both theme parks. There is a private Grand Californian entrance to Disney California Adventure in the hotel, and Disneyland is not much further.
Pro tip: The security line in the hotel to enter California Adventure directly is long in the morning. Try the main entrance and save that line for the afternoon.
Should you stay for this reason?: Yes.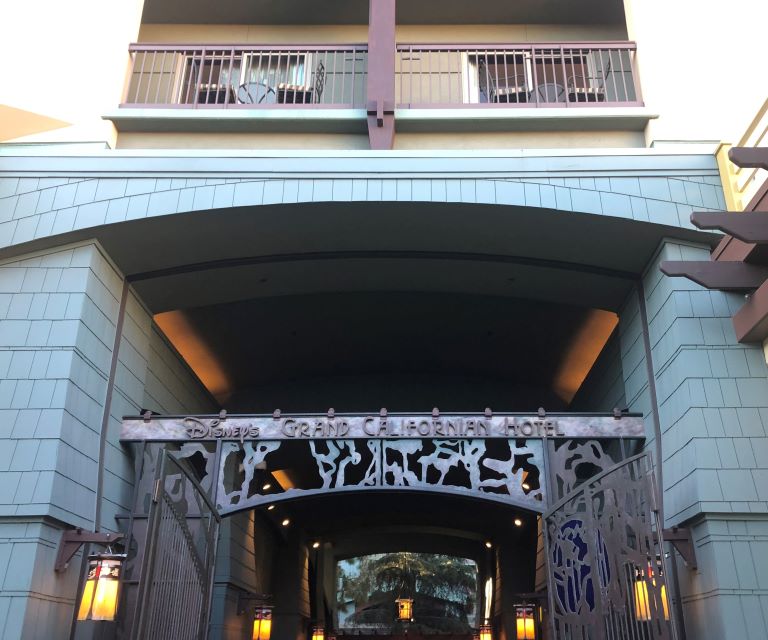 2.
Grand Californian Hotel Rooms
Why is Grand Californian so expensive? Great question. It's not because of the rooms.
The resort has a tree theme, so the entire resort, including the rooms, has a dark woodsy feel. If you're looking for bright colors and happy vibes, check out the Disneyland Hotel.
The rooms include a mini-fridge, hair dryer, robes, and a coffee maker. Pack and plays are available upon request.
There are several room options, all of which are jaw-droppingly expensive.
Standard Hotel Rooms
These are basic Grand Californian studio hotel rooms where privacy can only be found in the bathroom (if your children don't follow you). The rooms are sufficient and clean, but nothing about which to write home.
Options include one king and one twin sleeper sofa, two queens and one daybed, or two queens.
There are also multiple views from which to select, including:
1. Grand Californian Standard View – Street, Parking Lot, Rooftop
2. Woods-Grand Californian Courtyard View
3. Deluxe Partial View – Partial View of Theme Park or Downtown Disney California
4. Grand Californian Downtown Disney View
5. Grand Californian Premium Pool View – Pool or Theme Park
Pro tip: Don't pay extra for a particular view unless you will be in the room enough to enjoy it.
Maximum number of guests: 5
Grand Californian Suites
Don't price the suites out unless you are sitting down. Keep in mind when deciding what to book that you will probably not spend as much time in your room as you would at a resort with less to do.
I love a wall as much as the next guy, but the thousands of dollars you will spend on a suite can probably cover your hard seltzer supply for a decade.
The suites come with views of everything except the parking lot and street. The options are:
1. Grand Californian 1 Bedroom Villa Suite – Sleeps 6
2. Grand Californian 2 Bedroom Villa Suite – Sleeps 11
3. Grand Californian 3 Bedroom Suite – Sleeps 12
4. Grand Californian Signature Suites – Sleep 12
Pro tip: A lot of the suites do not come with full kitchens, so if you think you will save money by cooking, double check to make sure you have one.
Should you stay for this reason?: Eh. The rooms aren't really more special than any other upscale hotel room.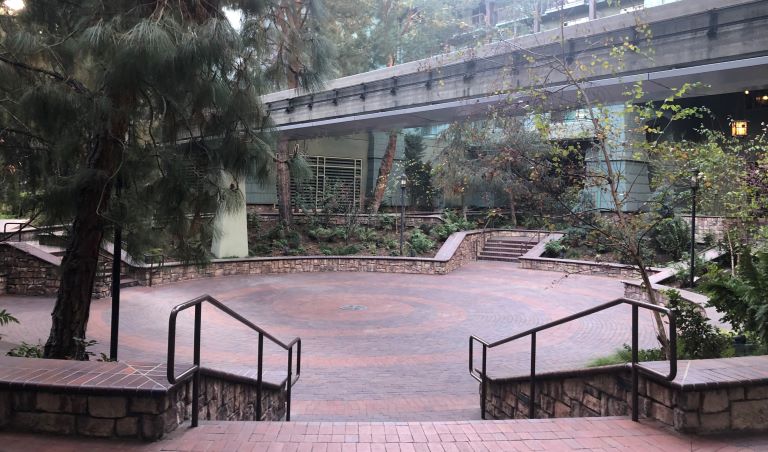 3.
There is a Club Level Option
You can add club level to your reservation to gain access to Grand Californian's Craftsman Club. Club-level rooms come with the following perks (some actual perks and some fluff):
1. Access to The Craftsman Club – Includes breakfast, refreshments throughout the day, afternoon tea, and wine and dessert with a Grand Californian fireworks view at night (Huge perk if the math makes sense)
2. Grand Californian Concierge Desk Service (Help with bookings)
3. Nightly Turndown Service (Eh)
4. DVD Players (Don't forget your copy of Titanic)
Club level can be added to specific rooms with two views:
1. Standard – Grand Californian Woods Courtyard View or Street View
2. Premium – Pool or Grand Californian Theme Park View
Is Grand Californian Club Level Worth it?
Is staying at the Grand Californian worth it for club level? That depends. Why do you want to do it?
If it doesn't cost much more during the time that you travel and the free breakfast and snacks can save you money, it definitely makes sense. Keep in mind that you will likely be in the parks and unavailable to enjoy said snacks.
If you want this experience and it makes you really happy, go for it. It doesn't have to make financial sense to be worth it to you.
Should you stay here for this reason?: Only if you want to stay club level.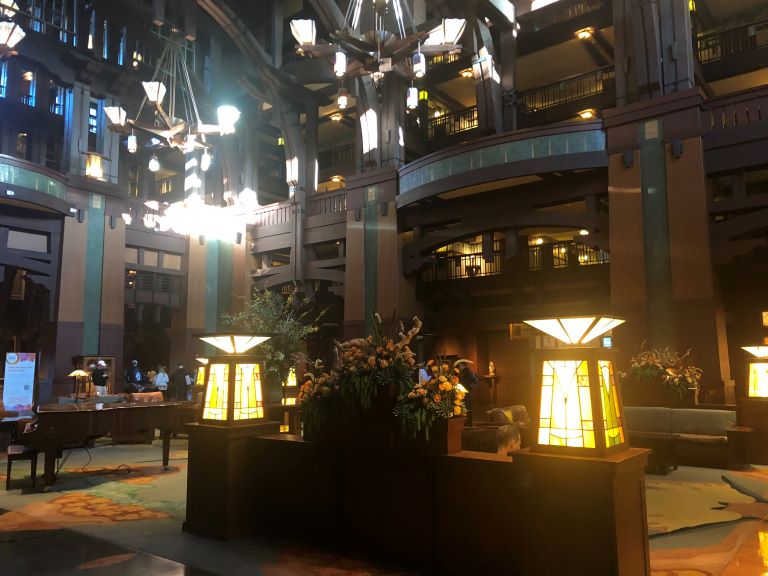 4.
Disney Grand Californian Pools Are Peaceful
Is it worth it to stay at the Grand Californian? The pools put a solid check in the pro column.
The resort has three Grand Californian pool areas. All are gloriously uncrowded. It is easy to watch your children swim from the comfort of a chaise lounge chair.
Life jackets are available to borrow, and there is a station to exchange towels.
Servers come around regularly to take food and drink orders for the Disneyland Grand Californian pool bar, so there is no reason to leave before you are ready.
The pools also come with hyper vigilant lifeguards. Nothing is going down on their watch. One lifeguard blew his whistle to signal an emergency, dove into the water partially clothed and rescued……..a T-shirt. I was just happy it wasn't our T-shirt.
As of the time of this writing, the pools are as follows:
Fountain Pool
Fountain Pool is a basic pool with a turtle fountain. It is surrounded by lounge chairs. There are more than enough to go around.
Grand Californian Redwood Pool
Redwood Pool has a ninety foot Grand Californian water slide that curves around a tree. That might sound intense, but the slide is slow and mild. Most children can handle it. This section also has a Mickey shaped kids' pool and a hot tub.
Mariposa Pool Grand Californian
Mariposa Pool is another basic pool with a whirlpool. You can also rent the Grand Californian pool cabanas in this area.
Should you stay here for this reason?: Yes.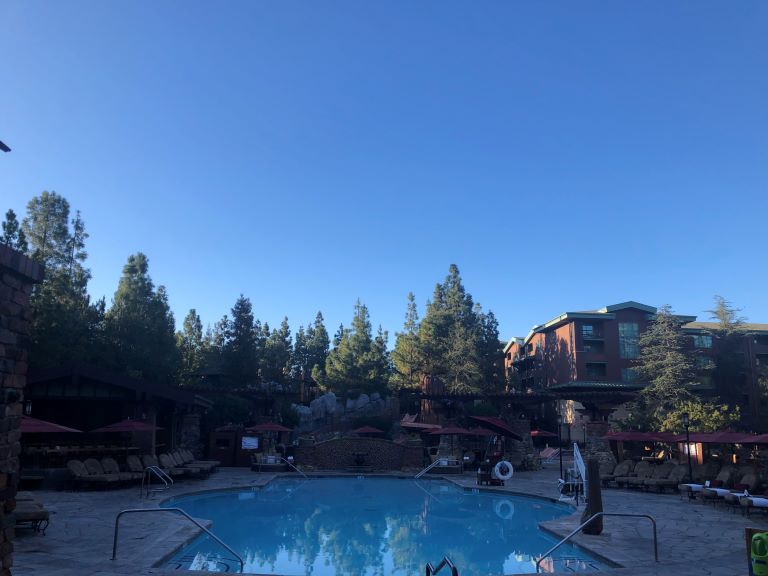 5.
Grand Californian Cabanas
You can rent cabanas by the pool. They come with two private lounge chairs, a love seat, a coffee table, a sofa, a television, a clock radio (why?), a mini-fridge, and a fruit platter, among other things.
Do you need a cabana to enjoy your day? No, you do not. Seats are plentiful, servers take orders from the public chaise lounges, and you probably aren't going to miss that fruit platter. Unless you it will make you really happy, you can pass.
Note: Cabanas hold a maximum of 6 people. Reservations are required.
Should you stay for this reason?: Probably not.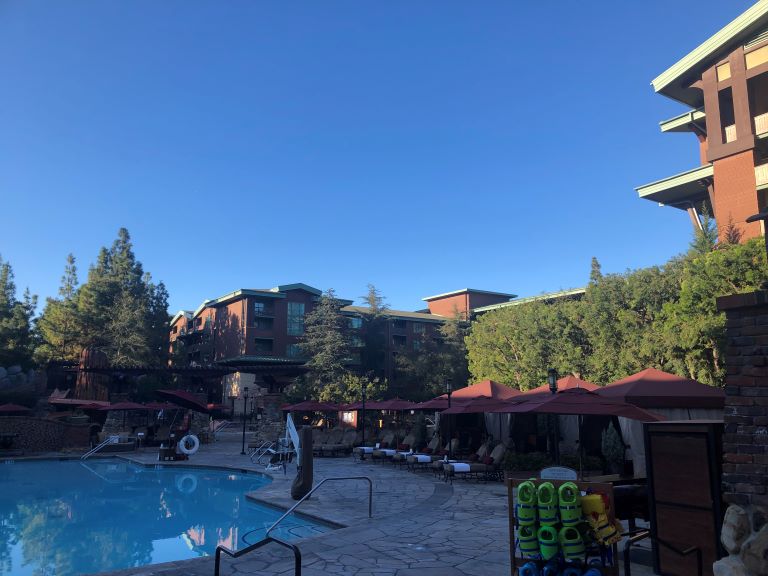 6.
There Are a Few Activities
What are the benefits of staying at the Grand Californian Hotel? The activities do not fall into that category. They are not interesting. Spend your break day at the pool.
You need to check with Guest Services at the time of your visit to find out what is available during your stay. Some options may include:
A Magical Night at the Movies
A Magical Night at the Movies is simply a Disney movie played on a bigger screen. This is offered on select nights only.
Art of Craft Tour
This one hour Grand Californian tour takes you through the architecture and design of the resort. My kids would be more interested in a trip to the dentist, but someone with more culture may enjoy it.
Get Up and Go Power Walk
This experience is a brisk, two mile walk through California Adventure. At 6:00 a.m. For real. Guests must be at least 14 to participate. Athletic shoes, as well as reservations, are required.
You are going to walk briskly through the parks the rest of the day. I would skip this and sleep the extra hour before rope drop.
Grand Californian Grand Quest
The Grand Quest is a scavenger hunt recommended for kids ages three through 12. Kids receive a surprise upon completion.
Trivia Challenges
This just sounds like a lot of work. You pick up a trivia sheet at the hotel, then find the answers in Disneyland. I promise you, you have bigger fish to fry in Disneyland trying to keep up with your touring plan. You can collect a prize, but I cannot imagine it is worth sacrificing ride time to complete the sheet.
Should you stay for this reason?: No.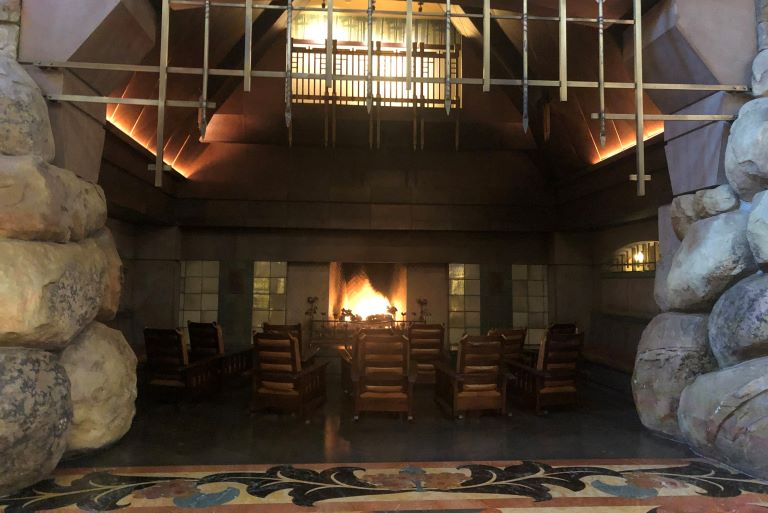 7.
Eureka Fitness Center
The Grand Californian Fitness Center has strength training and cardio machines. I didn't enter the fitness center, but I did walk past it several times holding a fruity cocktail filled with sugar. The area was a ghost town, so you probably won't have to fight for machines.
Guests must be at least 14 to use the facility, and at least 17 to visit alone. Grand Californian gym hours are 24/7.
Pro tip: There are a couple of stretching and Pilates classes offered. Reservations are required.
Should you stay for this reason?: Not unless you will use it.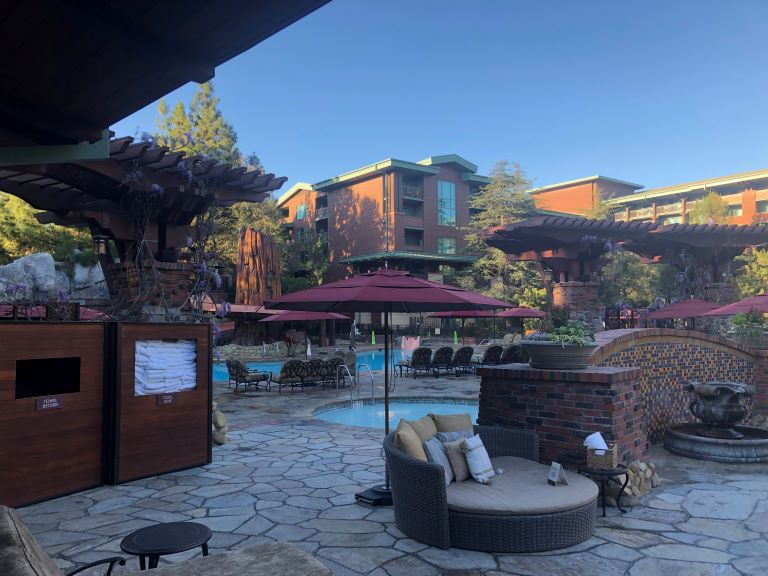 8.
Grand Californian Restaurants
The resort has several restaurants on property. You also have easy access to restaurants from the other on property hotels and Downtown Disney.
Does Grand Californian have free breakfast? No, Disney isn't big on free food.
Pro tip: Disney, in general, is the best at accommodating allergies. There are a ton of gluten free options. Ask an employee what you can eat.
Grand Californian Napa Rose Restaurant
Napa Rose is nice and extremely expensive. You can order off of the menu, which has a lot of proteins and vegetables. Alternatively, you can reserve the Chef's Counter.
Chef's Counter
The Chef's Counter is a lengthy experience during which the chef serves you whatever he or she wants. This could be fun, but it could also be disappointing (think green beans instead of macaroni and cheese).
You need to call to reserve the Chef's Counter. Availability is limited, so you want to make your Napa Rose reservation as soon as possible. As of the time of this writing, the cost is $100 per person.
Princess Breakfast
The restaurant also features a princess breakfast. As of the time of this writing, the Napa Rose Princess Breakfast price is $125 per person for everyone over age three. For a family of four, you are dropping Five. Hundred. Dollars. That is before tip.
Pro tip: This restaurant is popular. Be sure to make reservations.
Grand Californian Napa Rose Lounge
This lounge is located within Napa Rose Disneyland. This Grand Californian bar menu includes appetizers, snacks, and cocktails.
Storytellers Cafe
Storytellers Cafe is a Grand Californian buffet that serves breakfast and dinner. Characters appear during breakfast only.
It serves largely American fare. Gluten free pancakes are available.
It is pricey, ranging from $35 to $60 per adult as of the time of this writing.
Pro tip: You can book this restaurant with a World of Color dining package to get "priority" seating to the California Adventure show. As of the time of this writing, the cost starts at $50 for adults and $25 for children ages three through nine. Children under three are free.
Hearthstone Lounge
This Grand Californian lounge menu has appetizers, pizzas, and cocktails. If you drink like I do, and by that I mean only beverages in the White Claw family, order the Pina CoLAVA, a raspberry pina colada.
GCH Craftsman Grill
GCH Craftsman Grill (formerly Grand Californian White Water Snacks) is a quick service by the pool. The food is fine, but grossly overpriced. Allergies can be accommodated, and gluten free options are available.
Does Grand Californian Have Room Service?
If you are really in the mood to bend over and take it, there is room service. Room service comes with a 19% service charge and $3 delivery fee on top of the prices on the Grand Californian Room Service Menu. It is worth the savings to walk to GCH Craftsman Grill yourself.
Should you stay for this reason?: Possibly, if you're interested in the restaurants.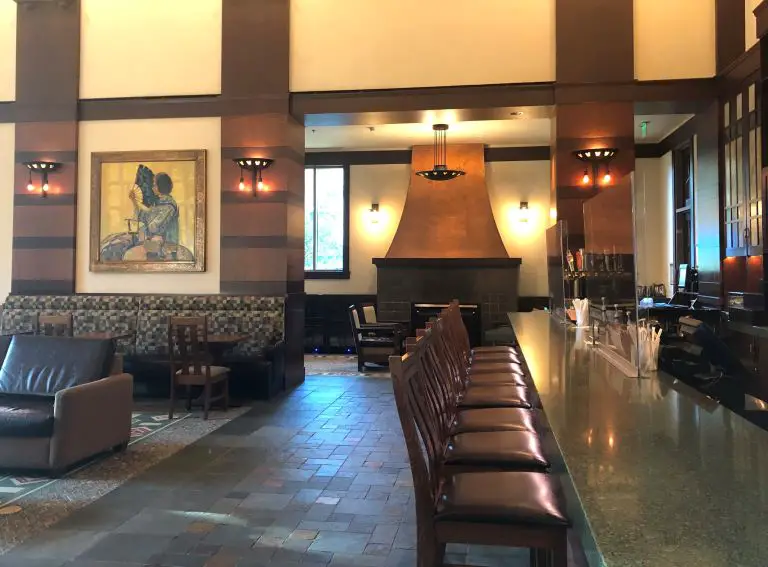 9.
There is No On Property Childcare
There in no on property childcare. However, the hotel does offer a list of babysitting agencies. The companies are well reviewed and do background checks.
Should you stay for this reason?: No.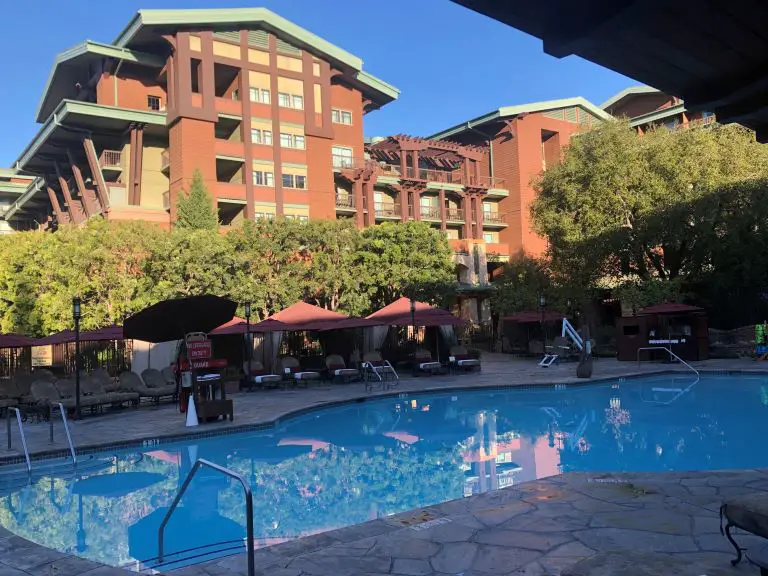 10.
Grand Californian Early Entry to Park
Why stay at a Disneyland Resort hotel? Early entry is a huge reason.
Guests at the hotel (and other Disneyland hotels) get into the parks 30 minutes before everyone else. I cannot state strongly enough what a huge perk this is.
Getting into the park first thing in the morning is key to skipping lines and enjoying your day. You can knock out a ride or two, or get in line for a popular ride that has long lines all day.
Because both parks are open early to on property guests, off property guests don't get this opportunity. No rope drop for them.
Should you stay for this reason?: Big yes.
11.
Grand Californian Check In Time
You can check in anytime after 3:00 p.m. If your room is ready early, they will let you in.
There is a TV in the corner of the lobby with a bunch of chairs for kids that are almost always occupied. Early check-in doesn't seem to be the norm.
Pro tip: The lobby will hold your luggage.
Should you stay for this reason?: No.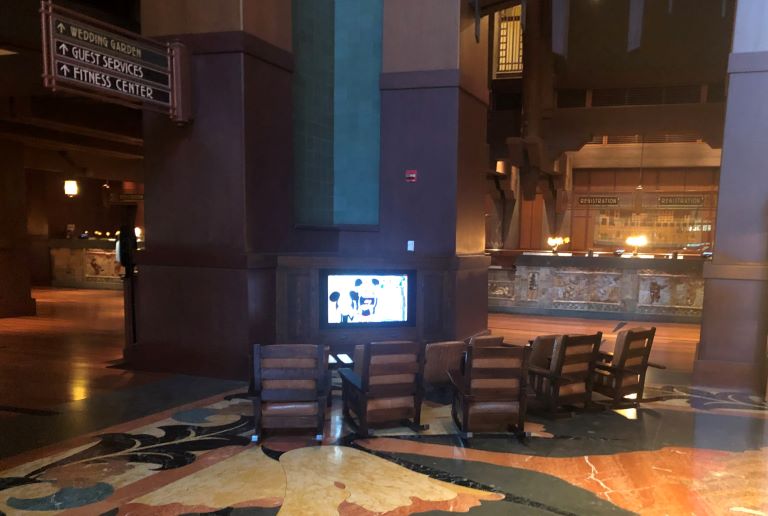 12.
How Much is Parking at Grand Californian Hotel?
Grand Californian parking is $25 per night for self parking and $35 per night for valet parking as of the time of this writing.
Parking for Grand Californian Hotel can be validated for people visiting select restaurants at the hotel who are not staying on property.
Pro tip: If you rent Disney Vacation Club points, parking is free.
Bonus pro tip: If you are flying in and only visiting Disneyland, skip the car altogether. You don't need it.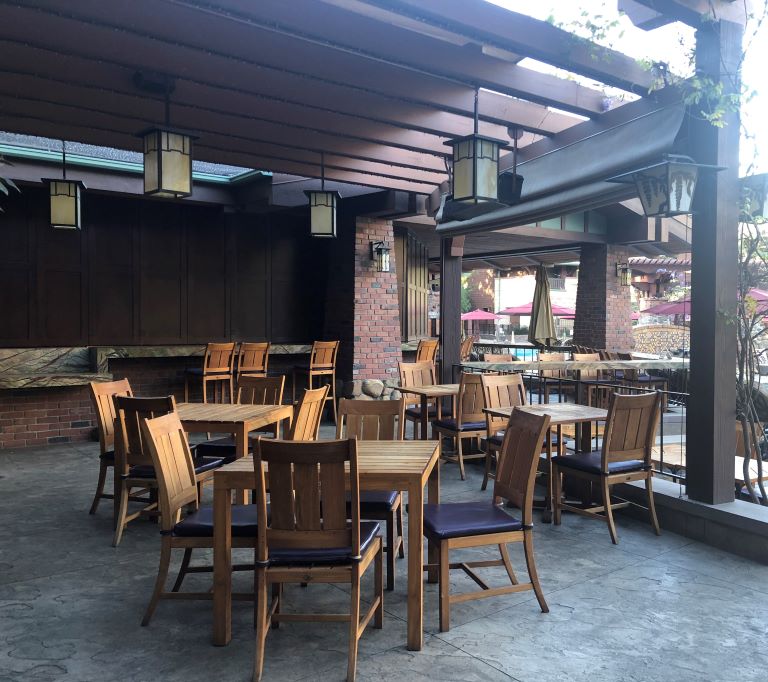 13.
Wi-Fi is Included
Grand Californian Wi-Fi is included with your stay. It can be accessed in both guest rooms and common areas.
Should you stay for this reason?: Yes.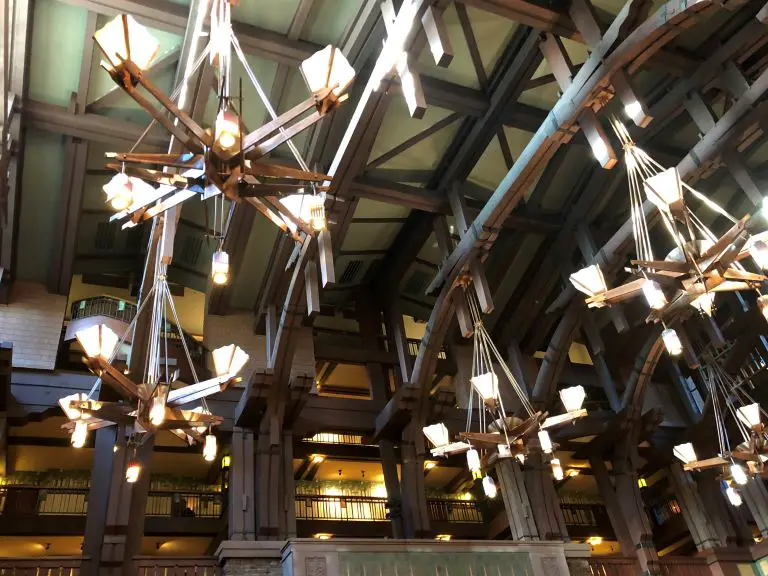 14.
Grand Californian Checkout Time
Checkout time is 11:00 a.m. You can request a late checkout, but it is almost never granted.
Pro tip: The lobby will hold your luggage so you can go to the parks.
Should you stay for this reason?: No.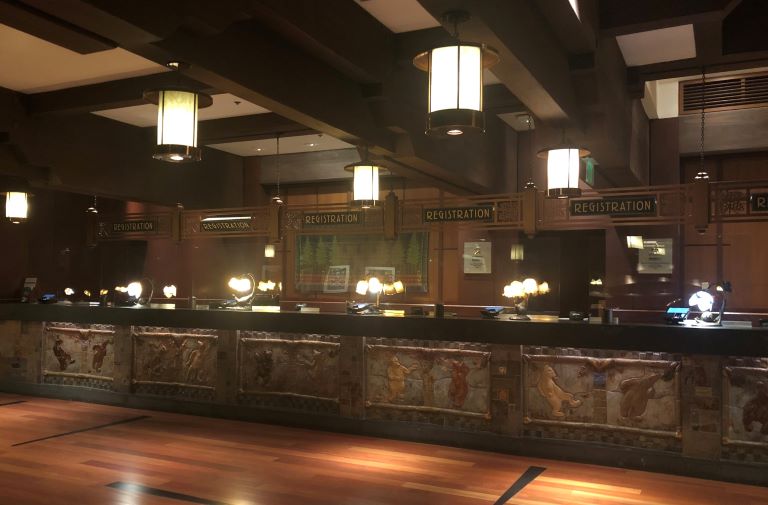 15.
Ways to Save on Your Trip to Grand Californian
This hotel costs a small fortune, but there are ways to save.
Rent Grand Californian DVC (Disney Vacation Club) Points
You can book this hotel with Disney's timeshare program, the Disney Vacation Club. If you don't want to commit to decades of visits, you can rent them from a third party broker like DVC Rental Store or David's Vacation Club Rentals. These rates will typically be cheaper than booking direct.
Renting points has its downsides, with the major ones being as follows:
1. You need to book far in advance (starting as early as 11 months out)
2. You cannot get a refund (buy trip insurance if this is a concern)
3. You do not get regular housekeeping
4. You sometimes get Grand Californian villas with different configurations (like one bed and a pullout couch)
5. Availability is extremely limited
Pro tip: If you book your room on points, check out Undercover Tourist for discounted park tickets.
Direct Purchase
The hotel occasionally offers deals. Check the offerings at the time of your booking, then check back periodically. You can amend your reservations for Grand Californian later.
Pro tip: If you want to book direct, a free travel agent can check discounts and update your Grand Californian reservations for you.
Bonus pro tip: The offers often include Grand Californian discounts for military personnel.
Third Party Grand Californian Bookings
You may be able to find deals for Grand Californian on sites like Expedia, Hotels.com, Travelocity, or Tripadvisor.
Pro tip: If you go this route, purchase discounted park tickets with a site like Undercover Tourist.
Travel at Off Peak Times
If school is in session, your hotel and tickets package will be cheaper. If you have flexibility in your travel dates, try to avoid the masses.
Note: Hours may be shorter and some rides may be closed for maintenance during off peak times.
Pay with Discounted Disney Gift Cards
You can buy discounted Disney gift cards at stores like Target (with a Red Card), Meijer, Costco, BJ's (with a membership), Raise, and Giftcarddeal.com (careful with this one).
Pay for your hotel and ticket packages, as well as dining and shopping, with these cards for a substantial savings.
Note: This is not a good option if you might need to cancel. Your refund will be in the form of Disney dollars.
Pro tip: You can combine gift cards up to $1,000 per card on Disney's website so you don't have to carry dozens of cards with you to the parks.
AAA Discount
You may be able to find AAA discounts.
Groupon
You may be able to find deals on Groupon. Don't assume it has the best price. Shop around.
Use Miles and Points
Miles and points are a great way to save on travel. You probably won't be able to stay at this hotel for free, but they can put a dent in your expenses.
Capital One
The Capital One Venture credit cards allow you to erase travel expenses from your statement. You could book your trip with your card, then erase it.
Disney Visa
The Disney Visa from Chase earns Disney dollars. It isn't the best credit card for everyday spend, but you could use your rewards to cover your trip.
Should you stay for this reason?: Yes.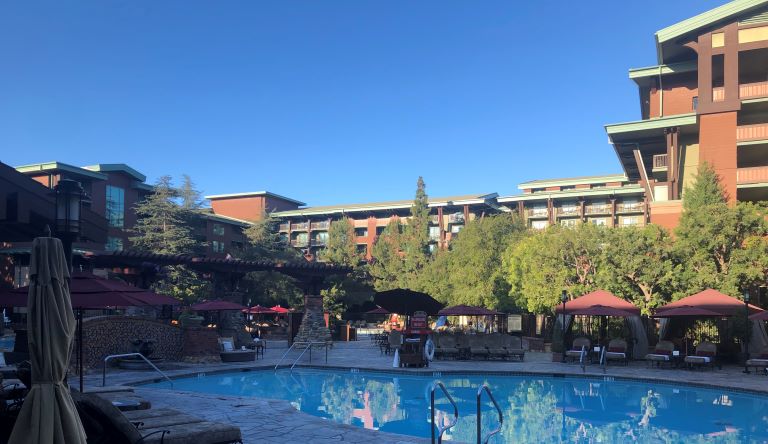 16. 
Theme Park Availability is Better
You have to make a reservation to enter the theme parks. Disneyland has a lot of annual pass holders that snap those up. They can be hard by which to come.
One of the benefits of staying at Grand Californian is that reservations are held for hotel guests. You will have an easier time getting one if staying on property.
Should you stay for this reason?: Yes.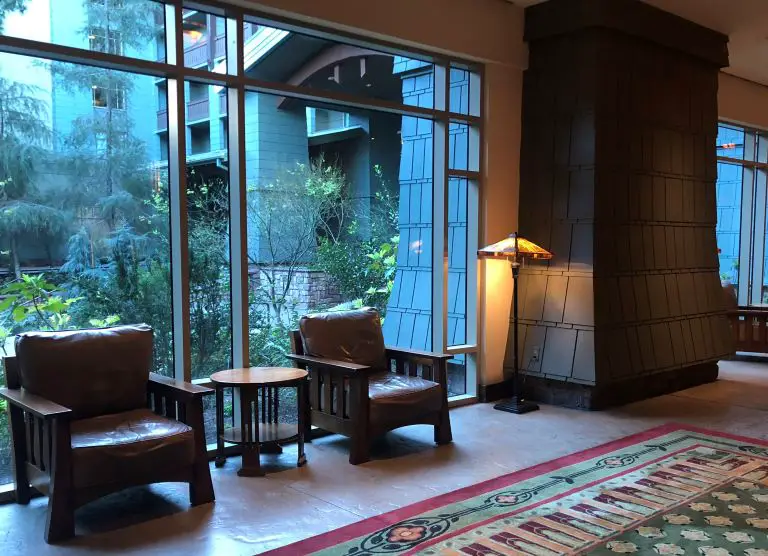 17. 
You Can Have Your Souvenirs Delivered to the Hotel
One of the additional benefits of staying on property is that you don't have to carry your souvenirs around the park. Your in-park purchases can be delivered to the hotel.
Should you stay for this reason?: Eh.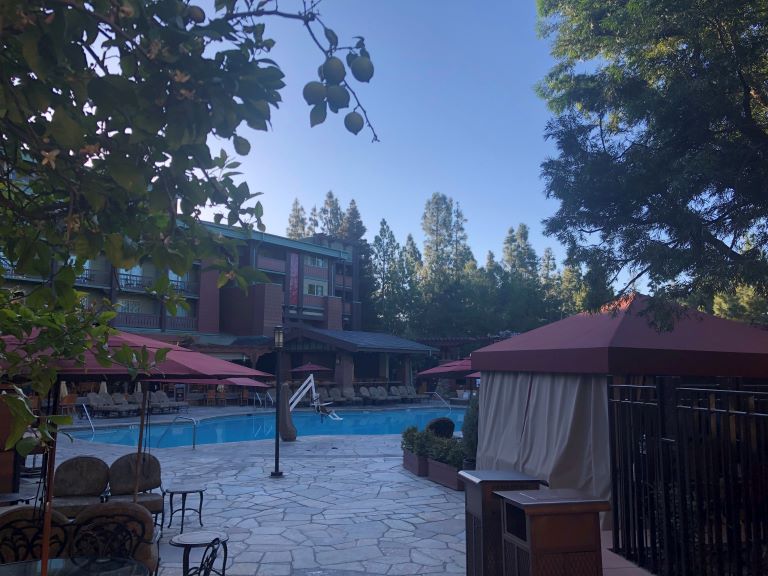 18. 
No Pets Allowed
Is the hotel pet friendly? Other than service animals, no, it isn't. If you want to bring your dog, you should go elsewhere.
Should you stay for this reason?: Not unless you have an allergy.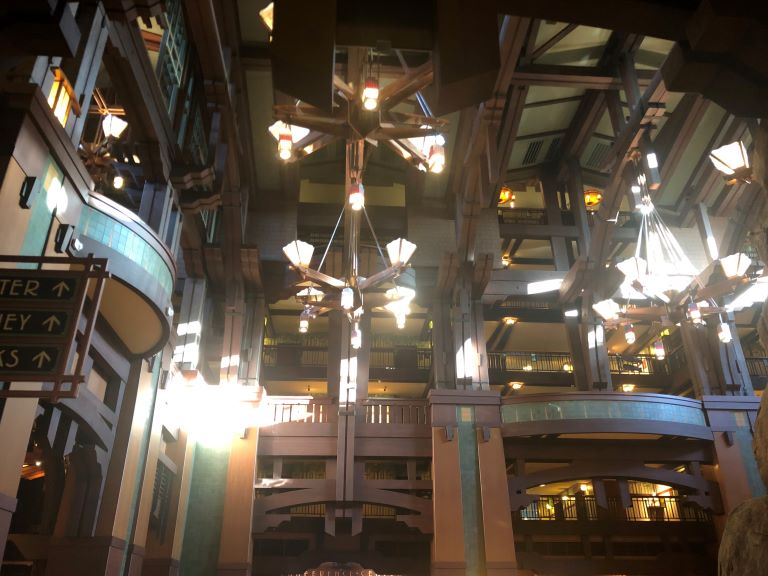 19.
There is a Spa
This hotel is the only on property resort that offers a spa at Disneyland. The Tenaya Stone Spa offers treatments and a serene experience away from children. It is not cheap.
Pro tip: You will probably be able to find availability for treatments during your stay, but book ahead if you're sure you want to visit.
Should you stay for this reason?: Only if you want a spa treatment.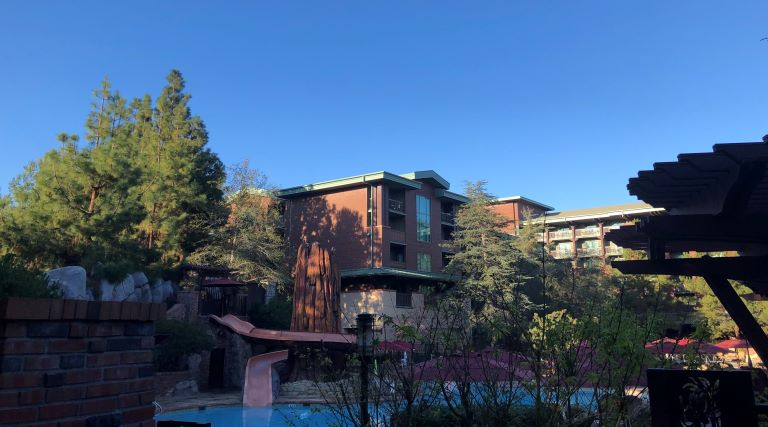 20. 
What Are Your Other Options?
In addition to the Grand Californian, you can stay on property at the Disneyland Hotel and Paradise Pier. You will get the same on property perks at these properties, the most important being early park entry.
Generally speaking, the other on property options will be cheaper, but not cheap.
If you want to go off property, there are a ton of much cheaper options within walking distance.
Is it better to stay at a Disney hotel? That is up to you. You will not get the early entry and Disney touches off property, but you may be able to get more space. Weigh the pros and cons when deciding what is best for your family.
Pro tip: The Disneyland Hotel has the best slide on property.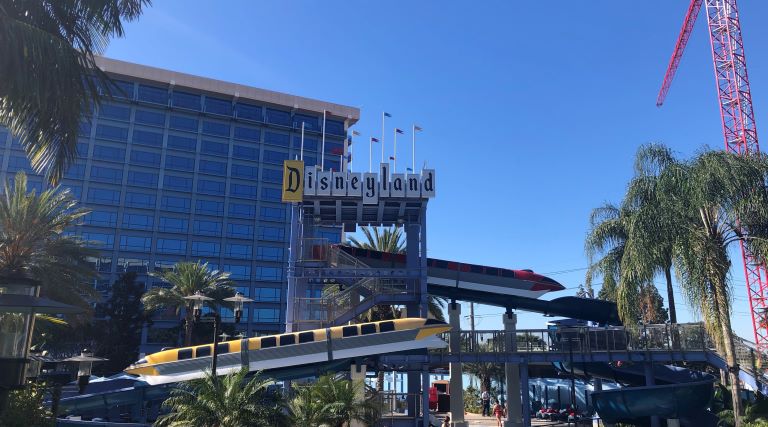 Final Thoughts – Why Should I Stay at the Grand Californian Hotel at Disneyland?
Why should I stay the Grand Californian Hotel? That is a question personal to your preferences. Many would stay because it is a nice hotel with an unbeatable location. Others might stay for the early park entry alone.
Whatever your reason, be sure to find ways to save if you decide to try it. If you can't stomach the cost or the theming isn't your favorite, check out the Disneyland Hotel.
Visit Disneyland. You will not regret it.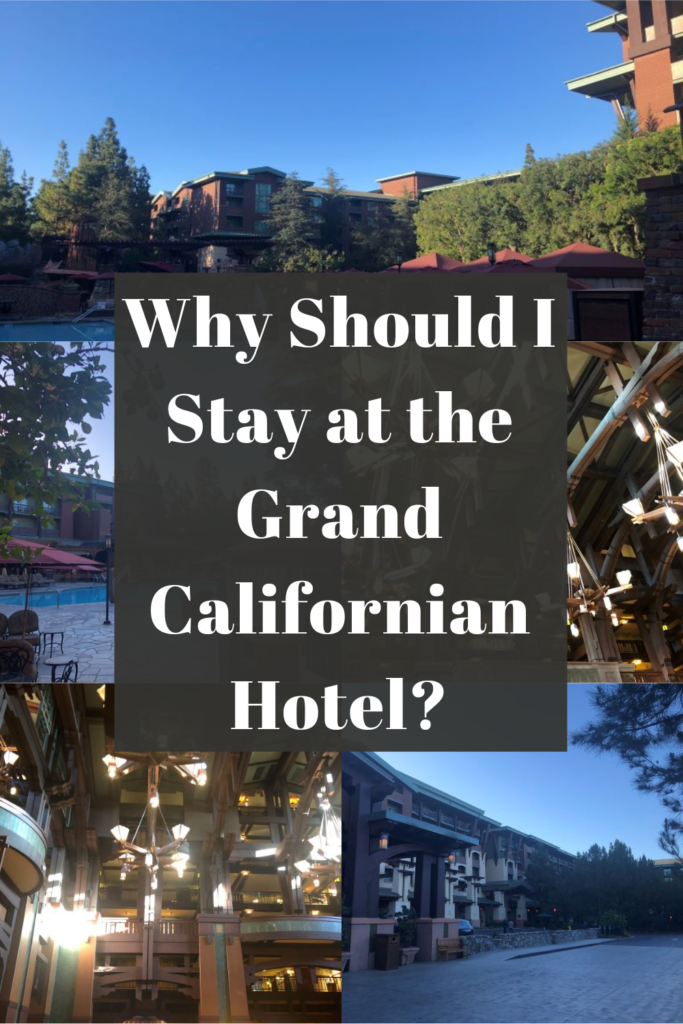 Related Articles to Why Should I Stay at the Grand Californian Hotel?:
Why Should I Stay at the Grand Californian Hotel?