Timber Ridge Lake Geneva Tips: Save Money and Avoid the Masses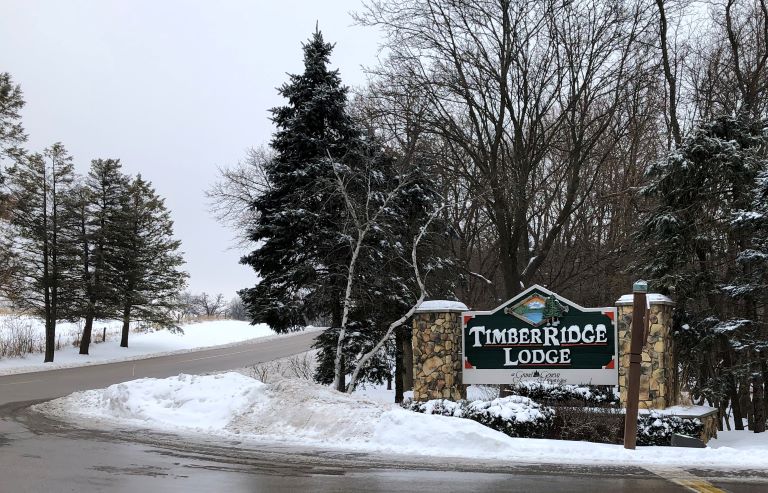 Timber Ridge Lodge, part of the Grand Geneva Resort, is a fun place to spend a weekend with small children if you can tolerate crowded pools and cold temperatures. The hotel rooms are large and work well for families. We have a lot of great memories from these weekends, but this is not a good choice for an adult-only getaway. What Timber Ridge Lake Geneva tips do you need to know to maintain your sanity?
What Are the Most Important Timber Ridge Lake Geneva Tips to Know When Planning Your Trip?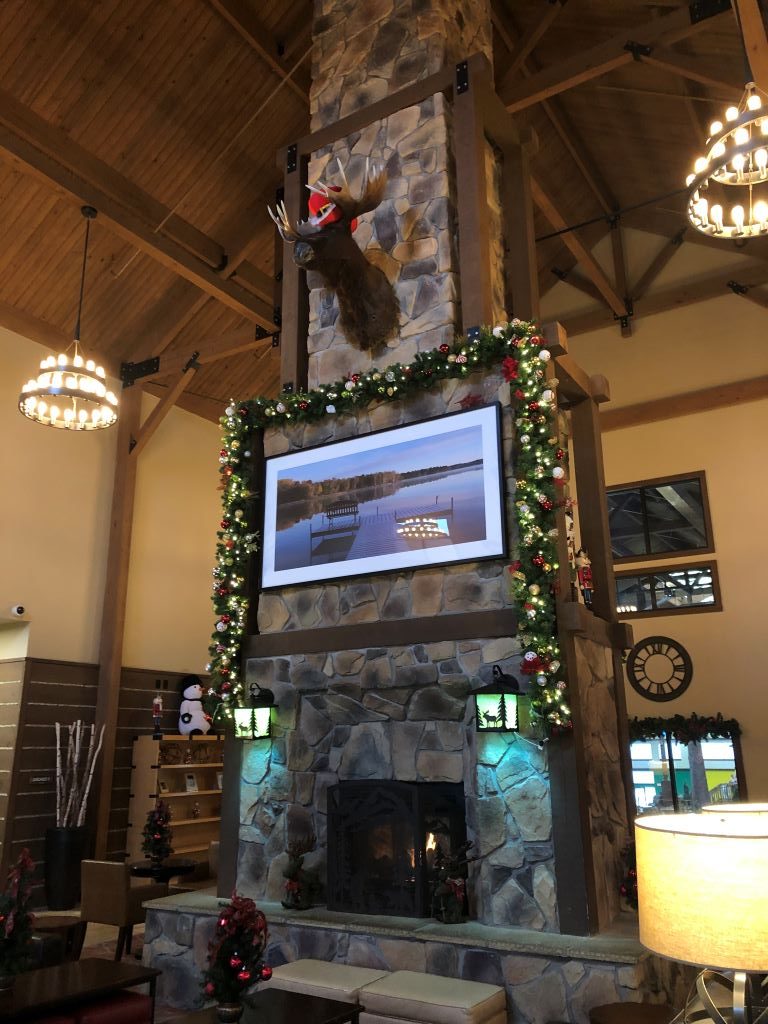 As an Amazon Associate, I earn from qualifying purchases.
DISCLOSURE: This post may contain affiliate links, meaning when you click the links and make a purchase, we receive a commission.
Timber Ridge Lake Geneva Tips
1.
Where is Timber Ridge?
Timber Ridge is located at 7020 Grand Geneva Way, Lake Geneva, Wisconsin. It isn't particularly close to any major highways, so it is a bit of a haul to get there. When you arrive, however, its proximity to downtown Lake Geneva and the lake itself cannot be beaten.
2.
Timber Ridge Lodge Reservations
A.
Timber Ridge Groupon Deals
The resort is affordable regardless of how you book, but we usually wait for a deal on Timber Ridge Lodge Groupon deal. In the winter, you can often find a room for less than $500 for two nights. The stay includes water park passes for each day you are there. If you stay two nights, you get water park passes for three days.
B.
Timber Ridge Deals Through Direct Booking
The resort offers different deals for Timber Ridge Lodge throughout the year. I have seen deals that include dining (hard pass on this one), as well as packages that include a stuffed animal (why?). Avoid packages with extra "perks", and just go for the one that makes the most sense financially.
The resort offers discounts to certain groups, including military personnel, teachers, service workers, and Boy Scouts and Girl Scouts as of the time of this writing.
Deposit and Cancellation Policy
To book, you must pay a deposit of the cost of one night. Timber Ridge has a 72-hour cancellation policy. If you don't cancel within that window, you will lose your deposit.
C.
Book Through a Travel Search Engine
I generally do not recommend booking through travel search engines. The deals aren't much better, you don't earn loyalty points with the travel provider directly, and it is harder to get an issue resolved should one arise. With that said, Timber Ridge can be booked through sites like Booking.com, Expedia, Travelocity, Hotellook.com, Tripadvisor, and Hotels.com. If you have some points built up through one of those sites, that might be a good option.
D.
Use Miles and Points
Timber Ridge can be booked using several different miles and points currencies. Make sure you get a good value if you go this route. If there are redemption options that give you significantly more value per point (like transferring them directly to an airline or hotel chain), you may want to pay cash and save the points for something else.
American Express
You can book Timber Ridge using American Express Membership Rewards points in the American Express travel portal. These points are earned with several cards, including the Amex Platinum, the Amex Gold, and the Amex EveryDay credit cards, among others.
Capital One
Capital One's Venture cards allow you to erase travel purchases from your statement. If you book the hotel or charge things at the hotel on this card, you can erase it later.
Chase
Timber Ridge can be booked using Ultimate Rewards from Chase. You can earn Ultimate Rewards using the Freedom and Sapphire lines of cards.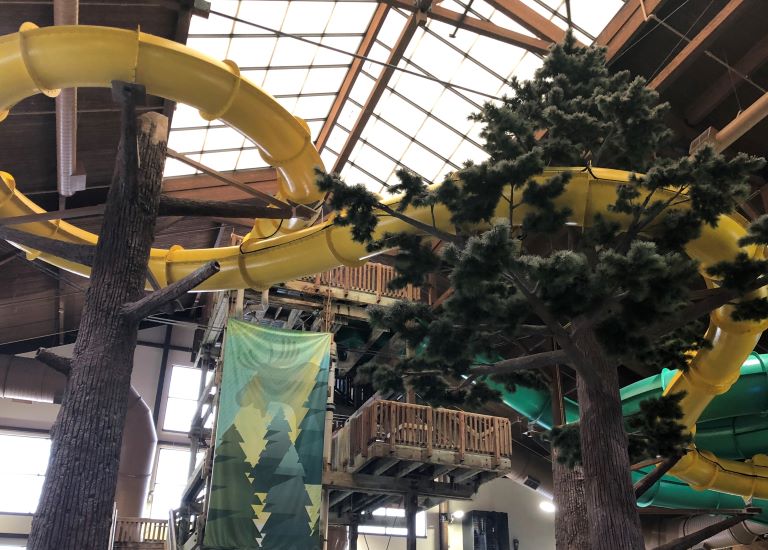 3.

The Timber Ridge Lodge Lake Geneva Rooms
This resort wins the day when it comes to hotel rooms. All rooms are suites, with both one and two-bedroom options available. The size of the Timber Ridge rooms allows groups to comfortably gather. Some of the most fun nights of my life involved champagne, groups of adults playing inappropriate board games, and deliriously tired children jumping on the bed after a long day at the water park.
Timber Ridge Lodge One Bedroom Suite
The one-bedroom suite sleeps four. It has a bedroom with a king-sized bed.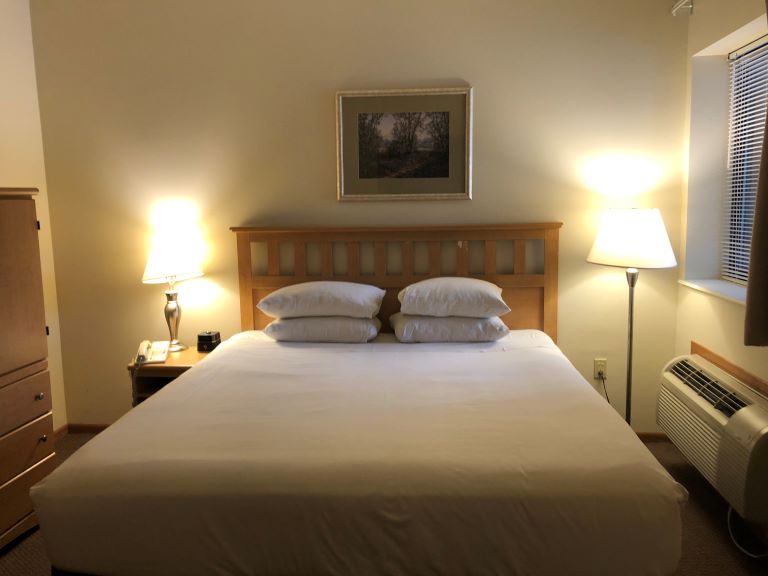 The other two people sleep on a pull-out couch in the living room. If your kids don't like to share queen-sized beds, this is not the room for you. Pack and plays are available upon request.
The suite has televisions in both the living room and bedroom.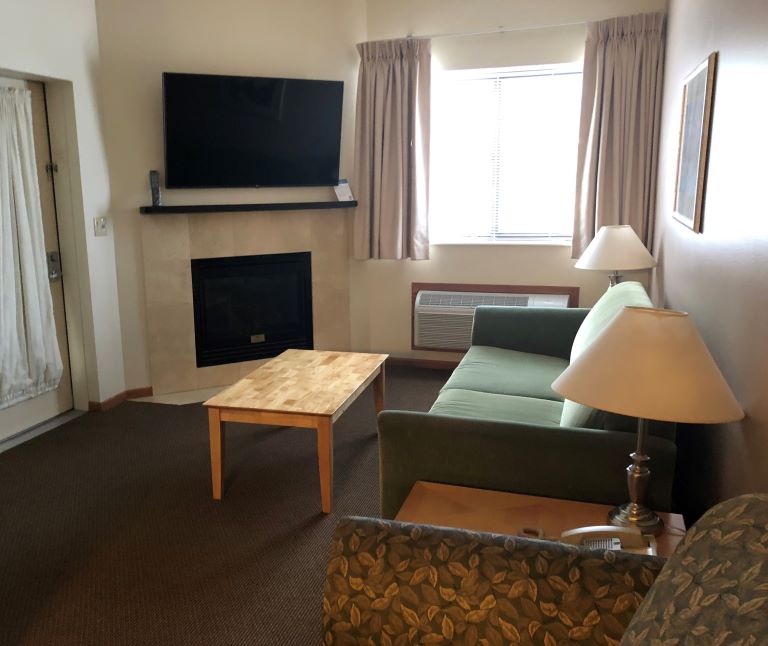 Heads up: The fireplace in the living room does in fact get hot, so be aware of that with small children.
The suites have a kitchen and dining room table. This means you can cook for yourself and eat takeout from other places. You are not stuck with the Timber Ridge options (Amen).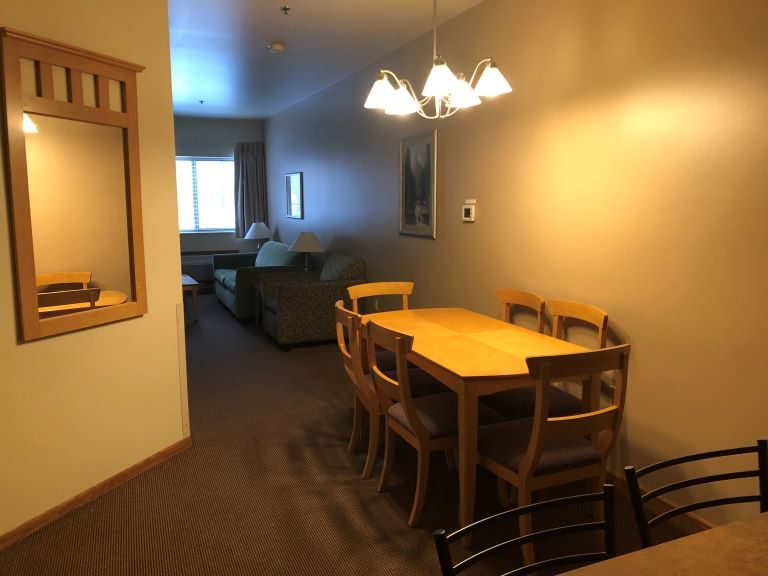 What Are Some of the Amenities at Timber Ridge Lodge & Waterpark?
Dishes, utensils, saucepans, a blender, a coffee maker, and things needed to open your alcoholic beverages are in the room. You get two complimentary bottles of water per night.
Note: The kitchen comes with a stovetop, but no oven. There is a microwave and toaster.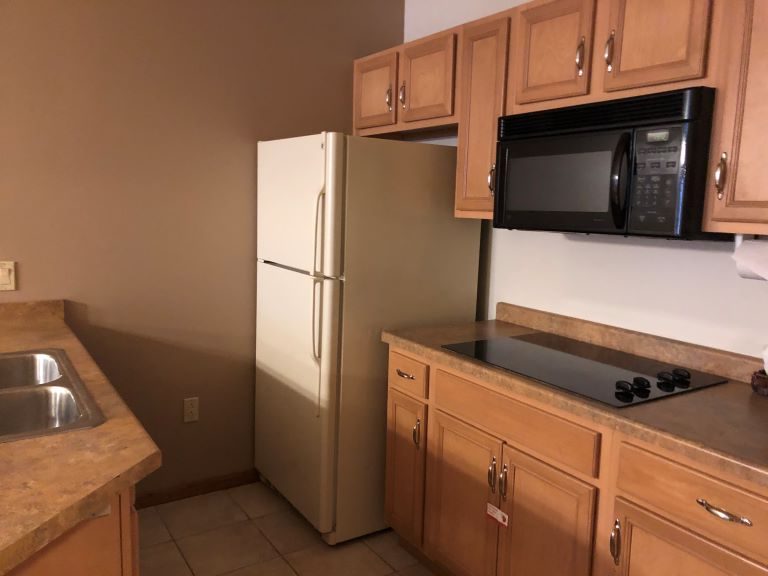 The bathrooms are sizable and come with one of my favorite jacuzzi tubs of all time.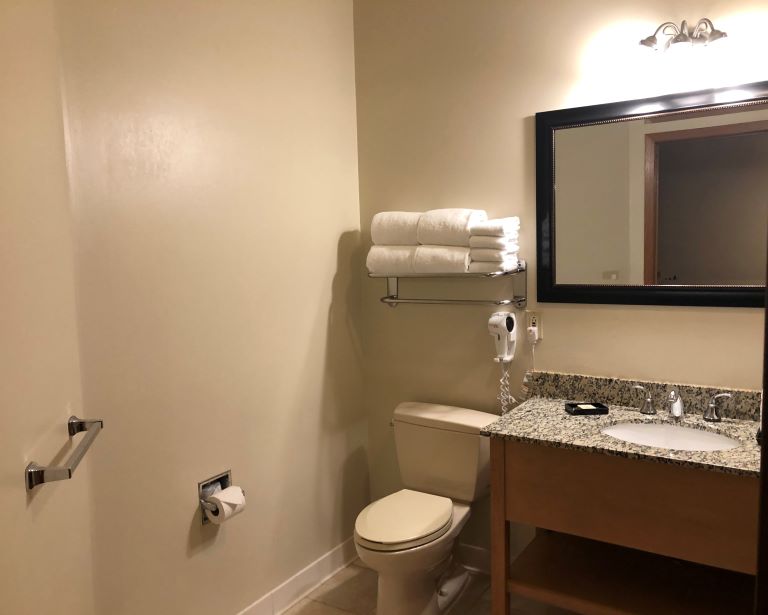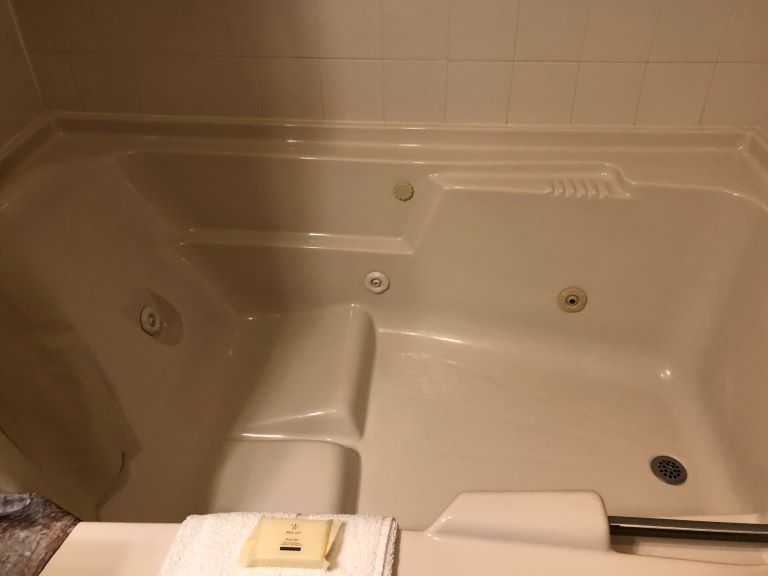 All suites have a balcony or porch.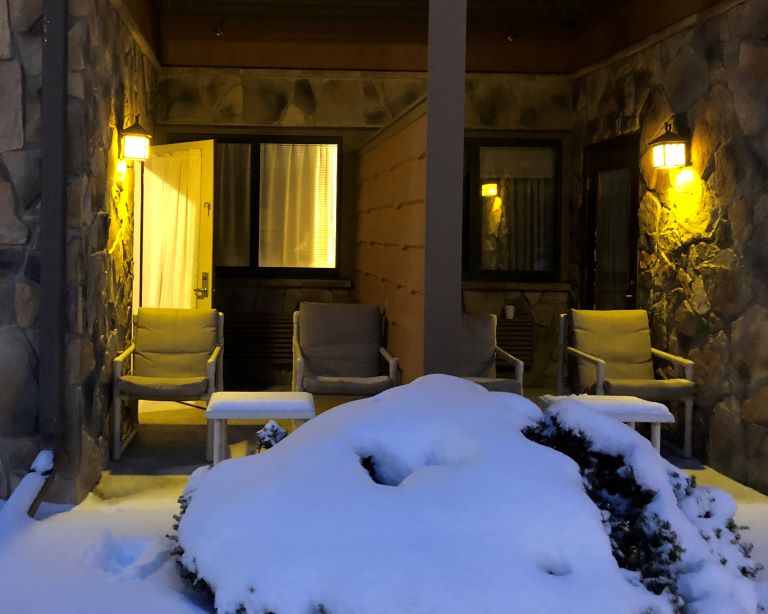 Timber Ridge 2 Bedroom Suites
Two-bedroom suites hold six people in total. They are similar to the one-bedroom suites but feature two levels. The second level has another bedroom with a queen-sized bed, a second bathroom, and another television.
Timber Ridge Lake Geneva Water Park Passes Are Included
Timber Ridge one-bedroom suites include four water park passes per day. Two-bedroom suites include six. Passes come in the form of color-coded wristbands for each day you are there. If you stay two nights, you get passes for three days.
As of the time of this writing, you can purchase up to four additional Timber Ridge day passes for $30 per person, subject to availability.
Heads up: Everyone above twelve months needs a wristband to enter. It would be reasonable for one to expect that toddlers are free. They are not.
Wifi is Included
Wifi is included in your stay.
Timber Ridge Lodge Check-In and Check Out
Timber Ridge Lodge check-in time is 4:00 p.m.
Check-out time is 11:00 a.m.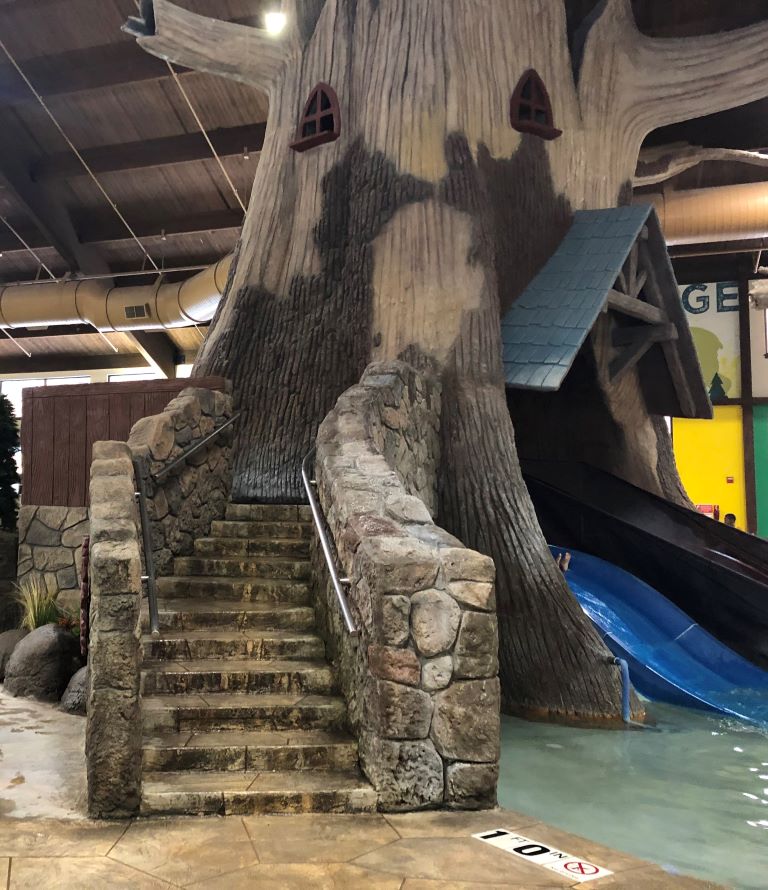 4.
Avoid the Masses
Arrive Early
This is the most important of all the Timber Ridge Lake Geneva tips. In normal times, the water park is crowded. No, really. This seems to be true regardless of the day of the week. As with every other place you visit on the planet, it is the least crowded first thing in the morning.
Get up early and start swimming right when the pool opens. This way, your kids will be ready for a break when the unsupervised ten-year-old goes down the slide in the kiddie pool that deposits directly into a pile of toddlers.
Note: As of the time of this writing, capacity is limited because of COVID-19. Even with limited capacity, the pools are zoos in the afternoon.
Pro tip: The pools get shut down for a long period of time when someone has an accident, which seems to happen at least once or twice a day. Arriving early will ensure you get some time in the pool before a kid lets one go.
Cabana Rentals Are Available
Timber Ridge rents cabanas in the pool area. As of the time of this writing, they include a couple of lounge chairs and go for $100 per day. I don't think this is a great use of money. The water area gets crowded, to be sure, but the lounge chairs in that cabana aren't going to magically make the pools less miserable. Given that your hotel room is in the building, you can easily leave and come back later if you want some privacy.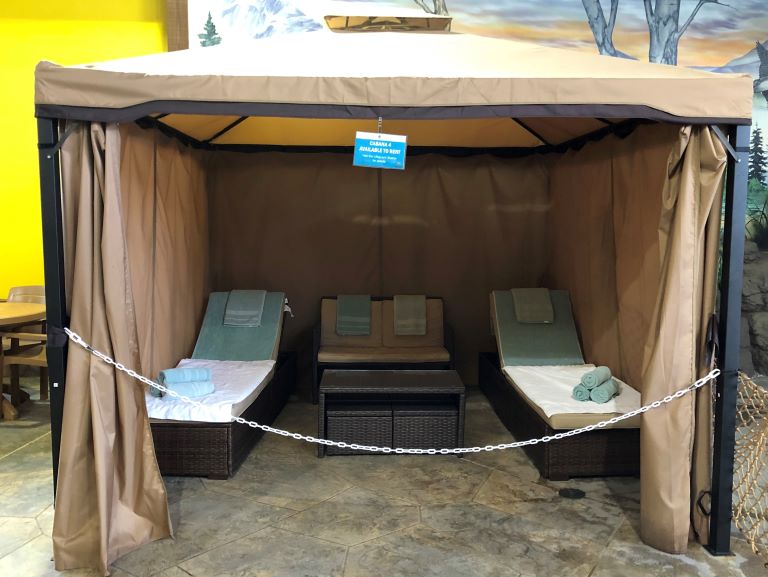 5. Timber Ridge Lodge Lake Geneva Moose Mountain Falls
Moose Mountain Falls is the water area. It has several sections, all located in one giant, cold room that spills into an outdoor area. If you are wet and not submerged in water, you are going to be unhappy.
Timber Ridge Waterpark Hours Vary
Timber Ridge Lodge waterpark hours vary by day. You will be given a schedule when you check-in. Arrive at opening to avoid crowds. All of the photos in this post were taken right at opening. The pools do not look like this all day.
Lifeguards on Duty
The pools have lifeguards. There are plenty of them, and they are vigilant. Not Grand Californian vigilant, but I still feel better knowing they are there. There is no guarantee you will find your kids again if you lose sight of them in the sea of humanity that is a Timber Ridge pool, so it is nice to know someone else is watching.
Towels and Life Jackets Are Available
Complimentary life jackets and towels are available. You don't need to bring anything from your room.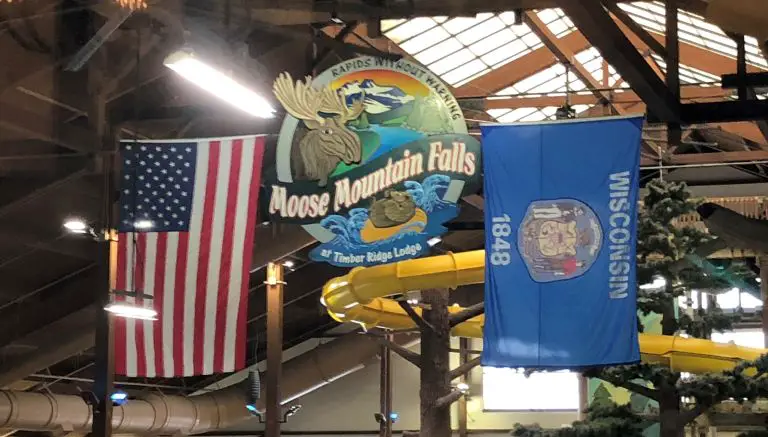 Timber Ridge Resort Lake Geneva Water Areas
Timber Ridge has a massive indoor waterpark. Additionally, there are outdoor pools that are open seasonally.
Tiny Timbers
Tiny Timbers is a zero-depth entry pool that is perfect for small children because of its shallow nature. It is not great for anyone else. This doesn't stop kids with zits and braces from cutting toddlers to go down a slide head-first into a gaggle of babies.
There is water shooting out of the pool with which small kids can play.
There are three small slides in the area. No lifeguard will make kids wait in line, so be ready to assert yourself.
Heads up: In what I consider to be poor planning, Timber Ridge placed baby swings smack dab in the middle of the pool. Little kids are totally unaware of these swings as they run excitedly through the pool. You probably won't be able to avoid a collision, but it is something of which to be aware.
Bonus heads up: Timber Ridge also left hoses in this pool for kids to squirt each other near the baby swings. That sounds fun, but someone is almost always crying. Kids are also not above spraying adults. Maybe just avoid the swing area altogether.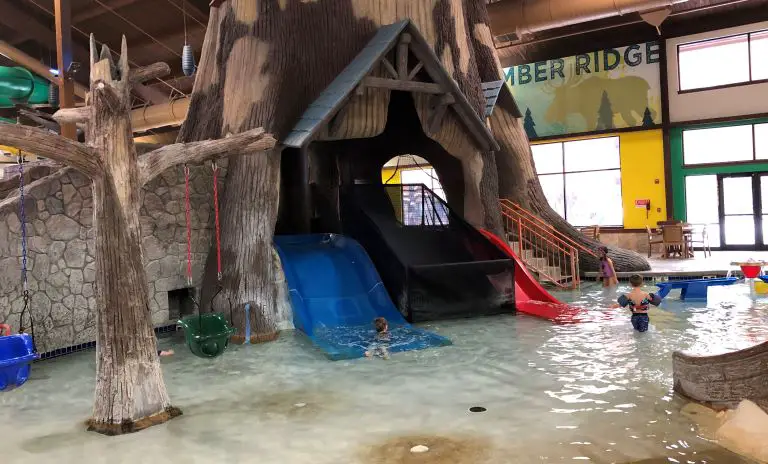 Activity Pool
The Activity Pool is a large, deeper pool. This area is recommended for kids ages seven to ten.
There is a slide that is bigger than those found in Tiny Timbers. Lifeguards attempt to keep people away from the bottom. You can stand at the bottom to catch your child if he or she wants to try it alone, or you can slide down together.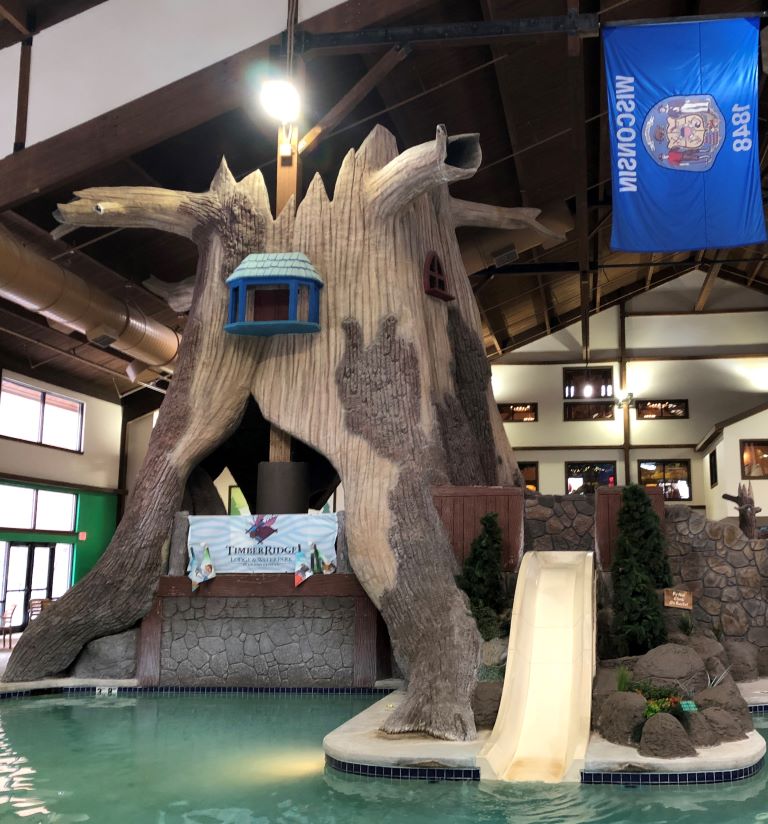 This pool has several basketball hoops and a few balls tossed haphazardly into the water. Obtaining one of those balls after the pool has been open for a couple of hours is akin to winning a Golden Ticket. If you get it, don't lose it. You won't be getting it back. The balls fly out of the pool on the regular, so it is not uncommon to see an adult engaging in a footrace with a ten-year-old.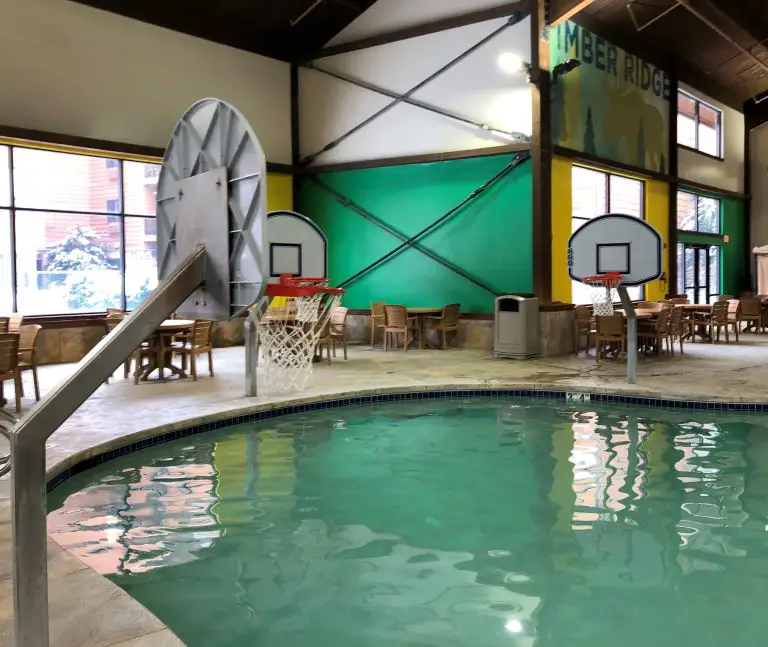 The pool also has a string of floating pads on which you can try to stand and walk. I didn't see much walking. I did see a lot of kids hanging on them.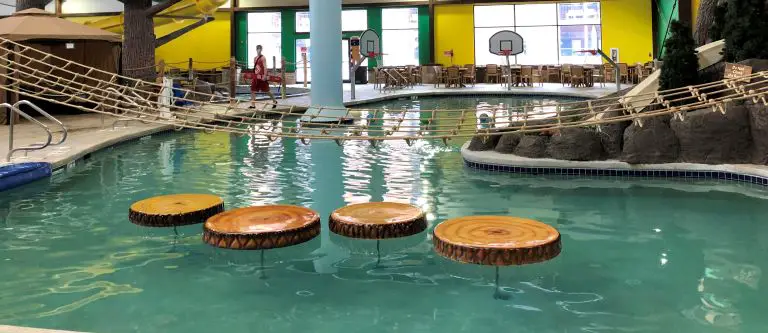 Canyon River
Canyon River is the lazy river at Timber Ridge. It is nice to float around, if you can get a tube, that is. The tubes are only slightly less difficult to obtain than a basketball. Get there early and be ready to throw down.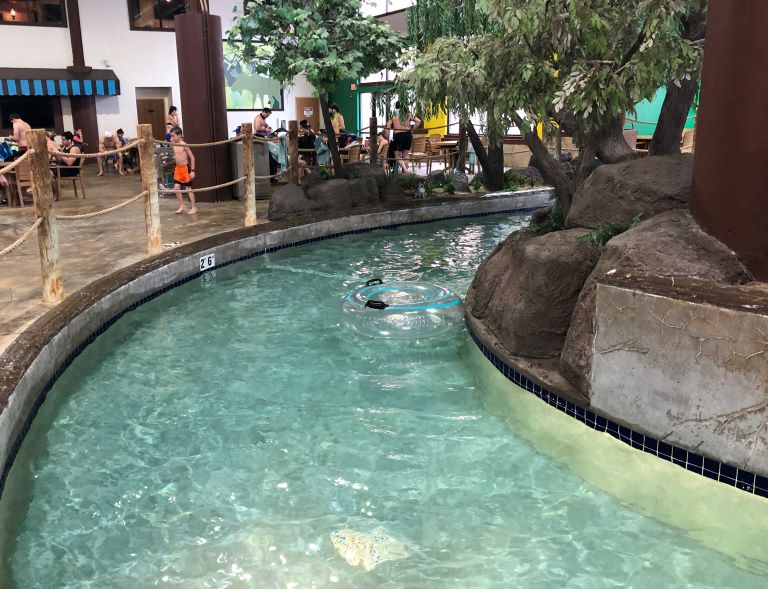 Timber Rapids
Timber Rapids is a large, green slide that requires a hike up quite a few stairs to reach. We like this slide because you ride down on a tube, either alone, or with your child. Be aware that you have to carry the tube (and possibly your child) up all of those stairs.
The slide itself is smooth. If you're worried about height requirements, don't. As long as your child's feet can touch the front of the tube, he or she is good to go. Water will splash in his or her face at the end, but you can avoid this by lifting the child up when the slide hits the water.
Timber Rapids deposits you into a pool connected to Canyon River, so you can exit the pool or just keep floating.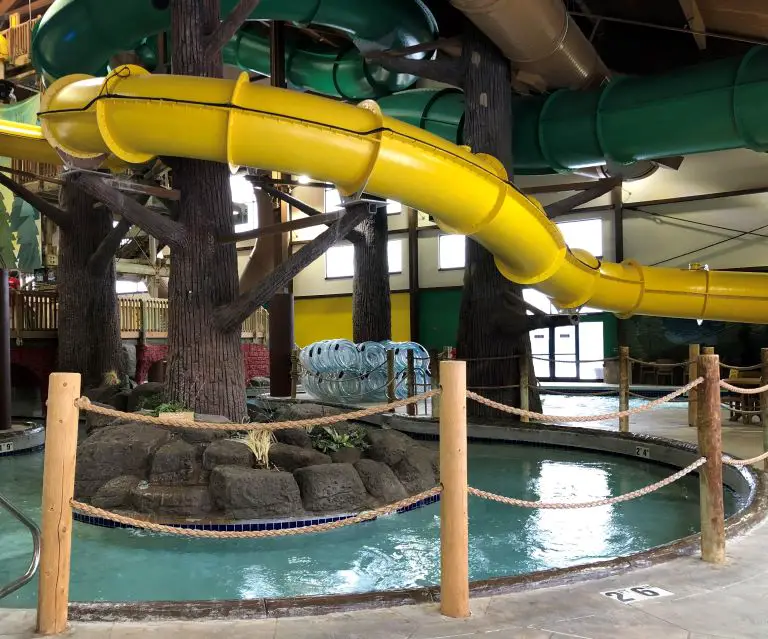 Avalanche Falls
Avalanche Falls is a yellow, single-rider water slide with no tube. You climb the same stairs to reach it, but at least you don't need the tube this time. Before you slide, you select what music you want it to play.
This slide is fast, and you take a bunch of water to the face on the way down. Lights go in and out. It is a fun slide and a great option for older kids, but I would not send a young child down unattended without trying it yourself to decide if he or she can handle it.
This slide deposits you into the same pool as Timber Rapids. You can technically reach the Canyon River, but you won't be allowed to go in without a tube.
There is a 48″ height requirement to ride.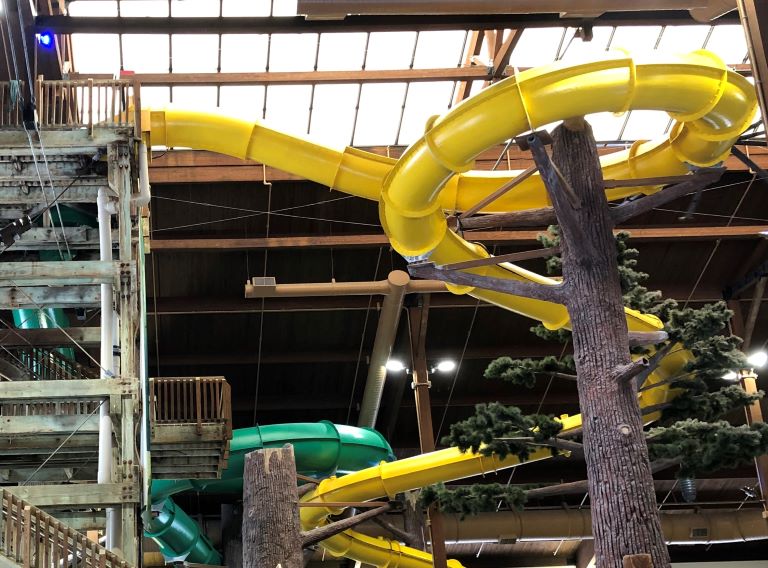 Timber Ridge Lodge Hot Tubs
Timber Ridge has hot tubs, populated largely by dads who have checked out for the day. There is one that is strictly indoors, one out, and one that allows you to swim from in to out by ducking under what appears to be a garage door. Children must be at least six years old to use them.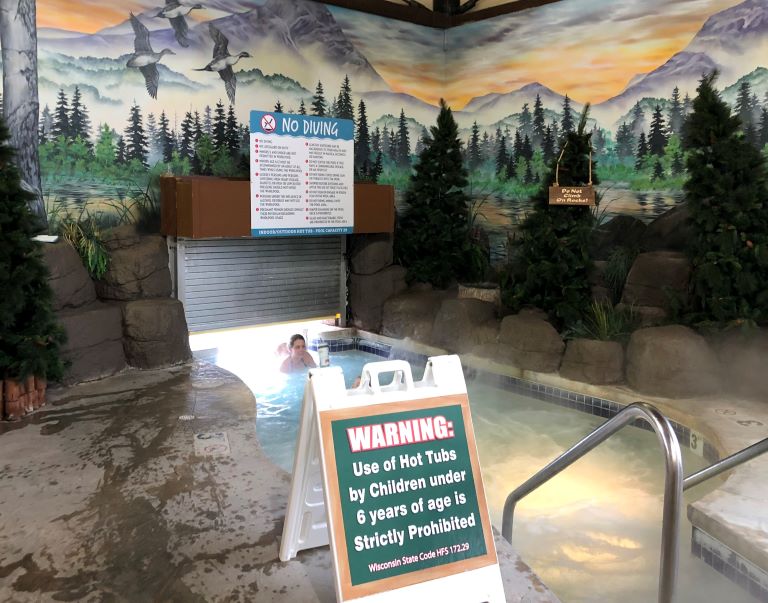 In an effort to appeal to a wider audience, the hot tub below was marked adults only when we visited. You can see how much play that one got.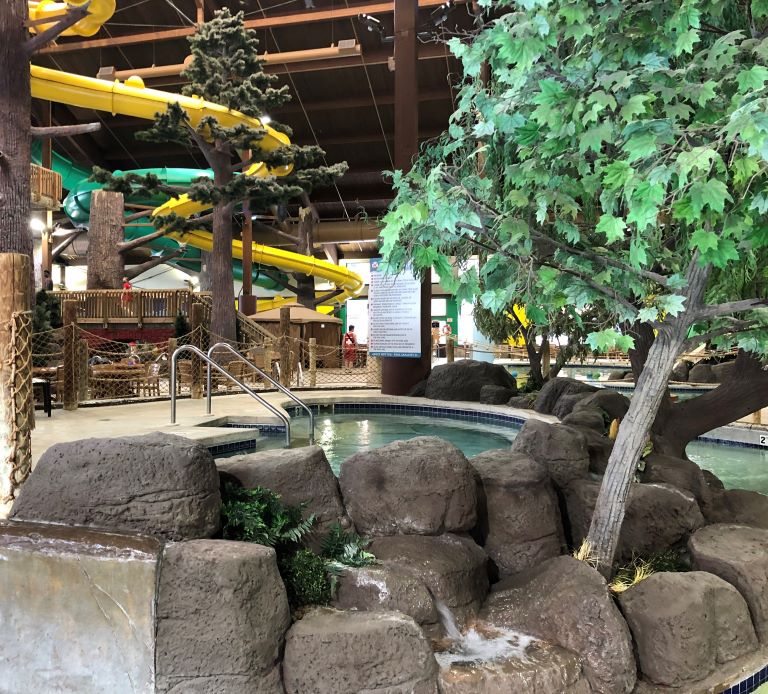 You Can Use the Lap Pool at Grand Geneva
Pro tip: In addition to these water areas, adult guests can use the lap pool at the WELL Spa + Salon at the Grand Geneva.
6.

Crazy Coyote's Arcade Cave
Crazy Coyote's Arcade Cave is a small arcade located directly across from the entrance to Moose Mountain Falls. The people who designed the hotel fell down on the job adding the baby swings to Tiny Timbers, but redeemed themselves in the location of this arcade, profit-wise. Kids walk past it constantly.
The hotel gives you an arcade card with a couple of dollars on it when you check in because your child will definitely accept playing only one game and then leaving.
The arcade has a lot of options for younger kids. This isn't just a long line of violent video games. The prizes are also ample and not that expensive. The arcade is worth a stop when your kids are officially waterlogged.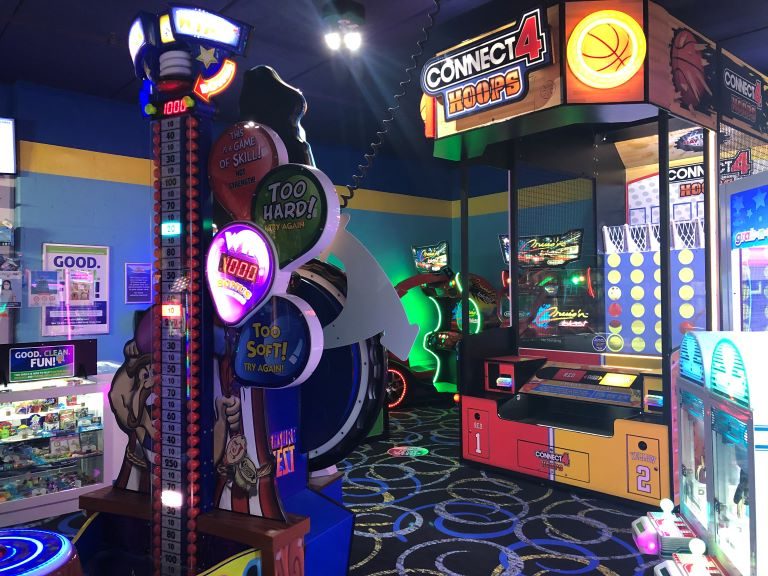 7.

Timber Ridge Lodge Lake Geneva Activities
A.
Activities in the Resort
Chelsea's Activity and Party Room
Timber Ridge Lodge Lake Geneva offers several activities for kids, most of which are found in Chelsea's Activity and Party Room. You are given a schedule when you arrive. Options were lacking, to say the least, during our most recent visit, but there is usually a craft or two and a movie.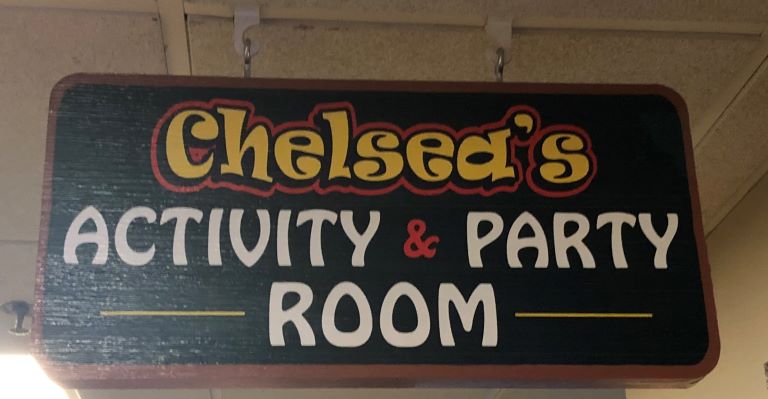 During normal times, the highlight is karaoke. The kids sound just like Celine Dion when they sing Jingle Bells in February with microphones in their mouths.
Saturday Night Story Time
During non-COVID times, they offer story time with milk and cookies in the lobby on Saturday nights. This sounds more exciting than it is.
The kids are given Teddy Grahams. Milk is inevitably spilled. A unique woman dressed in a onesie who doesn't seem to like kids reads stories that are too long for the audience. She pauses the stories periodically to yell "One, Two Three, SHHHHHHHH!", which is her not-so-subtle way of telling them to STFU.
The kids are given a gift bag with Timber Ridge paraphernalia and another arcade card with enough to play one game. Overall, it is a waste of time, yet we attend every year.
After the story, Bruce the Moose comes out to take pictures with the kids.
Timber Greens Mini Golf
There is a mini golf course located outside the pool area. This comes with an extra charge. As of the time of this writing, it costs $4 per person for nine holes and $8 per person for eighteen.
B.
Activities Within Grand Geneva
Golf
Timber Ridge guests can play golf at Grand Geneva. There are two eighteen-hole golf courses. Lessons are available.
Spa
The WELL Spa & Salon at Grand Geneva is open to Timber Ridge guests. You can book spa treatments or use the lap pool free of charge.
Fitness Center
Timber Ridge guests can use the fitness center at Grand Geneva. The fitness center has classes, a steam room, and a sauna, among other things.
Timber Ridge Lodge Horseback Riding
Dan Patch Stables is located near the entrance to the property. You can ride the horses, or take a carriage ride.
Grand Geneva Adventure Center
The Adventure Center has several activities to book, including archery and disc golf. You can also rent scooters, bicycles, and classic cars (that midlife crisis isn't going to feed itself).
Skiing and Other Winter Activities
Grand Geneva is a ski resort. This is a massive operation, with packages, lessons, and rentals. In addition to skiing, you can ice skate and sled.
C.
Off-Property Activities
Timber Ridge is located near downtown Lake Geneva, as well as the lake. There is no shortage of things to do, particularly in the summer.
Tristan Crist Magic Theatre
The Tristan Crist magic show is impressive for a magic show in Lake Geneva. Items like helicopters appear in seconds. Things got a little weird when he talked about the ghost of his dead grandfather watching the show, but other than that, all good.
The shows are small and socially distanced as of the time of this writing.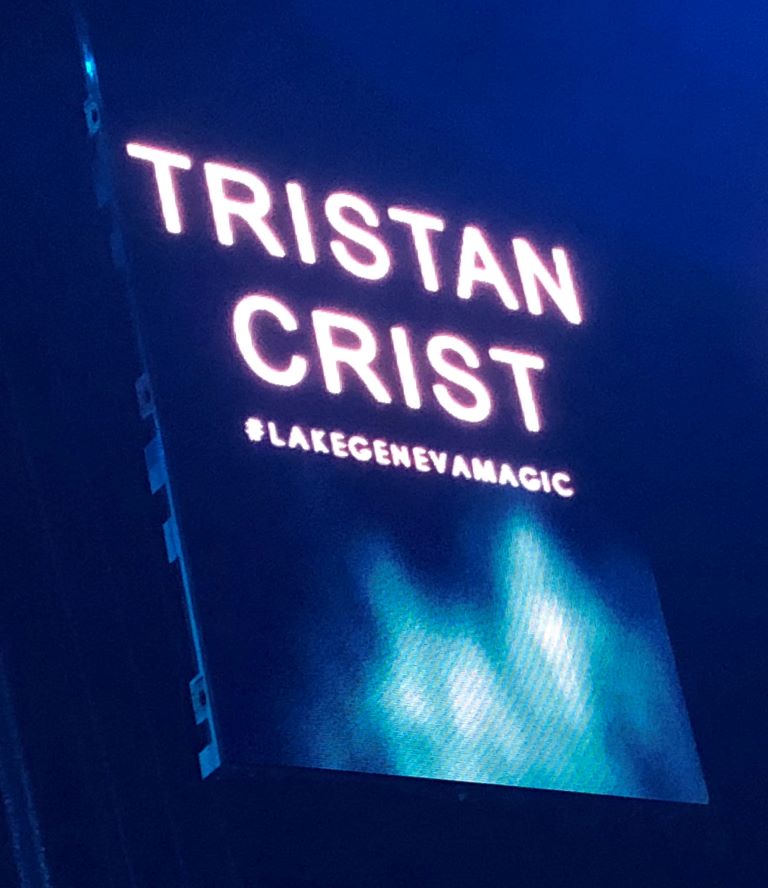 Rent a Pontoon Boat
Lake Geneva has some large boats for masses of people to share, but why subject yourself to that? Rent a pontoon boat and admire the mansions in private.
Go Ziplining
You can zipline and do a ropes course with Lake Geneva Ziplines & Adventures. Make reservations prior to arrival.
Safari
It's not like going to South Africa or anything, but you can drive your car next to a buffalo. This experience is pricy as you are charged per person, not per vehicle.
Dancing Horses Theatre
1988 in the house. This show is Dollywood meets any Jane Fonda workout video ever.
Big Foot Beach State Park
Big Foot Beach State Park has hiking trails and a beach where you can swim. You can rent boats on-site.
8.

Timber Ridge Dining
One of the most important Timber Ridge Lake Geneva tips is to not eat at Timber Ridge. Dining is really where things start going south. The options are limited, and also, awful. The good news is you have a kitchen and a bunch of great food near Timber Ridge Lodge. Take advantage.
Timber Ridge Restaurants
Hungry Moose
Hungry Moose is a fast food restaurant in Moose Mountain Falls. It looks exactly like what you would expect from a takeout place serving people dripping with water. Shirt, shoes, no service.
It has hot items like pizza, burgers, and chicken tenders. There are also prepackaged snacks and ice cream. The employees are always nice, and the prices are reasonable given its location.
Eat here solely because of its convenience. That and the booze it serves. If you have a food allergy, stick to prepackaged snacks.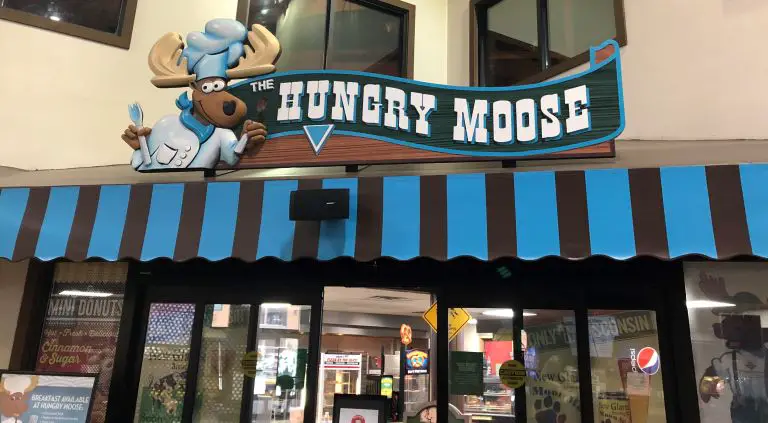 Smokey's Bar-B-Que
Just. Don't.
This is the hotel's only full-service option, yet it is not open for all meals. The food is mediocre at best, it is overpriced, and the service moves like molasses. It's like no one told the employees that you can clear more than one glass off a dirty table at a time. If you insist on eating here, there are some gluten-free options.
Pro tip: While I don't eat the food, I regularly get a cocktail from this establishment. This bar closes bananas early, so you will likely need to request one to go and continue the party in your room.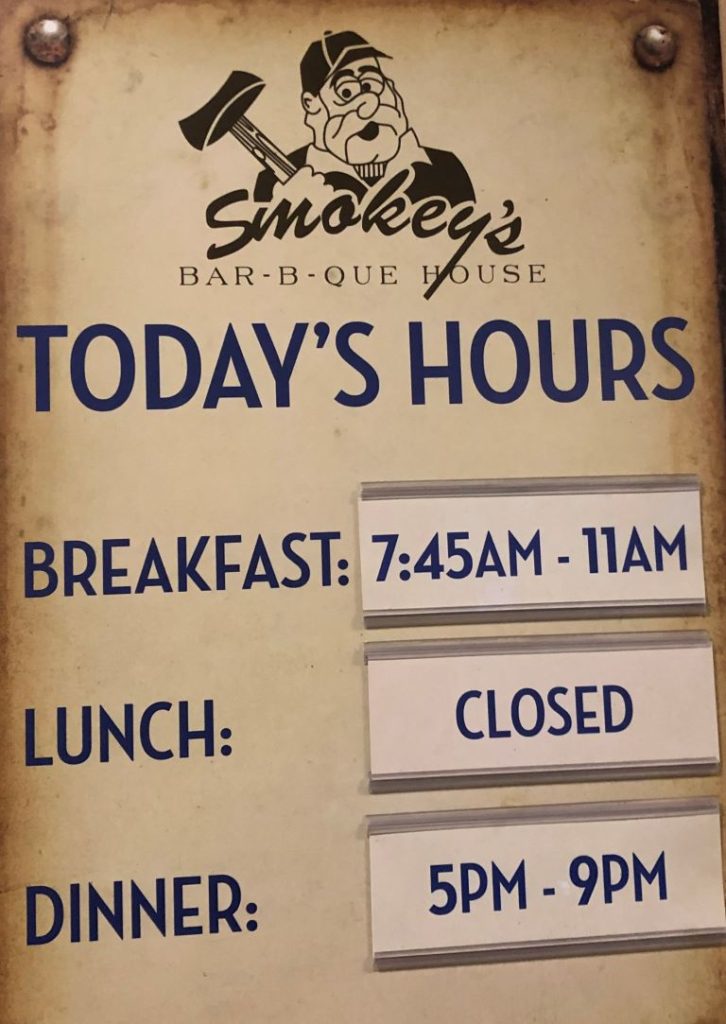 Timber Ridge Lodge Breakfast with Characters
There is a character breakfast offered on the weekend in the resort's ballroom with Bruce the Moose and a chipmunk that is presumably his girlfriend. As of the time of this writing, it costs $22 per adult, $12 for children ages 6 through 12, and $7 for children ages 2 through 5. If you were going to eat on property anyway or you really care about the moose, these prices aren't that bad. Everyone else should skip this.
Restaurants Near Timber Ridge Lake Geneva
Lake Geneva has a ton of great dining options, and Timber Ridge is located within minutes of a lot of them. You will save money and enjoy your food much more off the property. The downtown area is cute. Go out and see it.
In addition to table service restaurants, you will find several fast food restaurants near Timber Ridge Lodge.
Restaurants with Gluten Free Options
Some of our favorites for gluten-free include Popeye's on Lake Geneva (not the fried chicken chain), Egg Harbor, and Kilwin's (for pounds of fudge to go with the champagne).

9.
Parking and Transportation
Trolley
There is a free trolley to take you around the Grand Geneva property. If you want to drink at an actual bar on the property after the sun goes down, you are going to need to hop on that and move to another building.
Is Parking Available at Timber Ridge Lodge & Waterpark?
Timber Ridge has free parking. There are plenty of spots available. With a lot of doors to enter the property, there are not any bad spaces.
10.
Timber Ridge COVID-19 Precautions
Timber Ridge is taking safety precautions, some better than others.
Face Masks Are Required
Face masks are required for guests ages two and up. They are not required in the water areas.
Social Distancing Markers
I saw a few markers on the floor to encourage social distancing, both in the lobby and on the stairs leading to the water slides. I wouldn't say they were utilized by guests.
No Housekeeping
Housekeeping does not come at all during your stay. It is debatable whether this is for hygiene or cost-cutting, but who am I to judge?
Should You Visit Now?
If you are uneasy about COVID-19, the water park is not for you. No one is masked. Most children are not practicing social distancing, and no employee attempts to encourage them to do so.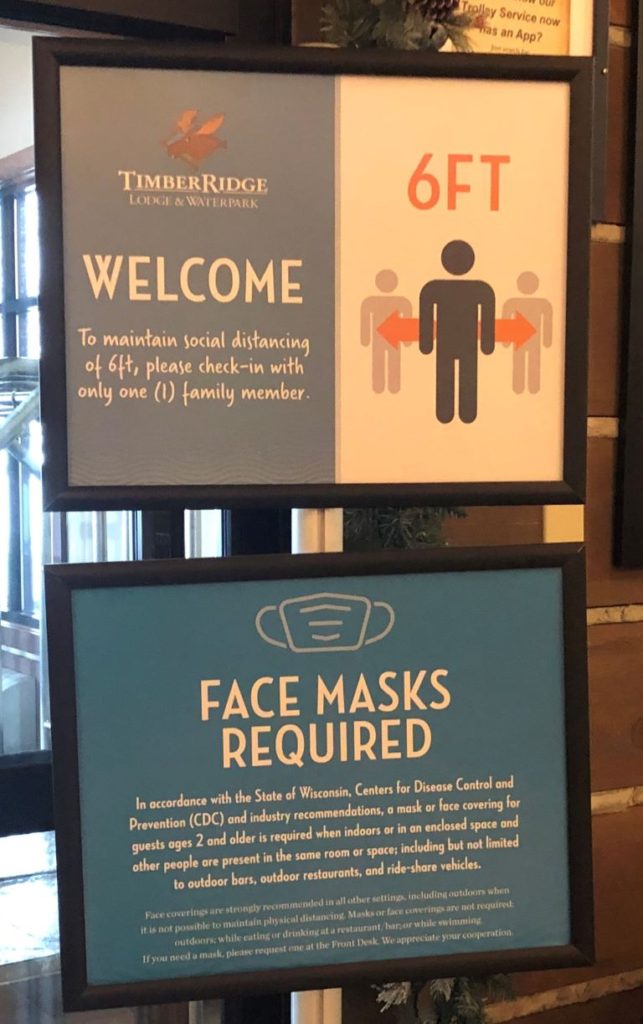 Final Thoughts – Timber Ridge Lake Geneva Tips
Timber Ridge is worth a stop with kids if you can get a good deal. The rooms are awesome, the kids will be entertained, and Lake Geneva is a fun place to visit. It is a little Antarctica on Black Friday in the water areas, so prepare yourself accordingly.
Avoid Timber Ridge like the plague for an adults-only trip. If you are uneasy about COVID-19, you should also not visit now.
Visit Timber Ridge with kids only. You will (probably) not regret it.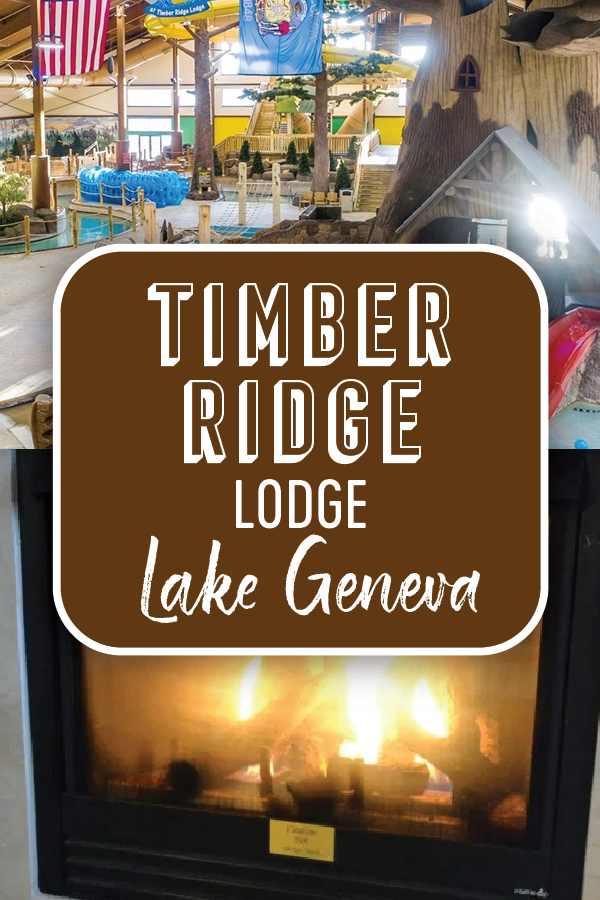 Related Articles to Timber Ridge Lake Geneva Tips: Save Money and Avoid the Masses
Timber Ridge Lake Geneva Tips