Crystal Mountain Resort & Spa: Nice but Overpriced (at Least in the Summer)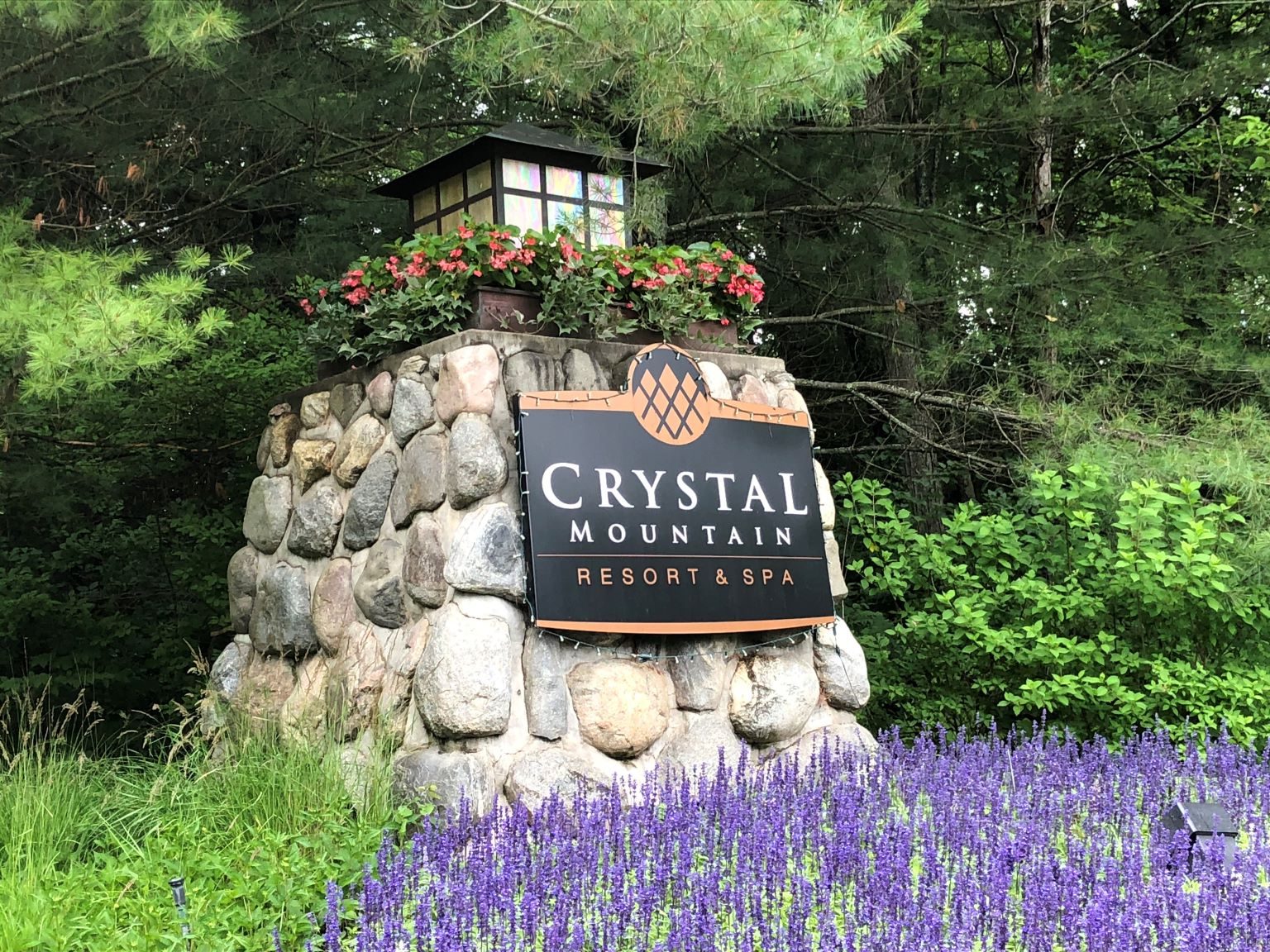 We recently spent a long weekend at Crystal Mountain Resort & Spa. The resort is nice and certainly has amazing views.
However, unlike Timber Ridge in Lake Geneva with lots of options outside of the resort, there are really no restaurants near Crystal Mountain. This results in a lot of overpriced on property meals and activities (very few of which are included in your stay).
The winter seems to have more to offer, but also seems to come with a lot of extra charges. I am glad we went once, but we will likely not return, particularly in the summer.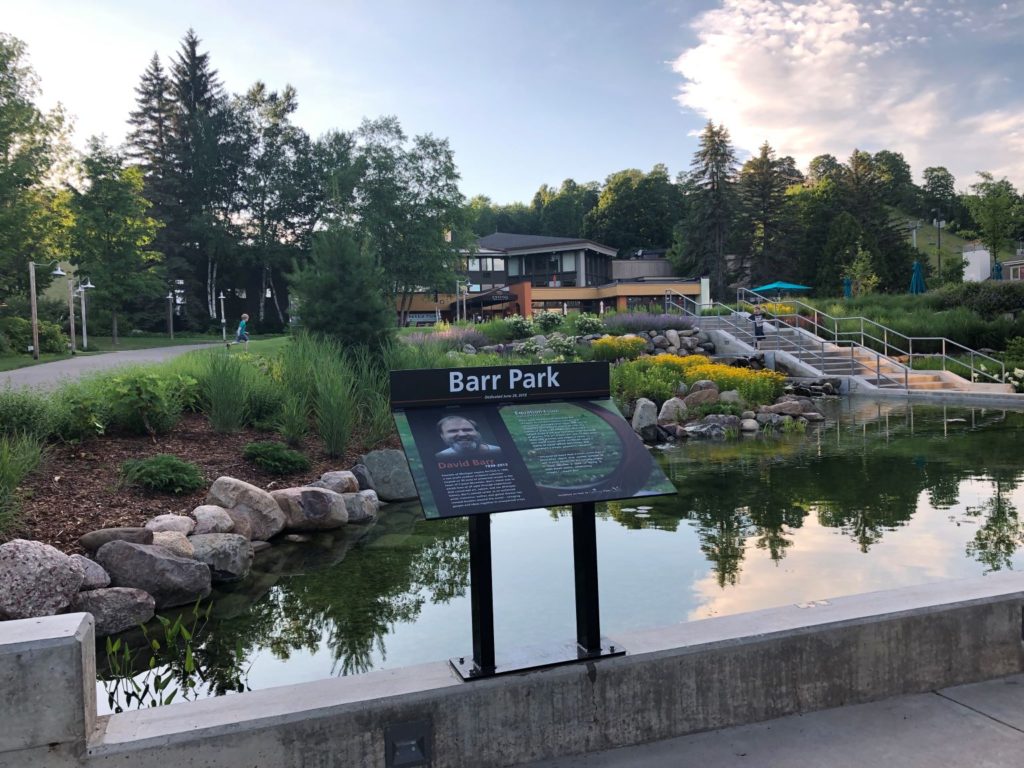 As an Amazon Associate, I earn from qualifying purchases.
DISCLOSURE: This post may contain affiliate links, meaning when you click the links and make a purchase, we receive a commission.
What Should You Consider When Planning a Visit to Crystal Mountain?
1.
Where is Crystal Mountain Ski Resort?
Crystal Mountain in Thompsonville, Michigan is located in the northwest part of the state, smack dab in the middle of freaking nowhere. Like Shining style. Driving to Crystal Mountain is a bit of a chore.
The location is part of the appeal because most people visiting the resort are in it for the mountain, but this extreme isolation kind of traps you.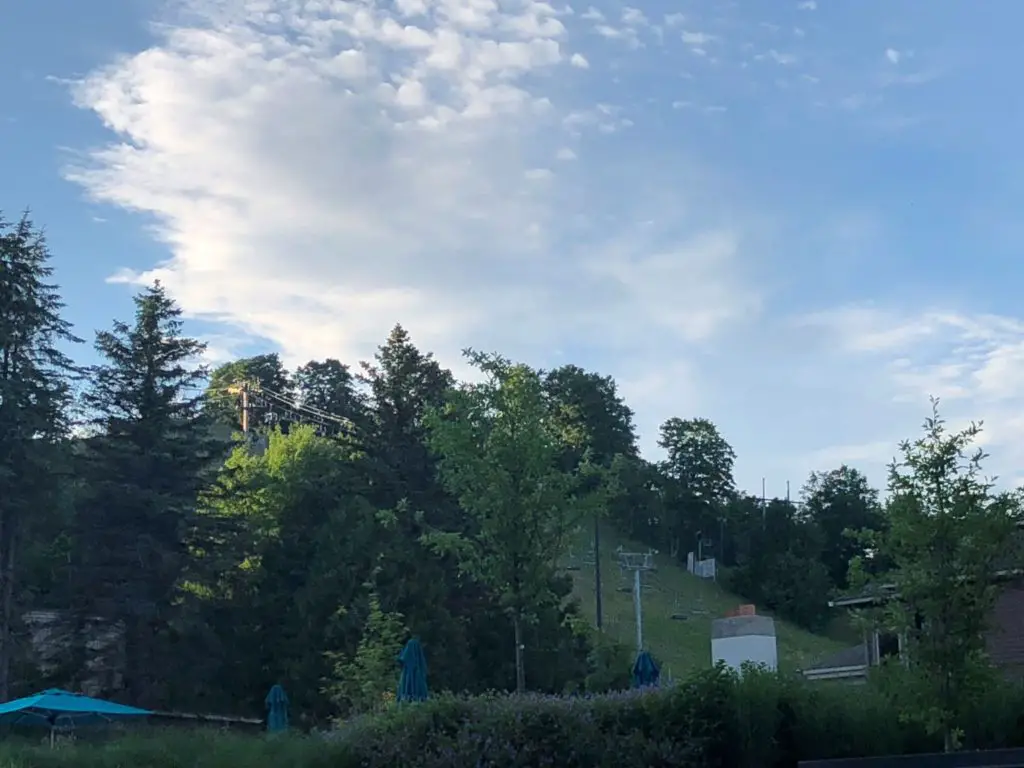 2.
Crystal Mountain Accommodations
There are several options for Crystal Mountain vacation rentals. The property is unique in the variety it offers. It feels more like a little village than a resort.
Bungalows at Crystal Glen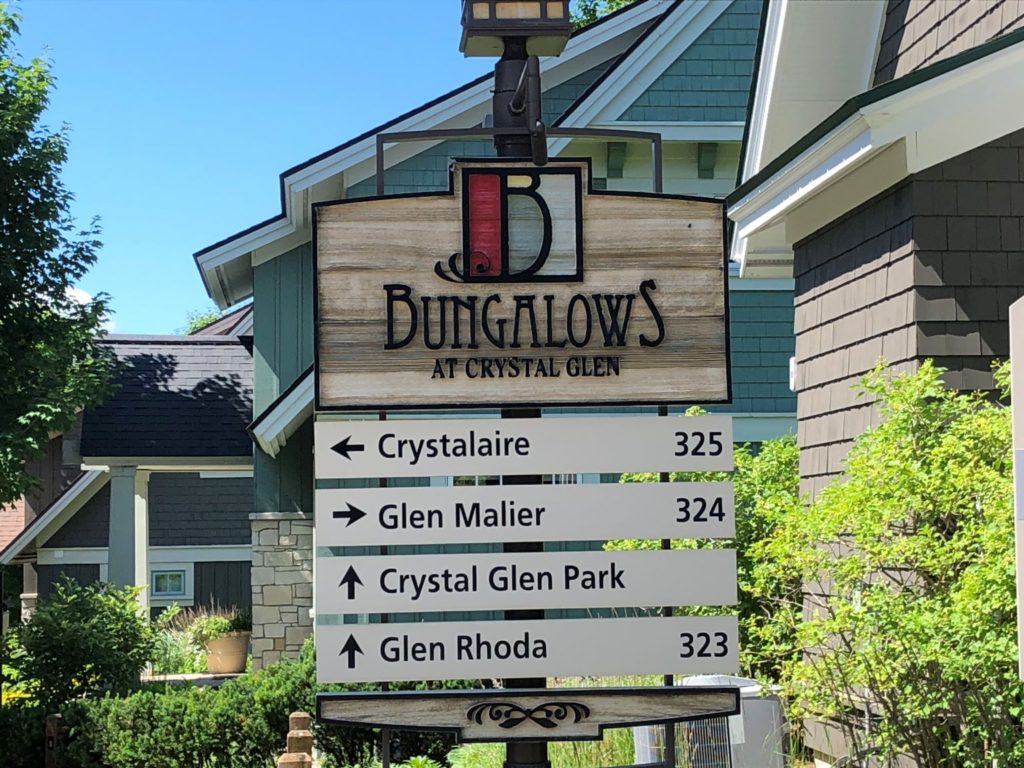 Bungalows are individual residences located at the base of the mountain. They are similar to a home with a full kitchen, fireplace, and a washer and dryer.
They are offered with both three and four bedroom options and sleep up to ten guests. The properties range from 1,592 to 1,729 square feet. If you're traveling with a large group and a bag of money, these are a great option.
Cottages at Water's Edge
The Cottages at Water's Edge offer Crystal Mountain 2 bedroom condos and 3 bedroom condos that can sleep up to nine guests. The properties range from 1,260 to 1,565 square feet. They include a full kitchen, fireplace, and a washer and dryer. They are smaller than the Crystal Mountain 4 bedroom bungalows, but still have plenty of space.
Crystal Colony
The Crystal Colony building contains studio rooms that are 430 square feet each. The rooms sleep up to four people. There are options with efficiency kitchens and full kitchens.
Crystal Mountain Resort Hamlet
This building contains studios room that are 450 square feet each. The Crystal Mountain Hamlet hotel rooms sleep up to four guests and have an efficiency kitchen (read: mini-fridge).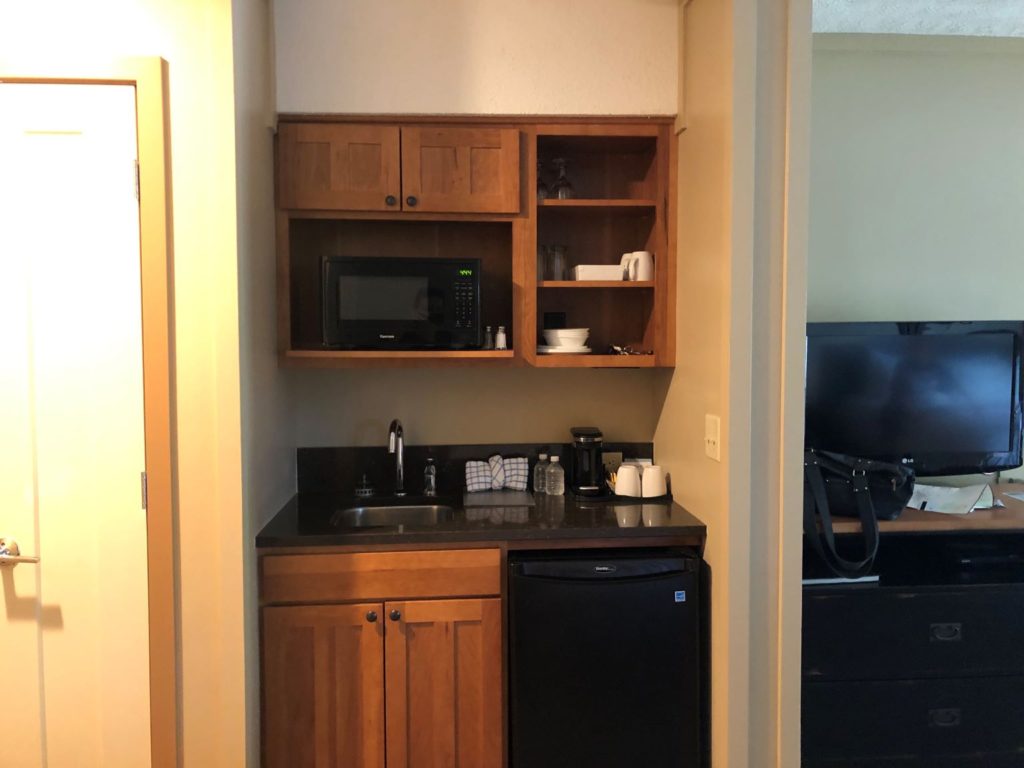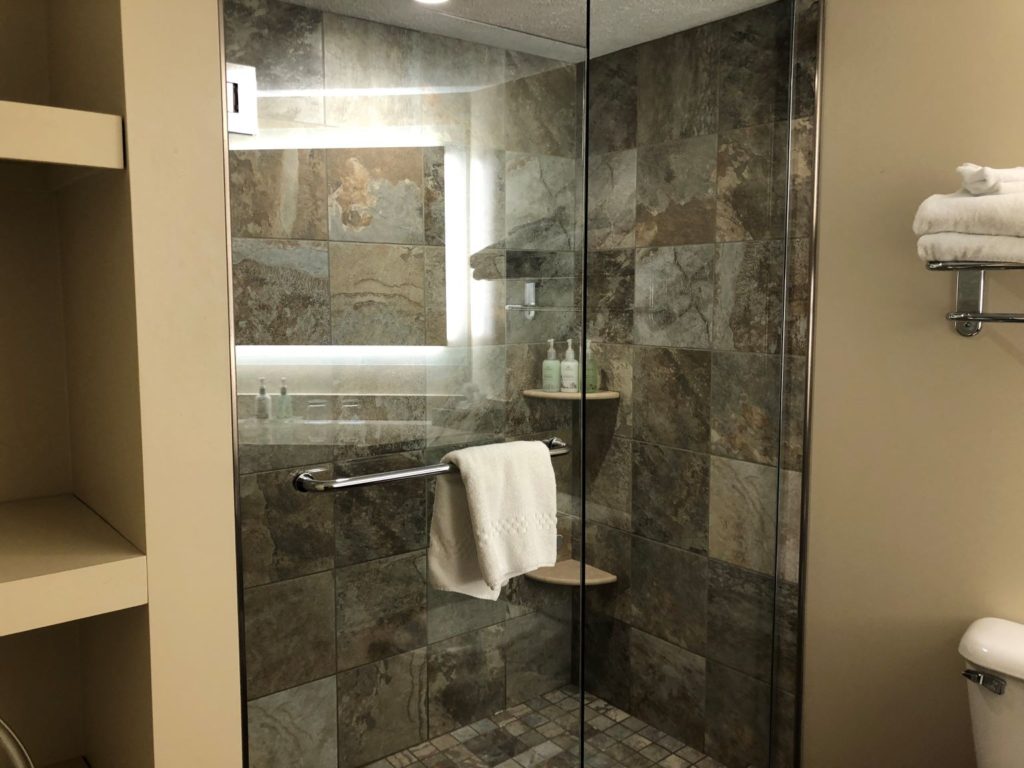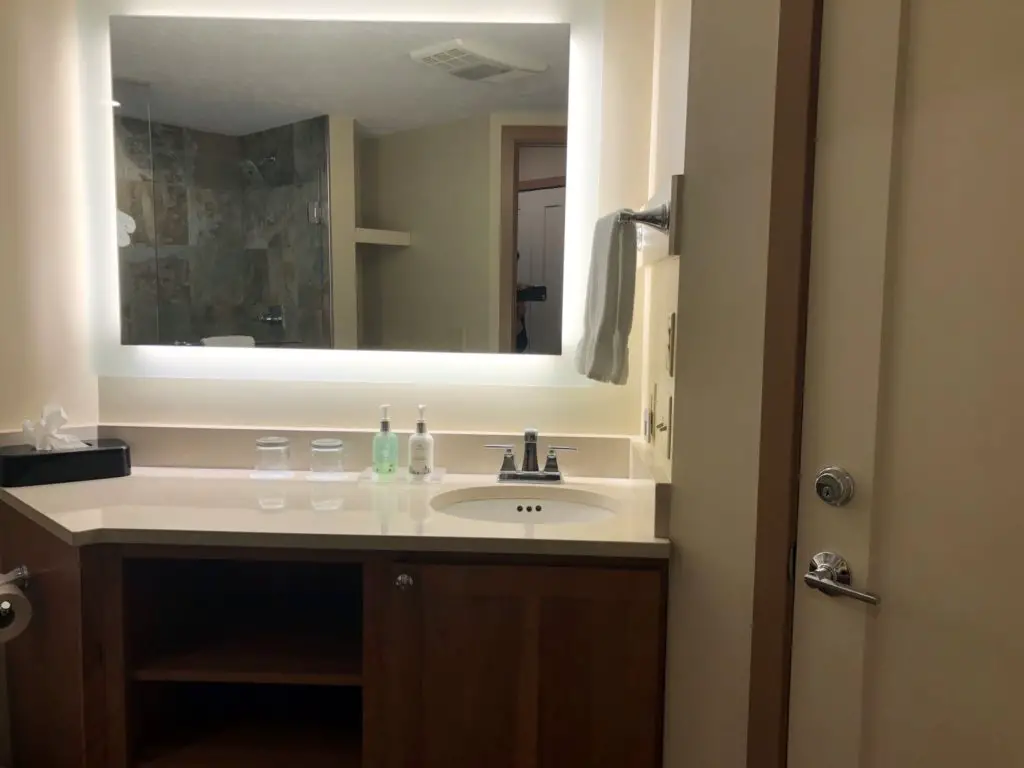 Pets are allowed in this building.
We stayed in this building, sans dogs. The room was comfortable, but was not different than any other hotel room (except there was no housekeeping, more on that below).
Inn at the Mountain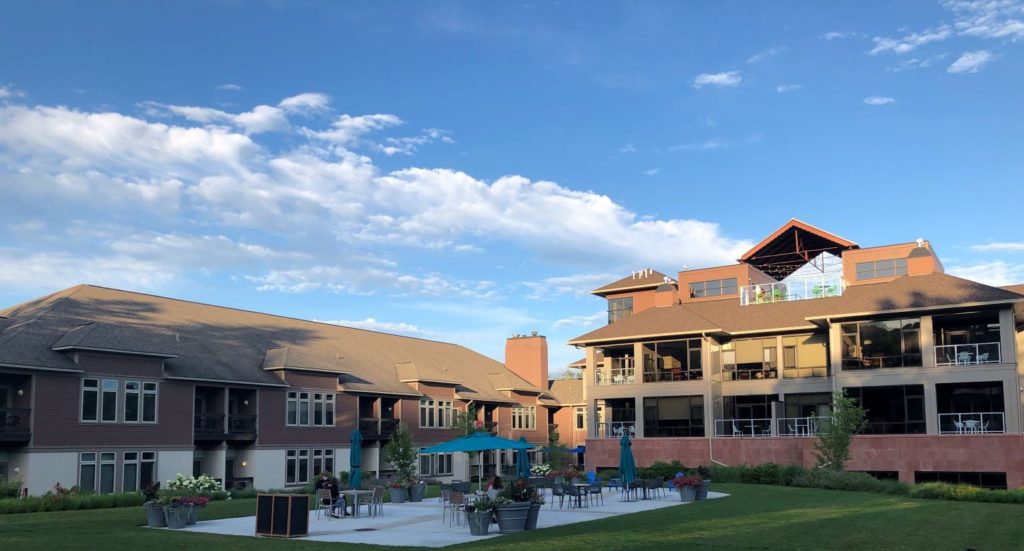 Inn at the Mountain has several types of hotel rooms that range from 256 to 781 square feet. The rooms hold up to four guests.
This building also contains LEVEL FOUR Rooftop Bar and Bru Bar.
Kinlochen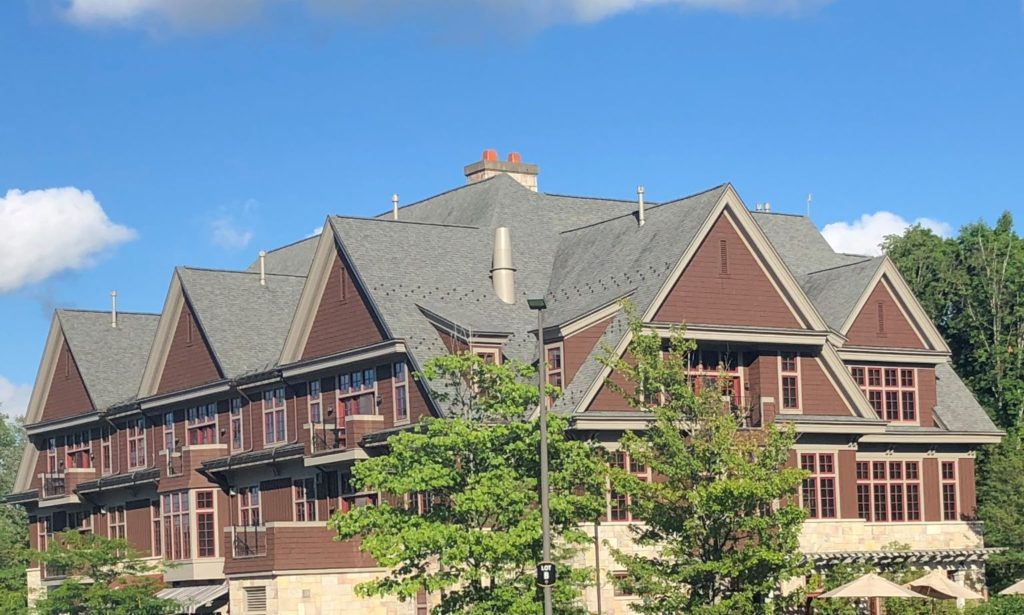 Kinlochen is a beautiful building. All of the rooms are at least one bedroom, ranging from 800 to 1,200 square feet. Some of the rooms hold up to ten guests.
Kinlochen also houses Thistle (a restaurant) and a pro shop.
MountainSide
MountainSide properties are located on the side of the mountain, further from the majority of the common areas. The residences are four and five bedrooms and range from 1,800 to 3,100 square feet. They feature a full kitchen and fireplace. The properties can hold up to fourteen guests. These are some of the most upscale Crystal Mountain Michigan rentals.
MountainTop
MountainTop properties are located on the top of the mountain. You can ski from there, and there is a MountainTop outdoor pool available in the summer.
The properties are two and three bedroom Crystal Mountain condos that sleep up to twelve guests. They are 2,000 square feet and feature a full kitchen, fireplace, and a washer and dryer.
Pinehurst
Pinehurst properties are located on the Crystal Mountain Betsie Valley golf course. They feature studios and one bedrooms that range from 300 to 730 square feet. The rooms can hold up to four guests. Options include efficiency and full kitchens.
Pinehurst Green
Pinehurst Green features townhomes located on Betsie Valley golf course. These Crystal Mountain properties can hold between six and eighteen guests. They range from 1,600 to 2,700 square feet and feature a fireplace and full kitchen.
Resort Homes
The private Crystal Mountain house rentals are not conveniently located. If you stay in them, you will probably want to drive to reach the majority of the common areas. There are three and four bedroom options that sleep up to twelve guests. They include fireplaces and full kitchens.
WinterGreen
WinterGreen properties are located on the Betsie Valley golf course. They are conveniently located near the common areas. They feature a fireplace and full kitchen. Some have a washer and dryer. Options range from one to three bedrooms ranging from 750 to 1,200 square feet.
Pets are allowed in select accommodations.
3.

Crystal Mountain Winter Activities
Skiing and Snowboarding
Although we visited Crystal Mountain in the summer, it was apparent that skiing at Crystal Mountain is where it's at (with two turntables and a microphone). Had we visited during the winter, I think the cost of the resort may have seemed more worth it.
How Many Runs Does Crystal Mountain Have?
The resort features 58 downhill slopes (27 of which are available for night skiing), 8 lifts, 3 terrain areas, 6 glade areas, and 1 learning area. Crystal Mountain trail maps help you navigate the area.
Altogether, you can ski 102 acres. Crystal Mountain elevation allows for a vertical drop of 375 feet.
Crystal Mountain Lift Tickets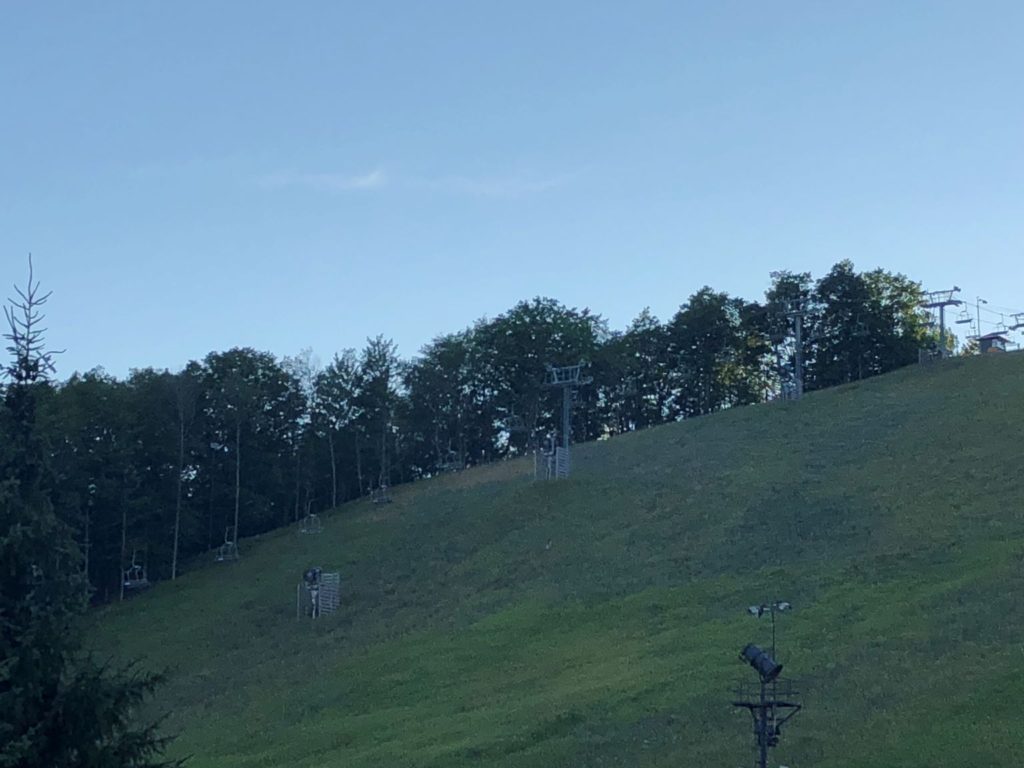 You can purchase lift tickets at the Crystal Mountain Tickets and Rental window. It is open from 8:00 a.m. until 30 minutes after the lifts stop running.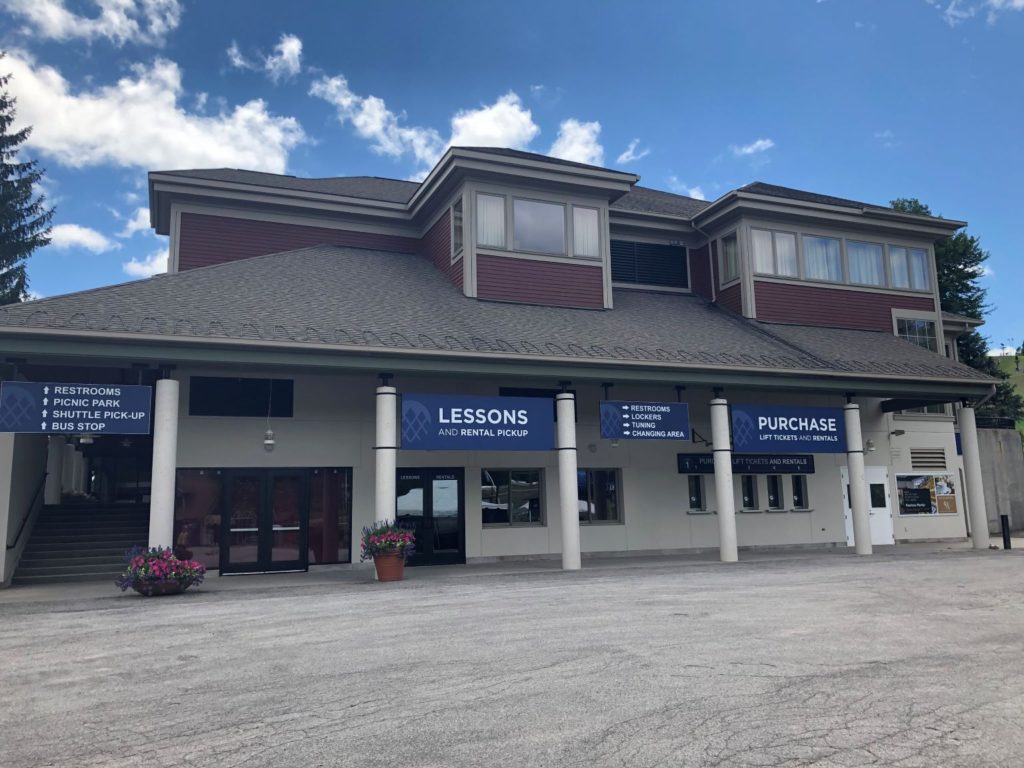 Equipment Rental
You can rent skis, snowboards, and boots for a variety of skill levels. The equipment is first come, first served, so you should arrive early to guarantee you get what you need.
Lessons
Crystal Mountain Ski Resort offers skiing and snowboarding lessons. Lessons are taught in groups with adults only, kids only, and groups of all ages. Groups are broken up by skill levels and specific instruction. Children can begin as young as age three.
Private lessons are also available and range from an hour to a full day.
Ski Programs
There are several ski programs that cater to specific populations. My favorite is called "Retired Not Tired" for the Roses and Sophias in your life.
Fat Tire Snow Biking
Fat tire snow bikes can be rented for use on the cross-country trails. This activity is recommended for ages 12 and up.
As of the time of this writing, rentals are $19 per person for one hour and $25 person for two. A one hour tour is available for $29 per person on select days.
You are allowed to bring your own bike, but must pay $10 to access the trails. Season Crystal Mountain passes are available for $99.
Horse Drawn Surrey Rides
These horse drawn surrey rides look adorable if you don't have a problem with it ethically. I love animals, but let's be honest, I'd try it.
Complimentary hot chocolate is served.
As of the time of this writing, the cost is $12 per person for ages 7 and up. Kids ages 6 and under are free with a paying adult.
Snowshoeing
Snowshoeing is allowed everywhere except the downhill slopes and cross-country trails. You can snowshoe through the Michigan Art Legacy Park as well. Equipment is offered for ages 3 and up.
As of the time of this writing, rentals are $15 per person for one hour and $19 per person for two hours.
A guided Crystal Mountain hike is also offered periodically for $25 per person. The hike is for ages 7 and up.
Ice Skating
There is an ice skating rink in the center of the property. Guests of the resort can skate for free with their own equipment. It is $5 per person for Crystal Mountain day passes for everyone else.
As of the time of this writing, ice skates can be rented for $9 per person for one hour and $12 per person for two hours.
Snowmobiling
Crystal Adventures rents snowmobiles for a small fortune. You can access trails around the mountain to celebrate your investment.
As of the time of writing, Crystal Mountain rentals start at $175. Snowmobile tours are offered on select days for $139 per single sled and $179 per double sled.
4.

Crystal Mountain Michigan Summer Activities
Crystal Mountain Michigan Golf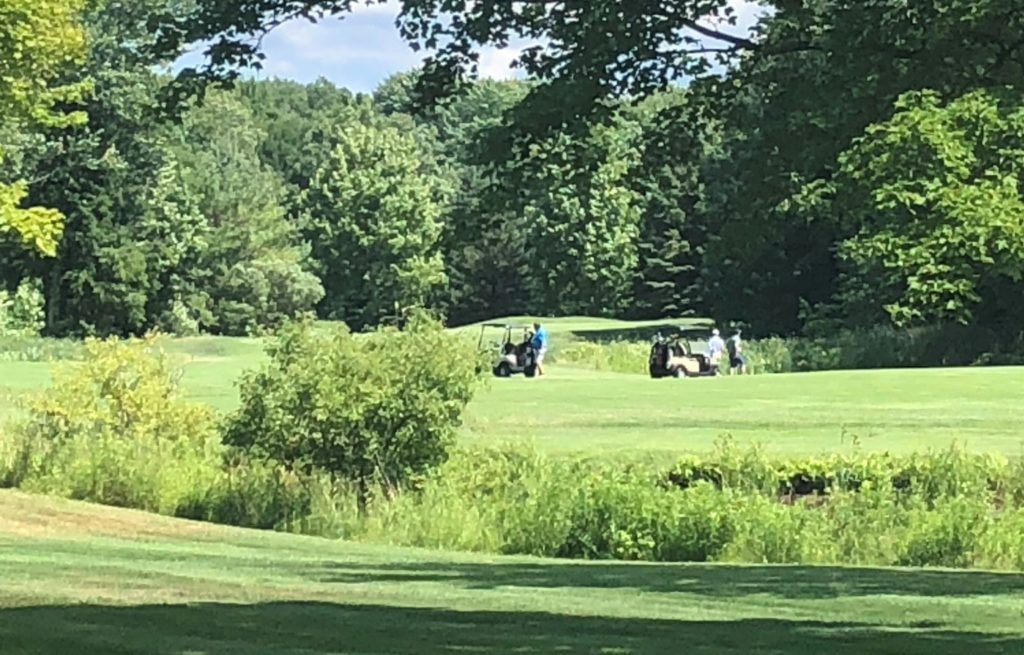 The Crystal Mountain park has two golf courses located on Mountain Ridge and Betsie Valley. Both courses look well maintained.
The resort also features a Practice and Learning Center where you can unleash the Happy Gilmore inside you.
You must reserve and pay for your tee time prior to arriving. These can be booked online.
Golf Lessons
Crystal Mountain offers several different golf lessons with groups divided into adults only, children only, and all ages. Children as young as 5 can participate.
Private Crystal Mountain lessons with a PGA or LPGA professional are also available.
Crystal Mountain Outdoor Pool & Water Playground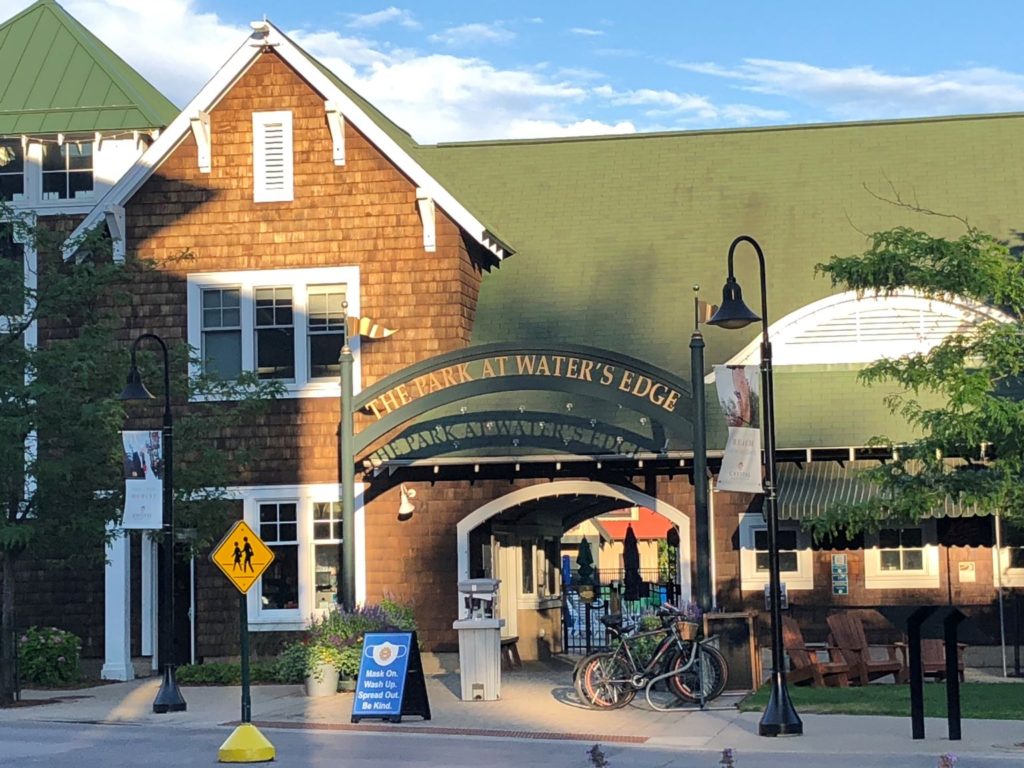 The outdoor pool area contains a pool with some basketball hoops, a play structure in a shallow portion of the pool, and some Crystal Mountain water cannons. Children under age 13 must be accompanied by an adult.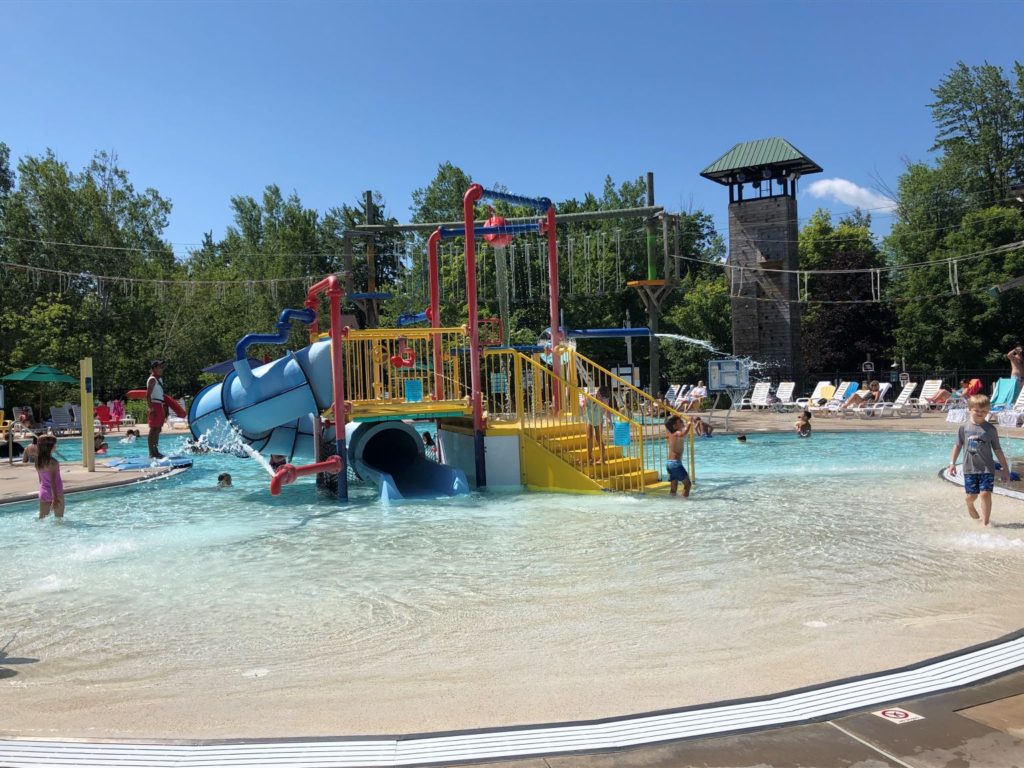 It is zero depth entry. The deepest portion is only about four feet so the whole thing is pretty kid friendly.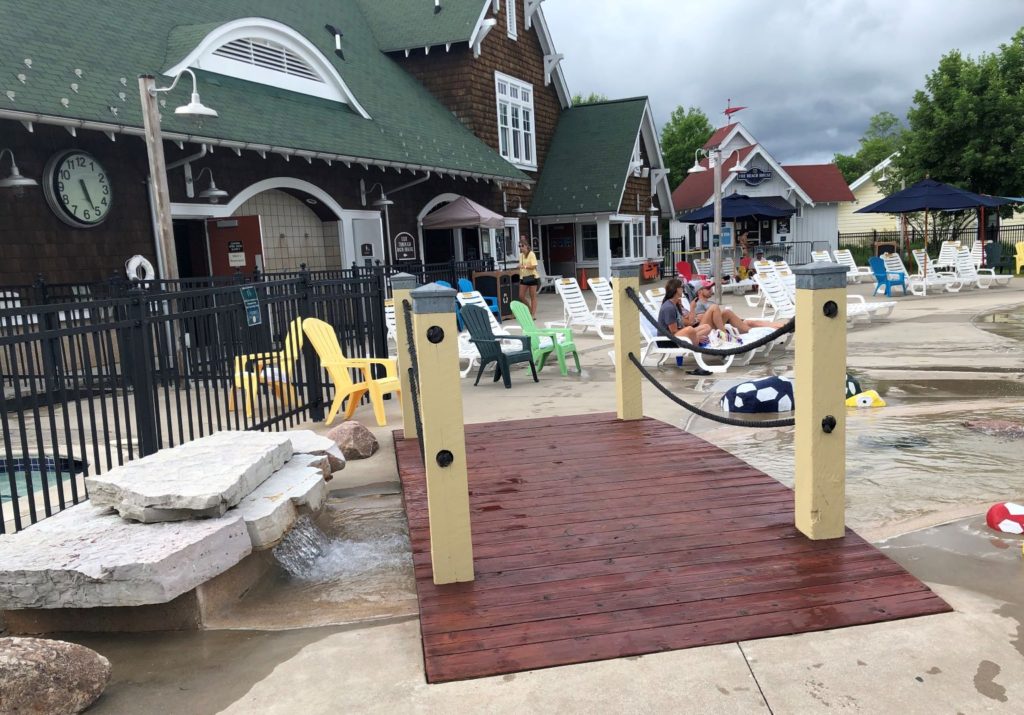 There is also a hot tub with children baking in the summer sun.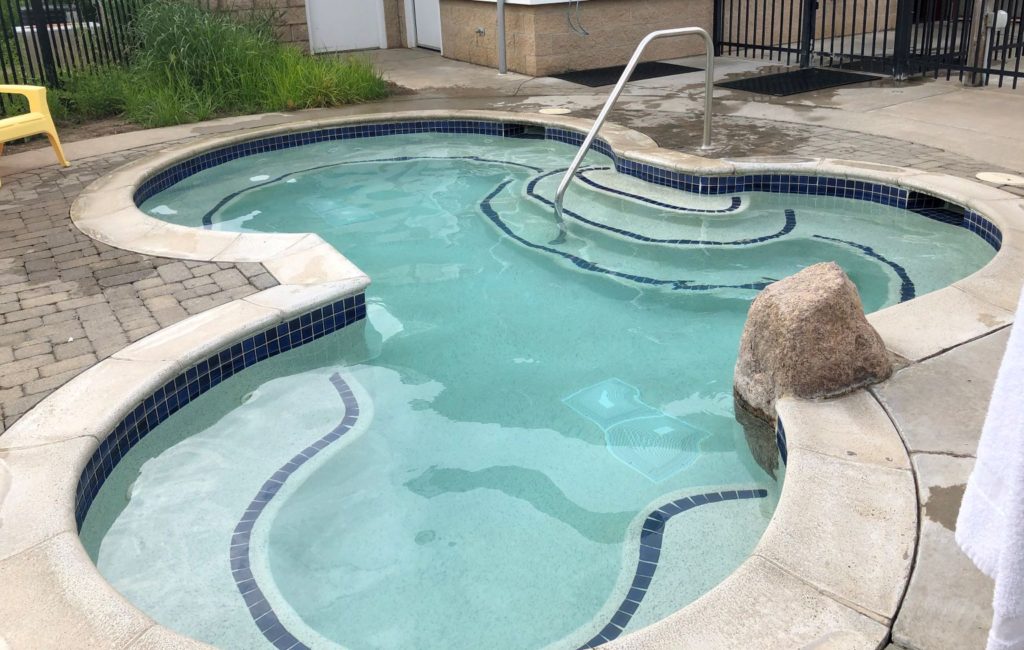 The play structure in the sand was closed when we visited.
The pool hours for Crystal Mountain were disappointing to say the least. There is already very little to do at the resort. I can appreciate the need for cost cutting, but a 6:00 p.m. closing time seems unreasonable.
How Much Is A Day Pass At Crystal Mountain?
The pool is free for resort guests and Four Seasons Club Members. Four Seasons Club Members can bring guests for $10 per person as of the time of this writing.
Chair Lift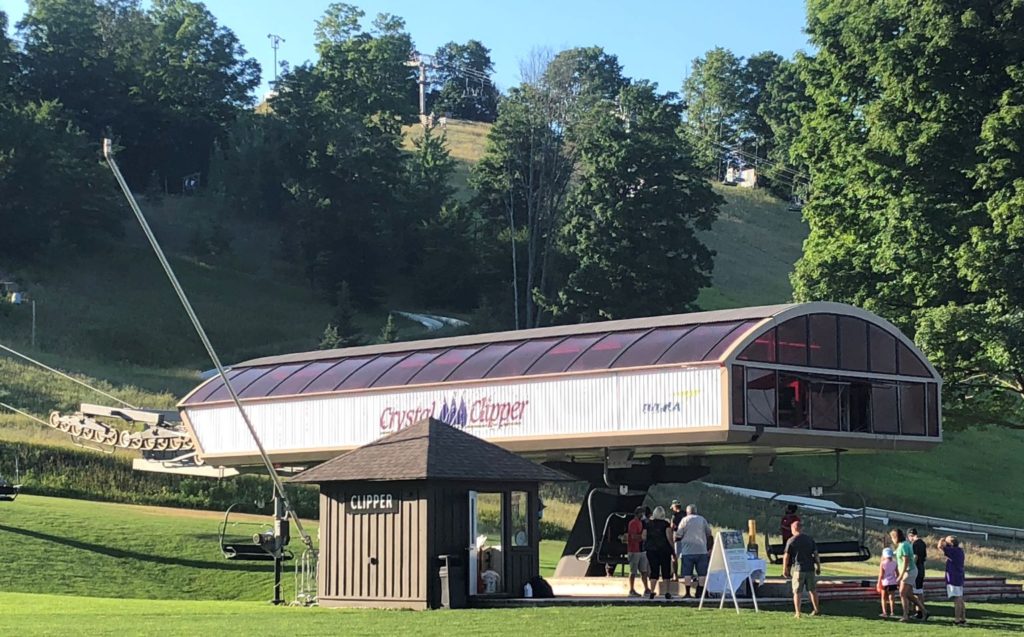 During the summer, the chair lifts, or gondolas, run periodically to take people to the top of the mountain. These rides are not for the faint of heart. We haven't spent a lot of time on chair lifts, but we definitely visit our fair share of theme parks. These chair lifts are not exactly like Soarin'.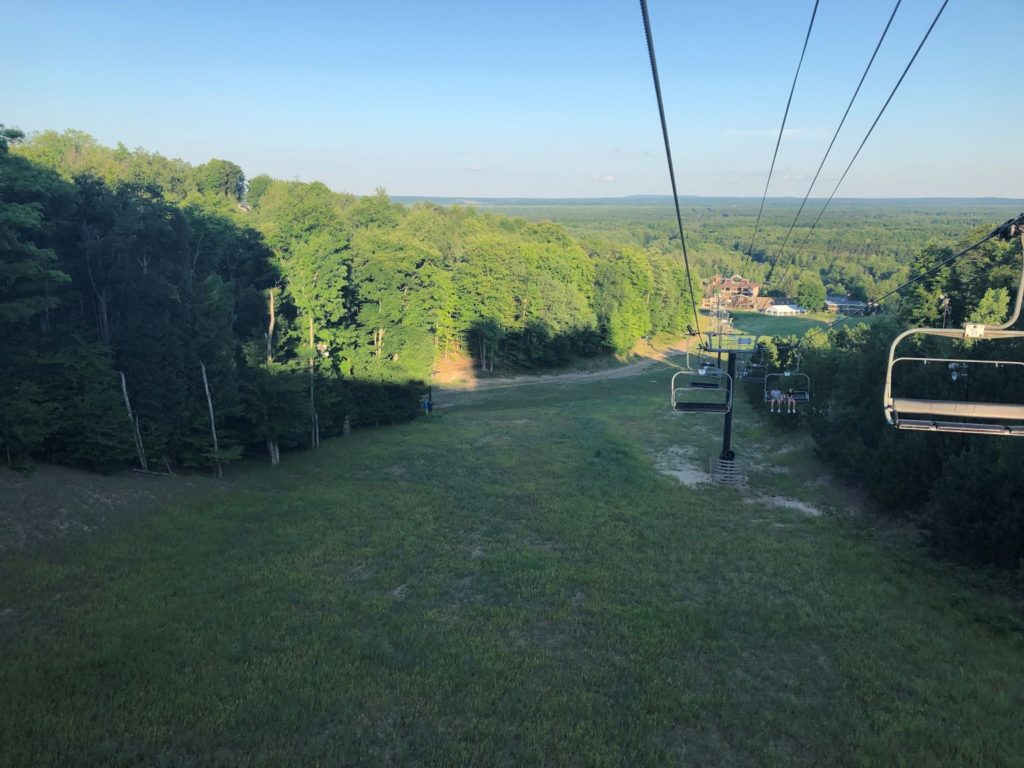 They have a lap bar, nothing to go between your legs, and infants are allowed. There is plenty of room to slip out if one so desired. The employees actually encourage you to lift the lap bar while you are still hanging well above the ground to get ready to jump off.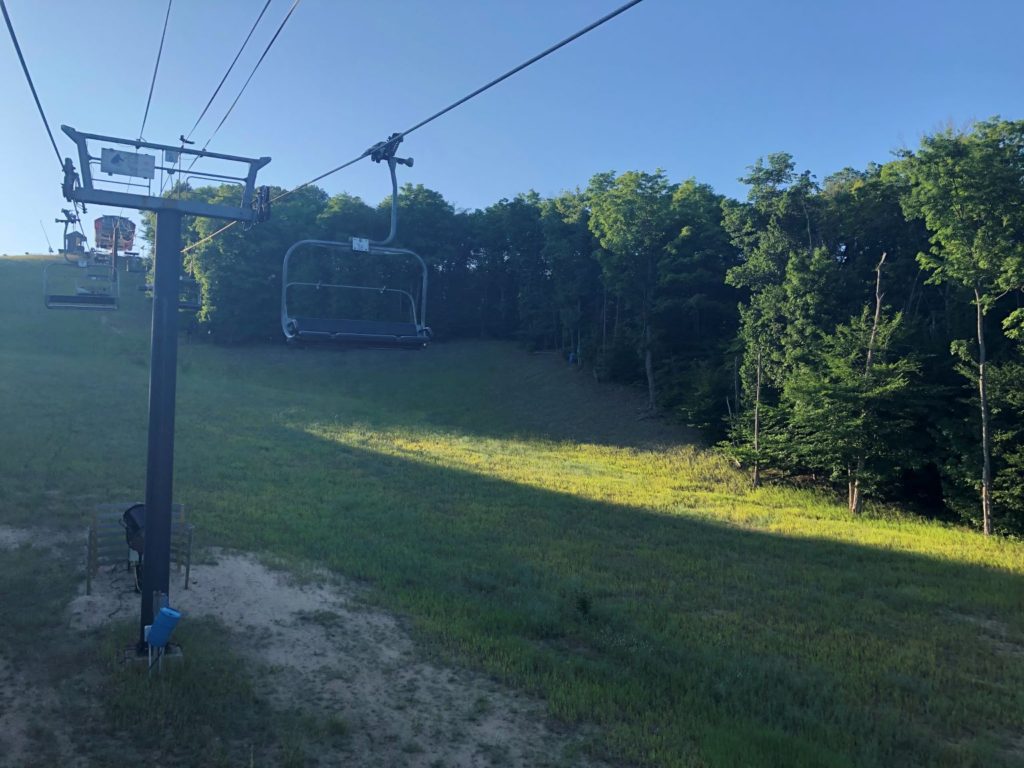 How Much Is The Gondola Ride At Crystal Mountain?
It is free for guests. Crystal Mountain gondola tickets are $9 per person for everyone else.
Mountain Entertainment
At the top of the mountain, you will find an Ashlee Simpson wannabe, a cart selling beer and White Claw (Amen), and swarming gnats that will make you question whether you remembered to shower on this trip. You can see some of the slopes, but you cannot hike from the top of the mountain.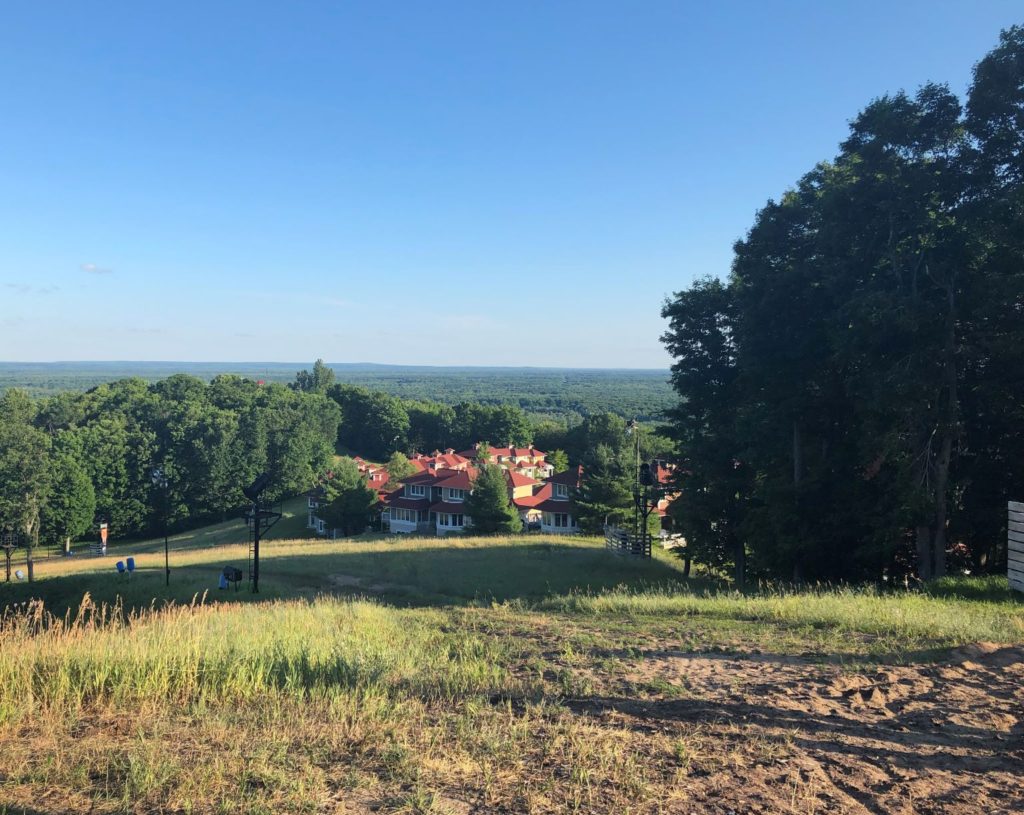 Outdoor Movies
On certain nights, Crystal Mountain turns on a family movie on a larger screen than the one found in your hotel room in the name of trying to justify their resort fees.
Family Campfire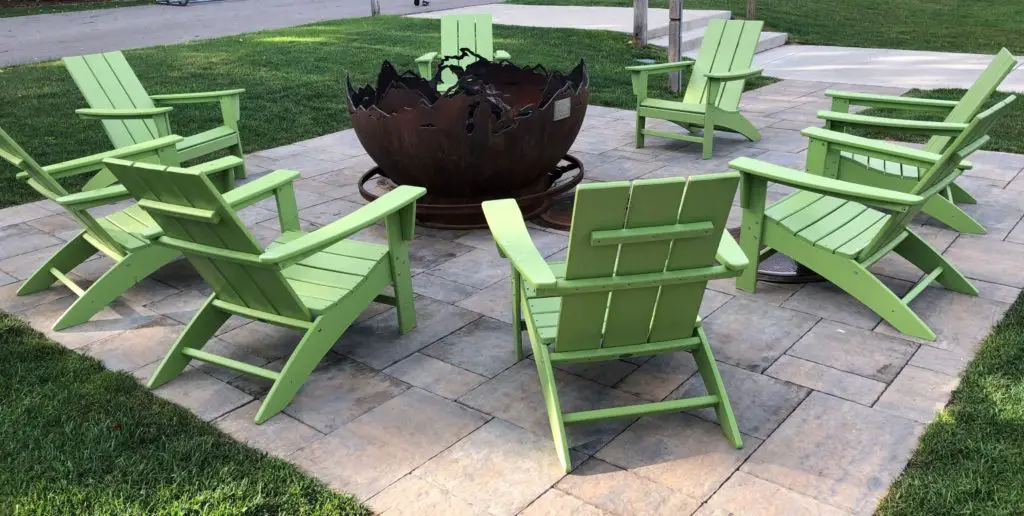 Along the same lines, there is an advertised family campfire. What this actually means is an employee starts a fire in a fire pit and walks away. Your family can sit there if you arrive first.
Hiking
This isn't a resort sanctioned activity per se, but there are several trails for hikes near Crystal Mountain. The property has some trails on property as well.
Tennis & Pickleball
Tennis and pickleball courts are free to resort guests and Four Seasons Club Members. Day guests pay $7 per hour.
Bicycle Rentals
Crystal Mountain bike rentals are available on property. As of the time of this writing, you can rent bikes for $19 for two hours, $36 for four hours, and $70 for the day. Helmets are $10. They have bikes for both adults and children.
Crystal Mountain Gravity Park
This park features technical downhill Crystal Mountain bike trails for various skill levels. As of the time of this writing, it is closed until further notice.
Vertical Edge Climbing Wall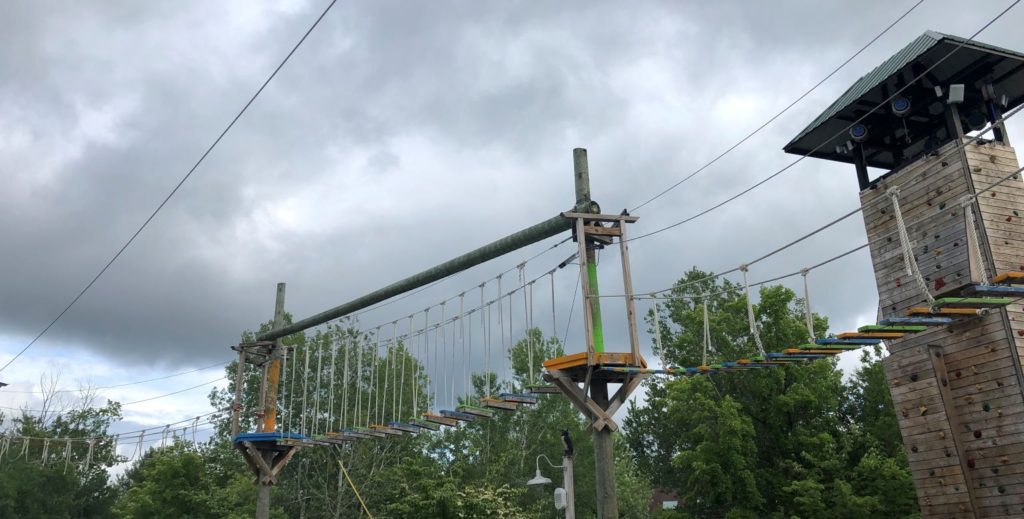 Vertical Edge Climbing Wall is a rock wall that is modest in size. As of the time of this writing, it is closed until further notice.
Edge Adventure Course & Crystal Mountain Zipline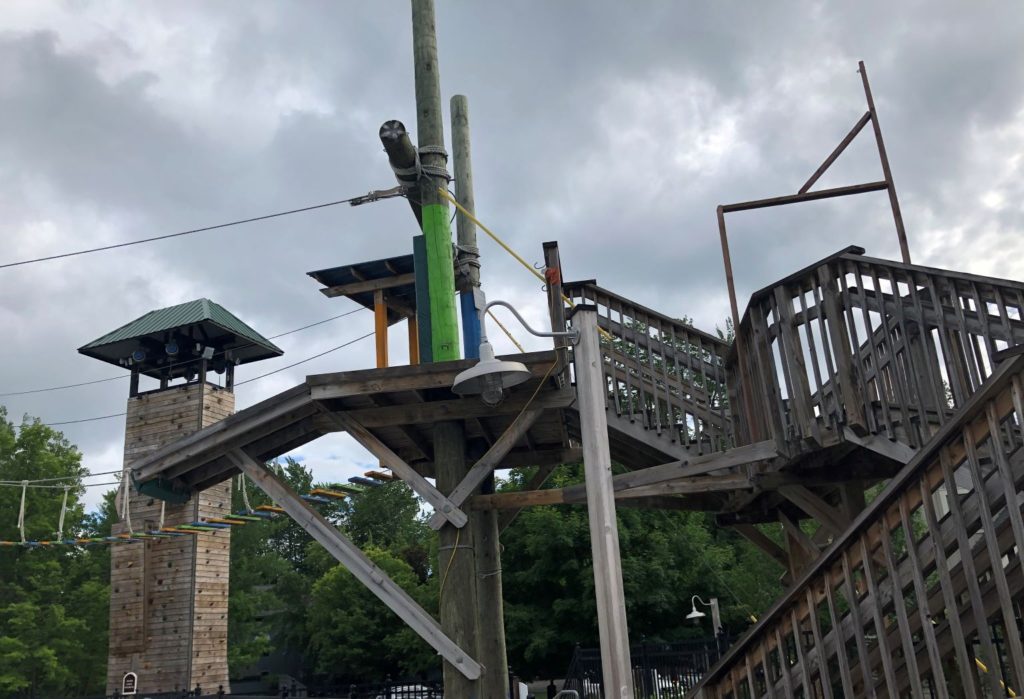 Edge Adventure Course & Zipline is also relatively small as far as rope courses go. As of the time of this writing, it is closed until further notice.
Crystal Coaster Alpine Slide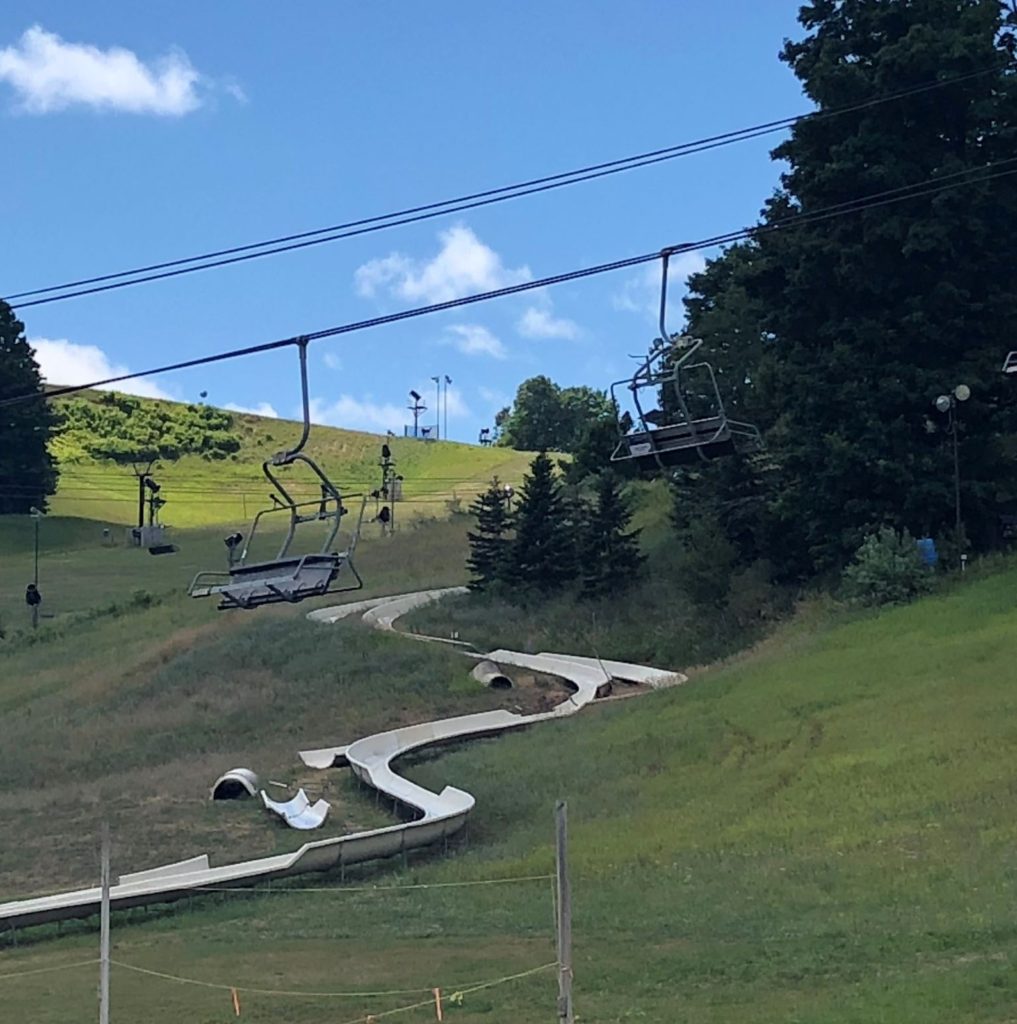 Crystal Coaster Alpine Slide is a slide down the side of the mountain on carts. You ride the chairlift to access it. It was closed at the time of our visit.
Guests must be at least 3 years of age to ride. You have to be 80 pounds and 52″ to ride alone, and the maximum weight is 300 pounds.
As of the time of this writing, it is $9 per person for a single ride or $39 per person for a Crystal Mountain 5 pass pack.
Outdoor Crystal Mountain Laser Tag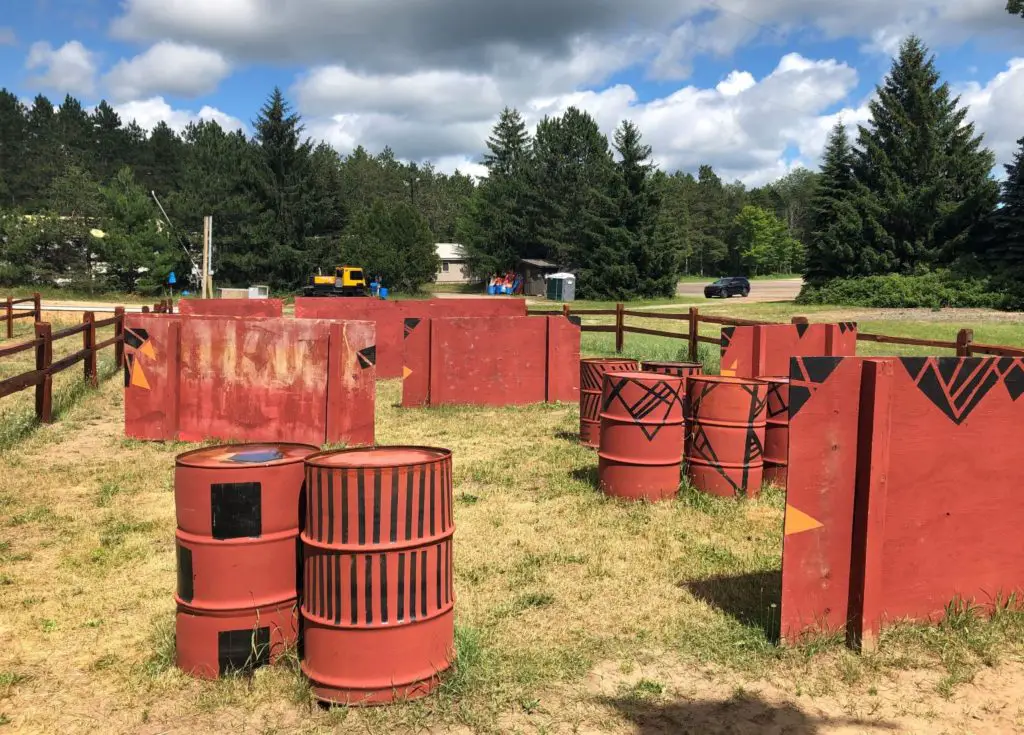 The Outdoor Laser Tag area leaves something to be desired. The area is tiny and consists of spray painted trash cans.
We played outdoor laser tag. We had a lot of fun, but that was because of the company, not the course or equipment.
As of the time of this writing, it costs $15 per person. This is quite steep for what you get. There is also a Crystal Mountain 5 pack priced at $60. I cannot imagine anyone being entertained by this laser tag course five different times. Children must be at least six to play.
There is a playground and gazebo near the Laser Tag area.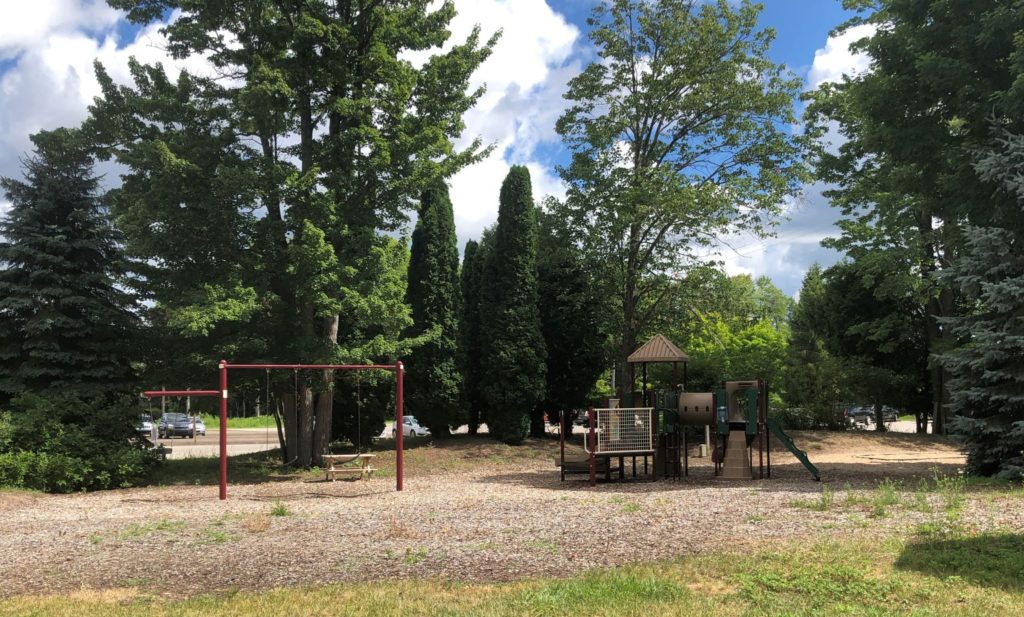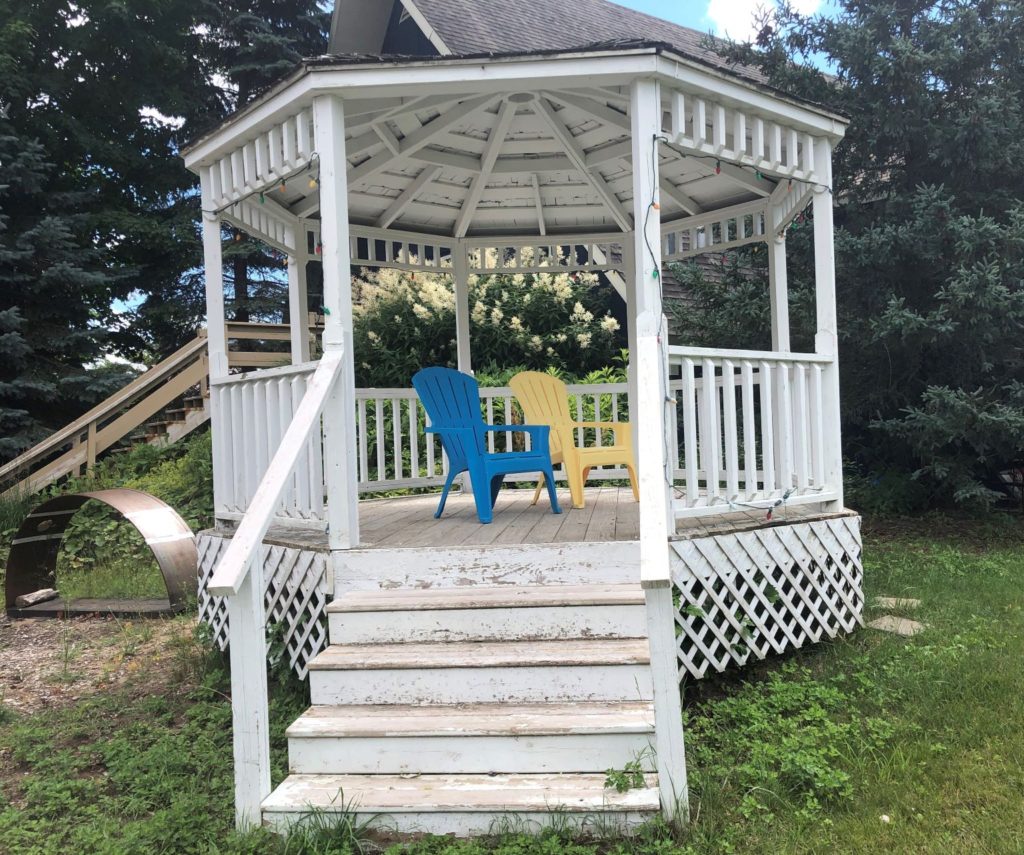 I seriously hope people don't get married in this thing.
Crystal Mountain Archery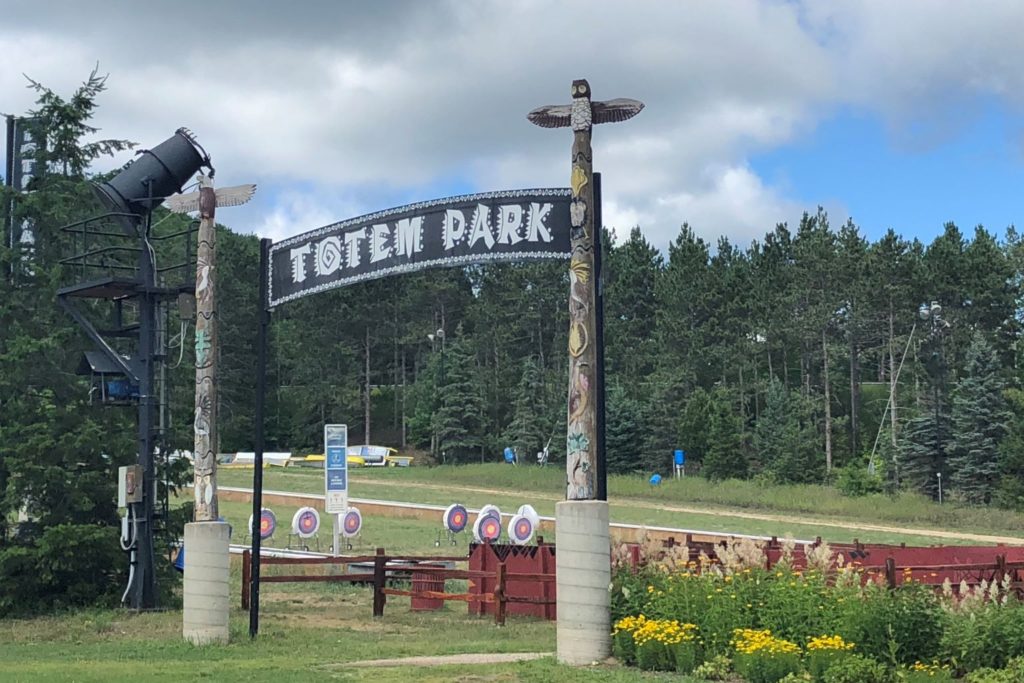 Archery is offered for ages 7 and up. My husband and seven year old took an archery lesson which turned out to be a private lesson by default because no one else showed up. My seven year old needed a lot of instruction, so I'm not sure how much he would have gotten out of it if he had to share an instructor with ten people.
As of the time of this writing it is $19 per person for a 30 minute lesson. This seems high for a group lesson to me. You can also purchase Crystal Mountain 5 pack tickets for $85 if you are auditioning to be an extra in Game of Thrones (and you have a time machine).
Crystal Mountain Disc Golf Course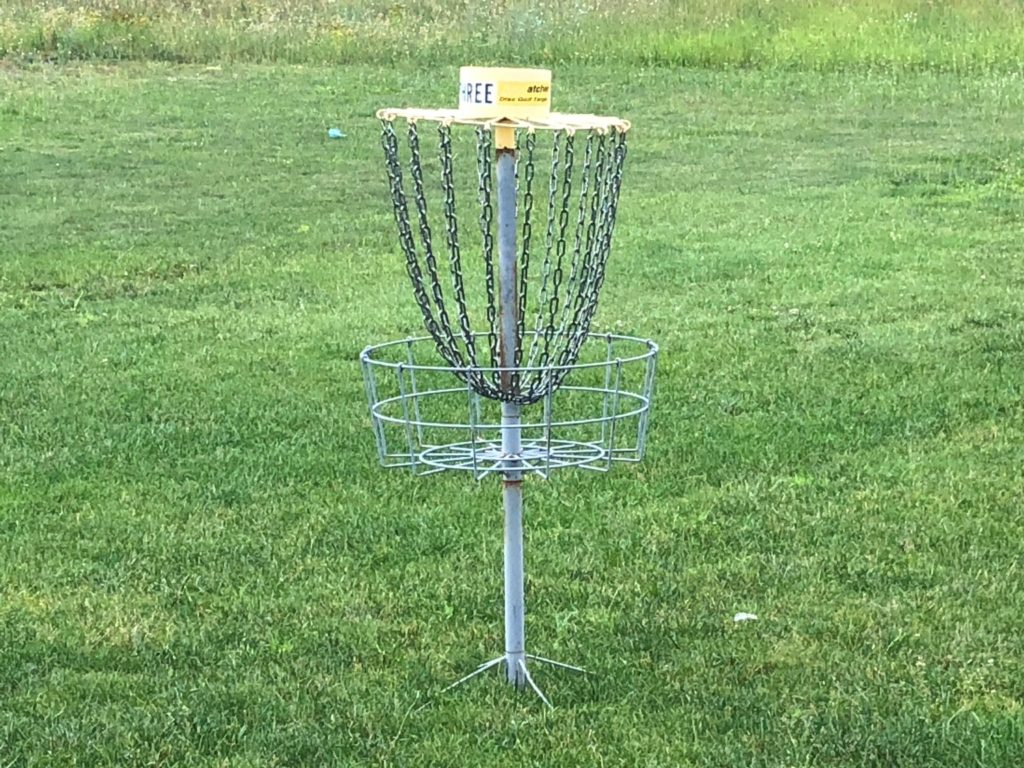 There is a nine hole disc golf course on property. Disc rentals are $12.
The website says a chairlift ride to the beginning of the course is included, but considering the chairlift only ran for a couple of hours on one night the entire time we were there, I doubt that was happening. You can access the beginning of the course on foot as well.
Family Crafts
Family crafts are where Crystal Mountain really loses me. My main issue with this resort is that almost nothing is included that appeals to children. At a minimum, I would expect some simple kids' crafts to be offered free of charge. Nope.
As of the time of this writing, you can make a stuffed animal, pillow (why?), and paint some stuff including a birdhouse (so your kid can get in that time machine and flash forward to their seventies). All cost extra, ranging from $9 per kid to $25 per kid as of the time of this writing.
5.

Crystal Mountain Crystal Spa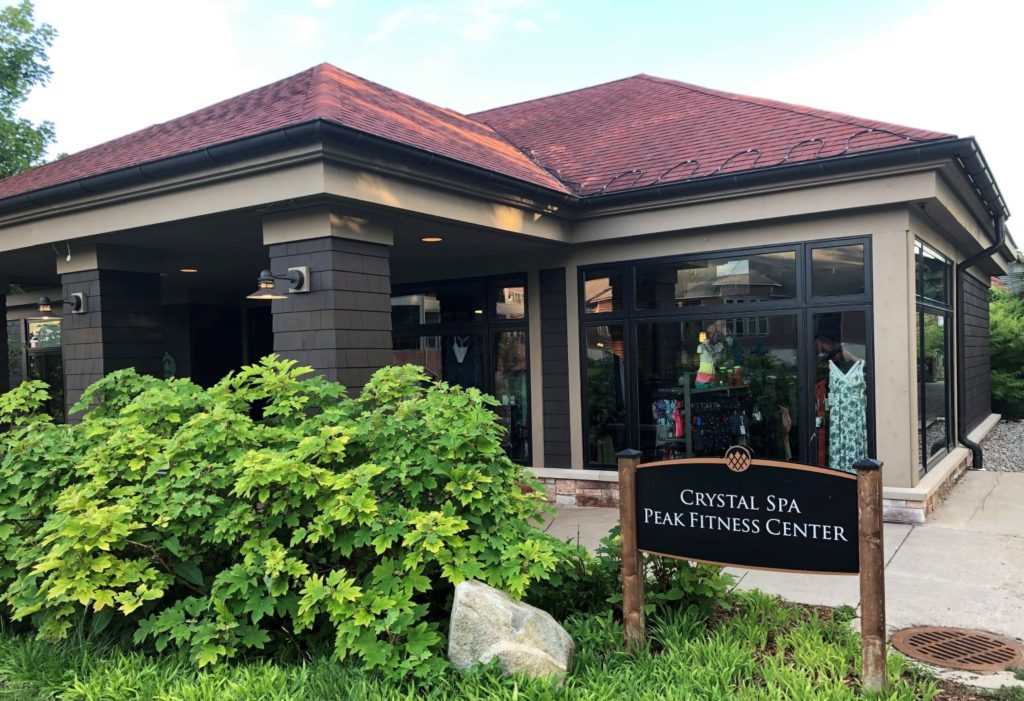 Crystal Spa features heated floors, steam rooms, saunas, and an outdoor hot tub. Massages and facials are only available for adults, while children as young as 9 can get nail services. Nail services do not include access to the rest of the spa.
The spa can accommodate groups, but no alcohol is allowed.
Cancellation Policy
You must cancel a single service 24 hours in advance and multiple treatments at least 48 hours in advance to avoid a 50% cancellation fee. No shows are charged a fee of the full cost of the service. Cancellations fees are waived in the event of an illness.
6.

Crystal Mountain Peak Fitness Center
Guests of the Crystal Mountain hotels and Four Seasons Club Members can access Peak Fitness Center. The area includes an indoor lap pool and hot tub, both of which are accessible to all guests of the resort.
Group classes with a preposted schedule are offered.
Children as young as age 7 can access the exercise equipment during a personal training session. I cannot think of anything I would be less likely to purchase than a personal training session for my seven year old, but apparently someone has done it.
Children ages 14 and up can use the exercise equipment with adult supervision. Guests ages 16 and up can use the equipment and pool without supervision.
7.

Crystal Mountain Restaurants with Gluten Free Dining
The Crystal Mountain website says kids 6 and under get free breakfast. However, I have a six year old, and his meal was on our check every morning.
Thistle Pub & Grille
Thistle Pub & Grille is located in the Kinlochen building. Lunch and dinner are served. It is the most upscale Crystal Mountain restaurant on the property, but you can dress casually to eat there.
The menu has burgers, salads, and several protein options. A kid's menu is available. Crystal Mountain gluten free items are marked on the menu.
Crystal Mountain Wild Tomato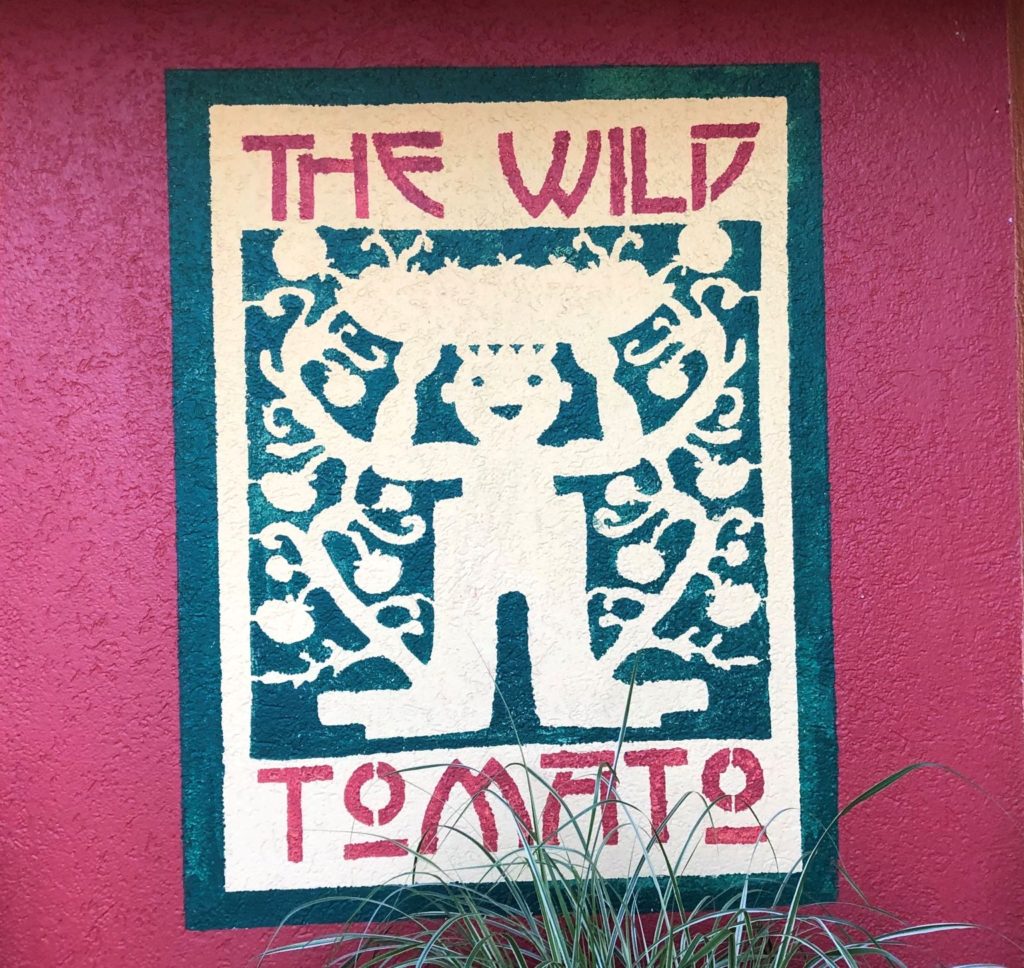 This is a full service restaurant that serves breakfast and dinner. It is casual. Gluten free items are marked on the Crystal Mountain Wild Tomato menu.
During our stay, the restaurant was never crowded, but service was pretty slow. The employees were all very nice.
For gluten free food, I liked the Southwestern Breakfast Skillet with gluten free toast and the Grilled Chicken Sandwich on gluten free bread.
Betsie River Pizza & Subs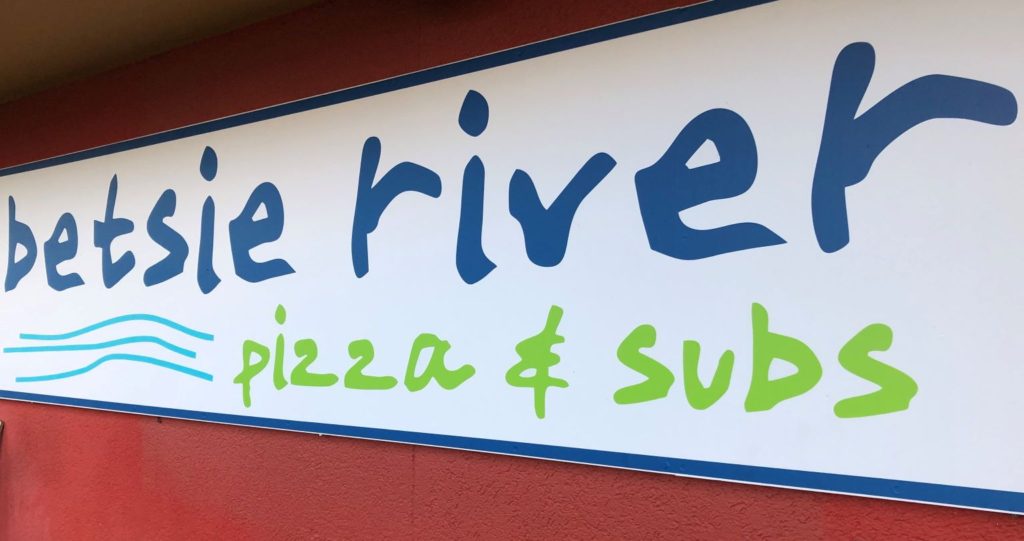 Betsie River Pizza & Subs is a quick service (and I use that term loosely) that serves lunch and dinner. As of the time of this writing, you order outside the pickup area, then enter the restaurant only to pick up your food. There is no indoor seating, but there are tables outside.
This. Was. Torture. We went at 8:30 p.m. on a Sunday night. At this point, Betsie River was the only restaurant open other than Thistle. We ordered two sandwiches, paid, then were told for the first time to check back in 45 minutes to see if the food was ready yet. For two sandwiches.
I returned 35 minutes later and stood in the pickup area for ten minutes. A very nice employee then asked who I was and gave me the food which had clearly been sitting there for awhile. The food, which was extremely overpriced, was cold by the time we got it. Skip this restaurant if at all possible.
Crystal Mountain Kinlochen Plaza
Kinlochen Plaza is a quick service that serves food and alcohol outside the golf course. It is only open during the summer.
LEVEL FOUR Rooftop Bar
LEVEL FOUR Rooftop Bar is located in the Inn at the Mountain building. It is an outdoor lounge that serves alcohol only. It also has live entertainment if you didn't get enough of Miley Cyrus on the top of the mountain.
Bru Bar
Bru Bar is located in the lobby of the Inn at the Mountain lobby. It serves Crystal Mountain coffee drinks and alcohol, two of my favorite beverage families.
Beach House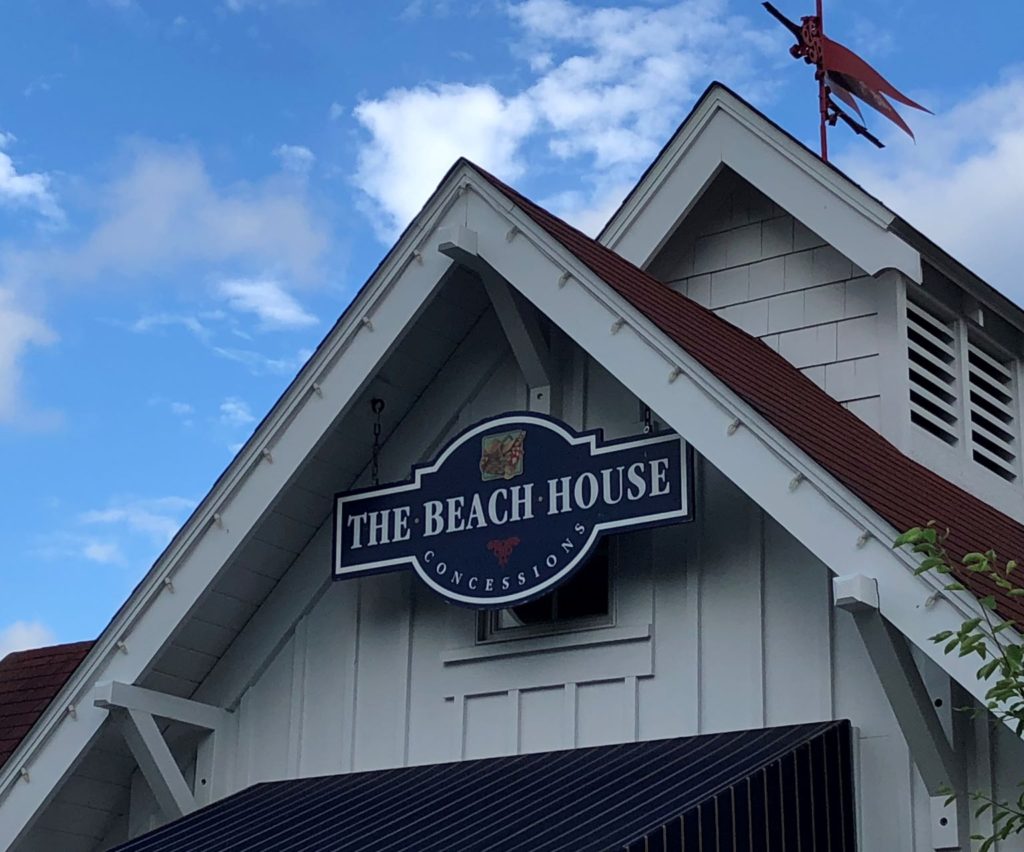 Beach House is a Crystal Mountain food stand located in the Park at Water's Edge that serves lunch and dinner. There are windows both inside and outside the entrance to the pool. It has a small food menu, but really shines when it comes to its ice cream and fruity cocktail choices.
We visited this stand every day of our trip. You're not on vacation if you don't consume a pound of sugar each day.
Waffle Cabin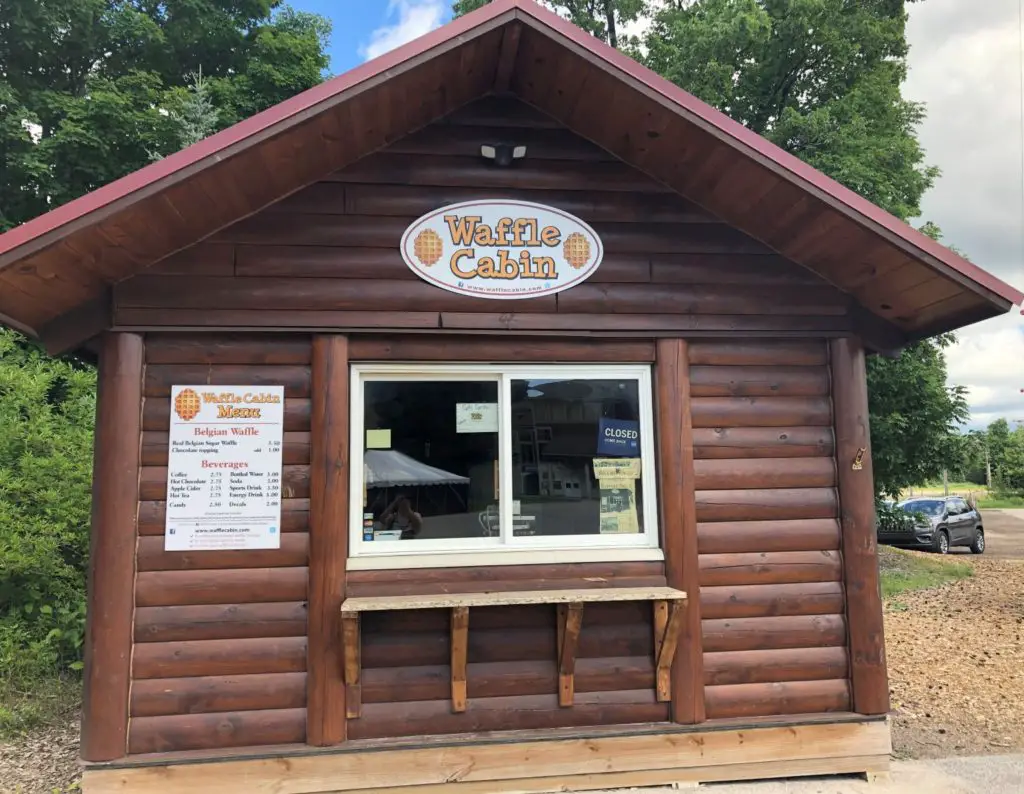 Waffle Cabin is located in the Crystal Mountain Adventure Zone. It serves waffles during select times of the year.
Clipper Cafe
Clipper Cafe is located inside The Lodge. It serves breakfast, lunch, and dinner during the winter only.
Vista Lounge
Vista Lounge is located in The Lodge. It serves alcohol and features live entertainment during the winter only.
Mountain Market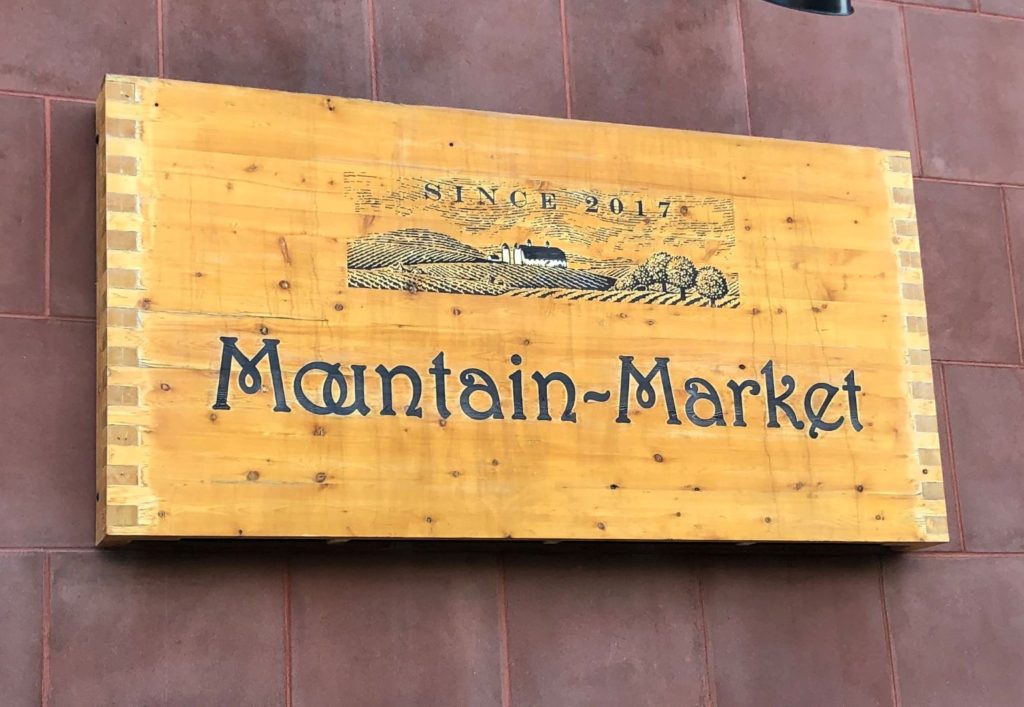 Mountain Market is a grocery store on property. The prices are outrageous. Mountain Market will apparently deliver groceries to your room. Plan ahead so you can avoid the up charge. Bring some snacks from anywhere but Mountain Market.
8.

Michigan Legacy Art Park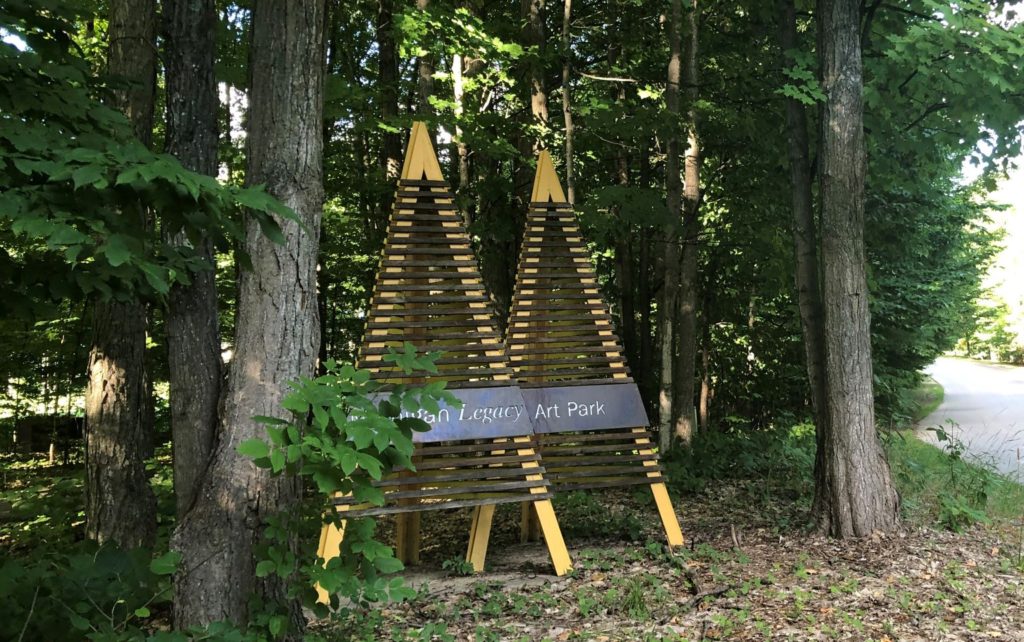 Michigan Legacy Art Park is a Crystal Mountain gem. It is a hike up and down a mountain that totals 1.6 miles if you do the whole thing. There are a couple of places where you can cut across and head back down if you don't want to complete it. These areas are marked in the Michigan Legacy Art Park map.
There are times during this hike when you are walking at a fairly steep incline. Small children and out of shape dogs will have a hard time in some sections.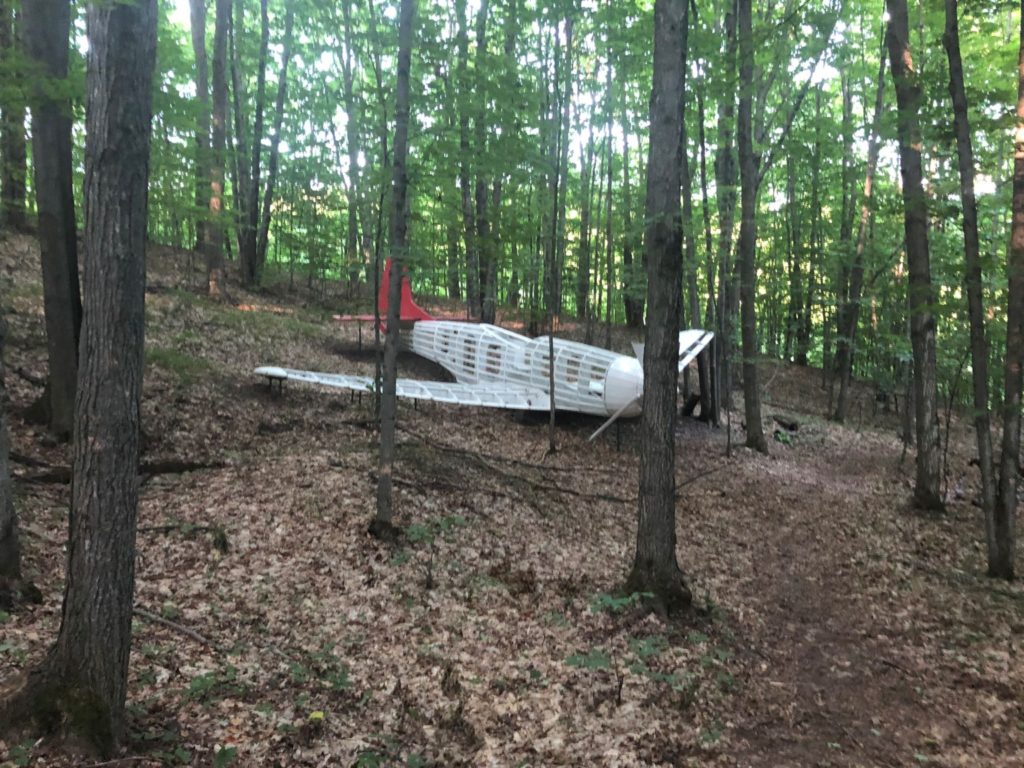 Throughout the hike, you encounter Crystal Mountain art pieces.
There is some creepy stuff.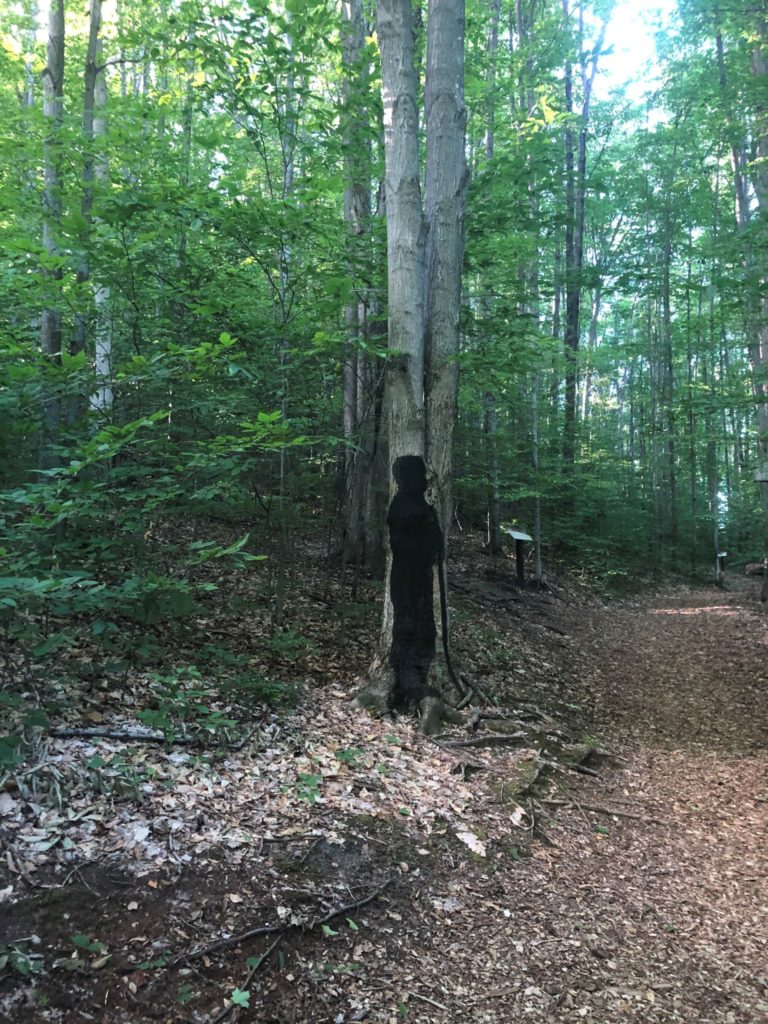 And this lady part masterpiece.
We all love a good roller coaster.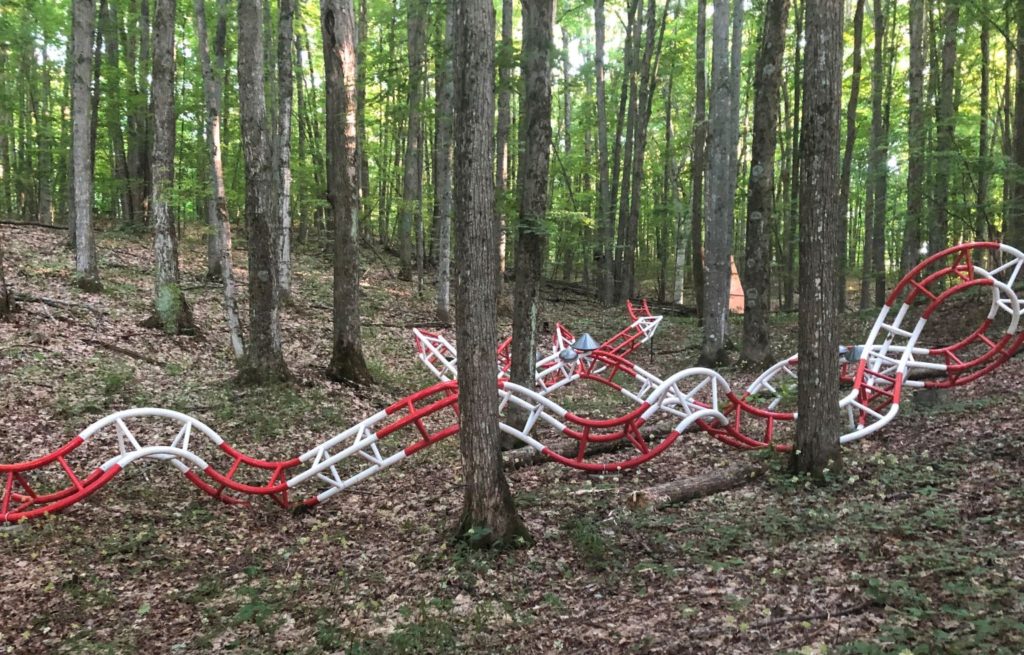 You can even walk through a maze.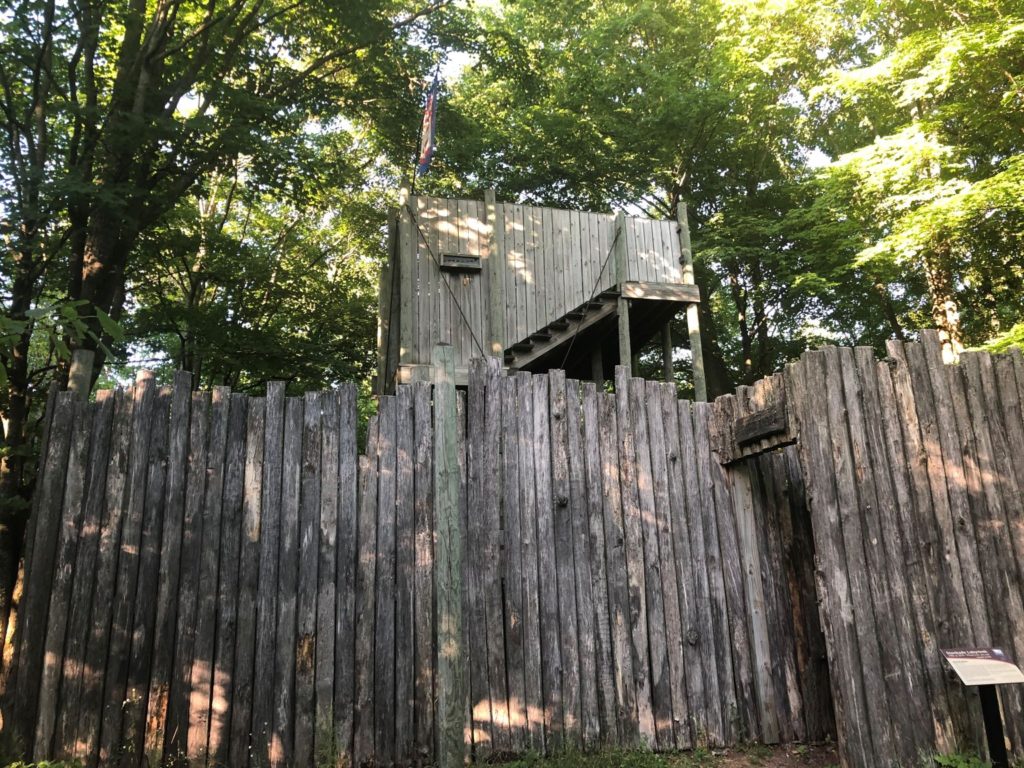 I only visited with my seven year old, and I honestly didn't think it would hold his attention. I was wrong. He was in it to win it. It became a scavenger hunt of sorts and was one of his favorite things he did the entire weekend.
Crystal Mountain advertises that your stay includes a visit to Michigan Legacy Art Park. When we went, we were not greeted by anyone and parking was not restricted. Any member of the public could have entered just as easily as we did.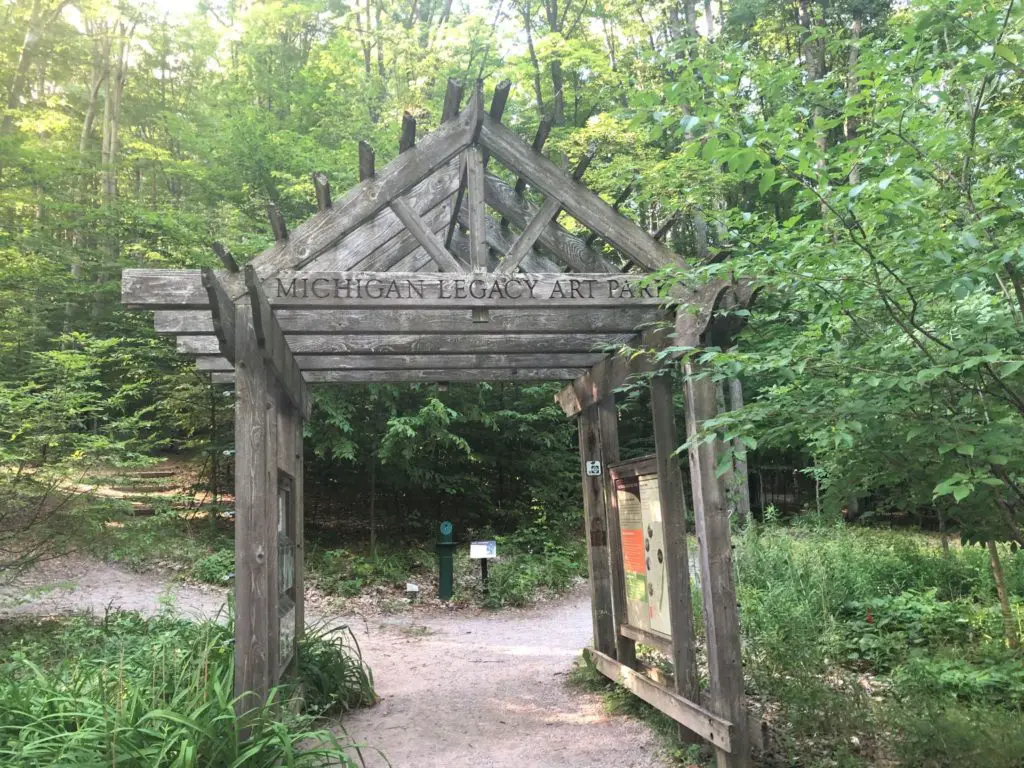 The website says admission is $5 per adult. Ages 17 and under are free.
9.

Nearby Tourist Attractions
Crystal Mountain is located next to nothing. Seriously. Nothing. You need a car. I definitely recommend getting off property, if for no other reason than to eat a meal that comes out in less than forty five minutes.
Sleeping Bear Dunes National Lakeshore
Where is Sleeping Bear Dunes Park?
Sleeping Bear Dunes Michigan is located about 30 minutes from the resort. The drive from Crystal Mountain to Sleeping Bear Dunes is relatively painless. This national park is 70,000 acres. The views cannot be beat and the property is relatively easy to access.
Is Sleeping Bear Dunes Free?
Yes, we were not charged a Sleeping Bear Dunes entry fee at any portion of the property.
Philip A. Hart Visitor Center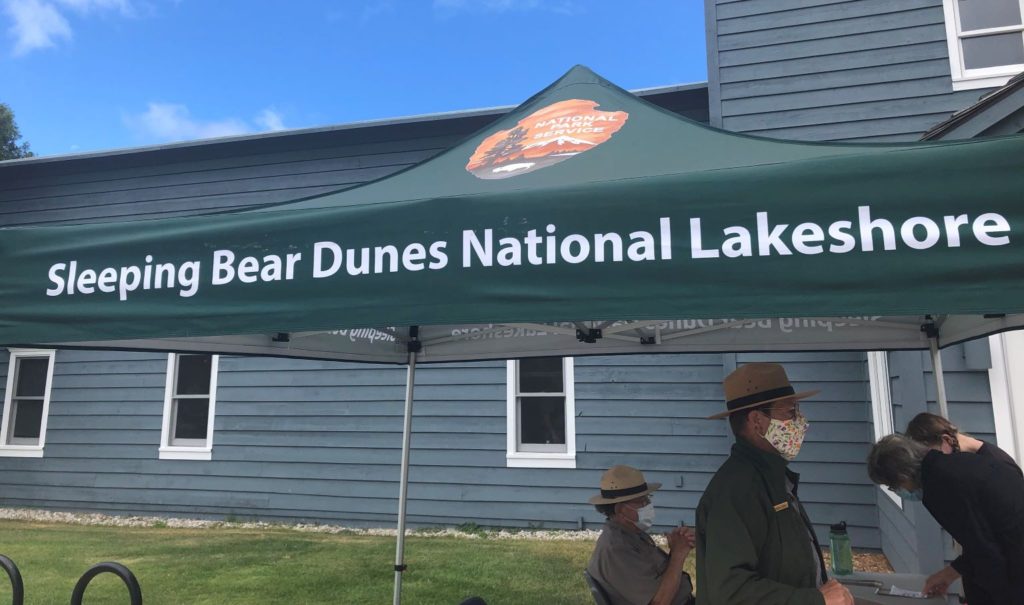 The Sleeping Bear Dunes visitor center is a small building that houses a Sleeping Bear Dunes gift shop and a few exhibits. I recommend making the stop because park rangers will give you a recommended Sleeping Bear Dunes itinerary with directions and a map of Sleeping Bear Dunes. That and the bathrooms with toilets that flush.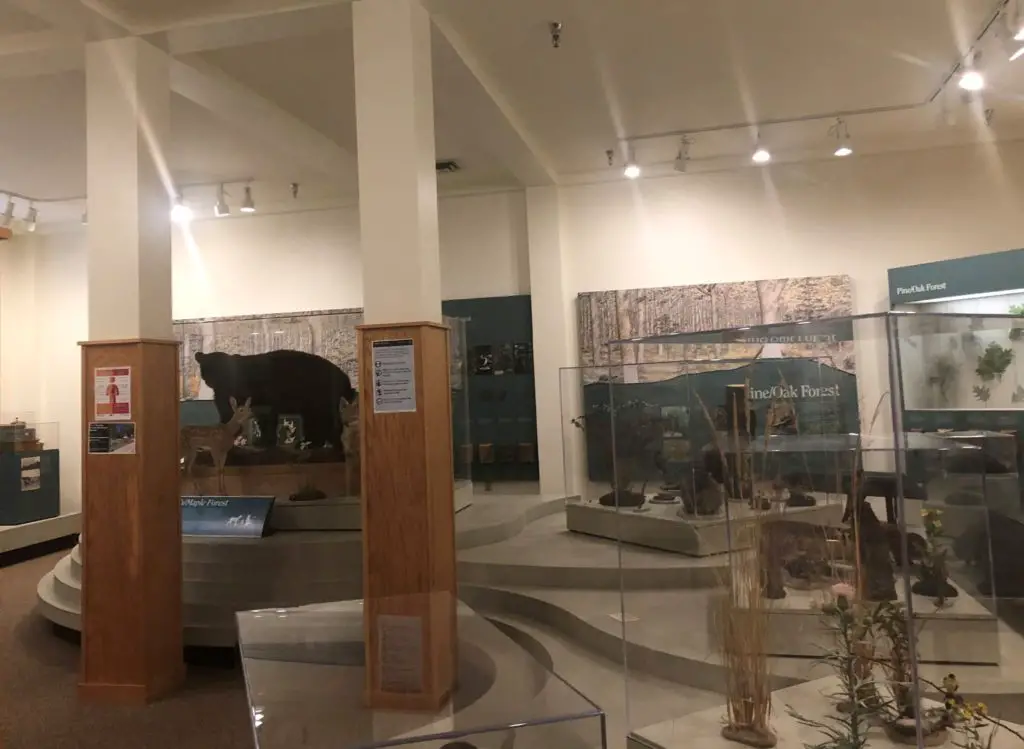 Pierce Stocking Scenic Drive
This Sleeping Bear Dunes scenic drive is a climb through a forest. You can pull over to view things, but for the most part, you will be in the car. The kids lost interest quickly, but it was definitely a pretty ride.
There are approximately 8,000,000 picnic areas along the way.
Sleeping Bear Dunes Dune Climb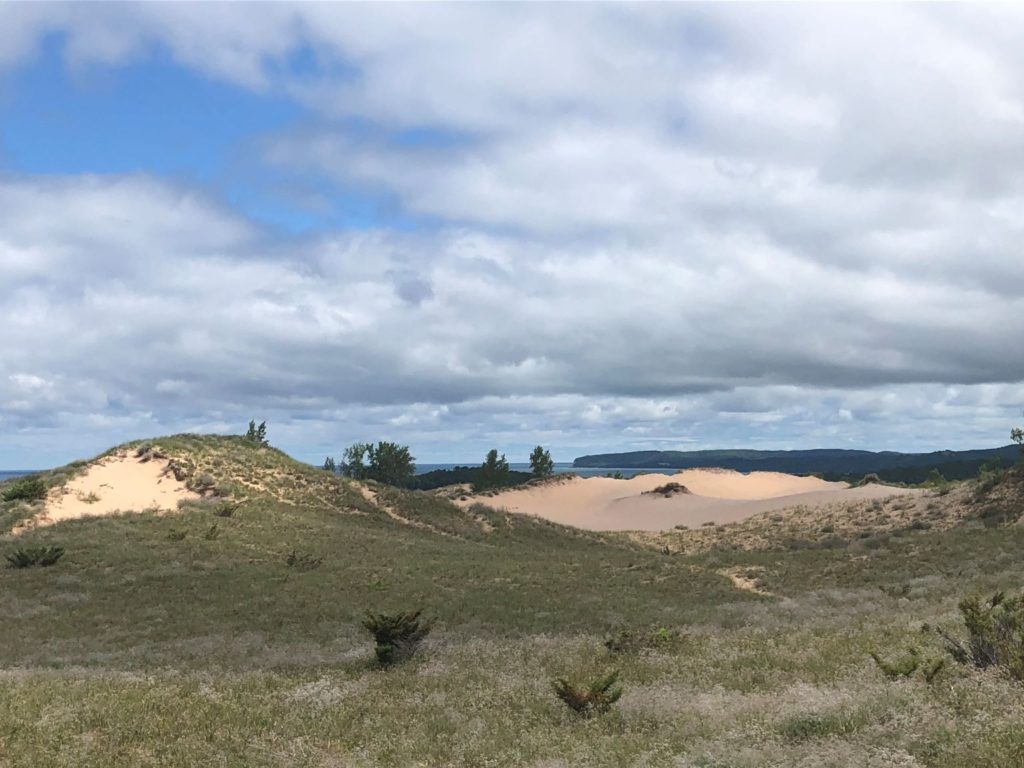 These Michigan sand dunes are beautiful. We started a sandy Sleeping Bear Dunes hike, but turned around when it became apparent it was as much fun as a root canal for my six year old. This is definitely worth a stop, particularly if you aren't traveling with small children.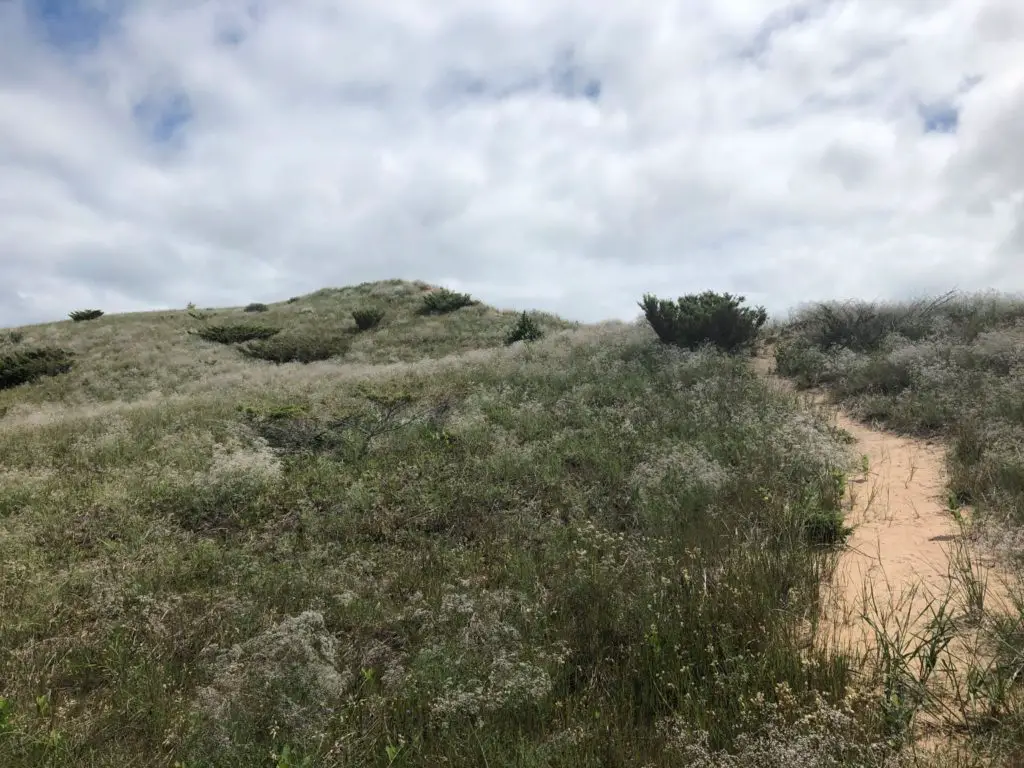 Sleeping Bear Dunes dog friendly trails are plentiful. We saw quite a few dogs during our visit.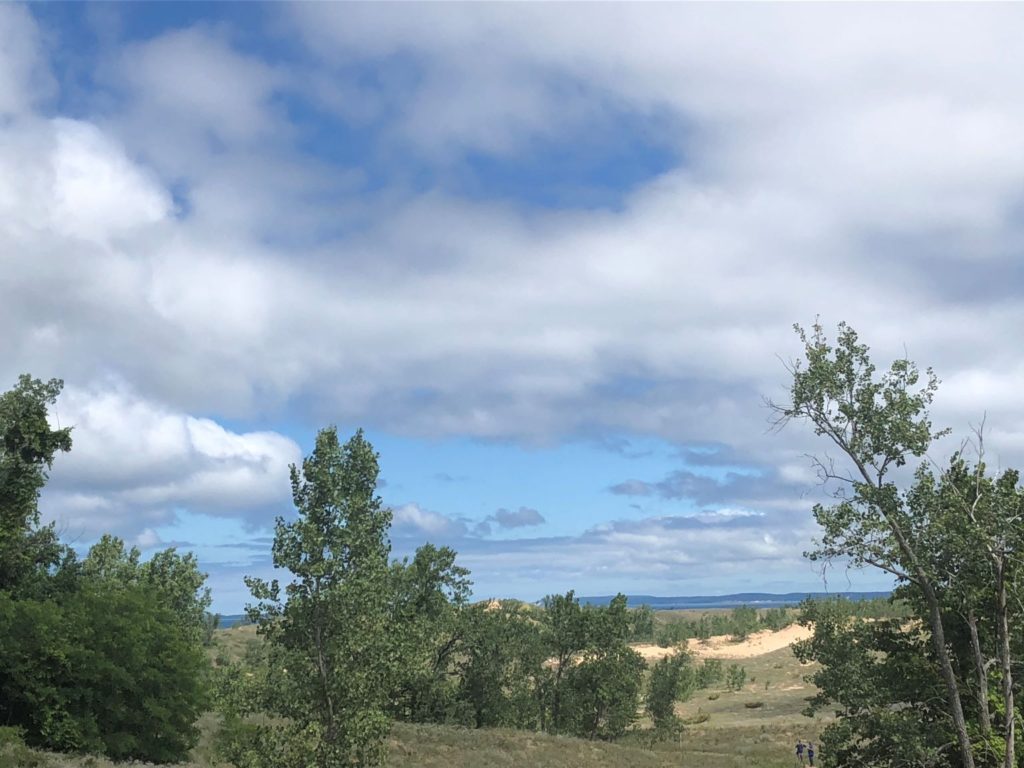 Glen Haven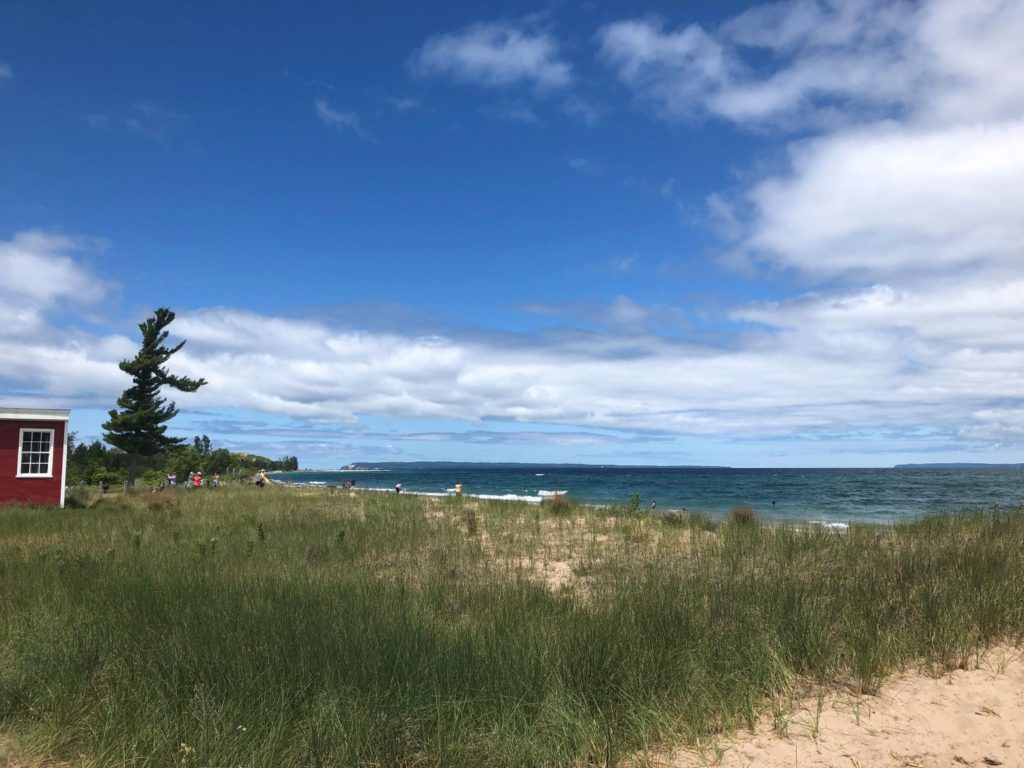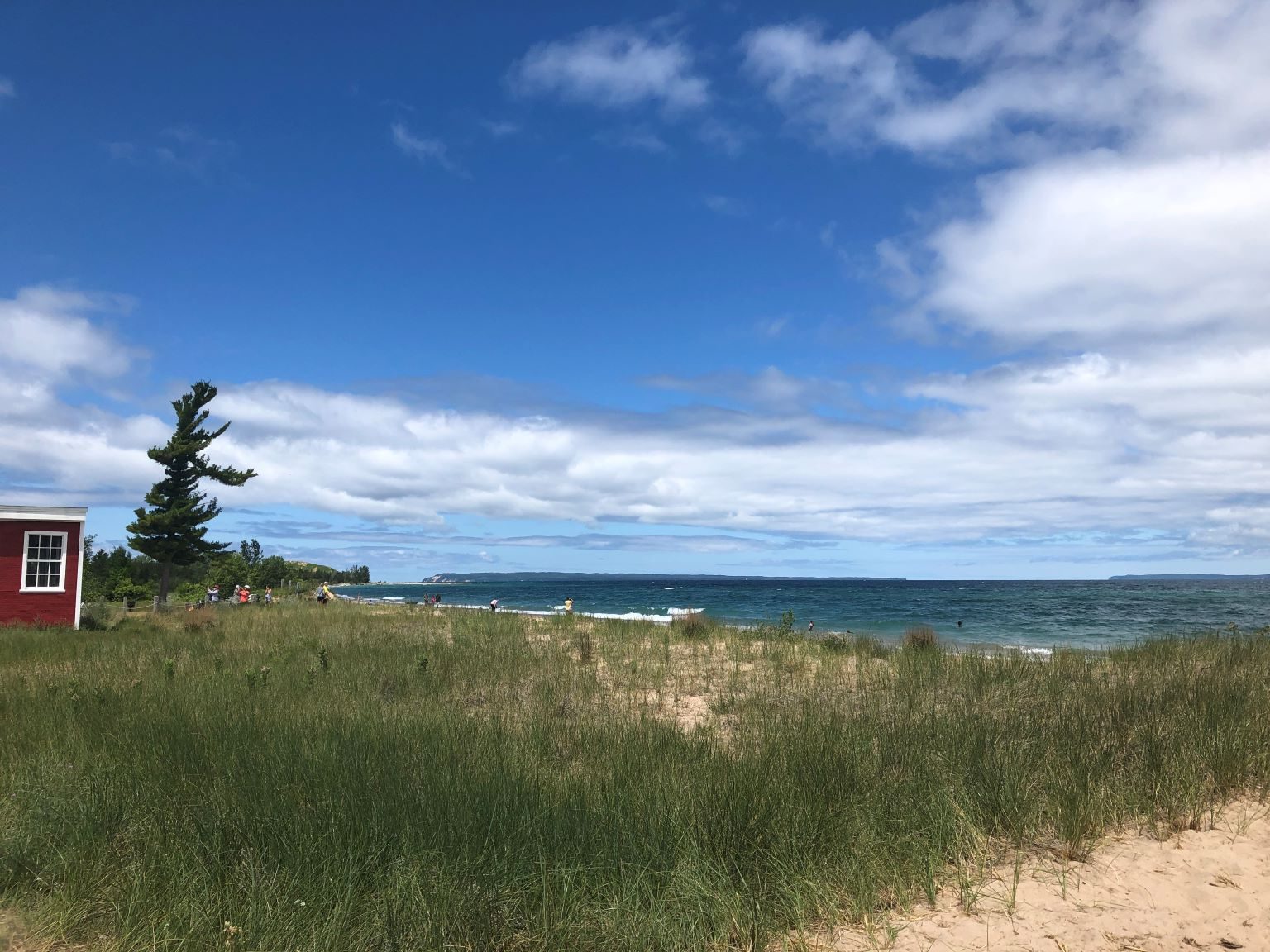 I'm fairly sure To Wong Foo was filmed in Glen Haven. The main strip is a step back in time like no other.
Here, you will find blissfully uncrowded Sleeping Bear Dunes beach access that you can enter free of charge with public restrooms. This is not to be missed.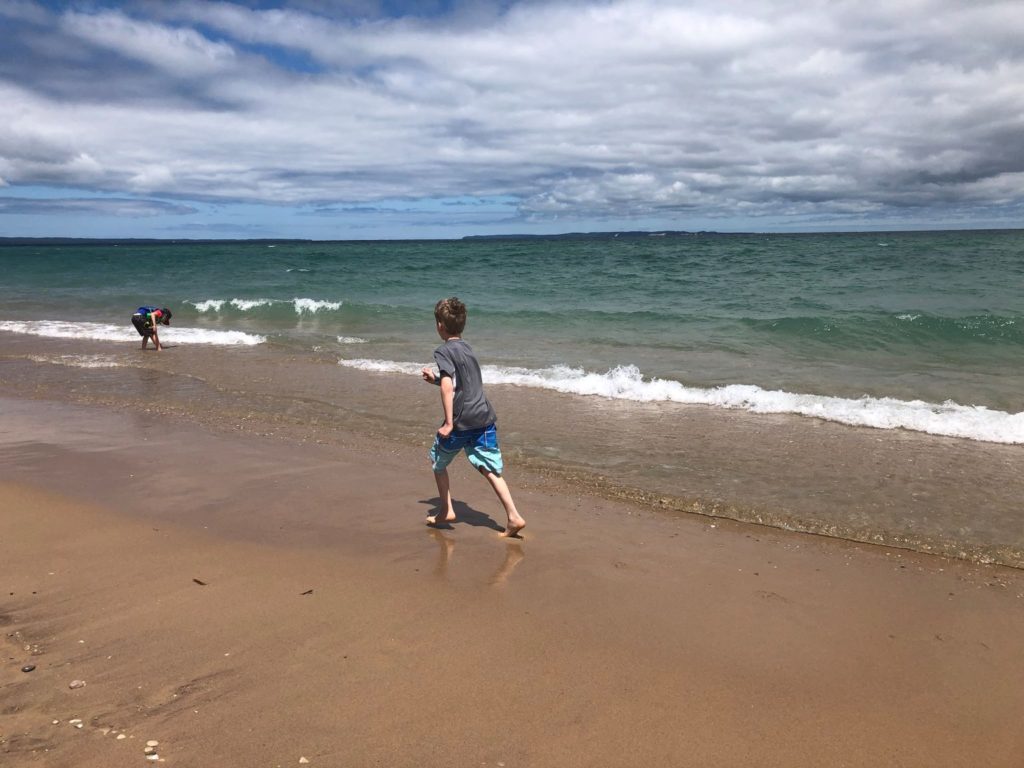 Maritime Museum
We did not visit the Maritime Museum, but it is a small museum that teaches you about the history of the U.S. Coast Guard and Great Lakes Shipping. My kids would have lasted four seconds.
Sleeping Bear Dunes Empire Bluff Trail
We also skipped this trail after the hiking debacle, but this Sleeping Bear Dunes trail leads to a bluff overlooking Lake Michigan. I'm sure the views are great.
Empire Village Inn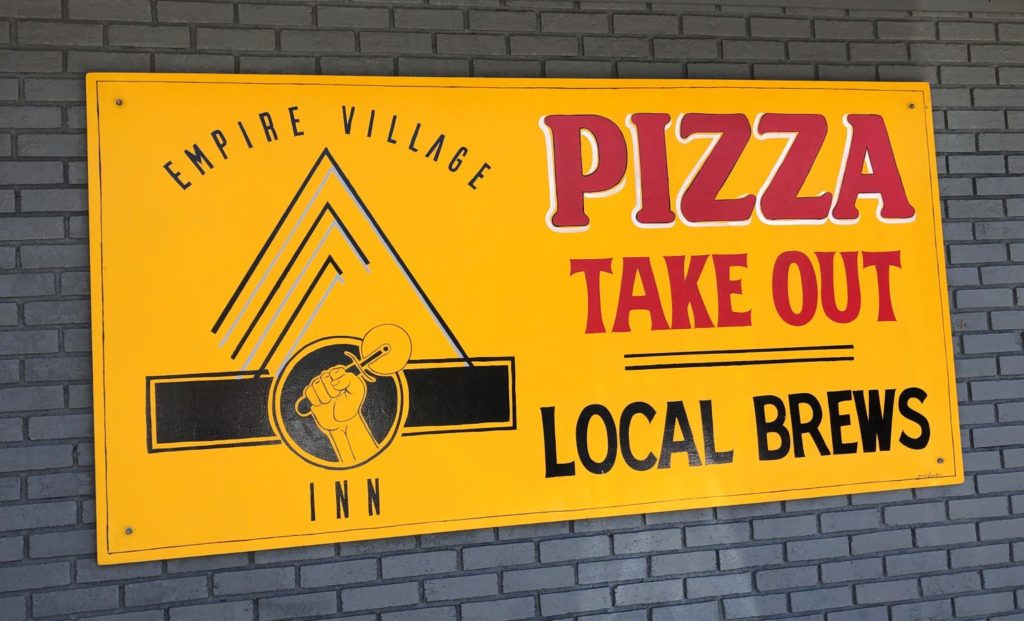 Before you leave the area, hit up Empire Village Inn, one of the most popular restaurants near Sleeping Bear Dunes State Park. This restaurant has a dive bar vibe and is run by young guys in great moods. They have gluten free pizza that is very reasonably priced. It was refreshing to eat off property after paying resort prices all weekend.
Frankfort
Frankfort is less than a half hour from the property on a good traffic day. It has an amazing beach with a strip of businesses including several good Frankfort restaurants. The Frankfort North Breakwater Lighthouse is the centerpiece of the beach, which is free to access. Public restrooms are nowhere to be found.
Pro tip: DO NOT take food to go to eat on the beach. We munched on salad seasoned with sand with our hands (because the restaurant forgot to include the utensils we requested).
We ordered from Dinghy's. My salad was just OK, but I'm sure the barbecue sans sand with a fork is much better.
10.

Ways to Save Money
Discounted Packages
Crystal Mountain offers discounted packages which change throughout the year. If you are planning to golf or visit the spa, these Crystal Mountain lodging deals may save you the most. As of the time of this writing, senior citizens are also offered a discounted rate.
You can find the most updated specials here.
Ski Discounts
Kids Ski Free (as Do People Over 80)
Kids ages 7 through 17 ski free Sundays through Thursdays with an adult on a Ski Package. This deal is not available during peak season. For good measure, this deal is also available to people over age 80.
Kids 6 and under ski free all the time.
Ski in a Group
As of the time of this writing, the following group discounts for Crystal Mountain are available:
1. Groups of 15 or more get discounts on lift tickets
2. Groups of 24 or more adults, or 50 total guests, get group package pricing
3. Groups of 5 or more cross-country skiers get a 20% discount on rentals and Crystal Mountain trail passes
Time for a Golden Girls Fan Club reunion.
Ski Season Passes
Season pass holders get several perks, including discounted skiing at several other properties. They also get:
1. Discounted Hotel Rates
2. Discounted Lift Tickets for a Friend
3. 50% Off Cross-Country Passes
4. Spa Discounts
5. Fitness Center Discounts
6. Discounted Equipment Tuning
7. 10% Off Ski Lessons
8. 10% Off Retail Items Plus an Extra 5% Off Before December 23
9. Single Ticket Ride on the Crystal Mountain Alpine Slide in the Summer
10. Free Golf During the First and Last Weeks of the Season
11. 10% Off Midweek Childcare Services
How Much Is A Crystal Mountain Season Pass?
As of the time of this writing, the following Crystal Mountain season passes are available:
Premier Season Pass
Includes: Unlimited downhill skiing and riding all winter
Cost: Ranges from $15 (for people over age 80) to $325 (for an adult)
Midweek Pass
Includes: Use Monday through Friday with blackout dates from 12/27 – 1/1
Cost: $215
Sunday Pass
Includes: Use on Sundays with occasional blackout dates
Cost: $215
Cross Country Pass
Includes: Access to cross-country trails all season
Cost: $109
Golf Discounts
Kids Golf Free
Kids ages 17 and under golf free an adult who purchases a Golf Package.
Golf in a Crystal Mountain Group
Groups of 24 or more get discounted rates and preferred tee times. You can also create a custom package with Crystal Mountain lodging and dining.
Time for a No Ma'am convention.
Limited Golf Pass
Includes: Golf on Betsie Valley Monday through Thursday and Sunday after 1:00 p.m during peak season. You can call the night before if you want to check availability outside of those hours. You also get Crystal Mountain unlimited golf on both courses any day of the week during the beginning and end of the season.
Cost: $259
Crystal Mountain Upgrade: You can pay $20 per round to golf Mountain Ridge during peak season. You can also add a Range Pass for unlimited range use throughout the season for $99.
Carts: $25 per 18 hole round and $12.50 per 9 hole round
Range Fees: $6 per bucket, $3 per half bucket
Crystal Mountain Spa
There are various spa deals offered throughout the year. As of the time of this writing, guests of the resort get $20 off spa retail purchases and services of $100 or more.
Note, Crystal Mountain adds a two percent service charge to all services. I love a spa as much as the next guy, but fees like this annoy me. Why not just add two percent to the cost of the service to avoid the sneaky add on?
11.

Plan Your Trip
Cancellation Policy
Crystal Mountain requires a one night deposit upon booking. You must cancel your stay at least 7 days before arrival to get a refund less a $10 fee. Seven days is longer than a lot of other properties require, so be sure to cancel in time.
Holiday Stays
Holiday stays from December 26 through January 1 must be canceled by NOVEMBER 1. If you cancel after November 1, but at least 14 days before your arrival date, they will hold your deposit for one year to be used for a future visit. If you cancel less than 14 days before arrival, your deposit is forfeited.
This policy is outrageous and just a hair shy of highway robbery.
Check In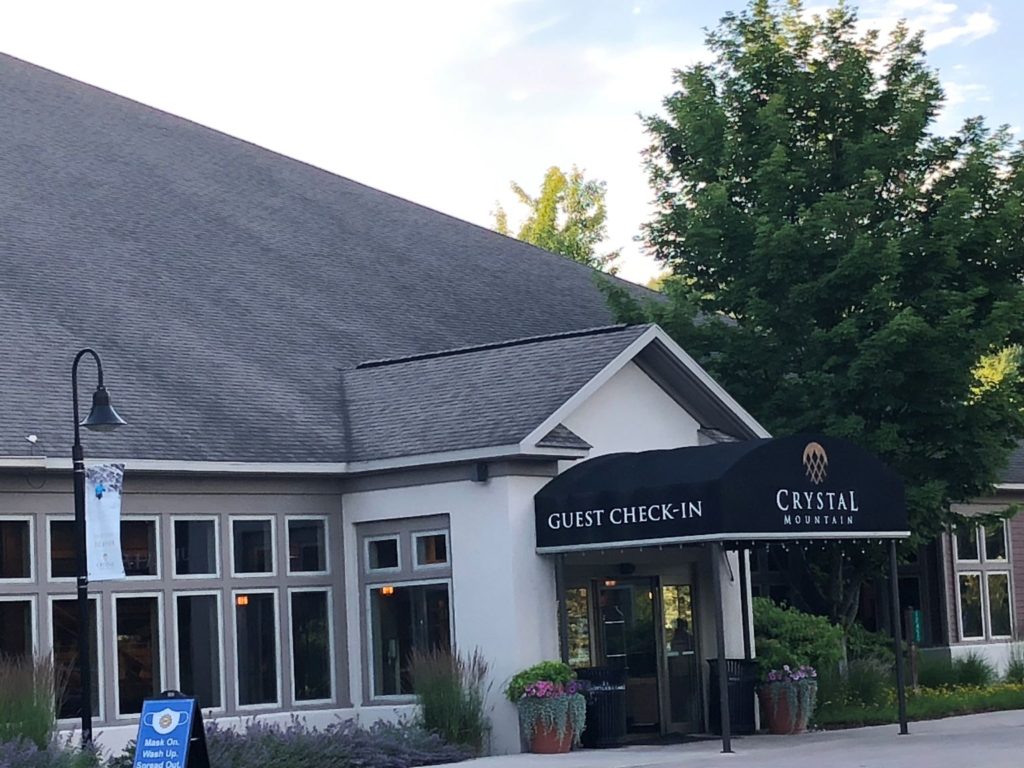 Check in time is 5:00 p.m., but they may let you in early if your room is ready. Call ahead to see if this option is available. Check in is in the Crystal Mountain Inn building.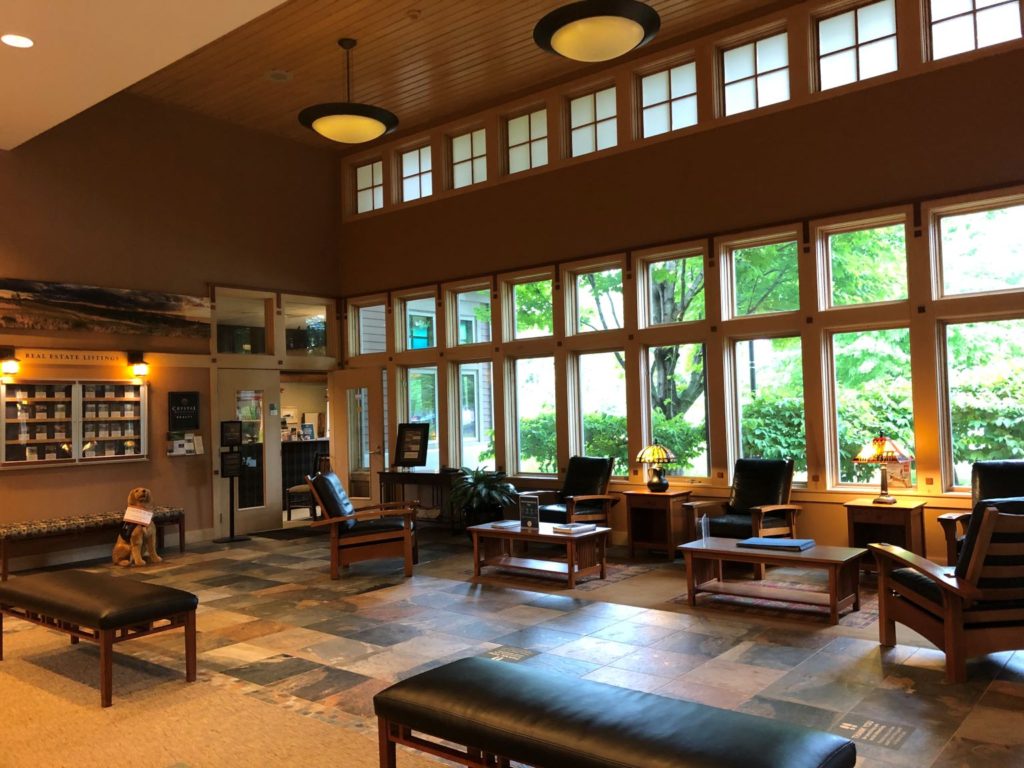 Crystal Mountain Overnight Parking
There are several parking lots throughout the property. Parking is free of charge. Considering the resort's remote Crystal Mountain location, this is appropriate.
Is Crystal Mountain Dog Friendly?
Crystal Mountain allows dogs in certain units, and we saw a ton of them. Dogs must be kept on a leash at all times and you are responsible for cleaning up after them.
Dogs are not allowed on the ski lifts. Bringing them on the ski lift would be a decision akin to Kendall Jenner deciding to do that Pepsi commercial, so this shouldn't be a huge issue. They are also not allowed on ski trails, the golf course, in stores, or in restaurants. They can sit on outdoor patios.
In addition to dogs with people, we saw wild cats that set up shop under the porch of our building. An employee approached us in the parking lot to tell us we could keep them if we caught them (hard pass), so they don't seem too married to holding onto those. Bring a net if you're in the market for a cat.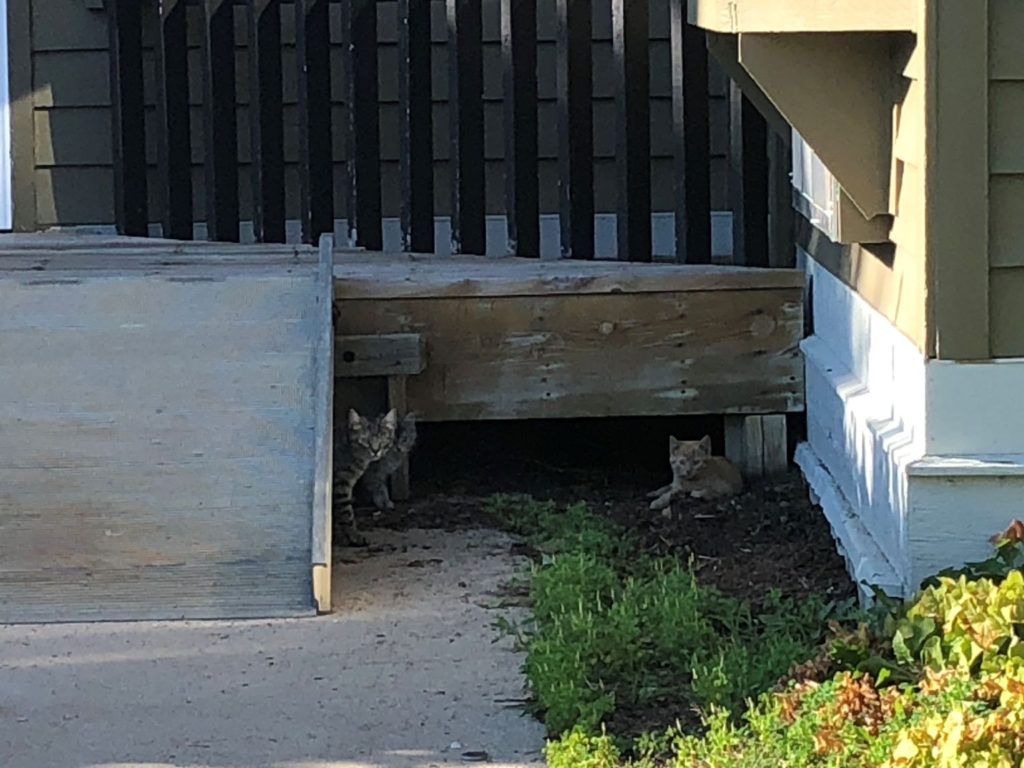 WiFi Is Included
WiFi is included with your resort fee (as it should be).
Quiet Time
The resort encourages quiet time from 11:00 p.m. to 7:00 a.m. In the event you were planning to throw a frat party in your room, you'll need to wrap it up by then.
Shuttle
The resort offers a shuttle to transport you throughout the resort. You probably won't need it if you stay within the village that houses the majority of the common areas.
Crystal Mountain Resort Maps
Crystal Mountain Michigan maps cover the core of the property with the majority of the common areas, as well as an extended map of the entire property.
Wake Up Calls Are Offered
Wake up calls are offered. If you happen to visit in 1985, take advantage of this service.
Childcare
Childcare has been suspended due to COVID-19, but during normal times, the resort offers childcare in a dedicated area. With Crystal Mountain, you can arrange in room babysitting as well.
Check Out Time
Check out time is 11:00 a.m. You can call for an express check out as long as your credit card is on file. The resort accepts Visa, Mastercard, American Express, and Discover.
12.

Crystal Mountain COVID-19 Precautions
People are understandably hesitant to travel as of the time of this writing. Crystal Mountain has several precautions in place, some more effective than others.
Face Coverings
There are signs throughout the resort reminding guests to wear masks. The resort requires masks indoors, but not outdoors or in your hotel room. The majority of guests did not wear a mask outside. The resort was not crowded, so people were able to spread out for the most part without them.
All staff wear a face covering at all times.
Partitions
Partitions were placed at cash registers and the Crystal Mountain front desk. There were also partitions between the tables at Wild Tomato when we visited in July of 2020.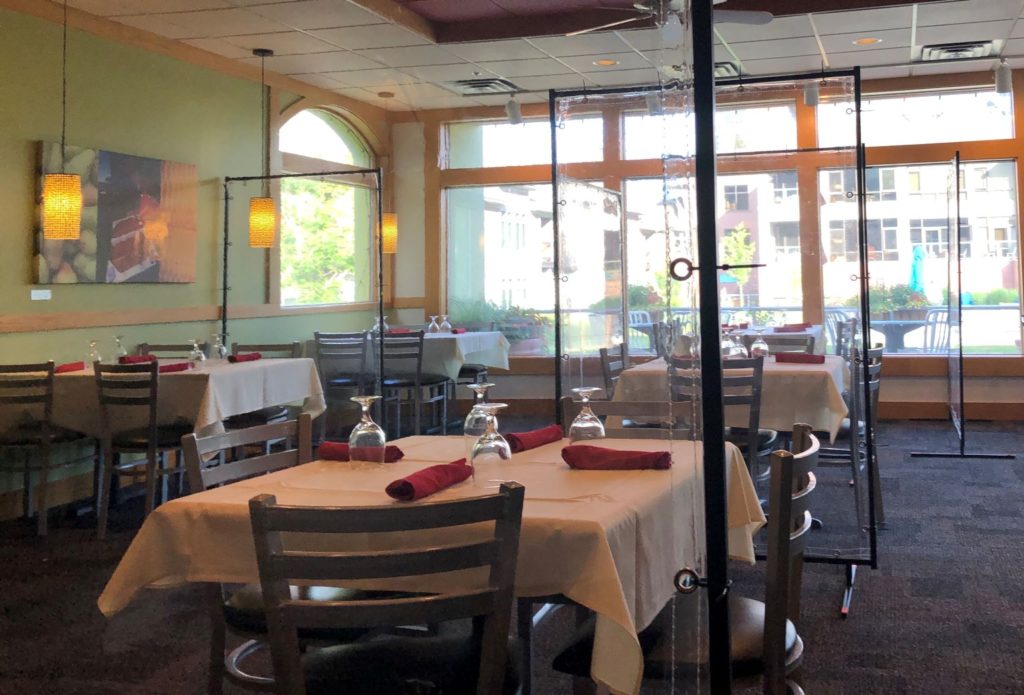 Cleaning of Common Areas But No Housekeeping
Crystal Mountain claims it has increased its cleaning. This must be in common areas, because there was no housekeeping during our stay. As we paid full price for the room, I found this cut irritating. This seems much more about cost savings than safety.
Crystal Spa
Guests cannot arrive more than 30 minutes before their service and need to vacate the premises within an hour of their treatment ending. The steam and sauna rooms are closed.
Guests must wear masks except during facials and when laying face down. Temperatures will be taken and a health screening will be given upon arrival.
Peak Fitness Center
As of the time of this writing, reservations for one hour sessions are required. The property closes three times per day for cleaning. Guest passes are suspended other than those purchased by Crystal Mountain Four Seasons Club members.
Guests must practice social distancing. Masks should be worn in the lobby and locker room.
Guests are expected to wipe down the equipment after use. Some equipment has been removed.
Golf
Golfers are required to maintain a distance of six feet from each other. Sharing of equipment is not allowed. Face masks must be used in compliance with CDC recommendations.
Fist bumps, high fives, and handshakes are forbade. Yes, Crystal Mountain actually bothered to put that in writing.
Outdoor Pool Precautions
Limited Capacity
The pool is operating with limited capacity. The resort recommends calling to confirm availability. We never did this and had no issue getting in any of the three days we visited.
Social Distancing and Face Coverings
While we were at the Crystal Mountain pool, I heard a few announcements reminding guests to stay 6 feet apart. I saw absolutely no one wearing a face covering on the side of the pool, but for the most part, people spread out.
Outdoor Pool Play Structure Limits
During our first two days, the staff announced that the play structure was limited to three people at a time. On our last day, that number changed to one. I'm not sure what changed during that time.
Life Jackets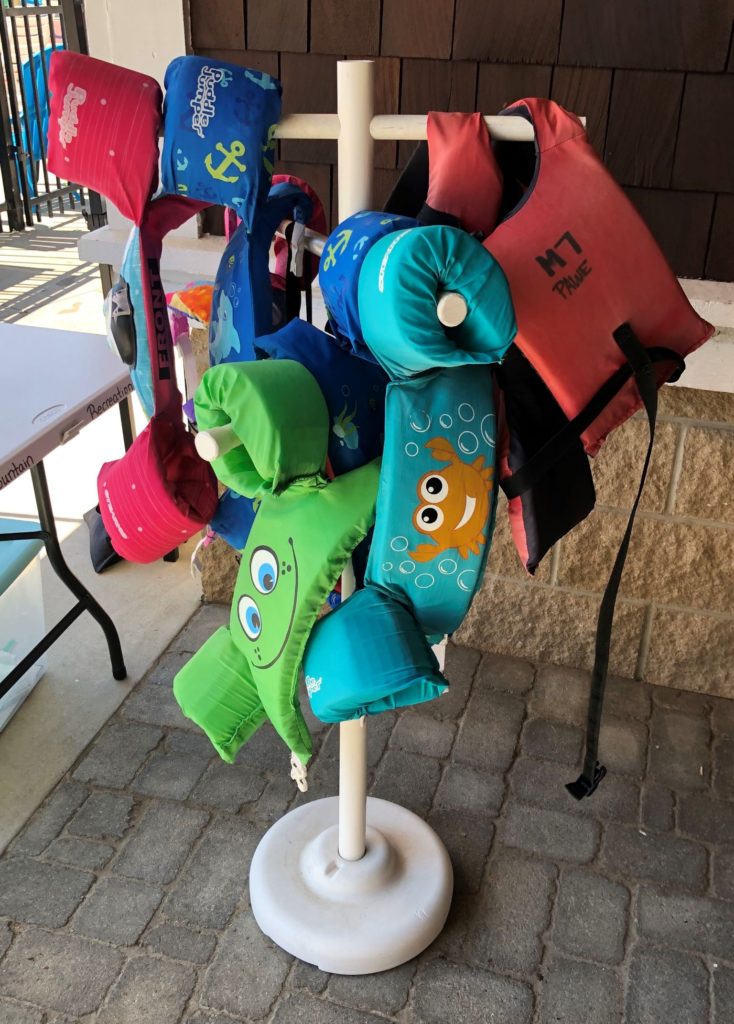 Crystal Mountain does not allow floaties, so my younger son was stuck with the resort's life jackets. These were NOT sanitized between uses.
On the first day, I turned in the life jacket and the employee immediately started to return it to the common use area. I inquired whether she needed to sanitize it, and she did so seemingly for show. The following two days, I didn't ask, and both times the life jacket was immediately put back into circulation without even a spray.
Final Thoughts
Crystal Mountain Michigan Resort was nice, but I do not think it was worth what we paid. This may have been partially due to COVID-19, but a lot of the limited offerings seemed to be more in the interest of money saving than preventing spread.
To sum up, we had no housekeeping, no Alpine Slide, no ropes course, the pool closed at 6:00 p.m., and there were almost no Crystal Mountain activities for kids, yet the room was full price.
Are Crystal Mountain weekends worth it? Maybe. If the room would have been discounted and I didn't feel so nickeled and dimed, I would probably have a better opinion of the property.
We had a great weekend as a family. The kids loved it. The staff was great. I am glad we tried it, but we probably won't return, particularly not in the summer.