Sleeping Bear Dunes National Lakeshore: Worth a Trip to Nowhere?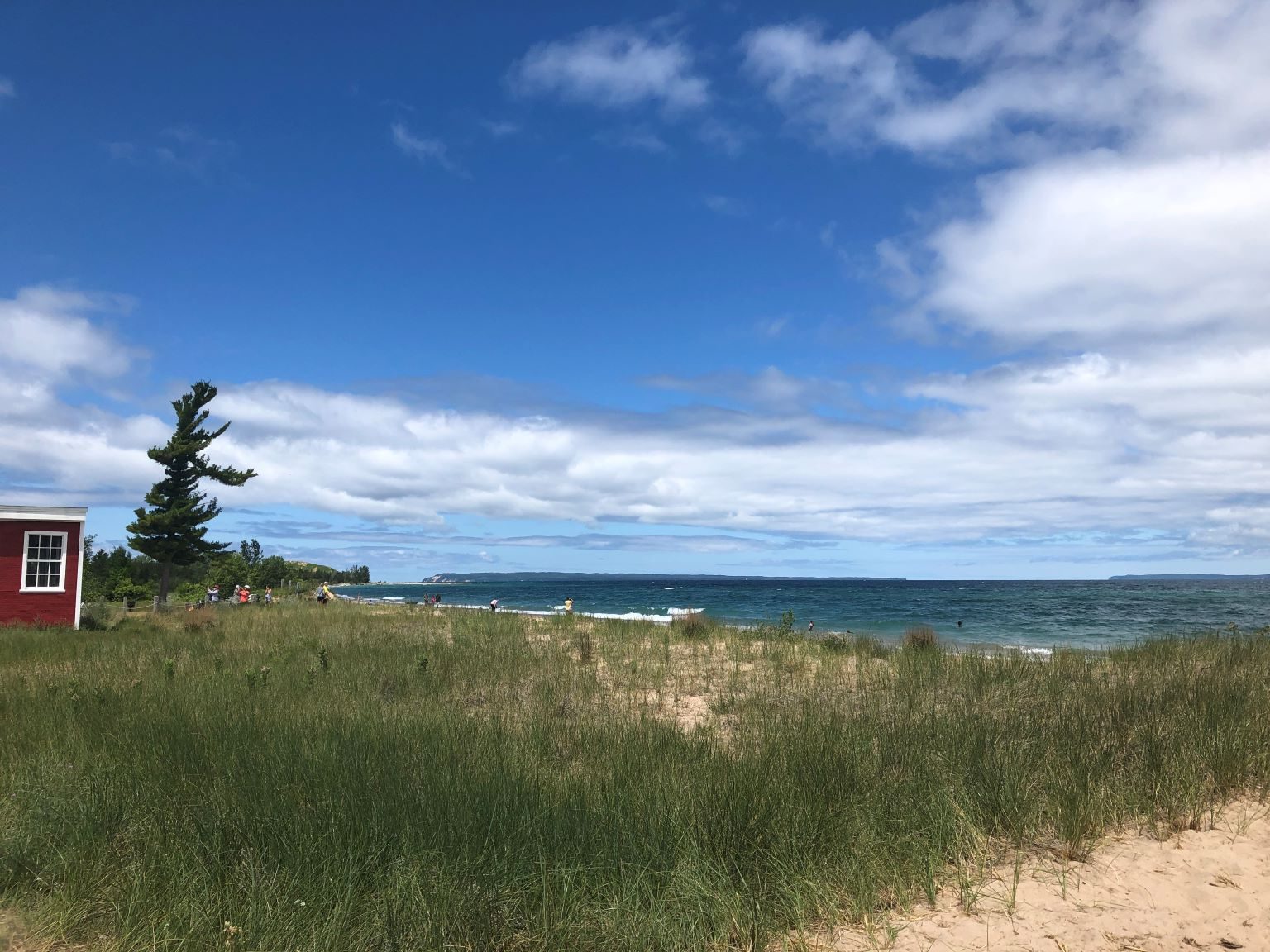 Where is Sleeping Bear Dunes National Lakeshore located? Great question. I had no clue either. It is located in Empire, Michigan, smack dab in the middle of nowhere. 
There are twenty-one inland lakes within the bounds of the property, as well as several beaches, hiking trails, campgrounds, and historic landmarks.  It has a ton of unique areas to explore.
Is Sleeping Bear Dunes a national park? Yes, with 70,000 acres of blissfully vacant (for the most part) property to enjoy.  The more touristy sections can get crowded, but you can easily avoid most people for social distancing (and anti-social) purposes. I'm not much of a nature girl unless there are some sea lions in the vicinity, but I can get behind any setting where I can avoid other people.
Is Sleeping Bear Dunes worth it? That depends. Were you nearby anyway? If so, I would not hesitate to do Sleeping Bear Dunes with kids on a day trip.
What Can You Do in Sleeping Bear Dunes in Michigan?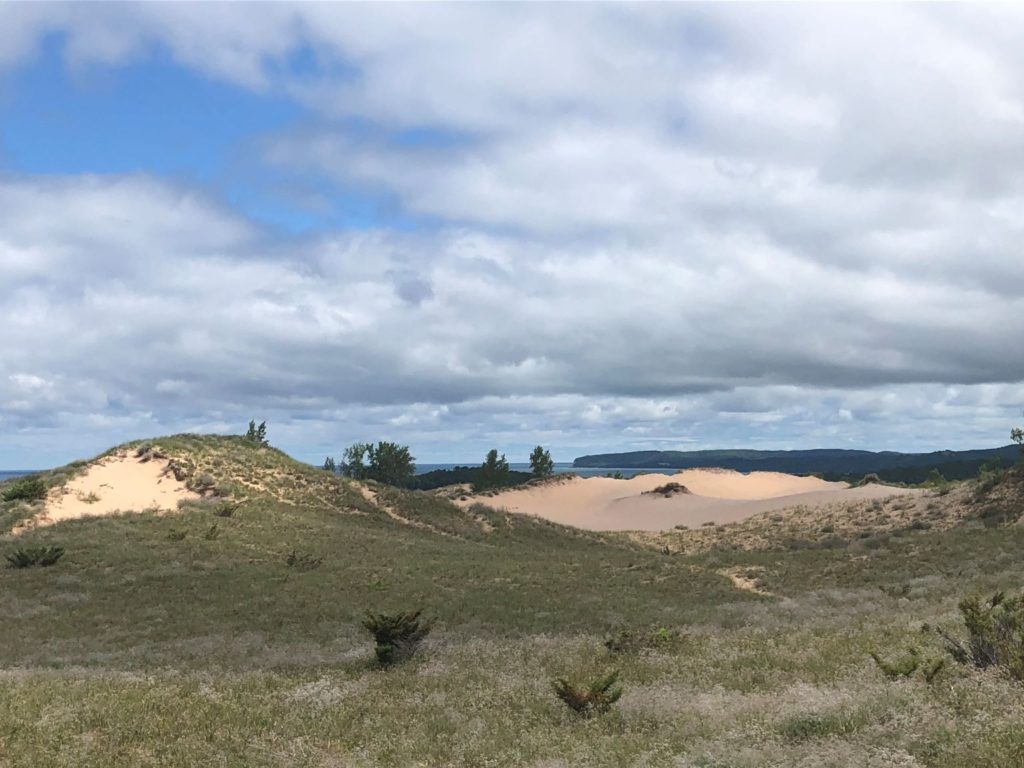 As an Amazon Associate, I earn from qualifying purchases.
DISCLOSURE: This post may contain affiliate links, meaning when you click the links and make a purchase, we receive a commission.
Sleeping Bear Dunes Park
1.
Dune Climb
The Dune Climb is an area with Sleeping Bear hiking trails on sand. It has amazing views of Glen Lake with relatively low crowds. 
The Sleeping Bear Dunes hikes can be a little strenuous, particularly for young children and morbidly obese dogs.  They are sandy and a little slick with some uphill climbing. Be sure to wear proper footwear to the Sleeping Bear trails. 
As an added perk, sand might blow in your face on a windy day. Prepare for that possibility. I have a child who hates feeling wet and sticky, so it didn't come as a huge surprise that he didn't enjoy inhaling sand either. Our hike ended quickly once he took some to the mouth.
For those who are really in it to win it, leave the small kids and Garfield at home. You can hike through the dunes to Lake Michigan, a trip that should take between three and four hours.  
Dune Climb Planning
The Dune Climb is accessible 24 hours per day.  There is a picnic area if you need it, and you might, because the area is seriously lacking in restaurants.
There is a Dune Center that has a bookstore and restrooms. Sleeping Bear Dunes dog friendly trails abound, so feel free to bring your pets with you.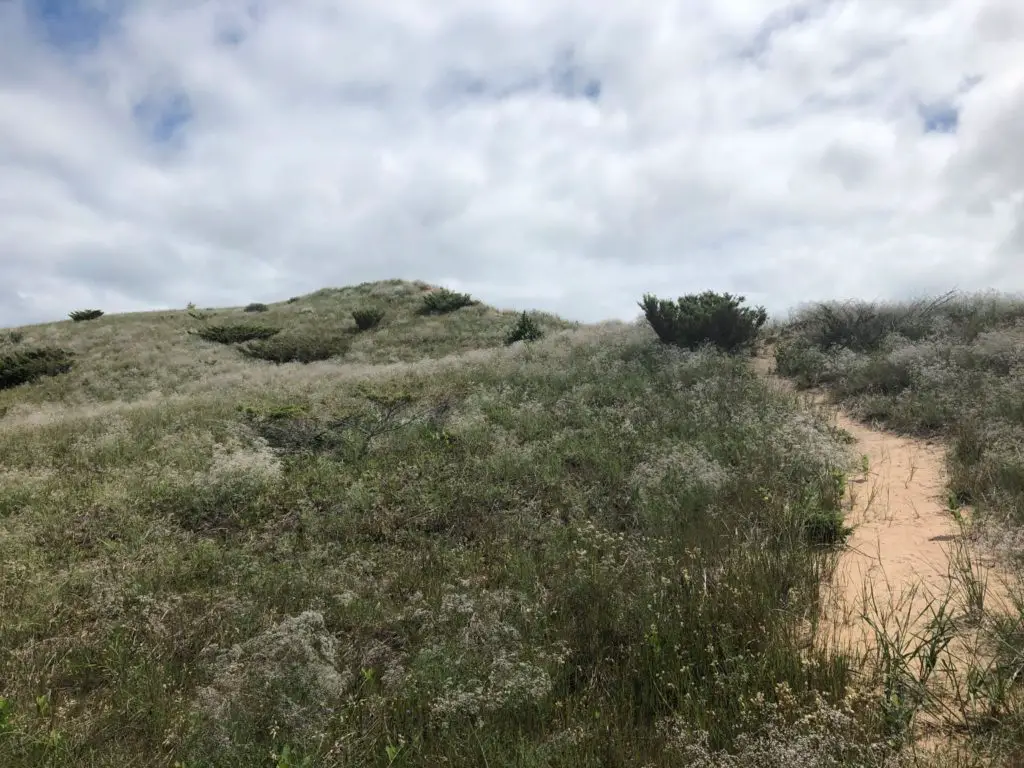 2.

Pierce Stocking Sleeping Bear Dunes Scenic Drive
This Sleeping Bear Dunes drive is a 7.4 mile scenic loop.  The ride felt a little long with kids in the backseat, but the scenery was nice.
The Sleeping Bear Dune ride through the area can be a little harrowing, but overall, it is safe.  It is like your child is driving that Tomorrowland Speedway car, except you could really die, so maybe don't let them drive this time.
There are several places to pull over to view Sleeping Bear Dunes Lake Michigan and Glen Lake from one of the Pierce Stocking scenic overlooks.  You can also park your vehicle and hike the dunes in this area. 
The public areas, including several picnic areas, can get crowded.  It will be obvious when an area is overcrowded because there will be cars parked where they shouldn't be.  Avoid these areas and you will be fine.  You can do the entire thing without exiting your car at all if it seems too crazy when you visit.
3. Glen Haven Michigan
Glen Haven historic village is basically like entering Mayberry.  It features Glen Haven General Store Michigan, a store that exists in the same state as it did in the 1920s.  You can also see the Cannery Boat Museum and Glen Haven Blacksmith Shop for a true step back in time.  
Glen Haven park has a quiet beachfront that can easily be enjoyed for hours while social distancing.  This is no Daytona Beach on spring break. Tops stay on and you can swim without risk of coming into contact with others unintentionally. 
There are public restrooms with toilets that flush in this area, which is a reason to stop in itself.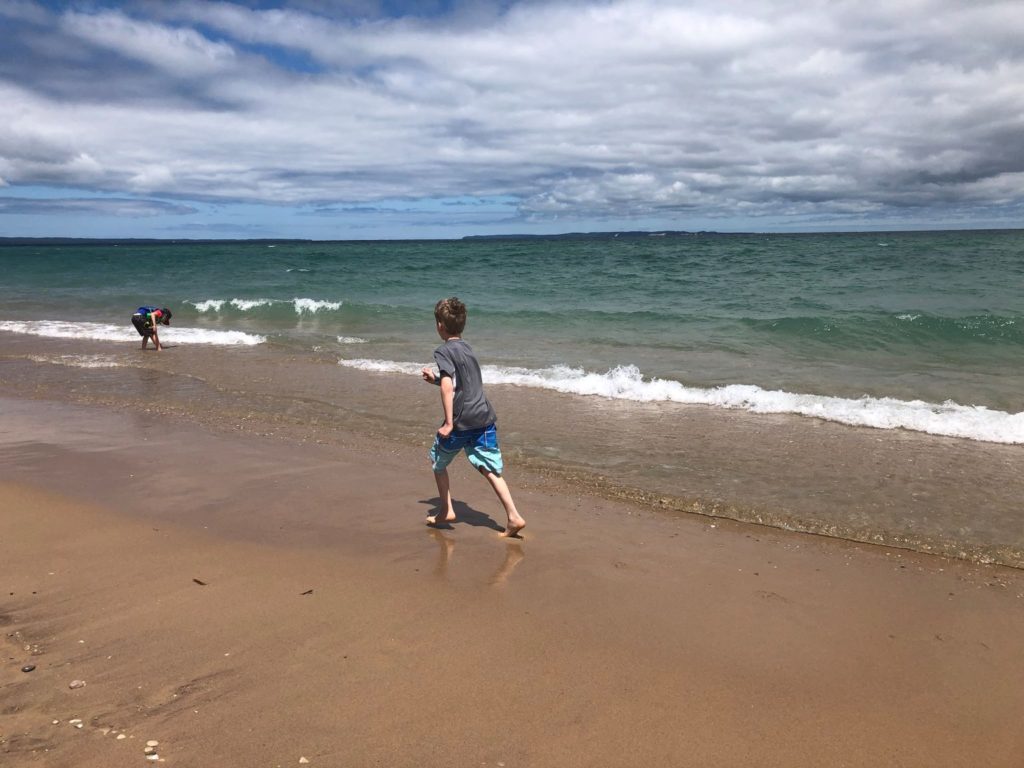 4.

Sleeping Bear Maritime Museum
Sleeping Bear Dunes Maritime Museum has exhibits about the Great Lakes shipping history, the United States Life-Saving Service, and the United States Coast Guard. 
The museum offers a reenactment of a United States Life-Saving Service rescue daily.  You can also access the beach from the museum.  
My kids would have lost interest in this museum in 2.4 seconds, so we passed on this experience, but your kids might be more cultured than mine.
The museum is open from Memorial Day through Labor Day from 11:00 a.m. to 5:00 p.m.
5.
Sleeping Bear Dunes Heritage Trail
This Sleeping Bear Dunes trail is a twenty-two mile trail accessible only by people on foot and non-motorized vehicles.  You can walk, run, ski, or bike in the area. 
This Sleeping Bear Dune trail is both wheelchair and stroller accessible.
The very long Sleeping Bear Dunes bike trail takes you through the town of Empire, the Philip A. Hart Visitor Center, Pierce Stocking Drive, the Sleeping Bear Dune Climb trail, and through Glen Arbor, among other locations.  You can park your car along several entrance points, so you do not need to do the entire twenty-two miles in one shot.
6.
Philip A. Hart Sleeping Bear Visitor Center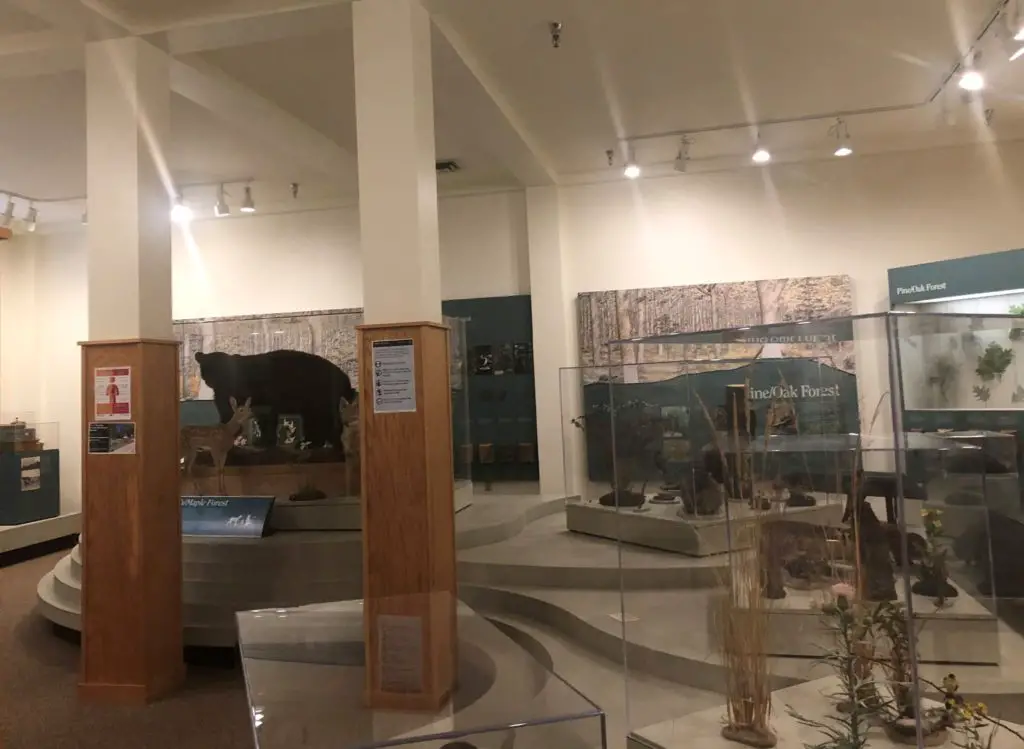 Philip A. Hart Sleeping Bear Dunes National Lakeshore Visitor Center is a small building that houses a Sleeping Bear Dunes gift shop and some small exhibits about the history of the dunes. The exhibits are OK at best. This will not take up an hour, let alone an entire afternoon.
Rangers are posted at this Sleeping Bear Dunes location to provide advice and a recommended itinerary to visitors. Again, toilets, so stop.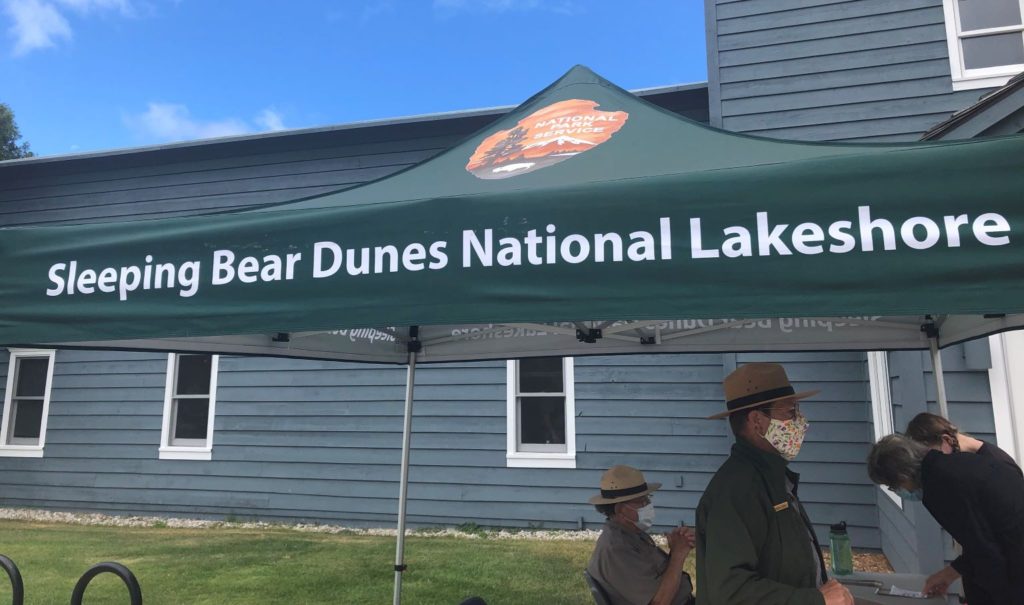 7.
Manitou Islands
The Manitou Islands (South Manitou Island and Manitou Island North) are part of the national park.  The islands are dedicated almost exclusively to hiking and camping near Sleeping Bear Dunes. 
You can see several animal species, including eagles and hawks, on both islands.  Both the Manitou Islands also have several historic landmarks.
The islands are accessible by the Sleeping Bear Dunes ferry, which is operated by Manitou Island Transit.  
South Manitou Island National Park
South Manitou Island Lake Michigan was originally settled in the 1830s. Today, the island has dune formations, ten miles of beaches, trees that are over five hundred years old and remnants of life from the 1800s, such as the ruins of the island's general store.  
There is a Manitou Island lighthouse to climb and a former Coast Guard station to see.  You can also take a wagon tour to see the Francisco Morazan shipwreck near South Manitou Island, because apparently they weren't so hot at operating ships in the 1800s.
Manitou Island South allows deer hunting annually around the first week in November.  If taking out animals is not your bag, I would not visit during that time. If you wish to participate, you need both a park hunting permit and a Michigan deer hunting license.
South Manitou Island Sleeping Bear Sand Dunes Visitor Center
South Manitou Island Sleeping Bear Dunes Visitor Center is the former site of the town general store.  There are exhibits about the lives of loggers, farmers, and the Life-Saving Service members who resided there.
North Manitou Island
North Manitou Island was first inhabited in the 1850s.  On this island, you can explore the United States Life-Saving Service Complex which consists of several historic buildings relating to the service.  You will also find Cottage Row, a row of cottages built between the 1890s and 1920s, and a sawmill built in 1927.
North Manitou Island has twenty miles of shoreline.  There are dunes and bluffs with rugged terrain.  You can find several species of birds, including bald eagles. 
North Manitou has less to see than South Manitou Island, but it is more secluded.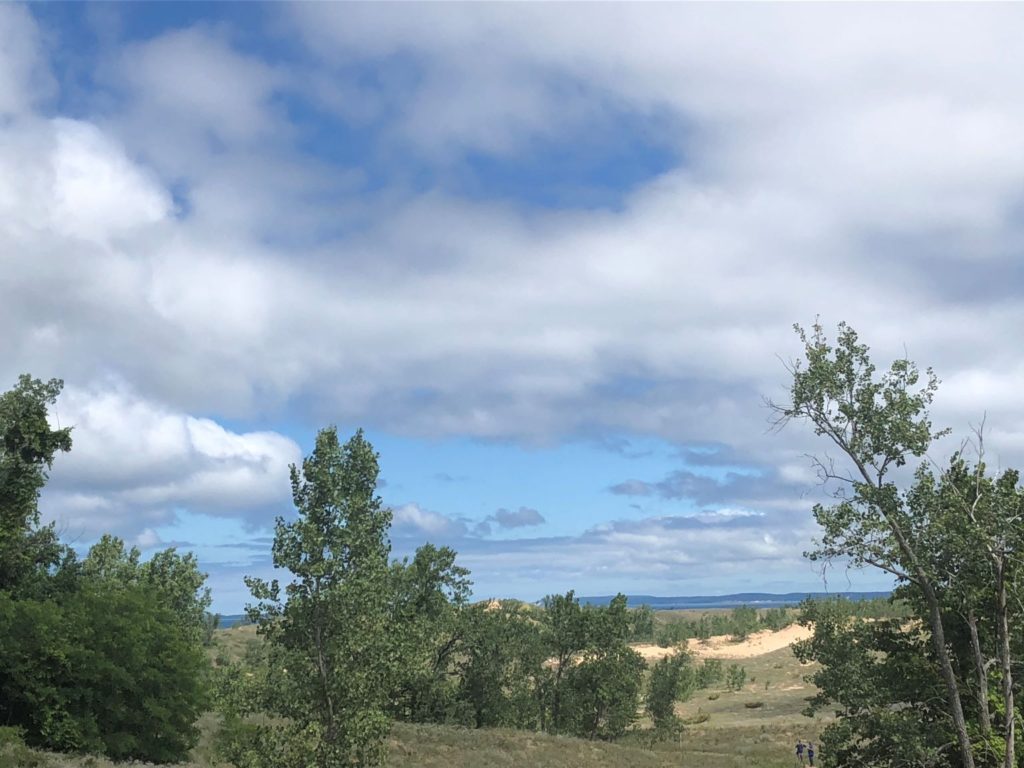 8.

Camping in Sleeping Bear Dunes
The chances of me wanting to camp are roughly the same as someone on a Southwest flight encouraging someone to sit next to he or she in the middle seat. I'll be chilling in one of the hotels by Sleeping Bear Dunes.
If Sleeping Bear Dunes camping is your thing, there are plenty of opportunities.
North Manitou Island Village Campground Near Sleeping Bear Dunes Michigan
The North Manitou Island campground is small, secluded, and lacking in everything I love modern conveniences.  It has only eight dedicated campsites near Sleeping Bear Dunes.  You can hear the waves crashing from the campground, so I can definitely see the appeal.
You need a backcountry Sleeping Bear Dunes Michigan camping permit to camp here. Be sure to plan ahead.
Bay Sleeping Bear Sand Dunes Campground – South Manitou Island
Bay Campground at Sleeping Bear Dunes is located closest to the dock where you catch the ferry.  This campground is rugged. 
You need to bring water, because there is no source of drinking water on property. Sleeping Bear Dunes National Lakeshore camping at its finest.
Weather Station Sleeping Bear Dunes National Campground – South Manitou Island
Weather Station Sleeping Bear Campground Michigan is located near the bluffs on the south side of the island.  These sites are also secluded and rugged with no source of drinking water. Prepare accordingly.
Popple Sleeping Bear National Lakeshore Campground – South Manitou Island Michigan
Popple Sleeping Bear Dunes State Campground is the least crowded of the campgrounds on the Manitou Islands, with a location on the northern tip of the southern island close to the Sleeping Bear Dunes beach.  It is the furthest from the dock, so it is the most difficult to access. 
It has only seven Sleeping Bear Dunes campsites and no drinking water available. The hotels near Sleeping Bear Dunes Michigan are sounding better and better.
Sleeping Bear Dunes Platte River Campground
Sleeping Bear Platte River Campground is located on the mainland.  It is open year round. 
You can set up shop National Lampoon's style in this Sleeping Bear Dunes RV park.  Electric hookups are available. This is a great option for people who want to camp but not rough it.
It also has Sleeping Bear Dunes tent camping sites available, as well as a backcountry campground.  
D. H. Day Sleeping Bear Dunes National Lakeshore Campground
Sleeping Bear Dunes DH Day Campground is located in the northern district of the Sleeping Bear Dunes Lakeshore mainland.  It is only open from April through November. 
This campground caters more to families and people looking for amenities. Family activities are offered.  The campground even features an amphitheater. 
Sleeping Bear Dunes RV camping and trailers are allowed.
9.
Sleeping Bear Dunes Empire Village Inn Restaurant
There aren't a lot of restaurants near Sleeping Bear Dunes. At all. However, before you leave, check out Empire Village Inn. It has a dive bar meets middle of nowhere vibe. I had gluten free pizza that was very reasonably priced.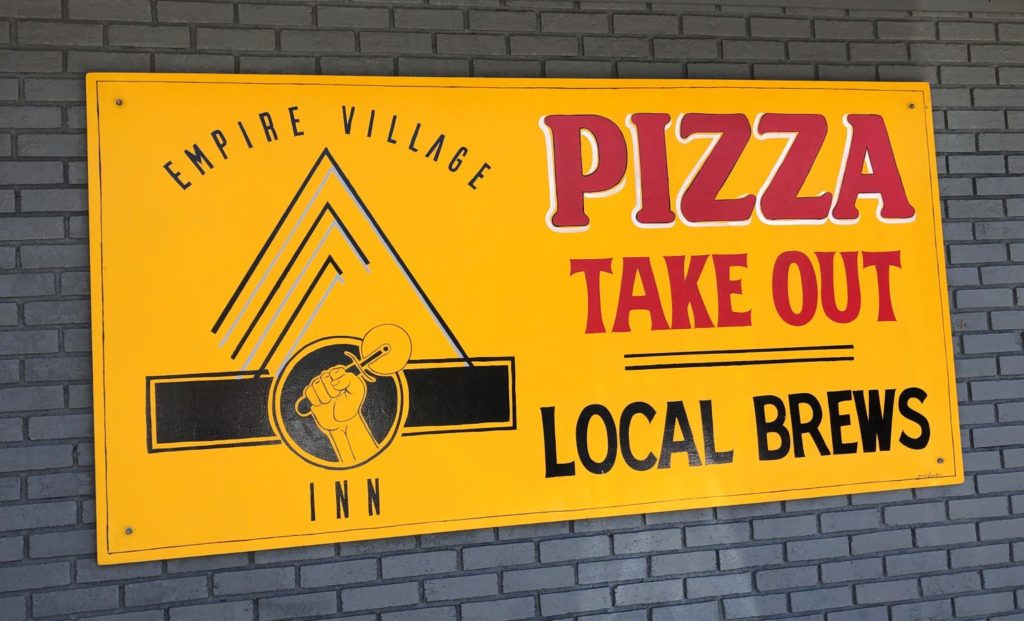 10.
Consider a Tour
Want to learn more about the history of the area? Consider a group tour.
Final Thoughts
Sleeping Bear Dunes National Lakeshore is a beautiful, peaceful place with lots of areas to explore.  This is a great option for travel in 2020 because it is easy to social distance (which I have been trying to do since 2005) while enjoying the property. 
Certain sections of the park may be closed, so check the website before you visit.  A Sleeping Bear Dunes map will be helpful in your planning. Visit Sleeping Bear Dunes if you are in the area.  You will not regret it.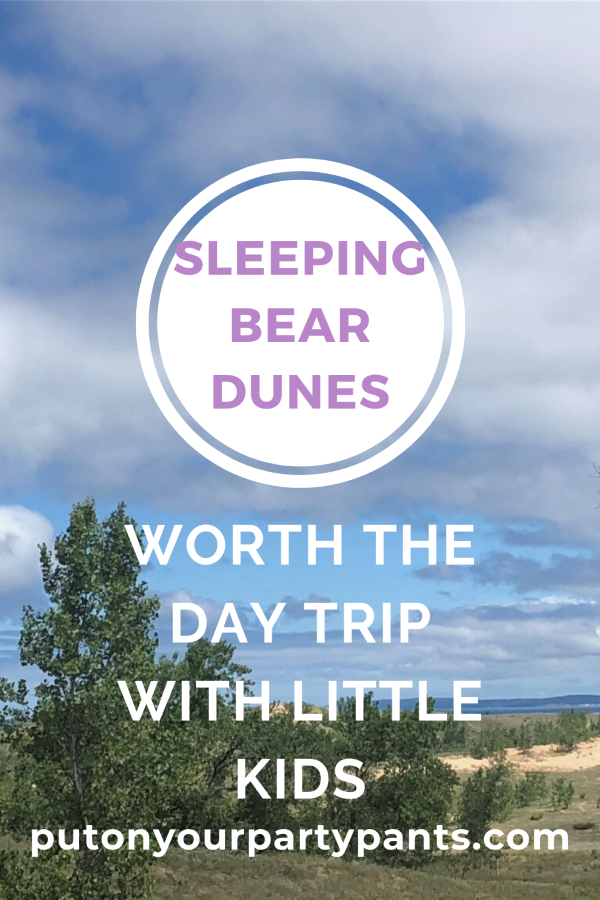 Related Articles:
Sleeping Bear Dunes National Lakeshore