Eight Reasons Disney Cruises with Extended Family Are A Perfect Vacation
I could be wrong, but I assume most retired people do not have a burning desire to hang out on a cruise ship with Mickey Mouse and 2,000,000 children under age five to whom they are not related. You could sail another cruise line for half the price and double the sanity. There are ways to save money, but Disney cruises are expensive and loud. With that said, if you travel with multiple generations, Disney cruises with extended family are a great vacation option.
There are many reasons Disney offers the best cruise for extended family, but it really boils down to the fact that there is something for everyone. Travel with grandparents is more enjoyable when you are not dragging them around 24/7 like you often are at the Disney parks. You can spend time together and make great memories, but break off when your interests diverge. A cruise with three generations is a perfect choice for people who intend to still speak to each other after the trip.
Why Should You Consider Disney Cruises with Extended Family?
As an Amazon Associate, I earn from qualifying purchases.
DISCLOSURE: This post may contain affiliate links, meaning when you click the links and make a purchase, we receive a commission.
Reasons to Take Disney Cruises with Extended Family
1.

Dining on Disney Cruises with Extended Family
There are several good dining options for Disney cruises with extended family. Most of them are included in your fare. Families can eat together, or not, depending upon their plans, moods, and level of irritation. At a minimum, you can meet for dinner each night to catch up. A Disney cruise with multiple generations allows for the right level of togetherness for your family.
Dietary Restrictions
Disney excels when it comes to special dietary needs. They go above and beyond to ensure food is safe. Managers handle the food and bring it out separately. Disney will make sure your kid's food doesn't have peanuts, and your father's food doesn't have taste sodium. All needs can be accommodated, which is a huge reason to consider a Disney cruise with extended family.
Not only is the food safe, but it is good. There are lots of options, and you can pre-order a particular item to meet your dietary restrictions when it normally would not. On Disney, you can actually enjoy what you eat, rather than just eating the only mediocre option available. If anyone in your party follows a special diet, cruise Disney. It will work well for your family.
I am gluten free. At most restaurants at home, I am limited to items that do not contain flour. I can find safe food, but it is rarely anything about which to write home. With a cruise on Disney, there are countless options, including gluten free pizza, bread, pasta, and desserts.
Main Dining Rooms
The main dining rooms vary by the ship, but each ship has three. They all are well themed and elegant. The food is generally good, and you can order as much as you want.
The servers are flexible. You can order multiple entrees. Kids can order off the adult menu. They will bring you things that are not on the menu at all.
At least one main dining room will serve breakfast and lunch each day.
Dinner
You rotate between the three main dining rooms for dinner each night. You are assigned a table in each dining room. Disney Cruise Line sometimes sits you with other families. If this is not your bag, request to sit alone prior to your cruise.
You will have the same serving team each night. The servers will be aware of your dietary restrictions and preferences. I had gluten free rolls and a Diet Coke waiting for me each night when I arrived.
Meals in the main dining room can take hours. Long meals plus young kids equals miserable adults. We request the server bring our kids' meals with our appetizers, then we walk them to kids' club and enjoy our food in peace. If you have the second seating, which typically starts around 8:00 p.m., you can have the kids' club staff pick the kids up from the main dining room and take them to the club.
Buffets
Disney Cruise Line offers a buffet for breakfast and lunch in addition to the service in the main dining room. The buffet has plenty of options. It is definitely more chaotic then the main dining rooms, but there are more choices if your family likes different things.
If you have a dietary restriction, employees will take you around the buffet to show you what is safe. They will also bring you food from the back to ensure it is free from cross contamination.
Quick Service
The quick service options vary by the ship, but each offers some fast food options and self serve ice cream on the pool deck. You can get foods like burgers and pizza, and they can deal with food allergies.
Room Service
Room service is available twenty-four hours per day. The majority of the items are included in your fare. Room service gives people flexibility to order food to their rooms if their child is too tired or they are feeling too anti-social to make it to the dining room.
Adult Specialty Dining
There are two specialty restaurants, Palo and Remy. The restaurants are adult only. Drop the kids off at the kids' clubs and enjoy a quiet meal without a sippy cup. Both restaurants have an extra charge. Serenity comes at a premium.
Palo
Palo, an Italian restaurant, serves dinner each night and brunch on sea days. It has a buffet with seafood, cheese, meats, and desserts. You order from a menu in addition to visiting the buffet.
The service at Palo is awesome. Our waiter recommended gluten free items and brought me special desserts from the back. He also decorated a plate for our anniversary. This quiet gesture was much preferred to servers with 37 pieces of flair clapping and singing.
The cost is $40 per person as of the time of this writing. It is definitely worth it.
You need a reservation to eat at Palo. You can make reservations during online check-in or in person on the ship. The brunch reservation is coveted. Try to reserve it as soon as you are able.
Remy
Remy is a very expensive French restaurant. It comes with several courses and takes hours. I have not tried it, but people lose their minds about it online.
The cost is $125 per person as of the time of this writing. You need a reservation.
2.

Kids' Clubs
Grandparents want to travel with grandchildren and all, but there is something to be said for adult time. The kids' clubs give you the option to enjoy both. They are a huge reason Disney cruises with extended family a great option.
On the flip side, older kids who no longer think their parents are the coolest thing ever can use the teen and tween clubs, Edge and Vibe. These clubs offer older kids the opportunity to take a breather from the rest of the family while cruising Disney.
The kids' clubs on Disney Cruise Line are light years ahead of those on any other line. Other clubs typically have more limited hours and much less to do.
The clubs will serve feed your child at your request. Food allergies and special diets should be identified in your Disney Cruise Oceaneer Club registration materials so the counselors are aware of your child's needs.
Oceaneer Lab and Oceaneer Club
Disney Cruise Oceaneer Club Age Range
Disney Cruise Line offers Oceaneer Club and Oceaneer Lab for children ages three to twelve. The only difference between Oceaneer Club and Lab is the activities, which vary by the ship. Oceaneer Lab and Oceaneer Club are connected on the ships, so children can navigate between them without leaving the safety of the area.
Adults aren't allowed except during Disney Oceaneer Club open houses, so you can drop the kids off without guilt. If not for that rule, my kids would have asked me to stay every time. I would have had to come up with an excuse to not watch them watch other kids play video games. Who wants to think that hard on vacation?
Three to twelve is a wide age range. While I see the benefit of allowing siblings to stick together, the age range made me nervous. My youngest son was three years old when he went. I was worried he would be intimidated, and I could not imagine how all of those kids could coexist.
Turns out, the area is so large kids can play with others in the same age range without stepping on the toes of kids with whom they are not spending time. I worried for nothing. My kids didn't want to leave.
Disney Oceaneer Club Cost
Oceaneer Club and Oceaneer Lab are included in your fare, which means children can be deposited without consequence when adults need a Mai Tai. When you consider what you would have paid a childcare provider to enjoy all those fruity cocktails, the cost of your cruise seems much more reasonable.
Counselors
Oceaneer Lab and Club counselors are another reason your three year old will not end up stuffed in a locker. There are roughly 4,000 employees in the clubs to make sure the kids are safe and comfortable. There will not be any waterboarding on their watch.
Counselors can accommodate special needs, as well as any idiosyncrasies your child may have. They are friendly, vigilant, happy, and have the patience of saints.
Potty Trained Requirement
Disney Cruise Line's official policy is that kids must be potty trained to be dropped off. However, they didn't bat an eye when my son had an accident the first day. I was expecting the worst as I took the walk of shame to pick him up, but the counselor just told me to change his pants and bring him back. I don't know if their patience would have run out if it happened repeatedly, but they seem to allow at least one strike.
How Does Disney Oceaneer Club Work?
Checking Into and Out of the Clubs
You check kids in and out by scanning bands assigned to them. When you pick up the kids, the counselor can tell you exactly where they are within the clubs. Because they're tracking them. This CIA type technology may be unsettling to some, but the kids are certainly safer for it.
Disney Cruise Oceaneer Club Hours
Disney Oceaneer Club hours typically run from 9:00 a.m. to midnight. Kids can be dropped off as much as you want for as long as you want. No reservation is required.
Disney Oceaneer Club Activities
Disney Cruise Line Oceaneer Club and Oceaneer Lab have enough to keep your kids busy for weeks on end. There are several different play areas. These include an interactive floor, play structures, and screens as far as the eye can see. I normally don't care for kids on meth screens, but I make an exception on vacation. Screens are the cornerstone of boy bonding, after all.
In addition to free play, there are organized activities throughout the day, some including characters. Disney's Oceaneer Club schedule is posted in the Disney Cruise Line app.
It's a Small World Nursery Disney Cruise
Toddlers on cruises are a good idea in theory. You will be glad you brought them, but it is reasonable to want some adult time. They are too young for Oceaneer Club, so how do you ditch them?
Disney Cruise Line It's a Small World Nursery provides childcare for children ages six months (the minimum age one must be to board the ship) to three years. The minimum age is one year on Panama Canal and transatlantic cruises. The counselors will feed and change your children, but you must bring what they need.
It's a Small World Nursery hours are typically from 9:00 a.m. to 11:00 p.m.
While the nursery provides an opportunity for moms and grandmas gone wild moments during a cruise with toddlers, it is much less exciting than Oceaneer Club because you have to pay. As of the time of this writing, It's A Small World Nursery costs $4.50 per half hour for the first child and $4.00 per half hour for each additional child. You need to reserve nursery time in advance.
Edge
Edge is a club for tweens, ages 11 to 14. They can check themselves in and out as they please.
In addition to screens, Disney advertises organized activities offered by "cool" counselors. That is not my interpretation. That is an actual quote from Disney. I am dying to know how Disney determines one is "cool". There is probably an exam about YouTube influencers and Fortnite dances (that's a thing, right?). Whatever the criteria, I bet the counselors are fly.
While tweens may no longer require intensive childcare, Edge offers the opportunity for them to meet other kids their age instead of hanging with AARP members the entire trip.
Vibe
Vibe is for teens ages 14 to 17. Here work the "coolest counselors" per Disney. I'm guessing their interview involved some flossing.
Vibe offers a space for teens to escape their family and spend time with their peers. There are, of course, screens. It has a coffee bar, because teens love their Starbucks.
3.

Disney Cruises with Extended Family Activities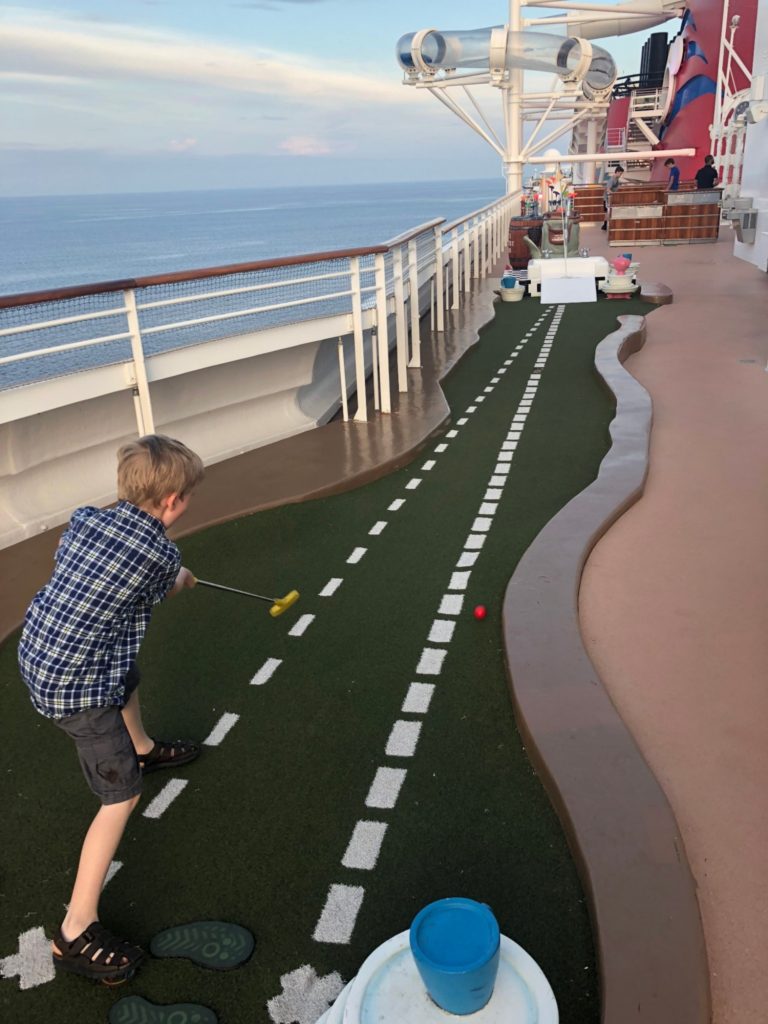 Disney Cruise Line has activities for people of all ages. Families can do some things together, and some things separately. You don't have to drag everyone around all day like you would at a hot theme park in the name of family togetherness.
The ships have pools, splash pads, and water slides. There are dry activities like miniature golf, basketball, and shuffleboard in case you want to roll with grandma. They also have organized activities throughout the day for adults and families. The schedule of events is in the app. Who has been married the longest?
The cruises usually have a themed night. On Caribbean cruises, it is Pirate Night. Families can dress up. There is a show with pirates swinging around the deck and fireworks that put your small town's fireworks to shame. They aren't Disney theme park quality, but to be fair, they are being shot off the side of a ship.
4.

Disney Cruises with Extended Family Photo Opportunities
Disney Cruise Line is crawling with characters. The number of five foot tall mice on the cruise is equivalent to the number of rats in a New York City subway station.
The lines to meet the characters are much shorter than those found in the theme parks. The schedule is posted in the app.
While characters aren't that exciting for adults who know that is not a real duck (and I don't think every adult on the ship got the memo), excited grandchildren take the best photos.
The characters are enthusiastic to say the least. They make special memories for the kids that are fun to witness. Think of the priceless photos from your cruise with grandchildren you can place on your mantle.
5.

Castaway Cay
Castaway Cay is Disney's private island. It is located in the Bahamas. No one resides there except Disney Cruise Line employees. It is amazing.
The island is clean. The beaches are beautiful. It never feels crowded. There are plenty of beach chairs, so those who want to take it easy while others engage in more physical activity can do so. You do not have to compete with other cruise ships when you visit like you do in, say, Nassau.
The ship pulls right up to the island. You do not need to take a tender to get there. There is a tram that circles the island if you do not want to walk. Everything is accessible, so those who need a stroller or wheelchair can enjoy the island. You can easily return to the ship at any time throughout the day. This convenience is a huge selling point for Disney cruises with extended family.
In addition to the beaches, there are water slides, a splash pad, and several activities in which you can participate. Characters roam and dance. The kids' club will take your kids during this time.
They serve lunch and ice cream on Castaway Cay. You can pre-order food if you have dietary restrictions. If the lunch on the island doesn't interest you, you can return to the ship and come back.
In addition to the food, servers take drink orders on the beach, because Disney likes when you spend money.
6.

Entertainment
Theatrical Productions
Disney Cruise Line's theater is much better than that of other lines. The shows vary by the ship, but there will usually be at least two.
I am not a fan of jazz hands. I walked into Beauty and the Beast on the Disney Dream prepared for eye strain from excessive rolling. My kid loved it. It thoroughly entertained my mother. I didn't hate it, which says a lot about its quality. The shows have talented casts, elaborate sets, and impressive productions. They can be tolerated by people of all ages, a big plus for Disney cruises with extended family.
Movies
Disney Cruise Line shows first run movies that are in theaters at the time of your cruise. It is fun to see a movie on the ship. It also saves you a little money if you intended to see it anyway.
7.

Disney Cruises with Extended Family Staterooms
Disney Cruise Line staterooms are ideal for families who travel with three generations. You can book connecting staterooms and unlock the interior door. This way, grandparents can listen to sleeping grandchildren while their parents get their groove on. A Disney Cruise with grandparents means free labor for the parents.
There are several types of staterooms from which to choose, but Disney's staterooms are generally larger than its competitors. There is a heavy curtain dividing the room to give the illusion of privacy.
The bathrooms have baths, rather than just showers. Two people can use the bathroom at once because of its split design.
The beds vary depending upon the room, but there is often a pullout couch or berth that pulls down from the ceiling in addition to the regular bed. These can be put away during the day to make the room feel larger.
A stateroom attendant comes twice per day, so the rooms are immaculate until your children return. He or she sets up the beds while you are at dinner and puts them away in the morning to maximize space. The level of comfort makes Disney cruises for extended family a great choice.
8.

Service
The service on Disney Cruise Line is amazing. It rivals all others. Every employee is helpful and friendly. They greet you when you pass. They go out of their way to help you, as opposed to other vacation destinations that seem to be trying to get away with things to make more money.
Can A Grandparent Travel with Grandchildren Without Their Parents?
Travel with grandparents and grandchildren is special. What if you don't want those pesky thirty-somethings to get in the way of the fun? Can grandparents travel with minor grandchildren without their parents?
Yes! Grandparents can travel with grandchildren without their parents. You just need the appropriate paperwork.
You have to submit the Authorization For Minor to Travel Without a Parent or Legal Guardian Form to prove you have consent to travel with grandchildren when you check in at the terminal. The form is filled out by the parent or legal guardian of the children. It provides permission to travel with grandparents (or any other adult), and gives the traveling adult the right to provide, care, custody, and control of the minor during the cruise.
You will also need the normal documents a child requires to board the ship. The requirements vary by the destination, but you will always need proof of his or her identity. Check the paperwork specific to your cruise for what you will need. Passports are best in case you have an an emergency and need to fly home from one of the ports.
Disney Cruises with Extended Family – Final Thoughts
Disney Cruises with extended family are the way to go in most cases. They are probably not worth it if you are traveling with adults who are not rabid Disney fans, but when kids are involved, it will be a hit. Everyone can spend time together, but also do some things separately if they wish. Most childcare is included, so adults can partake in much needed periodic mental health breaks.
Cruising with Disney is not cheap. Disney offers cruises as short as two nights and as long as fourteen nights. The cost varies wildly depending upon your destination, the length of your cruise, and the time during which you travel. Plan your trip as far in advance as possible to get the best price.
Travel with multiple generations on Disney. Make memories. You will not regret it.