Best Things to Do on Disney Fantasy Cruises: Maximize Your Trip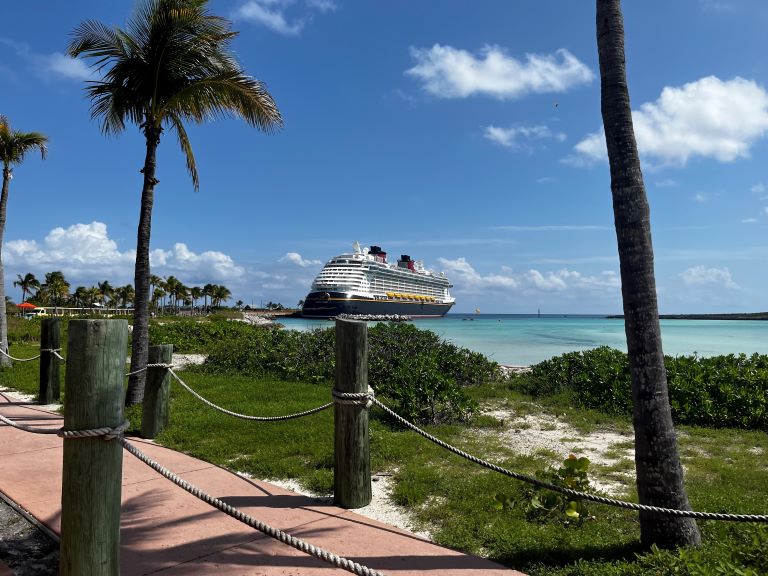 Disney Cruise Line is not cheap. You want to maximize your experience so you don't feel like you lit your money on fire. What are the best things to do on Disney Fantasy cruises?
What Are the Best Things to Do on Disney Fantasy Cruises?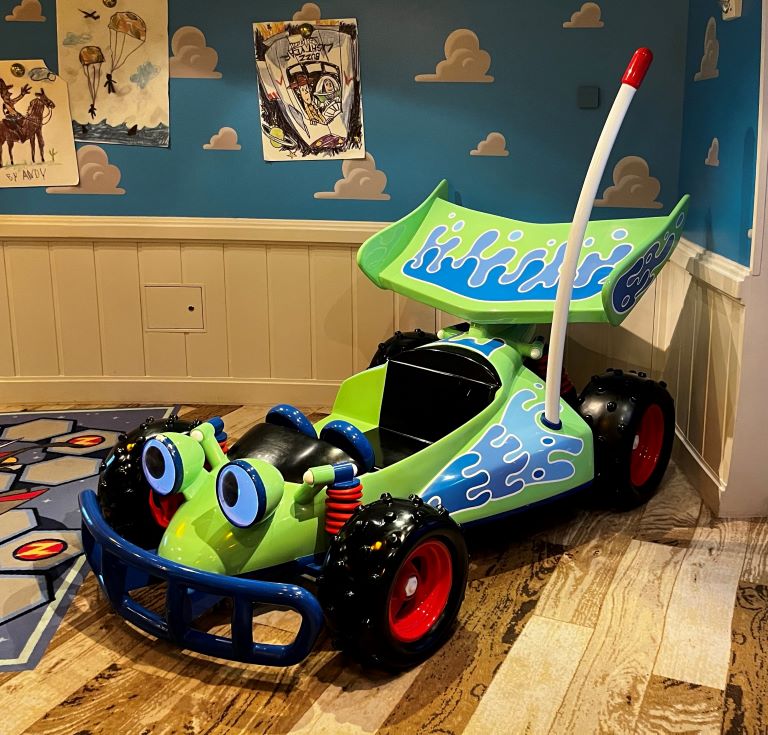 As an Amazon Associate, I earn from qualifying purchases.
DISCLOSURE: This post may contain affiliate links, meaning when you click the links and make a purchase, we receive a commission.
Best Things to Do on Disney Fantasy Cruises
1. Board Early
You select a port arrival time when you complete the online check-in process. Try to get an early one to get as much time on the ship as possible. You won't be able to get into your room right away, but you can eat, swim, and visit all of the public areas.
Pro Disney Cruise tip: The ship will feel super crowded before people can access their staterooms on the first day. Don't freak out. It won't feel as crazy the rest of your trip.
Bonus pro tip: The buffet is packed on embarkation day (no stateroom access and all). Consider a table service lunch.
Extra bonus pro tip: You won't have access to your luggage when you first board. Bring swimsuits in a carry-on bag if you want to swim. Check out our free packing list for everything you need.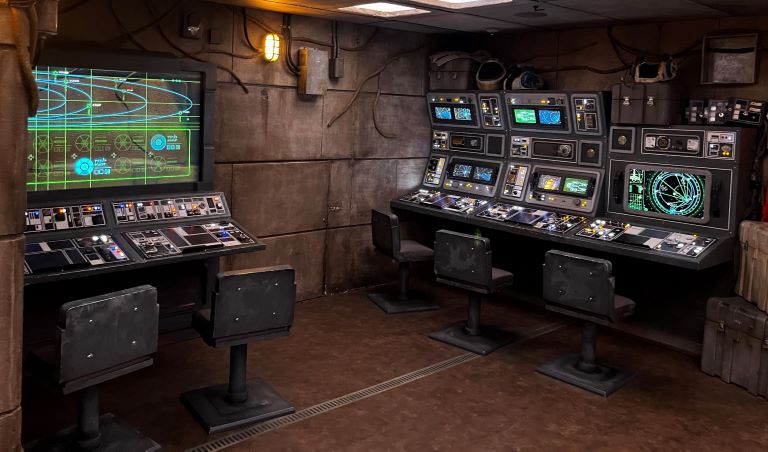 2. Slide Down a Disney Fantasy Cruise Waterslide
AquaDuck Disney Fantasy
The AquaDuck is a clear waterslide around the top of the ship. You can ride single or double. Tubes are sent up via machine, so you don't have to carry them up the stairs or jockey with other people to get one.
This slide is definitely the highlight of the pool deck. Prepare for long lines.
Pro Disney Fantasy tip: The line will be the shortest when the slide first opens and during dinner.
Disney Fantasy AquaDuck height requirement: 42″ to ride with someone else, 54″ to ride alone
Minimum age: 7 to ride alone
Mickey's Pool Slide
Mickey's Pool Slide is a smaller waterslide that is just for kids. No adults allowed. There is a lifeguard assigned to the slide and you can see the top from ground level, so you don't need to worry about your kids going alone.
Note: You cannot ride this slide with a swim diaper.
Disney Fantasy waterslide height requirement: 38″ to 64″
Age requirement: Between 4 and 14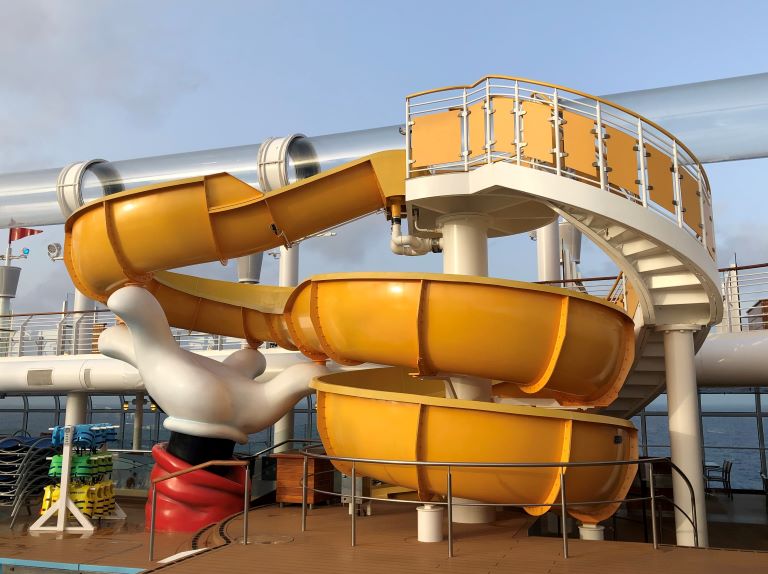 3. Splash in a Disney Fantasy Cruise Splash Pad
Disney Fantasy AquaLab
AquaLab is a large splash pad area with a lot of sprinklers and levers. It is almost never crowded. Go to the AquaDuck first, then head here when the line gets long.
Disney Fantasy Nemo's Reef
Nemo's Reef is a splash pad for young kids. It is walled off to keep the big kids out. Swim diapers are allowed here (and only here).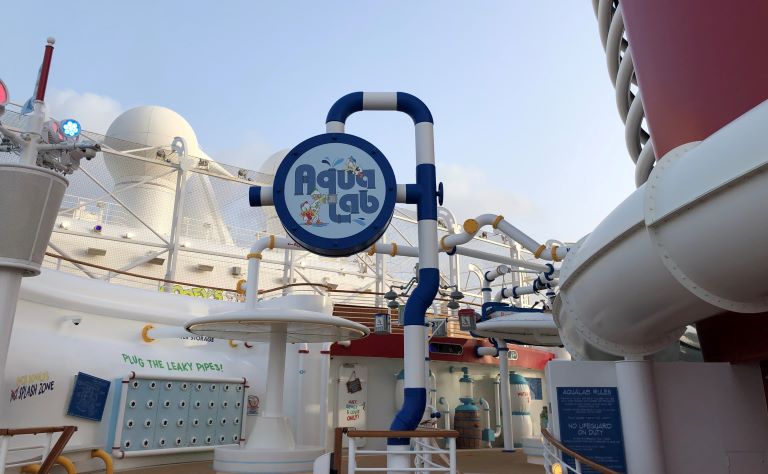 4. Swim in a Disney Fantasy Pool
The ship has two main pools on the pool deck named after Mickey and Donald. There is a giant funnel vision screen playing movies all day next to them. It is not uncommon to see a bunch of kids standing still in the pool for this reason.
The pools get crowded. Like really, really crowded. Try to swim first thing in the morning or during one of the dinner seatings.
Pro tip for Disney Fantasy cruises: Free life jackets are available.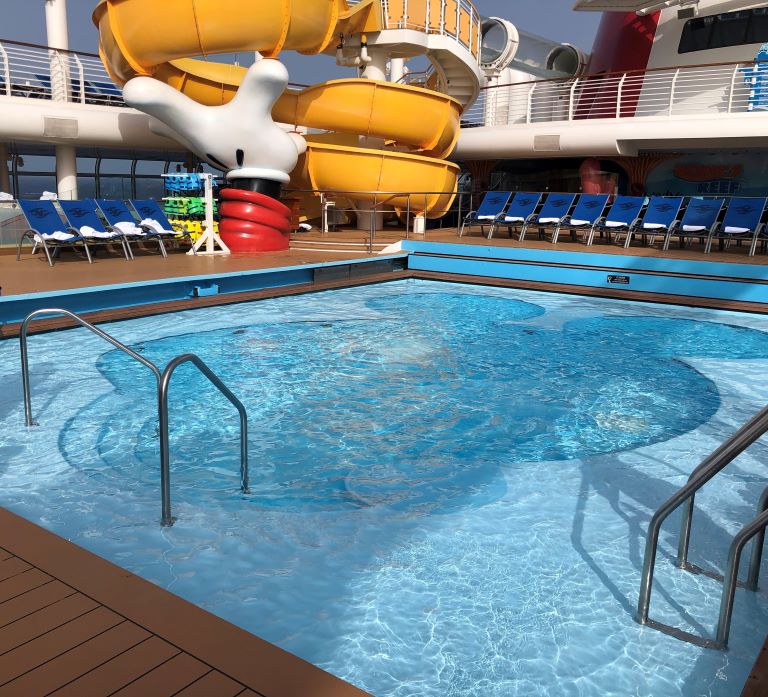 5. Watch a Live Disney Fantasy Cruise Show
Live theater for children is torture for adults. Usually.
Disney Cruise Line has better shows than your average Six Flags. It boldly throws around the term "Broadway" when describing them. While the offerings are family-friendly, they are tolerable to good, depending upon your taste in entertainment.
As of the time of this writing, the live shows on the Disney Fantasy are Frozen, Aladdin, and Believe (a story that incorporates a bunch of Disney characters and a 30-year-old actress playing a tween).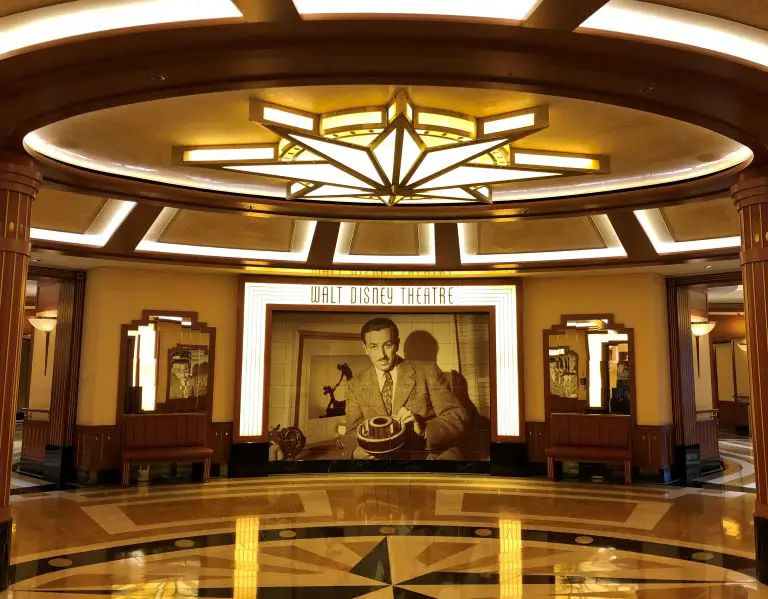 6. Play at the Disney Fantasy Clubs for Kids
The kids' clubs are amazing. They justify the high cost of the cruise all by themselves. You can drop your kids off free of charge all day, every day.
Your kids wear a tracking device Magic Band that enables the counselors to find them within the play area on their computer system.
Pro Disney Fantasy cruise tip: Adults aren't allowed in the clubs during normal hours, but there are open houses offered throughout the cruise during which everyone can enter.
Note: In addition to the free clubs below, there is a paid nursery for kids under three and those who are not potty trained. You need a reservation to drop your kids there.
Disney Fantasy Oceaneer Club and Oceaneer Lab
The Oceaneer Club and Oceaneer Lab sections are connected. Kids can move freely between them. Both offer scheduled activities with characters, as well as several themed sections for free play. There is no shortage of screens.
This section is for kids ages three through 12 only.
Note: Kids must be potty trained.
Disney Fantasy Edge Club
Edge is for kids ages 11 through 14. There are some activities organized by counselors, as well as video games and other screens for free use.
Disney Fantasy Vibe
Vibe is a teens-only club for kids ages 14 through 17. It has a lounge vibe and a coffee machine, obviously.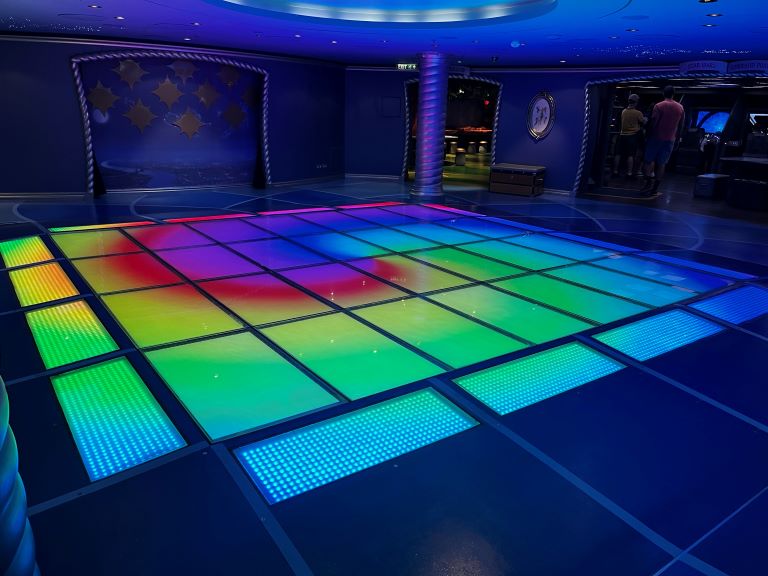 7. Be a Detective
The Midship Detective Agency is a free game that sends you around the ship to solve crimes. You walk between stations, flash a badge with a QR code, and get more clues until you figure it out. When I say around the ship, I mean around the ship. Lots of walking.
Pro Disney Fantasy cruise ship tip: You don't actually need to visit the stations in order. It makes more sense to visit the screens on every other floor on one side of the ship, then switch to the other side of the ship and do the same.
Bonus pro tip: It is normal to feel turned around and not sure where you are on the ship. The carpeting in the halls is covered in stars. The tips of the stars point to the front of the ship.
Extra bonus pro tip: Familiarize yourself with the Disney Fantasy deck plans before your trip.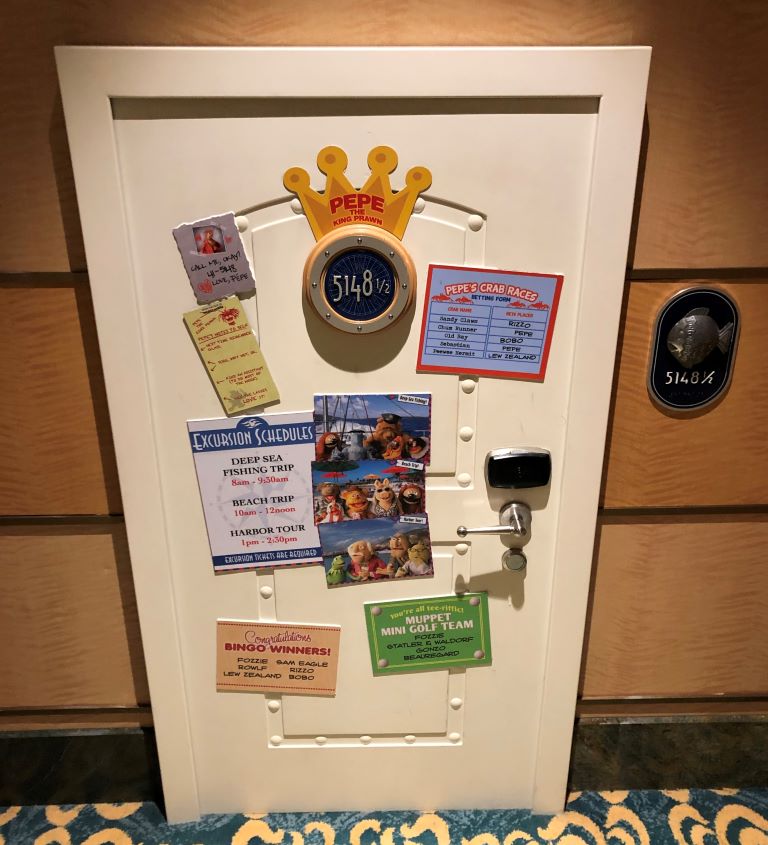 8. Meet Disney Fantasy Characters
The ship doesn't have rides, but it is swimming with characters. The greeting schedule is listed in the Disney Cruise Line app. They are available both on the ship and on Castaway Cay, Disney's private island.
Pro tip: The characters change outfits throughout the cruise.
Bonus pro tip: In addition to the scheduled appearances, the characters roam the ship (with a handler) for impromptu encounters.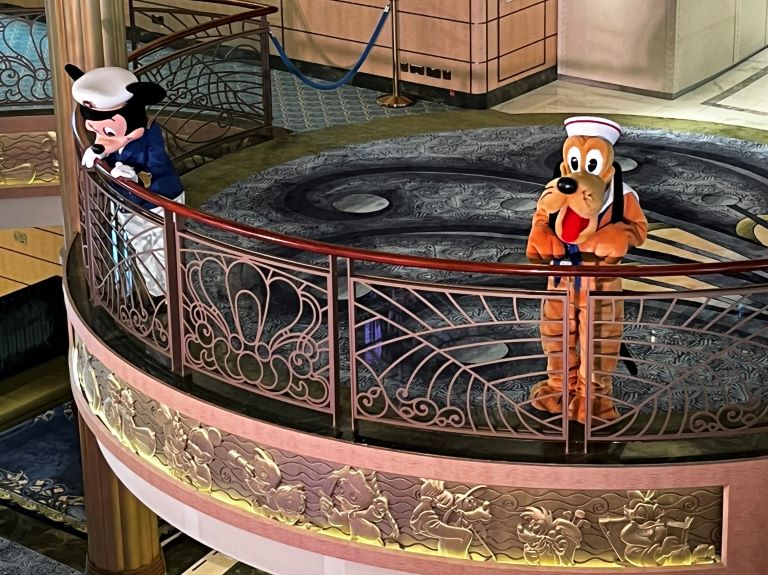 9. Attend a Deck Party
Throughout the cruise, there will be opportunities to see the characters dance around on stage. These shows are purely for little kids. Check the app for the schedule.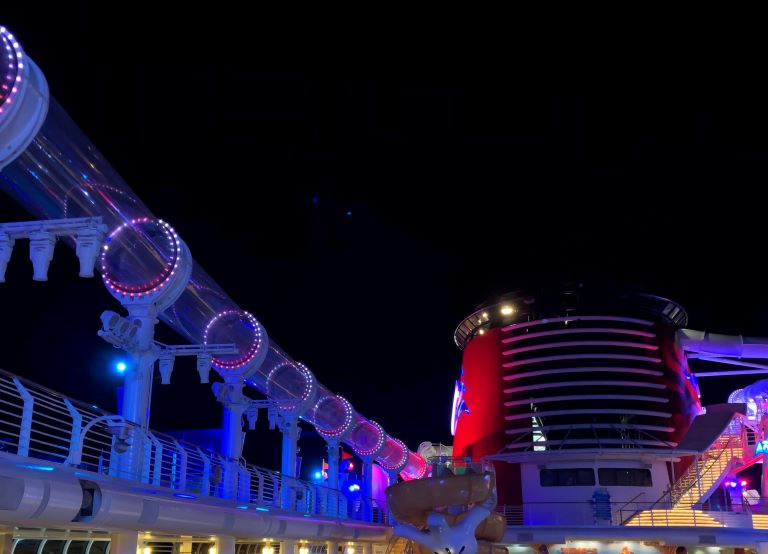 10. Participate in The Disney Fantasy Cruise Pirate Night
There is a pirate-themed night during Caribbean cruises. You get a themed dinner, late night buffet, and a deck show with fireworks. Dressing up like a pirate is optional, but most people do it. Don't forget your costume.
Pro tip: If your kid is really in it to win it, Bibbidi Bobbidi Boutique sells packages that include pirate makeup. This upcharge is not in any way necessary to enjoy your evening.
Bonus pro tip: The buffet line is absolutely insane when it opens. You should skip it completely, or hang back for a little while and wait for the crowd to pass through. There is other food available at the quick service restaurants during this time.
Extra bonus pro tip: Stake out a spot for the deck show and fireworks early. It gets packed.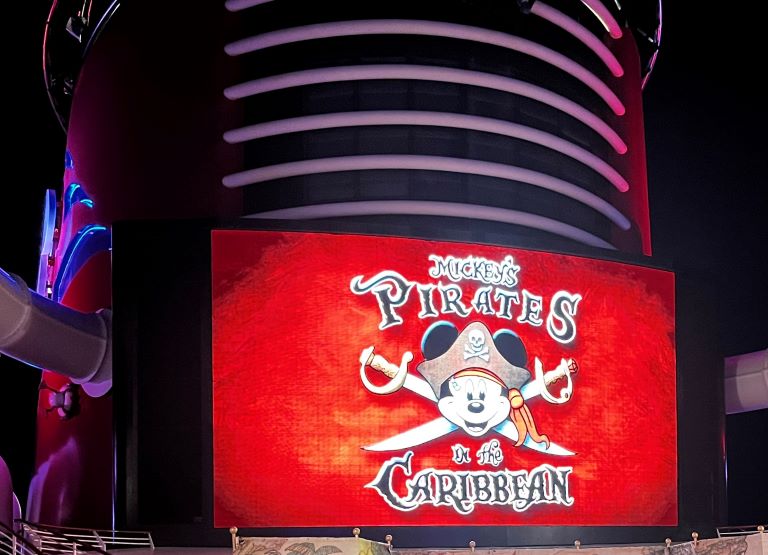 11. Play Miniature Golf
There is a free miniature golf course on the sports deck. It typically isn't crowded. Even if it is hot outside, it will feel tolerable because of the ocean breeze. Save this activity for the afternoon.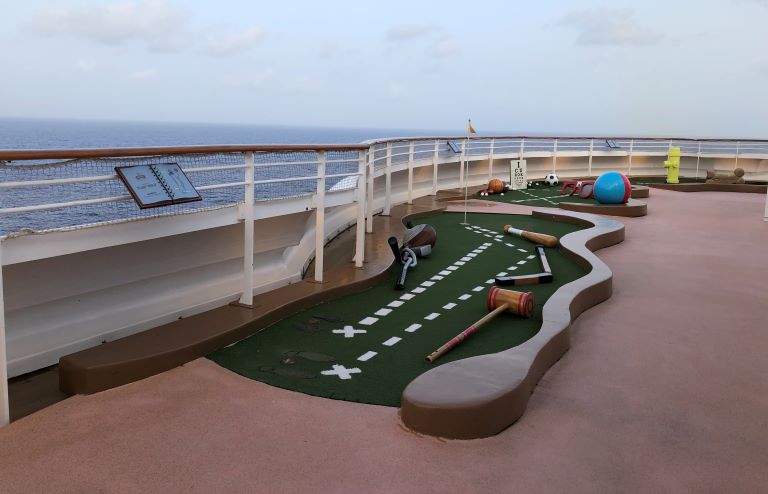 12. Play Foosball
There is a foosball table near the miniature golf course.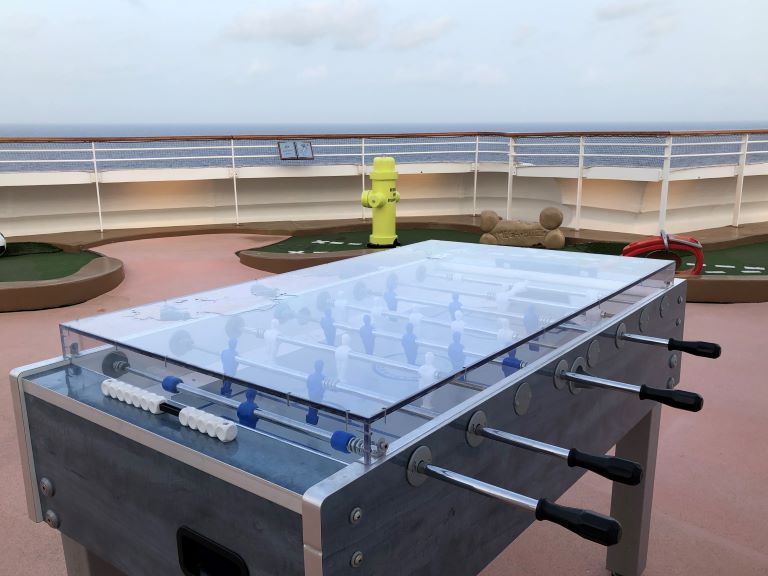 13. Get a Massage
Treatments at Senses Spa are expensive, but they are worth it. Your massage comes with a view of the ocean in the background. In addition to typical spa treatments, you can get your hair cut and colored.
Instead of (or in addition to) a treatment, you can purchase a day pass to the Rainforest Room in the spa. It has different heated chairs and steam showers.
If you want to visit the spa but don't want to pay for it, there is a free fitness center.
Pro tip: If you book multiple spa treatments, you can usually get a discount.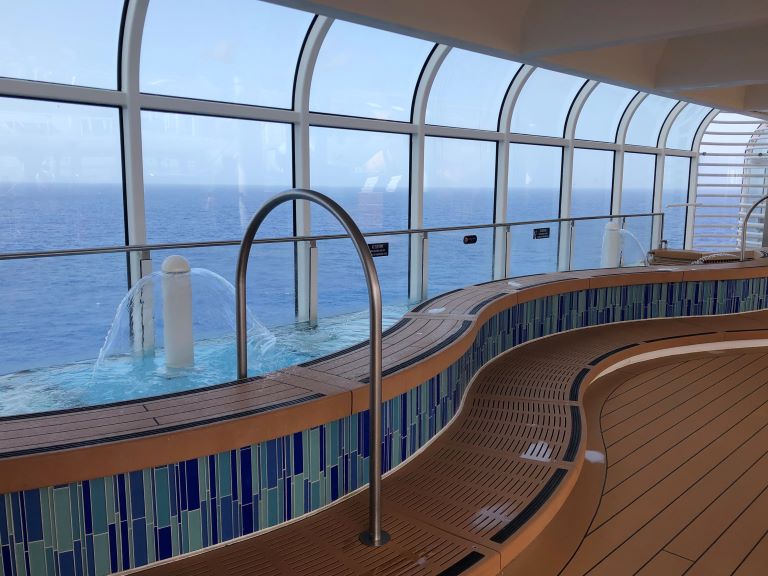 14. Eat in the Main Disney Fantasy Restaurants
Disney Cruise Line has a rotational system wherein you travel between three dining rooms throughout the cruise. Your serving team follows you, so you see the same people each night. These people work for tips. You can expect your drink of choice to be waiting for you when you arrive by the second or third night.
The food and soft drinks are included. Alcohol is extra.
There are two dining times each night, a main seating at 5:45 p.m. and a late seating at 8:15 p.m.
Pro tip: Disney is great with food allergies. Almost anything can be specially made with a pre-order. There is gluten-free bread, pizza, and pasta available.
Bonus pro tip: Disney sits strangers at tables together. If you don't want to make awkward small talk every night, request a private table prior to boarding.
Disney Fantasy Animator's Palate
This restaurant is animation themed. The walls are covered in drawings. There are also screens on which Crush from Finding Nemo swims around and talks to guests (think Turtle Talk with Crush from the theme parks).
The food is largely Asian and Pacific Island cuisine, but you can always order American food as well. You can also request food from one of the other restaurants if you want to be really difficult.
The highlight of this experience is on the night they have guests draw on placemats. Exciting, right? No really, it is. They feed all of the drawings into a machine that magically makes them dance with Disney characters on the screens to a fun mix of music. I'm still not selling it well, but trust me, it's cute.
Note: The placemat show is only offered on cruises that are at least seven nights long.
Disney Fantasy Enchanted Garden
Enchanted Garden is designed to feel like a garden in France. The lighting changes and there is a fountain in the center of the restaurant. The food is largely American.
In addition to dinner, you can eat in this restaurant for breakfast and lunch.
Disney Fantasy Royal Court
Royal Court is princess themed. The vibe is wedding banquet meets portraits of ancestors. The food is French and American.
Pro tip: This restaurant is open for breakfast and lunch if the buffet is not for you.
Note: You can book a character tea at this restaurant. For $220 per child. Don't do this under any circumstances. You can meet the princesses for free in plenty of places throughout the cruise.
15. Hit Up a Disney Fantasy Lounge
The adult area on the fourth deck has several lounges with fun drink options. La Piazza even comes with a Vespa.
There is evening entertainment, like live music and comedy, offered nightly in this area. Check the schedule on the app. If dancing is your thing, you can do that at The Tube.
Pro tip: You can book beverage tastings with a group. Unless you're a joiner (which we are not), save your money and drink at your leisure.
Bonus pro tip: The bathroom near La Piazza has an incredibly detailed tiled wall. It is worth a look.
Extra bonus pro tip: Avoid the bars, like Bon Voyage, that are in common areas where kids can be. They are chaos. Head to Deck 4.
Extra bonus pro tip: O'Gill's Pub always has sports playing. If you're cruising during an important game, head there.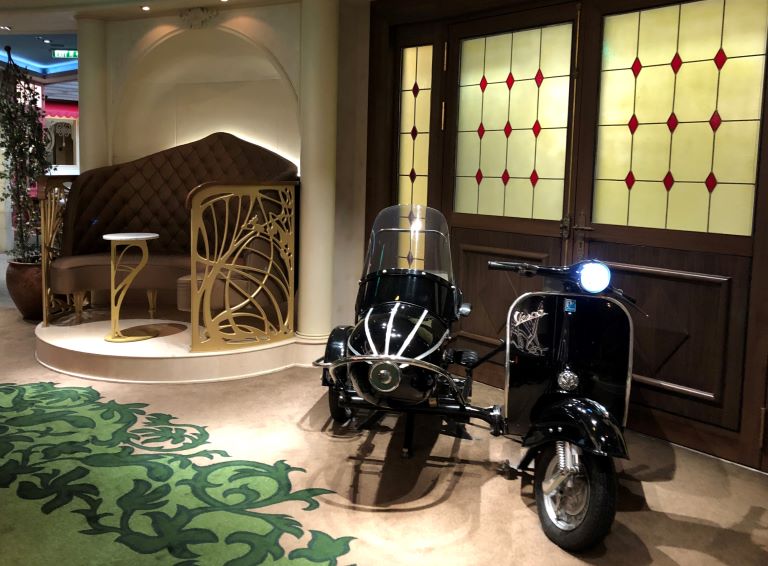 16. Try the Disney Fantasy Drink of the Day
There is a discounted specialty cocktail each day. Consult the signs posted at the bars to see if you are interested each day.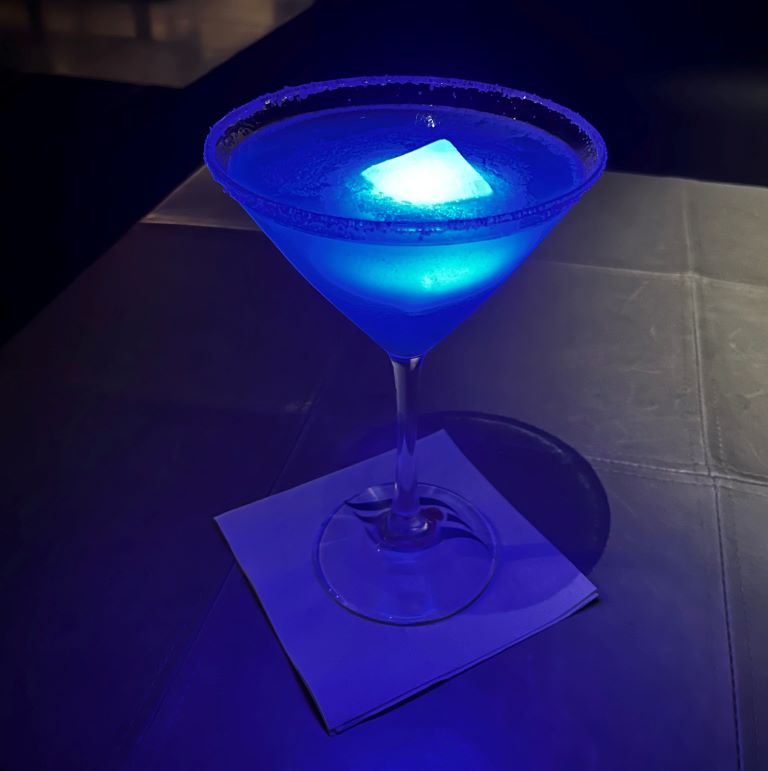 17. Have Brunch at a Disney Fantasy Adults Only Restaurant (Preferably Palo)
There are two restaurants on the Disney Fantasy for adults only. Both come with an upcharge.
Disney Fantasy Palo
Palo is an Italian restaurant that serves brunch and dinner. You can order as much as you want from the menu for a flat fee.
As of the time of this writing, it costs $45 per person to eat there. Why should you pay when you can get free food elsewhere? Because the food is way better, crab legs are on the menu, and no one is crying or spilling their juice.
Brunch is the way to go here. Skip dinner and eat with your kids in the main dining room instead.
Pro tip: Brunch is popular. Make a reservation as soon as your booking window opens (determined by your Castaway Club status). If you can't get a reservation, keep checking back. People cancel. If you still don't have a reservation when you board the ship, head directly to the restaurant and ask if they have openings. They probably will.
Note: The dress code is business casual.
Disney Fantasy Remy
Remy, as in the rat from Ratatouille, is extra faux fancy. It serves French food for a whopping $125 per person for dinner and $75 per person for brunch. The meal takes a long time, so if you're going, be prepared to sit there for a while.
Note: The dress code is a minimum of business casual. Not long ago, a suit jacket was required.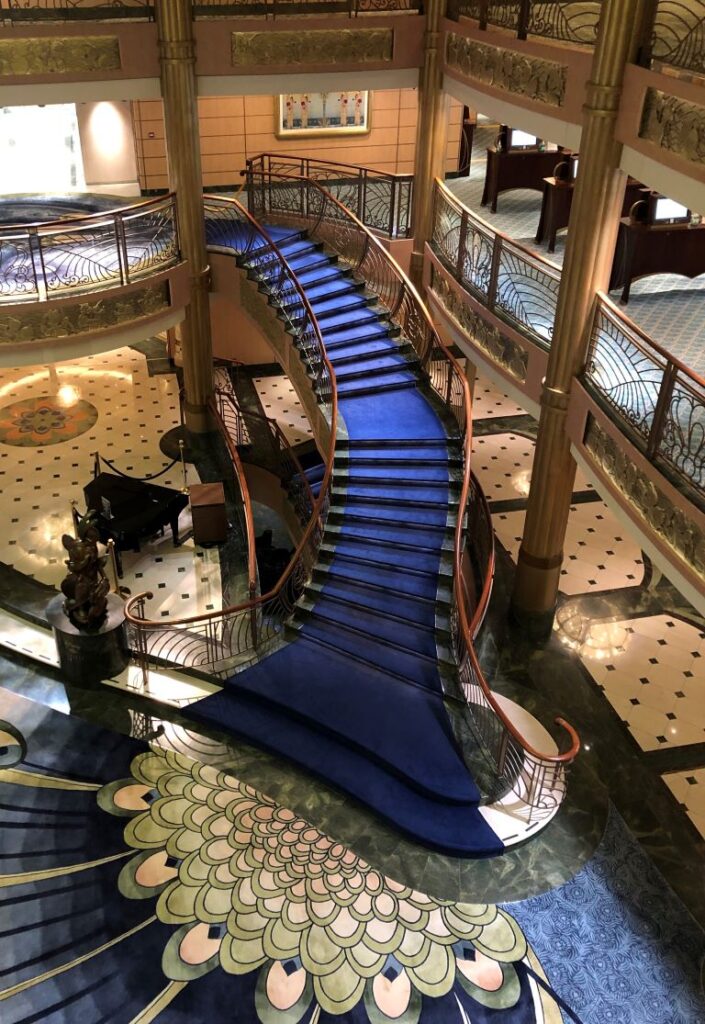 18. Eat at the Disney Fantasy Cabanas Buffet
Buffets are generally gross. The buffet on the Fantasy, however, isn't half bad. My eight-year-old has dubbed it his favorite restaurant of all time.
Cabanas offers a buffet for breakfast and lunch. Both meals have a ton of high-quality options (omelet station, peel-and-eat shrimp, lots of desserts, etc.). You can eat in an interior section or on an outdoor deck.
Pro tip: Try to eat at an off time. The buffet area gets crowded.
Bonus pro tip: The buffet can accommodate allergies and make special food. Talk to a cast member.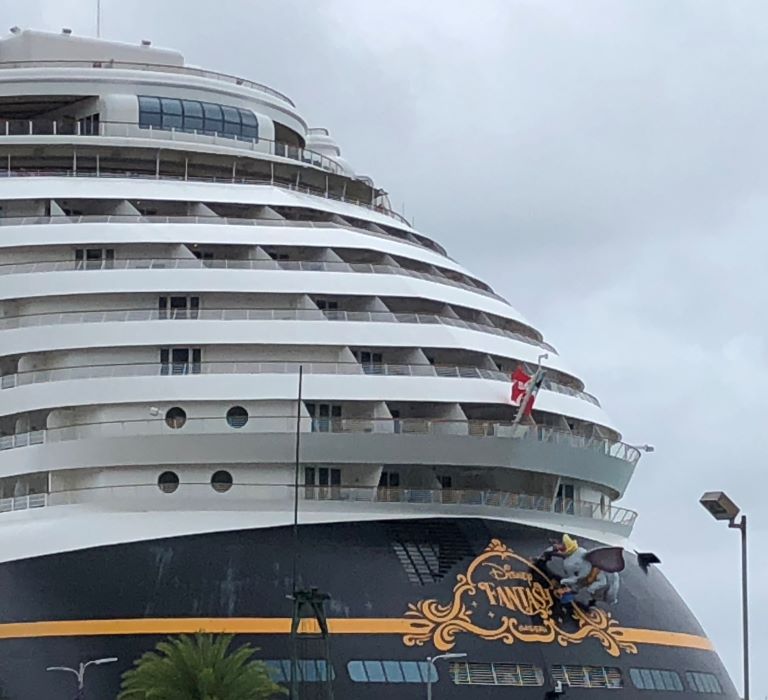 19. Order Room Service
Room service is available 24 hours per day for free. In addition to meals, you can order things like Mickey ice cream bars.
Pro tip: Most of the ship is cashless, but you should bring small bills to tip the person who delivers your order.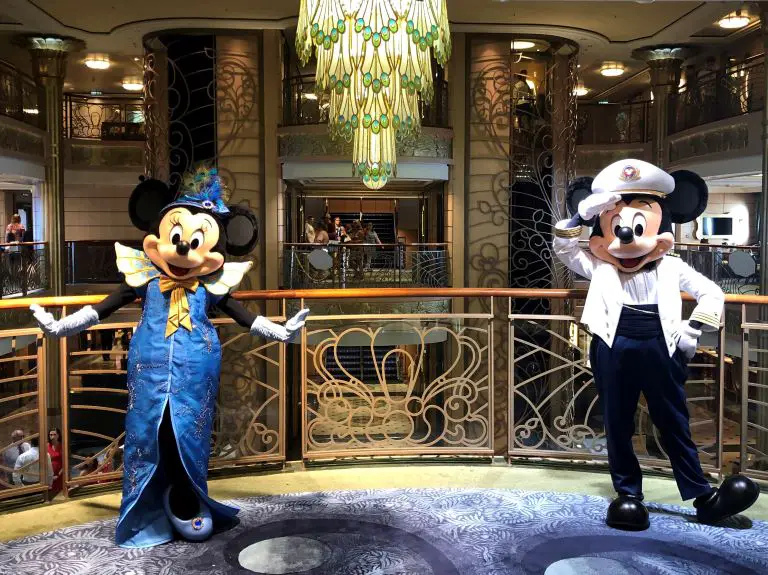 20. Grab Some Disney Fantasy Quick Service Food on the Pool Deck
There are three Cars-themed food stations on the pool deck that serve things like pizza, burgers, fries, and salads. You can't wear swimsuits to the buffet. If you're in the middle of swimming, this is a great option.
There are free soda fountains on the pool deck that you can access at any time.
Pro tip: These stands can accommodate food allergies. They have gluten-free buns and pizza crusts.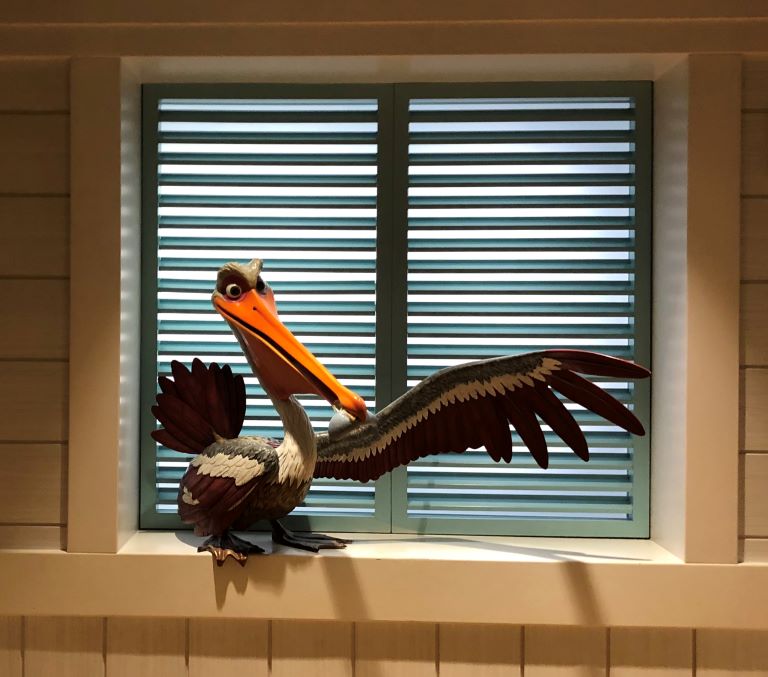 21. Gorge on Ice Cream Cones
There are free ice cream machines at Eye Scream Treats on the pool deck. They are always crowded. Some people seem to have an ice cream cone in their hands 24/7. There is a reason people gain weight on cruises. It's not just a coincidence.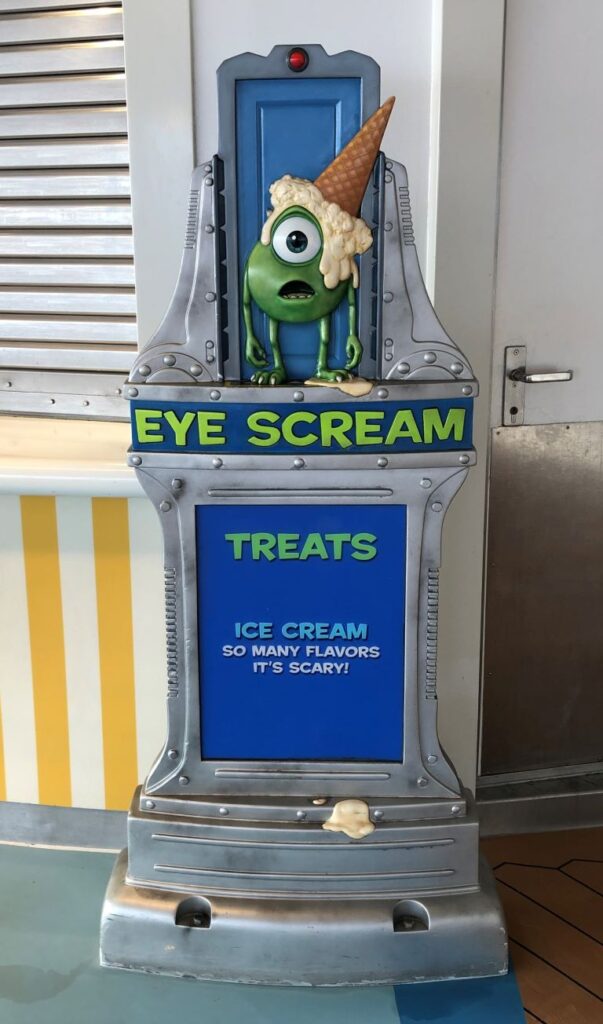 22. Get Free Disney Fantasy Internet
You can get a small internet package for free on embarkation day only from the app. Those 50 MB won't last long. Be sure to log off as soon as you're done.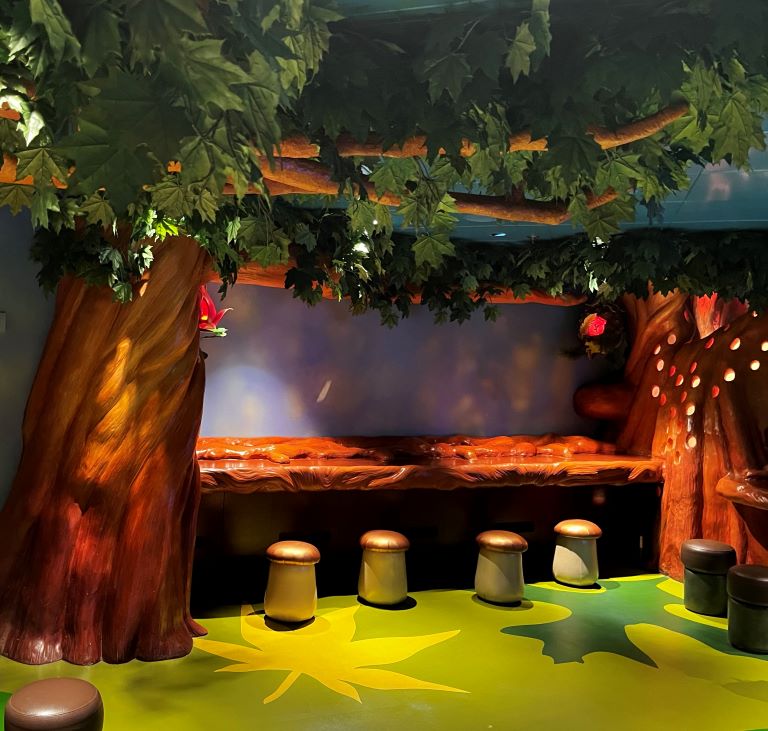 23. Play Basketball
There is a basketball court on the sports deck. It can get crowded, but not usually in the morning. Head there first if it is important to you.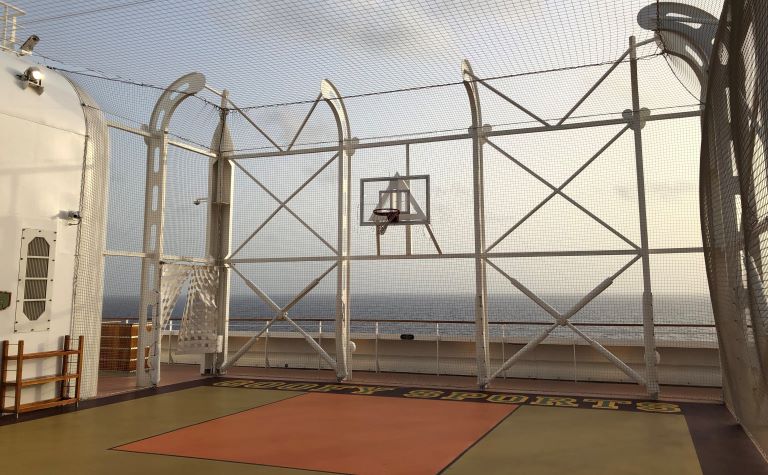 24. Visit the Disney Fantasy Movie Theater
Disney is a media giant. It owns a lot of movies. If a movie is in the theaters, it will also be played on the cruises. Admission to the movie theater is free.
Pro tip: There is a concession stand outside the theater. It is not free. Grab a free snack from one of the quick-service restaurants or buffet on your way in.
Bonus pro tip: If you have a refillable popcorn bucket from the parks, you can use it on the cruise.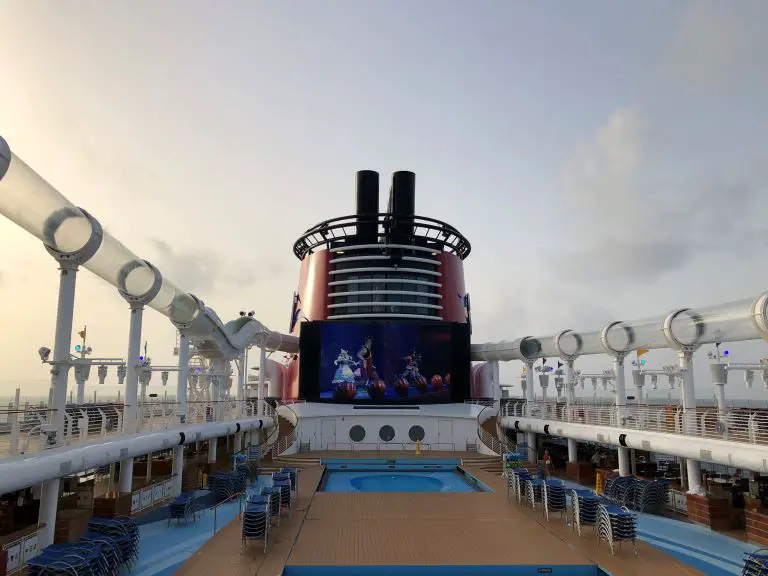 25. Visit the Candy Store
Sweet on You is a gourmet candy, bakery, and ice cream shop. Everything comes with an extra charge, but the prices are reasonable and the ice cream is So. Much. Better. than the free stuff.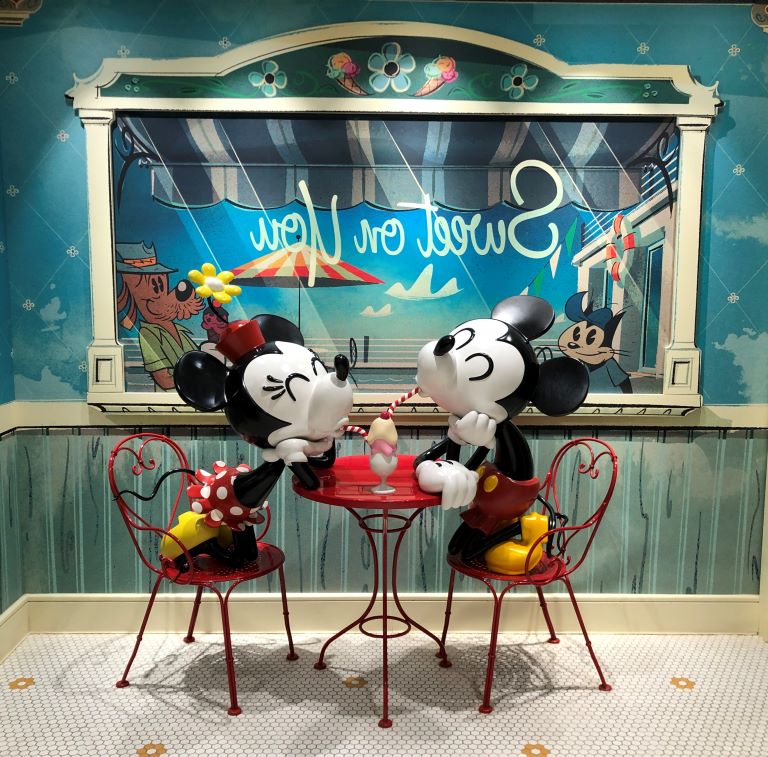 26. Join in a Disney Fantasy Onboard Activity
Activities are offered throughout each day. Some are free, some cost more. Some are for adults only, some are for everyone. Examples of activities include trivia, game shows, educational talks, and Bingo. Check the schedule on the app.
Does Disney Fantasy have a casino or arcade? No, but kids can play free video games in the kids' clubs, and you won't miss a smoky casino. If you're dying to gamble, play Bingo.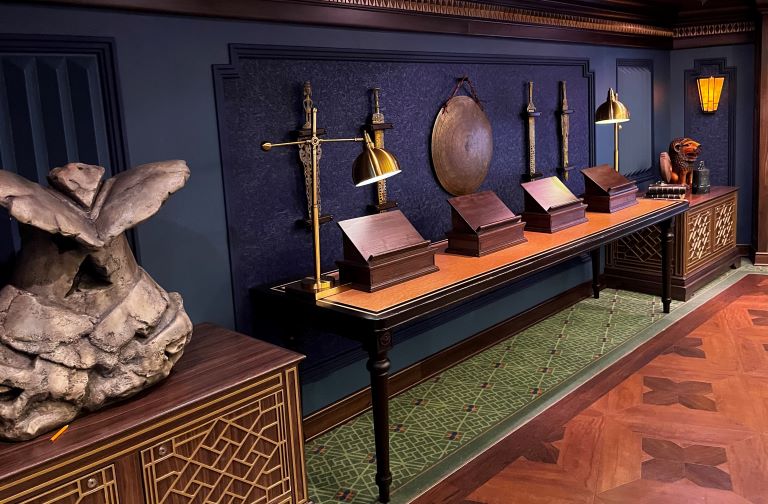 27. Visit the Adults-Only Pool Deck
There is a small section of pool deck dedicated to adults only. The Quiet Cove pool in this area has a swim-up bar. There is also a coffee shop, the Cove Cafe, that sells gourmet coffee at an extra charge.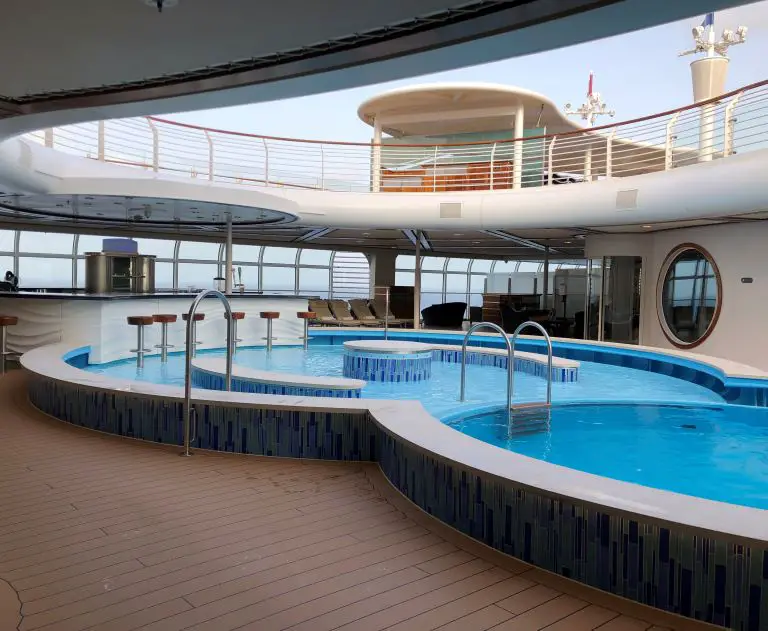 28. Sail During a Special Event
Throughout the year, Disney offers specialty cruises that have Halloween, Christmas, and Pixar themes. Generally, you will need to sail during school or pay more than the cost of a black market kidney to partake, but check the options when you want to travel.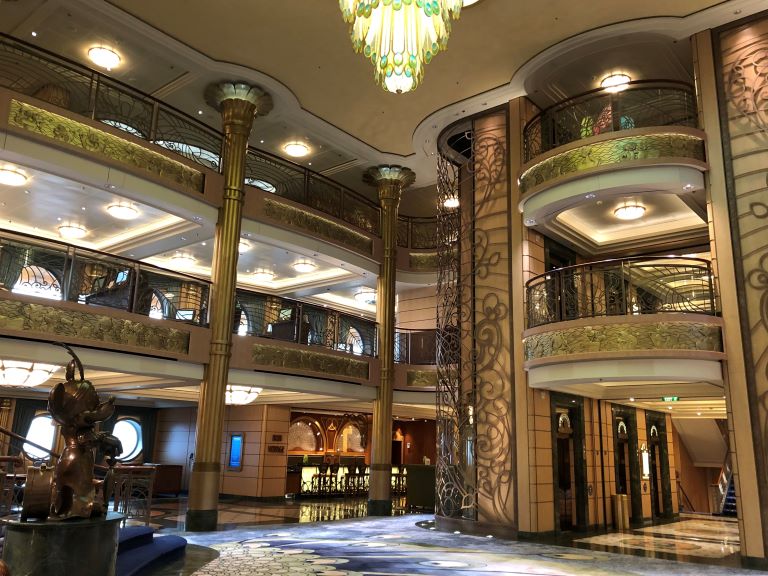 29. Get Your Child a Makeover at the Disney Fantasy Bibbidi Bobbidi Boutique
Bibbidi Bobbidi Boutique, also offered in the parks, provides hair and makeup services to make kids look like princesses and pirates. It is expensive. Prepare yourself.
Pro tip: This is popular. Be sure to make a reservation.
Bonus pro tip: Don't schedule your appointment before a beach day. It will be a monumental waste of money.
30. Play Shuffleboard
There are shuffleboard courts on Deck 4. They are rarely crowded. You shouldn't have trouble getting one, but you will have to avoid the joggers.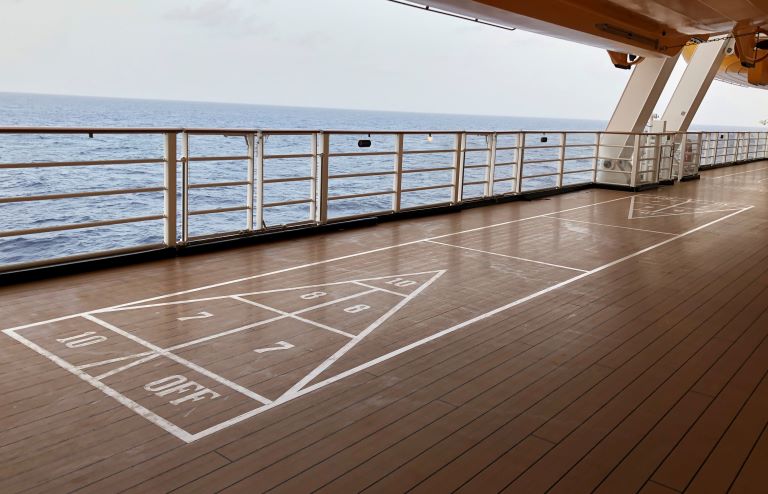 31. Enjoy a Mid-Ship Disney Fantasy Verandah Stateroom on the Starboard Side
Stateroom choices range from an interior room with no window to the world to a Concierge Suite (don't do it). If you value private outdoor space, a Verandah room is the way to go.
The Verandah rooms range from 246 to 299 square feet. That isn't a lot of square feet. However, housekeeping does a great job of making it feel larger than it is.
There is a heavy curtain that divides the adult sleeping area from the kids' sleeping area. Kids sleep on pull-out couches, murphy beds, and beds that pull down from the ceiling. Housekeeping comes while you are at dinner to set the beds up, then returns in the morning to put them back.
Why is a Verandah Worth it?
While adults can hang out behind the curtain after the kids go to bed, an even better option is to hang out on the balcony and watch the ocean with a cocktail.
Further, during the day, deck space can be hard by which to come. If you're feeling seasick and want some fresh air, you will want that private space. A verandah is worth it in most cases. Go for the upgrade here.
Don't worry about safety. The sliding door is extremely heavy and has a lock that is out of the reach of children.
Pro tip: If you don't want to spend the extra money, the interior rooms have fake portholes with screens that show Disney characters in the water.
Bonus pro tip: The TV in your stateroom has movies on demand and streams the Disney Fantasy live shows if your kids just can't make it to the end of the day.
Extra bonus pro tip: If you're worried about nausea, don't forget to pack Dramamine.
Extra bonus pro tip: Try to book a room in the middle of the ship on the Starboard (right) side. You will have a better view of most of the ports from the Starboard side, and you will feel the least movement in the middle.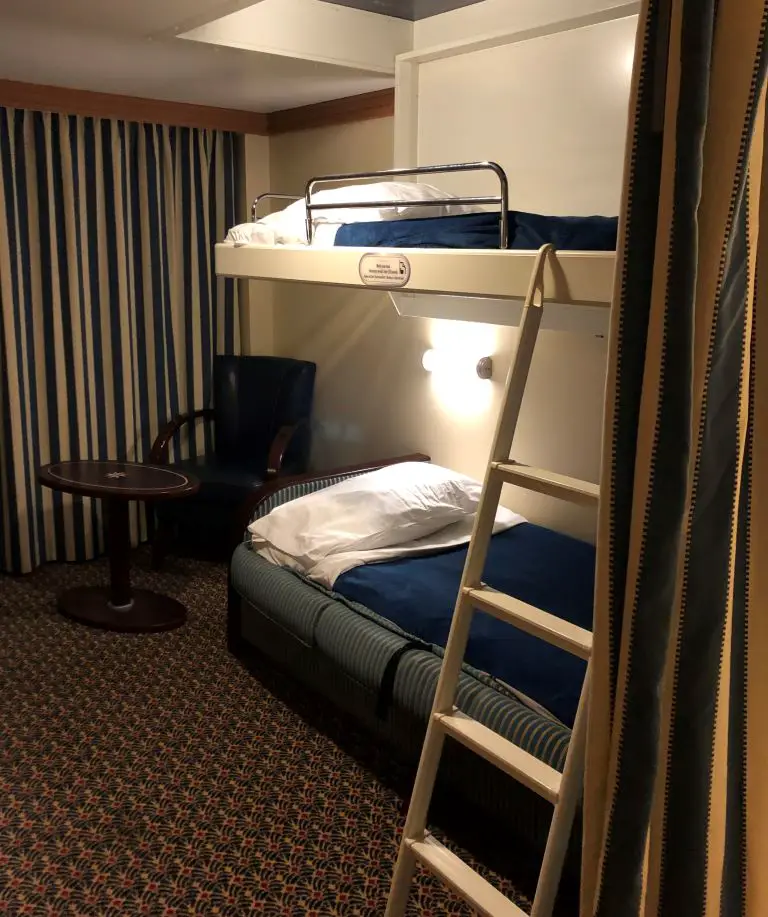 32. Sail to Castaway Cay
Caribbean cruises stop at Castaway Cay, Disney's private island. This port is a small slice of heaven compared to the rest. It is clean, most activities and food are included, bartenders and servers abound, and it is only a short walk to and from the ship.
There are family beaches, as well as an adults-only beach (Serenity Bay).
Pro tip: Don't feel pressured to purchase a port adventure. There is plenty to do to fill your day without spending a dime.
Bonus pro tip: Lunch is served on the island. The line for the food gets bananas long. Try to arrive early or eat at an off time.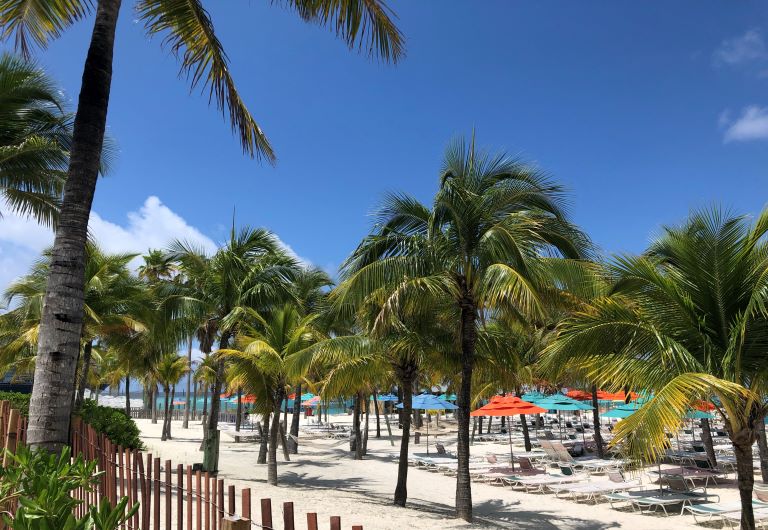 33. Save Money
Cruises cost a small fortune, but there are ways to save. Don't pay full price.
Check for Special Offers
Disney runs promotions from time to time. You can often find deals for Florida residents, California residents, military personnel, Disney+ subscribers, and the public in general. Check the offerings at the time of your trip.
Sail at an Off-Peak Time
Generally speaking, if school is in session, fares will be substantially less than they would otherwise. Summers are expensive, and holidays and spring break are insane. If you have the luxury of choice, you can save a lot of money.
Check Third Party Sites
You may be able to find Disney Fantasy cruise deals and/or incentives to book through third-party sites like Expedia or Cruise Critic.
Use a Travel Agent
Travel agents can't get you better prices, but some offer incentives like onboard credit to book with them. Check out Dreams Unlimited Travel.
Book on Opening Day
Disney Cruise Line prices almost never go down. The cheapest price will be offered on opening day the vast majority of the time. As more people book, the rates go up. Try to book as early as possible, and ideally, the day booking opens.
Purchase Discounted Disney Gift Cards
Disney gift cards can be used to pay your fare and fund your onboard account during your cruise.
You can purchase them at a discount at stores like Target (with a Red Card), Costco, and BJ's (with a membership). Occasionally, your local grocery store may also run promotions on them (think Meijer). Gift card resellers like Raise and Giftcarddeal.com sometimes have them as well.
Note: Gift cards aren't for you if you aren't comfortable with the idea that your refund will be in Disney dollars if you need to cancel your trip.
Book Your Shore Excursions Independently
Disney Fantasy excursions aren't my favorite. The prices are inflated, and you're at the mercy of the group. Moving with the group is like herding cattle.
If you book on your own, you will save money and get to do exactly what you want. Peruse Disney's website for ideas, then do a search to see what independent options are out there.
Note: Disney's official position is that the ship will not wait for you if you're late returning to the ship and you're not on one of its sanctioned excursions. Watch the time.
Pro tip: Double-check to ensure there aren't any COVID-19 restrictions preventing you from moving freely throughout the port you are visiting.
Book a Placeholder
Enjoy your cruise? What better way to celebrate than booking another one?
While onboard, and only while onboard, you can purchase a placeholder for $250. The placeholder allows you to book a future cruise at a discount for up to 24 months from the date of purchase. Note that you must sail within 24 months, not book within 24 months.
If you don't book another cruise, the placeholder will be refunded.
Use Miles and Points
Capital One Venture Cards
Capital One's Venture cards earn bonus miles that can be redeemed by erasing travel purchases from your statement. You can book Disney packages with one of these cards, then erase the charges. These cards come with a hefty signup bonus that will put a huge dent in the cost of your trip.
Target Red Card
The Red Card saves you five percent on Disney gift cards at Target.
Disney Visa Chase Cards
Disney offers two credit cards through Chase. They aren't exciting. However, they come with a signup bonus that could shave some cost off of your trip.
Note: If you have taken out or been listed as an authorized user on five or more new credit cards in the last 24 months, Chase will likely decline your application.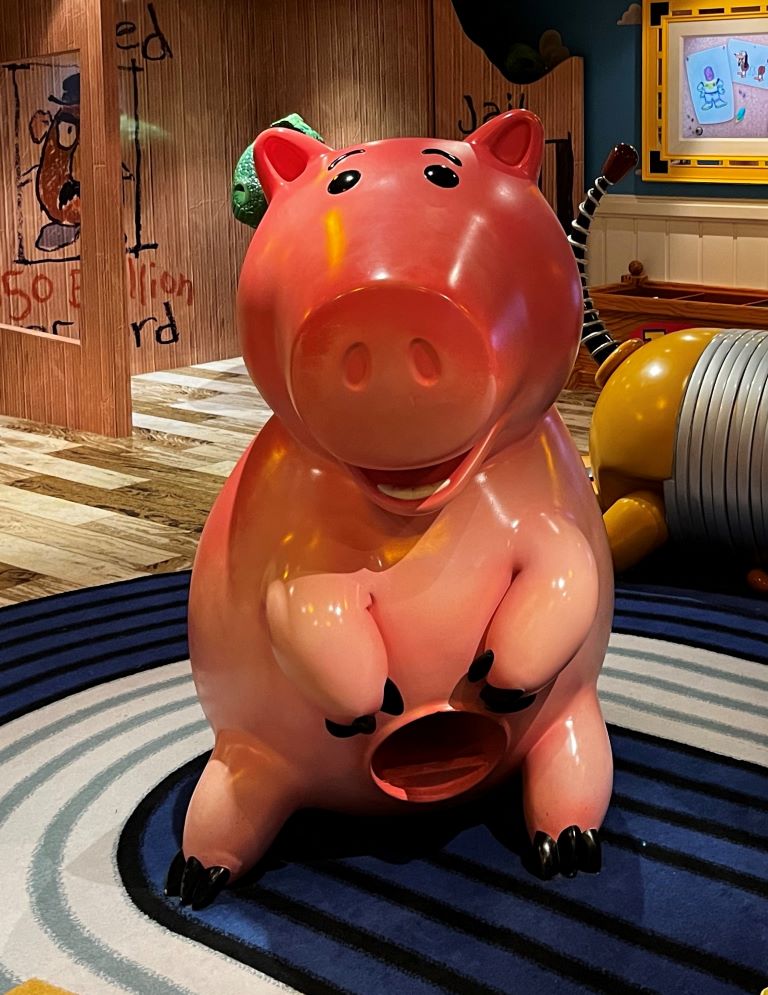 Final Thoughts – Best Things to Do on Disney Fantasy Cruises
Disney Cruise Line is a dream vacation for a lot of families with little kids. It doesn't have rides, but it has a lot to do, a bunch of characters, and virtually no lines. Incorporate the best things to do on Disney Fantasy cruises into your trip, save money, and maximize your time.
Take a cruise on the Disney Fantasy with your kids. You will not regret it.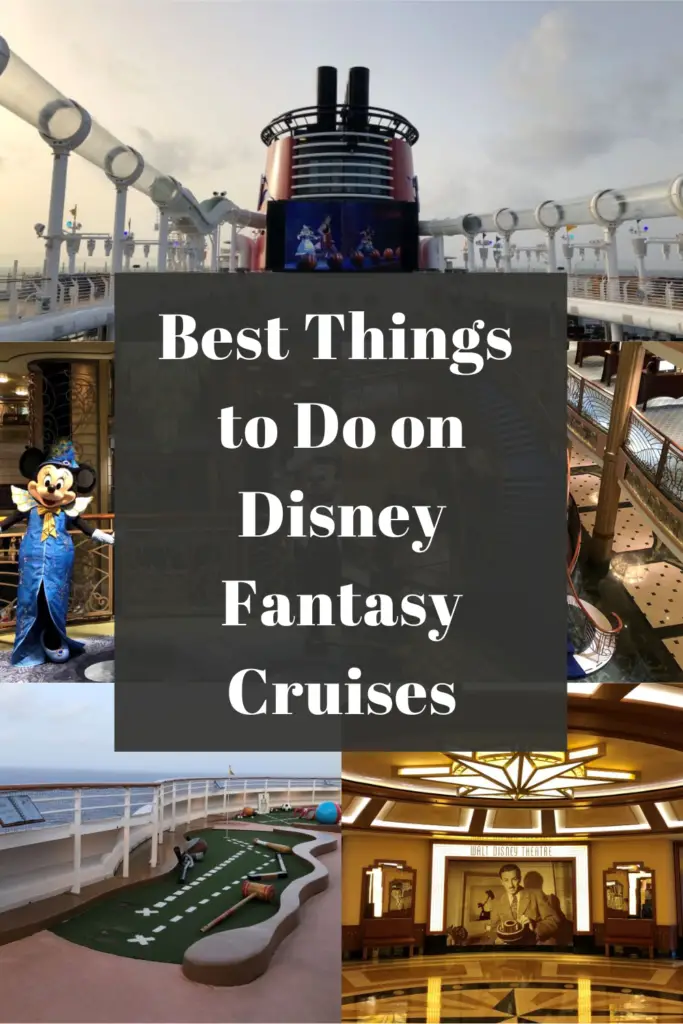 Related Articles to Best Things to Do on Disney Fantasy Cruises
Best Things to Do on Disney Fantasy Cruises