Aqua Nick Riviera Maya Waterpark: Worth a Visit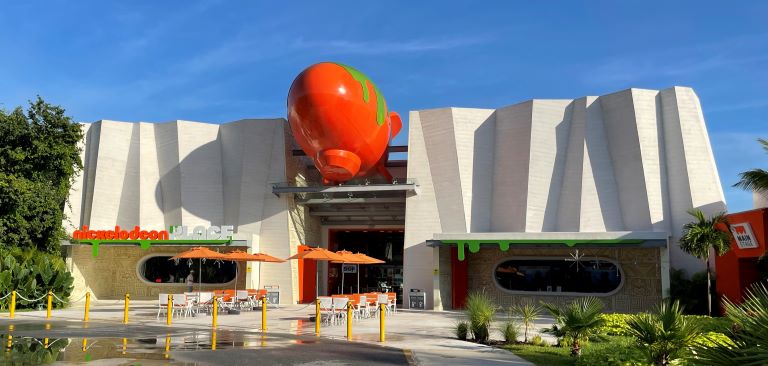 The beaches in the area are nothing about which to write home, but this waterpark gets two giant thumbs up. What do you need to know to maximize your day at Aqua Nick Riviera Maya?
What Do You Need to Know to Maximize Your Day at Aqua Nick Riviera Maya?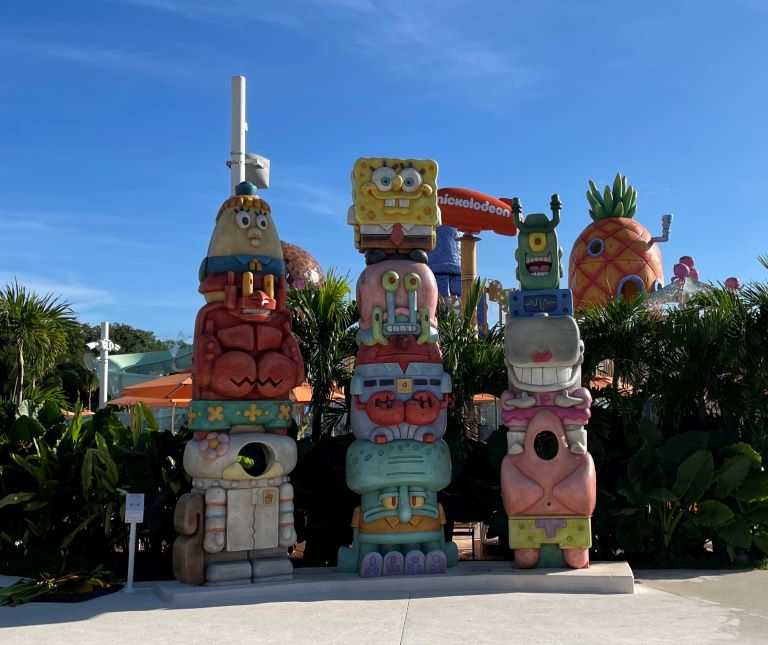 As an Amazon Associate, I earn from qualifying purchases.
DISCLOSURE: This post may contain affiliate links, meaning when you click the links and make a purchase, we receive a commission.
Aqua Nick Riviera Maya
1. Where is the SpongeBob Waterpark in Mexico?
Aqua Nick is located in the Nickelodeon Resort in Riviera Maya. The closest airport is Cancun International, which can generally be reached in less than 45 minutes.
If you don't want to stay at the resort, there are plenty of hotels nearby.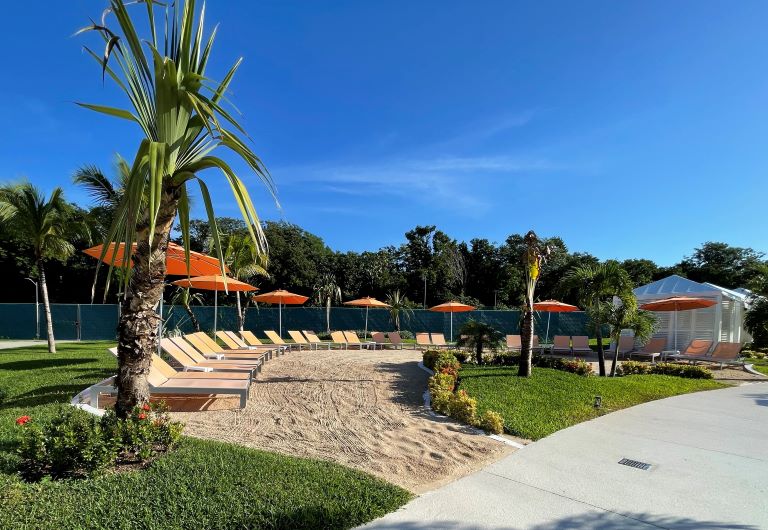 2. What is it?
Aqua Nick is a massive, six-acre, all-inclusive waterpark that opened in the summer of 2021. As of the time of this writing, everything is new and shiny.
Here, you will find waterslides, lazy rivers, splash pads, play structures, and pools. You can also meet your favorite Nickelodeon characters.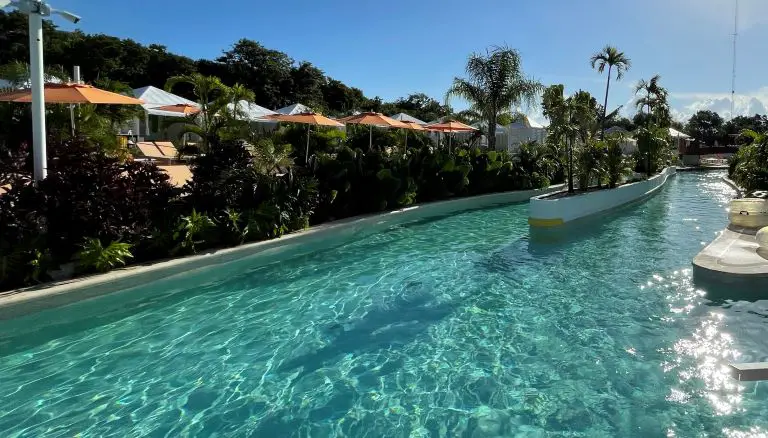 3. It is All Inclusive
Your admission includes both food and alcohol. Servers walk throughout the park taking drink orders. You can also walk up to the stands (which is always faster).
Pro tip: Don't miss the mango daiquiri.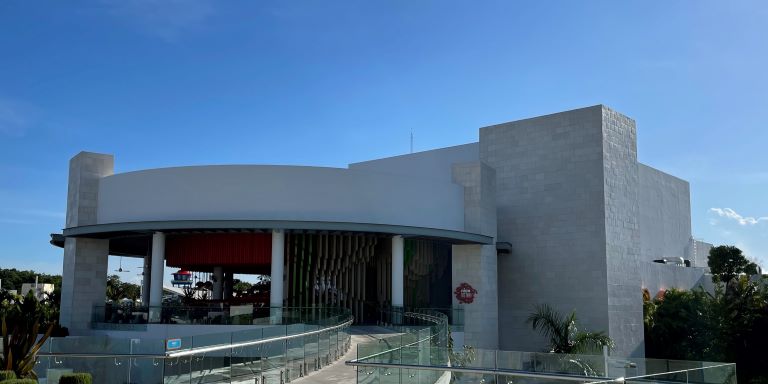 4. Download the App
The Karisma app has a schedule of character meetings and organized activities. Download it before your visit.
5. Check Out the Map Before You Go
The property is large. Check out the Aqua Nick map before you go to familiarize yourself with the area.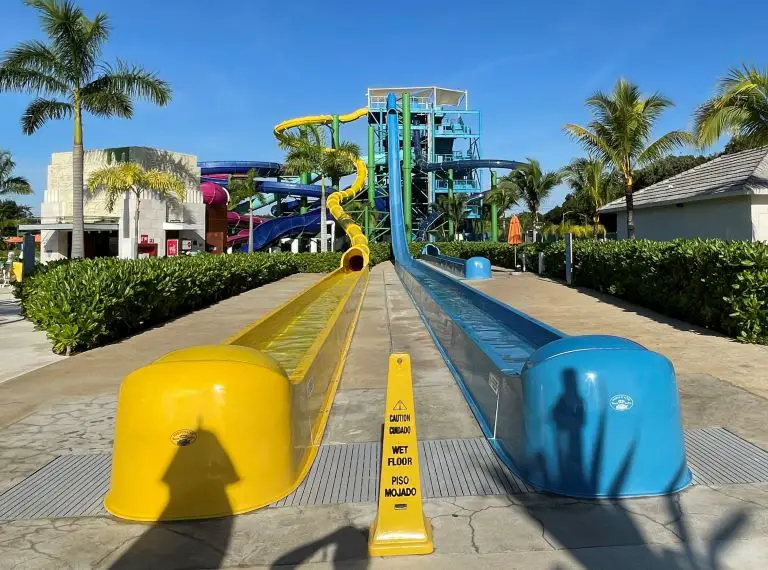 6. Hotel Guests Get in Early
Guests of the Nickelodeon Resort are granted early access to the waterpark. Check the schedule at the time of your visit.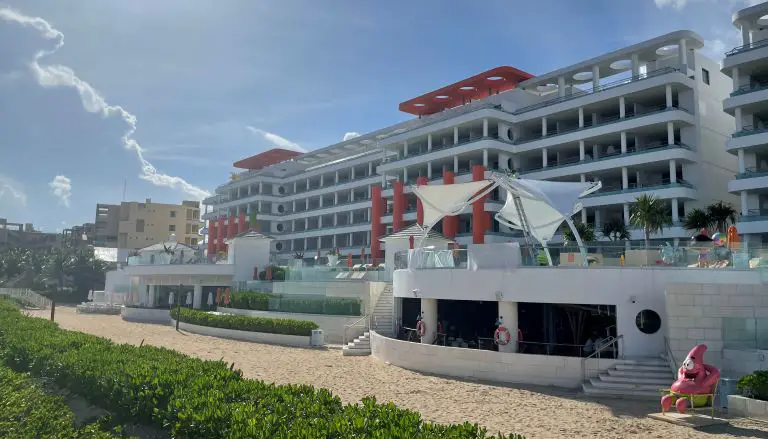 7. Arrive Early
The waterpark is best enjoyed without others. Arrive as early as possible and head directly to the waterslides. The park generally opens around 10:00 a.m. to the general public (9:00 a.m. for hotel guests) and closes around 5:30 p.m.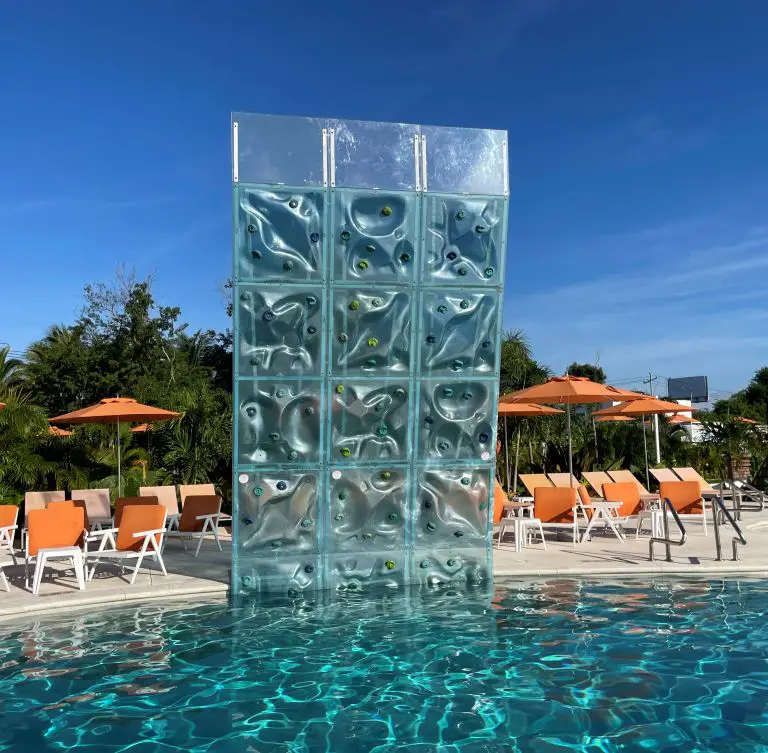 8. What Do You Need to Bring?
Lockers are not free and you will most definitely not be able to see your purse from a waterslide. Leave the valuables at the hotel. With that said, don't forget sunscreen, sunglasses, and goggles.
Pro tip: Check out our free Nickelodeon Resort packing list.
Bonus pro tip: Towels and life jackets are free to use at the waterpark. Towels must be returned before exiting and cannot be worn back to your room.
Extra bonus pro tip: Check the weather before your visit.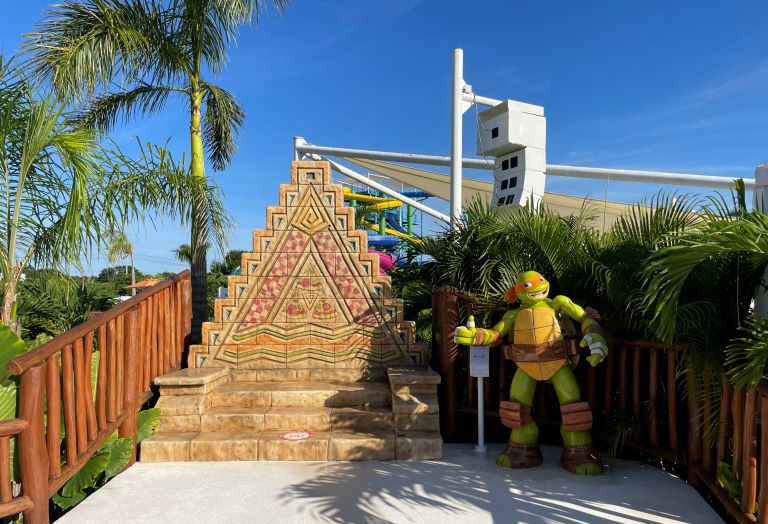 9. There Are a Ton of Hyper-Vigilant Lifeguards
There are a ton of lifeguards at the waterpark. The whole place feels extremely safe.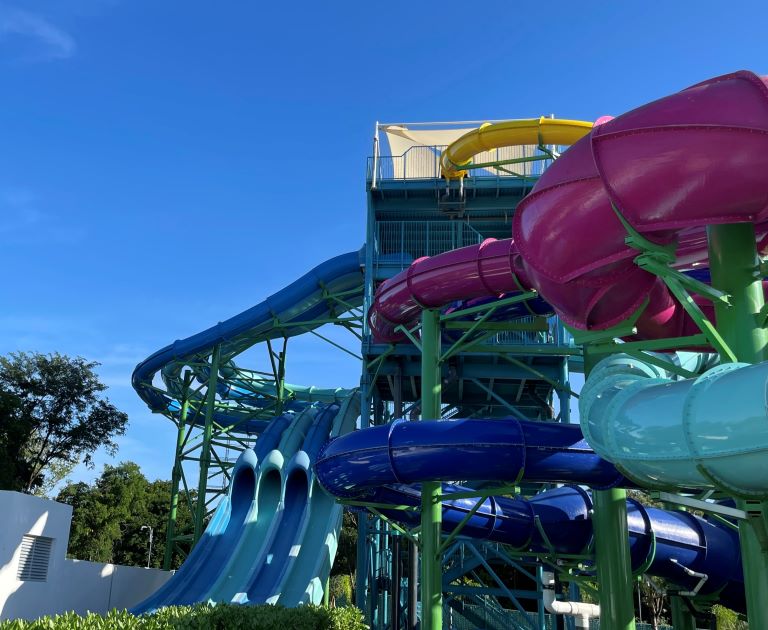 10. You Can Meet Characters
Throughout the day, you can meet Nickelodeon characters at Character Spot, including those from SpongeBob, Paw Patrol, and Ninja Turtles. Check the schedule on the app.
Pro tip: Character Spot is located near the entrance to the waterpark directly outside the gift shop. It's not a long walk, but it is inconvenient to stop swimming and dry off just to meet a character. Try to meet one on the way in or out.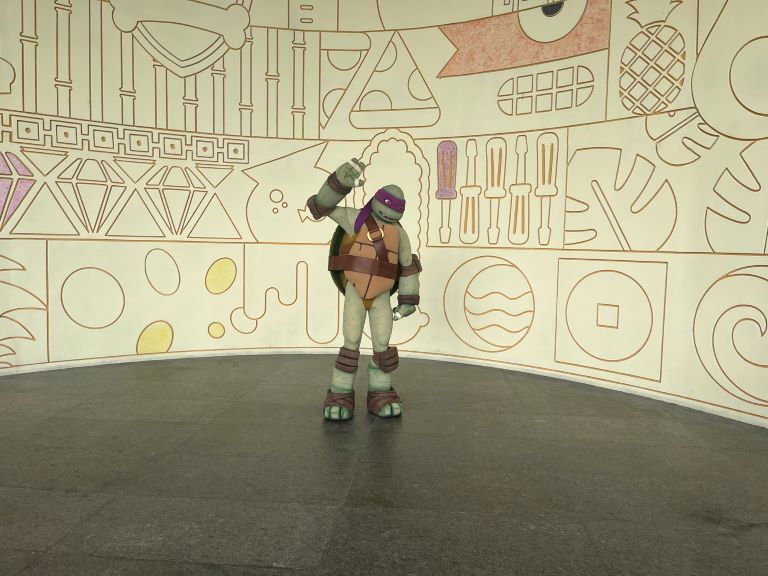 11. The Food is Good
Waterparks aren't generally known for good food. Considering that you will consume it in a wet swimsuit, the food at Aqua Nick isn't half bad. As of the time of this writing, the options are:
Nick Bistro
Nick Bistro is an open-air buffet that serves things like salads, proteins, cheeses, and desserts. There is no shortage of raw fish from which to choose.
Note: Nick Bistro is only included for hotel guests and those who purchase the upgraded meal. If you are not a hotel guest, I would skip it and eat the free food at Aqua Bite.
Aqua Bite
Aqua Bite has four locations throughout the park. Each serves different items. You can get things you would expect like burgers and pizza, but you can also get really good Poke bowls with gluten-free options.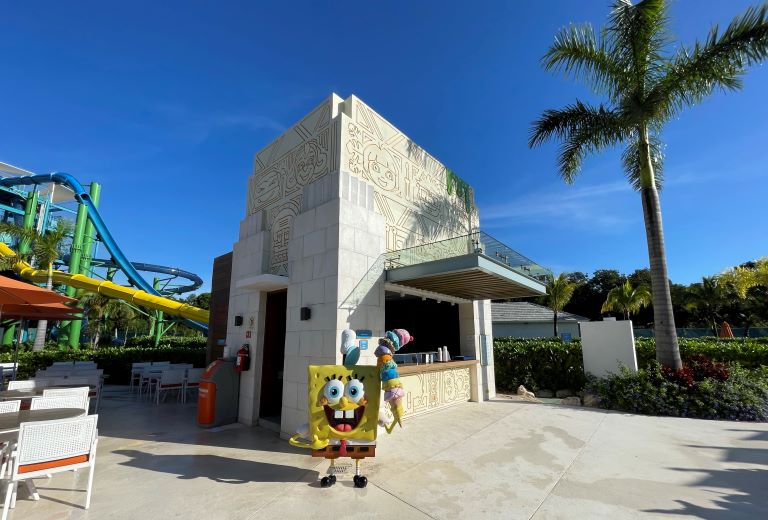 12. Skip the Character Dining
There is a paid character breakfast at Nick Bistro. Skip it. Both food and character meetings are included with the price of admission. There is no need to incur this charge.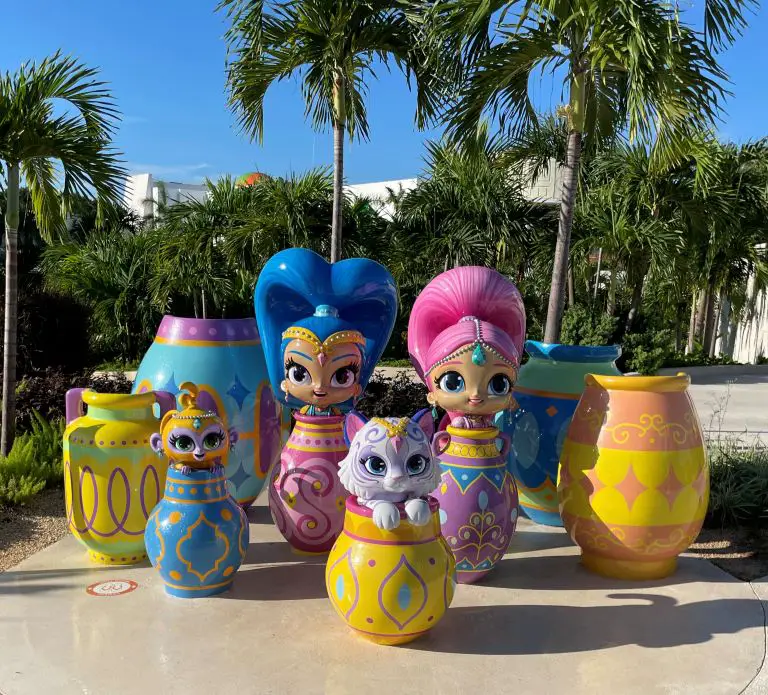 13. The Waterslides Are Awesome
Soak Summit is a large tower that houses seven unique slides. Visit early in the day before the lines get long. Be aware that the body slides can be painful after a few rides. I saw lots of people with bruises on their legs. The tube slides, however, feel great no matter how many times you ride.
The offerings are as follows:
The Big Plunge
The Big Plunge is a body slide with an extremely steep drop.
Bowl Blaster
Bowl Blaster is a tube slide that essentially flushes riders down a toilet.
Gnarly Half-Pipe
Gnarly Half-Pipe is a tube slide that sends riders swinging side to side (think all the way up the side of a tall wall).
Rad Racers
Rad Racers allows four people to race side by side down slides on mats.
Riptide Rush
Riptide Rush is a body slide with a trapdoor. It drops its riders from an enclosed capsule after an anxiety-inducing countdown.
Swirl 'n Whirl
Swirl 'n Whirl is a smooth tube slide with several loops.
Tubular Twist
Tubular Twist is a body slide with several twists and turns.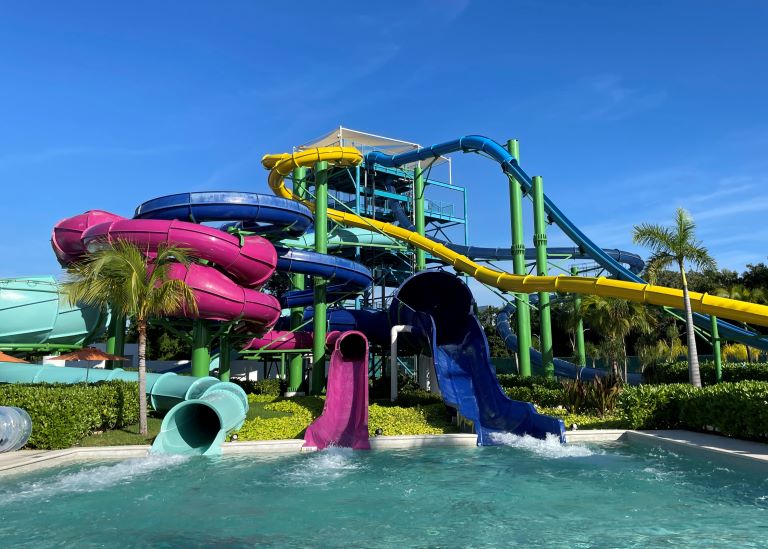 14. Don't Miss the Lazy Rivers
Most waterparks have lazy rivers, so this doesn't seem special. This park, however, has two.
The Lazy River and Adventure River both have characters and water features sprinkled throughout. The Lazy River is a relaxing experience, while the Adventure River moves faster, dumps water on you, and has waves.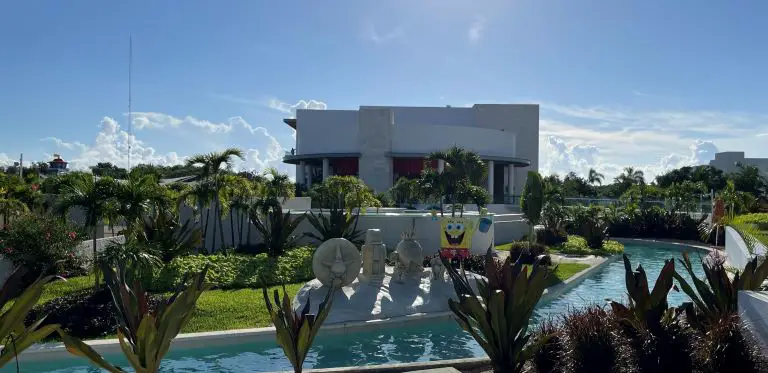 15. There is a Giant Play Structure
Bikini Bottom Beach is a tower with water cannons, slides, and buckets of water dousing its occupants.
Pro tip: There is a mass green water sliming in this area every afternoon.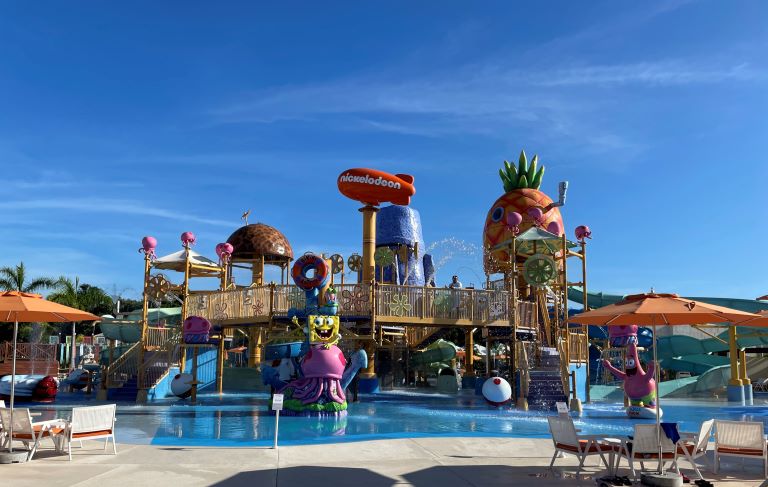 16. There is a Great Section for Little Kids
Paw Patrol Adventure Bay is a section designed especially for young kids. There is a play tower with slides and water cannons. The small waterslides with tubes take this section from good to great.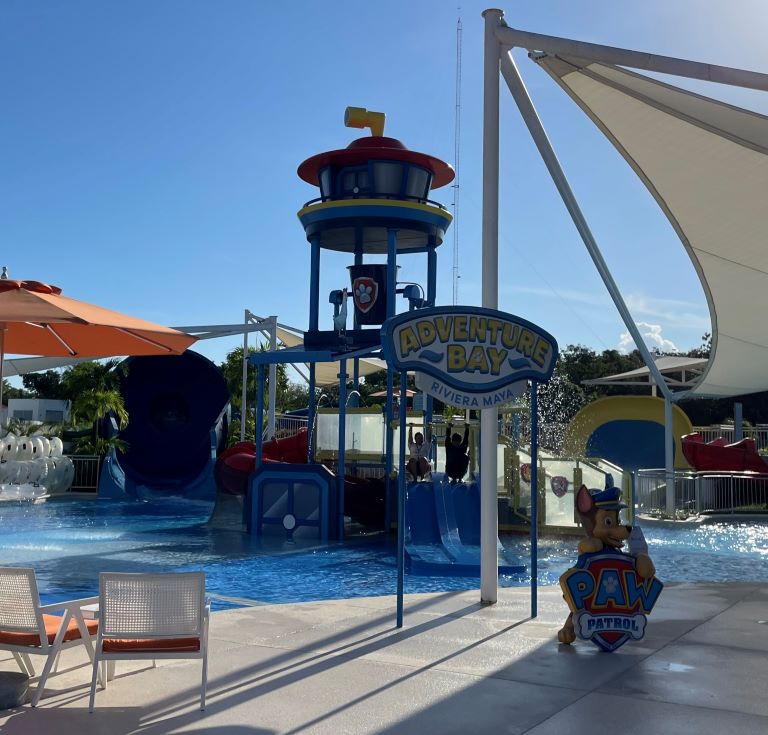 17. Visit the Activity Pool in the Afternoon
There is an activity pool with a rock wall, a wave pool, and floating pads. This area is rarely crowded. Knock out the waterslides in the morning before the lines get long, then head to this area later.
Pro tip: There is a bar in this area. Grab a cocktail and watch your kids from the side of the pool.
Bonus pro tip: The wave pool is crazy. Even if your kids are strong swimmers, consider a life jacket. You can borrow a jacket for free throughout the park.
18. There Are Schedule Activities Throughout the Day
Throughout the day, perky teens and twenty-somethings lead activities like dance parties, group slimings, and bean bag tournaments. A lot of this takes place in Spanish with some English sprinkled in periodically. You can view the schedule on the app.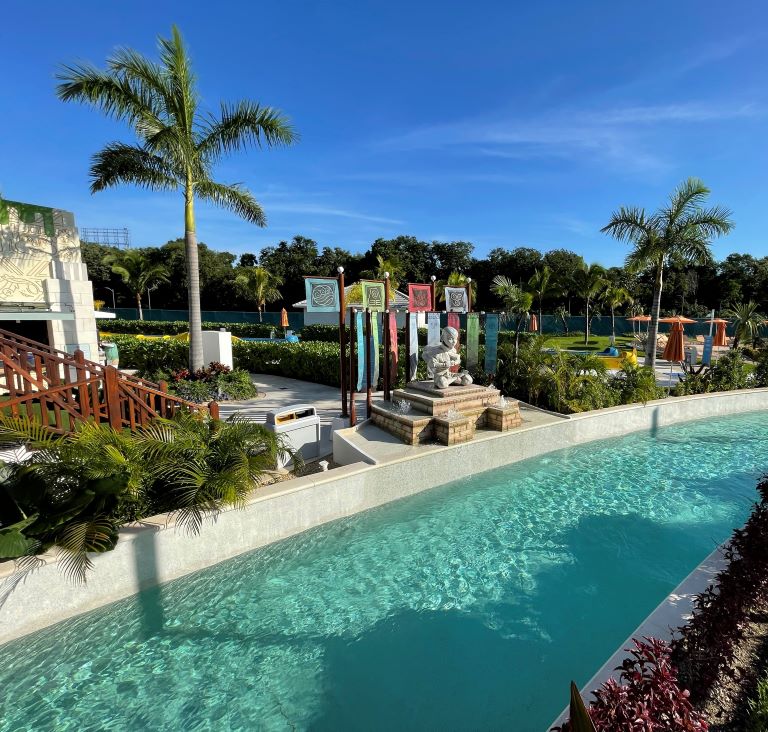 19. You Can Get Slimed for Free
The park advertises the opportunity to pay for a private sliming. It is not worth the money. A crowd gathers and awkwardness ensues.
Every afternoon, there is a free mass sliming at the Bikini Bottom Beach water tower. Check the schedule for the time, but you won't be able to miss it. There is a very loud, long pre-show prior to the green dump.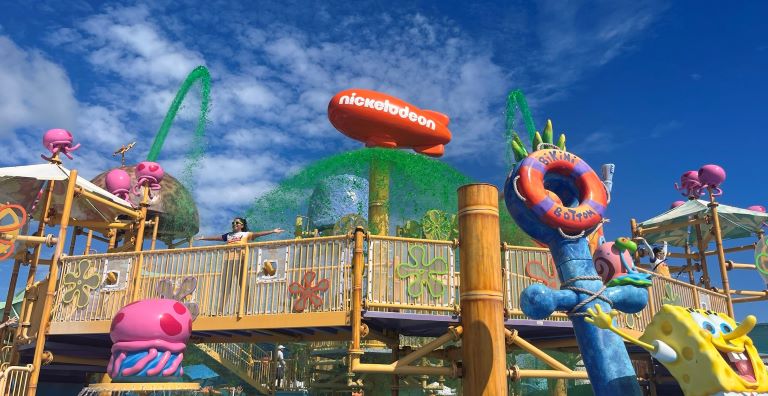 20. Avoid the Gift Shop Like the Plague
There is a gift shop through which you must walk to reach the waterpark. It contains nothing special.
Prices are posted in pesos, which makes sense given the location. Unfortunately, this requires Americans to do math. Clearly, we find this challenging. There is no other possible explanation.
My son requested a pair of cheap plastic sunglasses. I converted the price in my head, thought the price of $50 could not possibly be right, then walked to the cash register expecting the correct price to be $5. Nope, I was right the first time. Fifty. Dollars. for a pair of plastic, kids' sunglasses.
Every single item in the store is similarly priced, including necessities like sunscreen. Don't forget anything. Making a purchase in that store will sour your whole trip.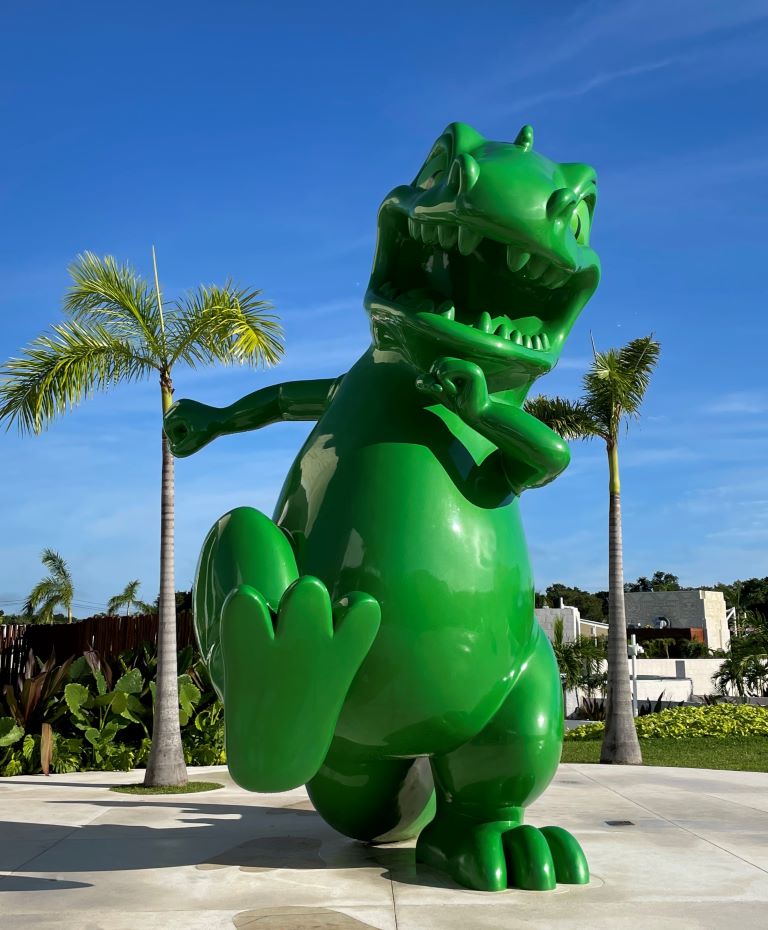 21. You Can Rent a Cabana
You can rent private cabanas at the waterpark. I understand the appeal of having somewhere safe to leave your stuff, but that is about it. If you want to rent one, it comes with a minibar, upgraded food, sunscreen, and towels. Remember that alcohol, food, and towels are already included.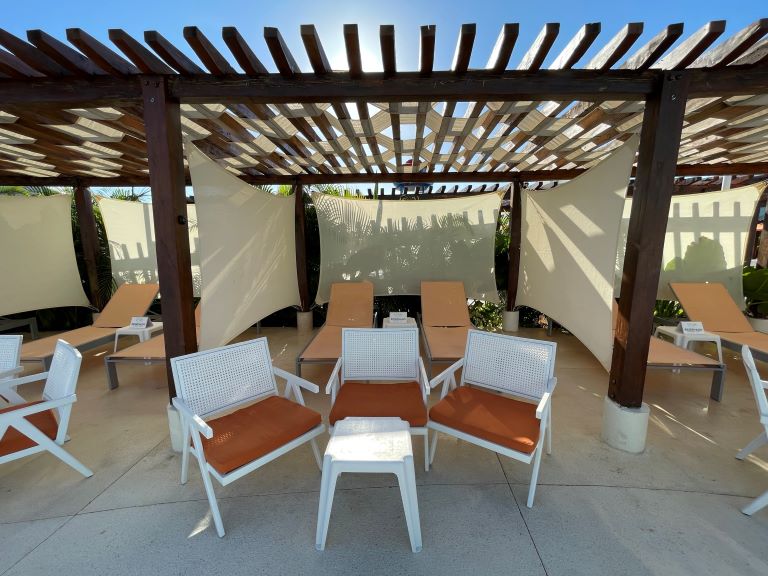 22. Look for Nicky
Multiple stray cats Nicky is a cat that roams the resort and waterpark hunting for raw fish. The resort feeds them him and does not stop them him from interacting with guests. In case I wasn't obvious enough, there is more than one cat.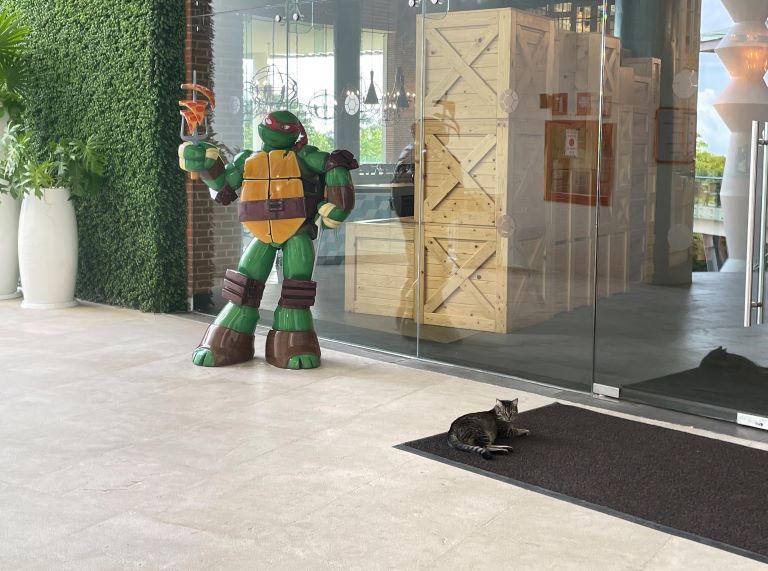 23. There Are Ways to Save on Aqua Nick Day Passes
Do you need to book in advance to visit Aqua Nick? You can purchase tickets onsite, but you will likely do better finding a deal ahead of time.
Stay at the Hotel
Guests of the Nickelodeon Resort Riviera Maya get in free all day, every day. Check the specials offered directly, then compare prices on sites like Booking.com, Expedia, Hotels.com, Travelocity, and Tripadvisor.
Visit at a Less Busy Time
Aqua Nick ticket prices vary by the day. Check the booking calendar when selecting the day you will visit.
Check for Specials on Nickelodeon Resort Day Passes
Specials are offered from time to time. As of the time of this writing, you can get a discount if you are staying at another resort owned by Karisma. Check the offers at the time of your visit.
Buy Nickelodeon Water Park Tickets Through Third Party Providers
You can purchase Aqua Nick Riviera Maya day passes on sites like Get Your Guide, Tripadvisor, and Viator.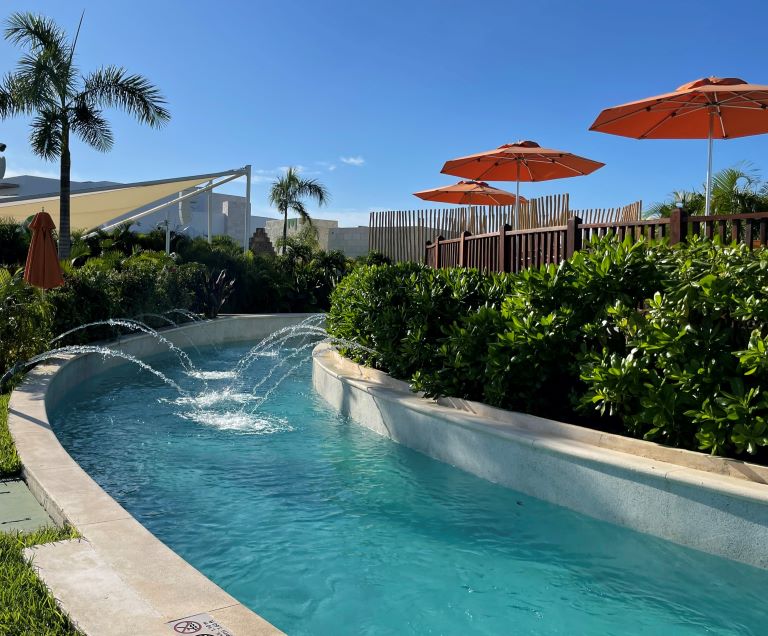 Final Thoughts – Aqua Nick Riviera Maya
The waterpark has great slides, fun pools, characters, and decent food. It is worth a visit. Try to save, arrive early, and maximize your day.
Visit Aqua Nick Riviera Maya with your kids. You will not regret it.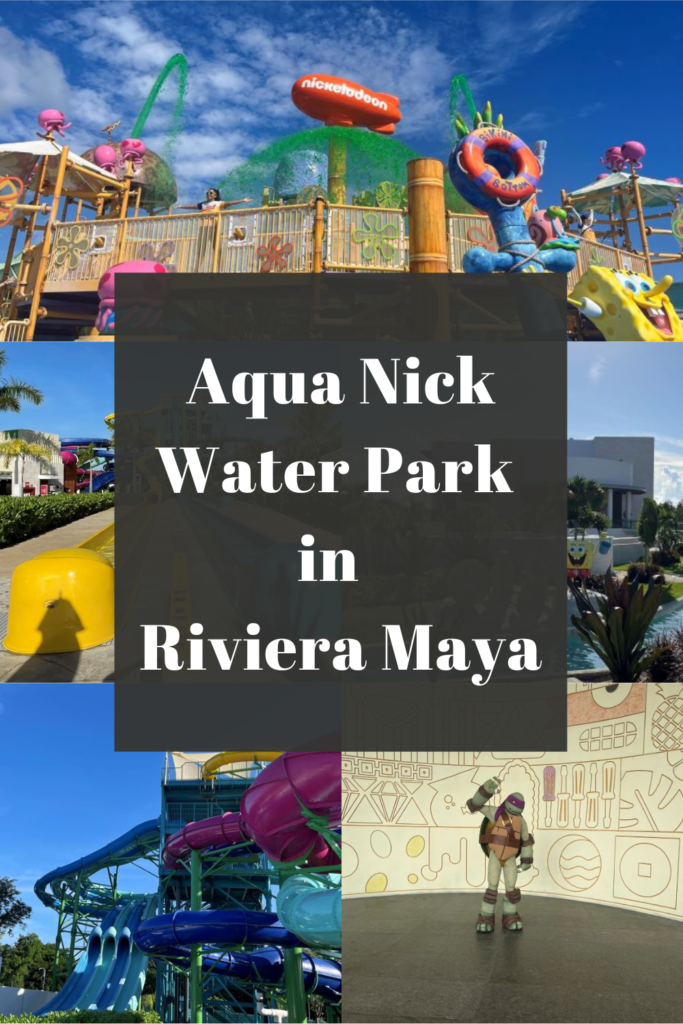 Related Articles to Aqua Nick Riviera Maya: Worth a Visit
Aqua Nick Riviera Maya