LEGOLAND California Resort Carlsbad Tips: Leave the Teenagers at Home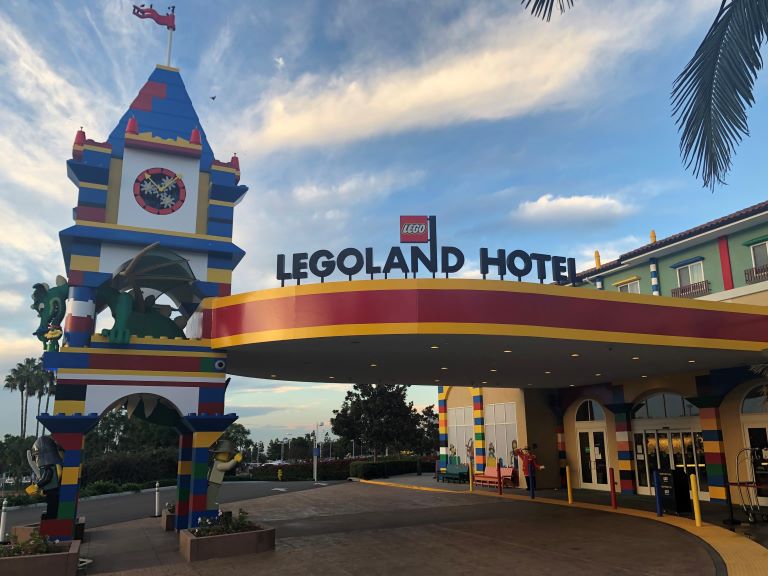 LEGOLAND California Resort is a heavily themed property filled with LEGOs and screaming children as far as the eye can see. It has a lot going for it for families with young kids, but it has some serious work to do in the customer service department. What LEGOLAND California Resort Carlsbad tips can you utilize to improve your trip?
LEGOLAND California Resort Carlsbad Tips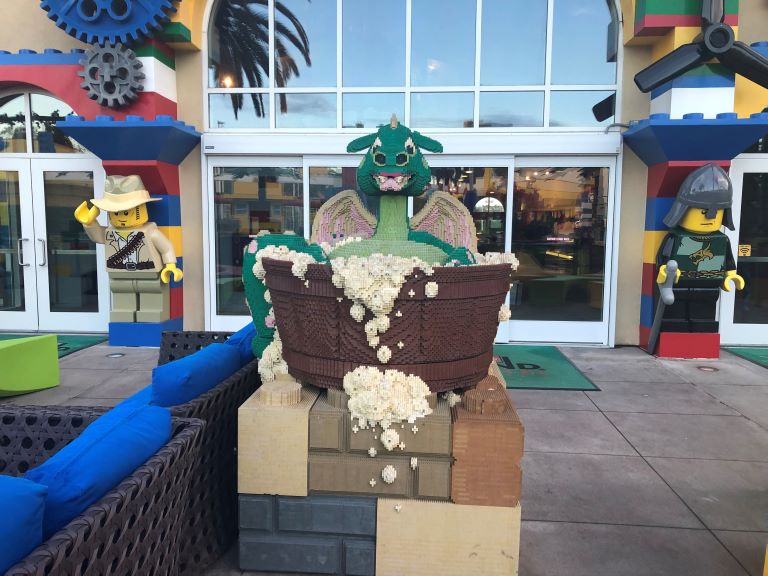 As an Amazon Associate, I earn from qualifying purchases.
DISCLOSURE: This post may contain affiliate links, meaning when you click the links and make a purchase, we receive a commission.
LEGOLAND California Resort Carlsbad Tips
1.
Where is LEGOLAND California Resort?
The hotel is located about 45 minutes from San Diego by car at One Legoland Drive in Carlsbad. The hotels on property are steps from the parks, so the LEGOLAND California Resort location cannot be beat.
If you're doing a combination trip, you can make it to Disneyland in about an hour.
If you are flying in and want to drop a bag of money, there is a small airport in Carlsbad. Otherwise, the best airport for LEGOLAND California is San Diego.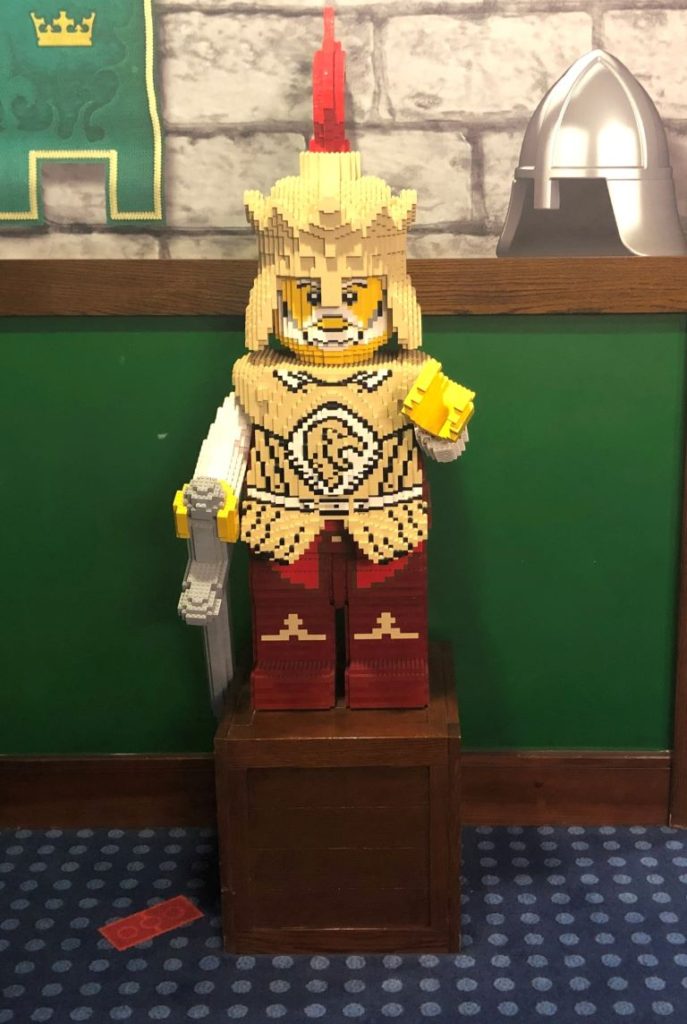 2.
LEGOLAND California Resort Properties
LEGOLAND California Resort has two hotels, the LEGOLAND Hotel Carlsbad and LEGOLAND Castle Hotel. The hotels have uniquely themed categories of rooms, so check to what theme interests your family.
Both hotels charge a LEGOLAND California Resort fee. As of the time of this update, it is $30 per night. Standard internet is included, as are local and long distance calls (in case you're visiting in 1984). You also get a couple of juice boxes, water bottles, and some hot chocolate and coffee for the coffee maker in your room.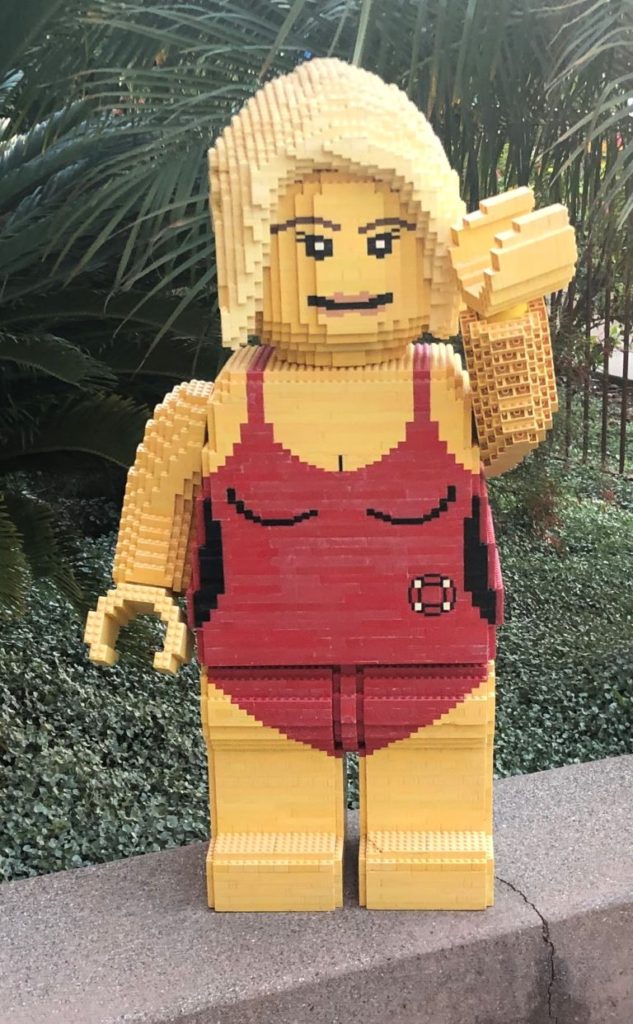 3.
LEGOLAND California Resort Rooms
LEGOLAND California Hotel Room Themes
The hotel rooms at both resorts are heavily themed. The ice buckets are even shaped like LEGO heads. Some rooms are more expensive popular than others. The LEGOLAND California Hotel Ninjago rooms are the hottest ticket.
LEGOLAND Hotel Room Themes
1.
LEGOLAND California Ninjago Rooms
2.
Pirate
3.
LEGO Friends
4.
Kingdom
5.
Adventure
LEGOLAND Castle Hotel Room Themes
1.
Royal Princess
2.
Knights & Dragons
3.
Magic Wizard
LEGOLAND California Resort Room Configuration
The LEGOLAND Hotel California room layouts at both properties are perfect for families. There is a kids' sleeping area with bunk beds and a pull out trundle bed in a separate area of the room. While not technically a one bedroom, it allows for some sanity saving separation.
The kids' section of the rooms has its own TV, and there is a box of LEGOs to use while in the room (but not to take home).
The rooms include a spacious bathroom, mini fridge and coffee maker.
Pro LEGOLAND California Resort tip: Pack and Plays are available on a first come first serve basis. Call ahead to ensure you will have what you need.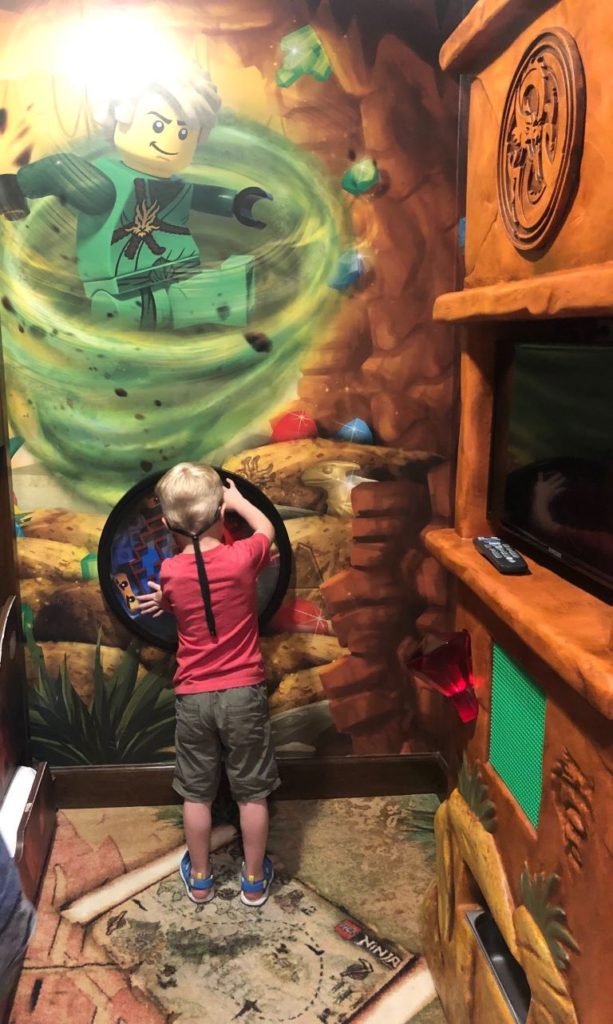 4.
LEGOLAND Hotel Check-in Time
LEGOLAND check-in time is 4:00 p.m.
As of the time of this update, you can add LEGOLAND early check-in for $71.50, which gets you in at 1:00 p.m. This is a monumental rip off.
Most hotel chains will let you into your room early if rooms are available. Do not reward LEGOLAND's bad behavior by paying this fee. The hotel will store your luggage. There is no need to give the hotel more money.
Pro LEGOLAND California Hotel tip: If you decide to pay this fee, you must pay it at the time of booking.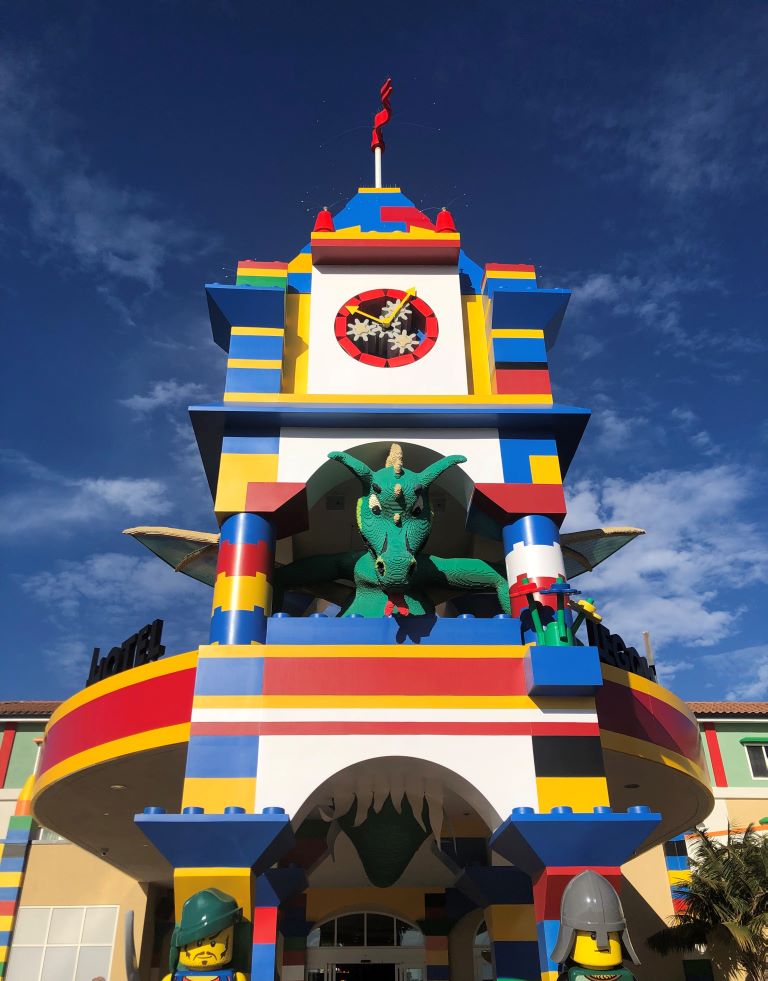 5.
Lobby
The lobbies in both hotels are full of bright colors and disorder. There are large play structures and lots of LEGOs. Lloyd is frequently in the LEGOLAND Hotel lobby with a handler. It is unlikely you will have to wait for a photo. Don't miss this area.
Pro LEGOLAND California tip: Visit early in the morning or late in the evening. The play structure gets crowded in the afternoon.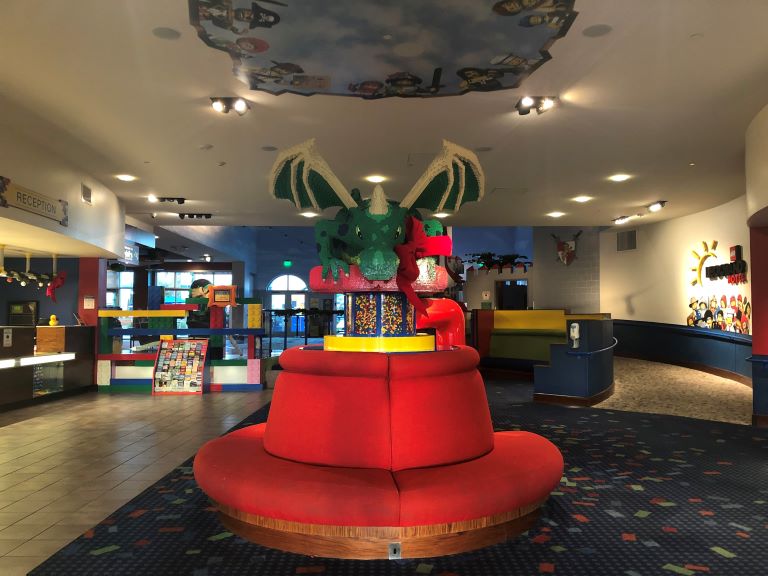 6.
Explore the Common Areas
The resort wins the day for theming. The detail throughout the property is incredible. There are intricate LEGO statues everywhere throughout the common areas. Kids will find random things with which to play and on which to jump, including whoopie cushions in the floor.
The themed rooms are clustered together, so the halls are decorated in different corresponding themes as well.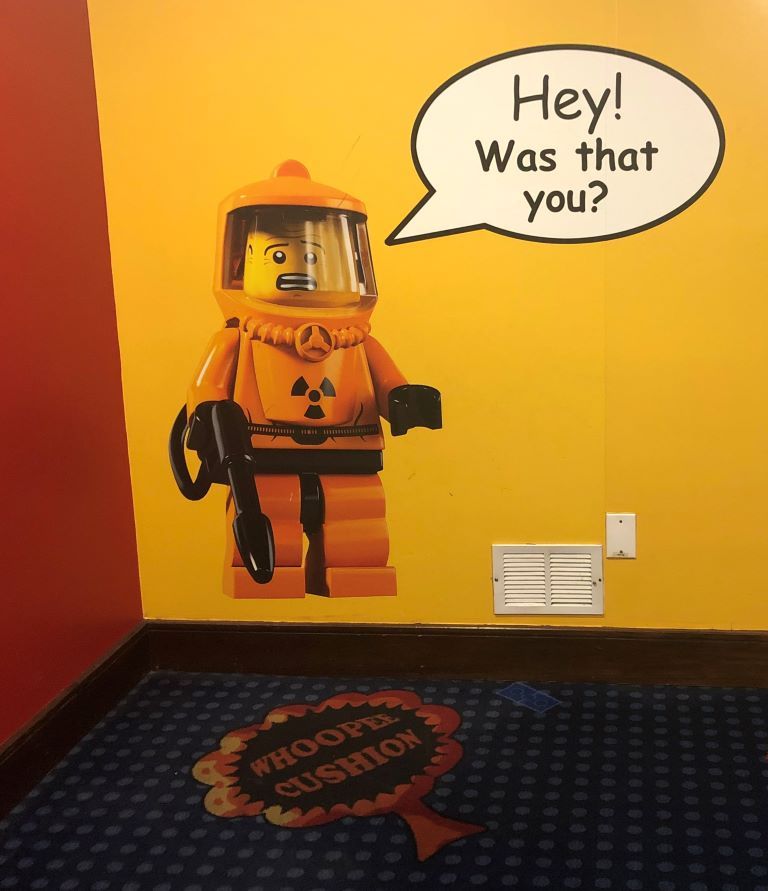 7.
LEGOLAND California Resort Pools
If you're wondering what to do at LEGOLAND California, don't miss the pool.
The resort has a zero depth entry heated pool with some foam LEGOs floating in the water. The LEGOLAND California hotel pool is not special, but it is not crowded and does the job.
The lifeguards are over the top vigilant. The policy seems to be one small step away from not allowing one to submerge his or her head in the water, but at least the kids are safe.
Pro tip: You can rent a cabana and have food served to the pool. Prices begin at $200. This seems overpriced and unnecessary, but it is an option if it interests you.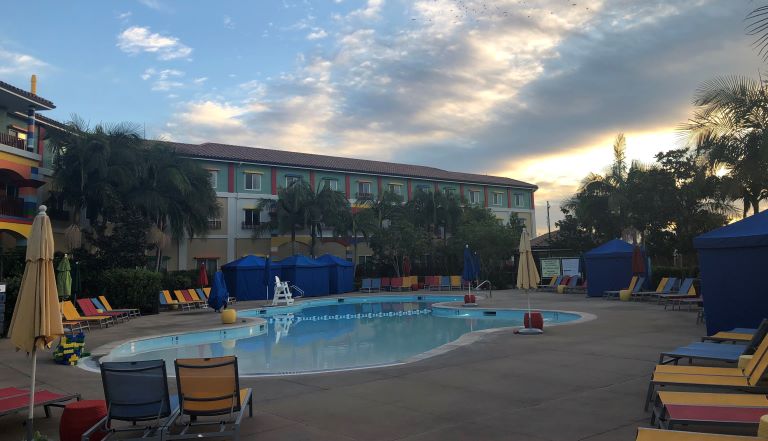 8.
LEGOLAND California Hotel Activities and Entertainment
What can you not miss at LEGOLAND California? The free nightly activities. They are put on by young people who are great with kids. One could easily argue that these are the best employees in the entire hotel.
There are skits each night in the lobby. Young actors with lots of energy poll children for silly things to do during the shows. There is also a dance party each night wherein teenagers dressed as nondescript characters floss and orange justice.
The hotel has a schedule of organized activities. Check it when you arrive so you don't miss your priorities.
Note: In addition to organized activities, there is a small free gym and not free arcade, as if you haven't spent enough already.
9.
LEGOLAND Check Out Time
LEGOLAND Hotel check out time is 11:00 a.m. The hotel can hold your luggage after you check out if you want to visit the theme parks.
LEGOLAND Hotel late check out can be added to your reservation $71.50. You get to check out a whopping two hours later at 1:00 p.m. If you want to light money on fire, I'm not going to stop you.
Pro LEGOLAND Hotel California tip: If you want this add on, you need to purchase it at the time of booking.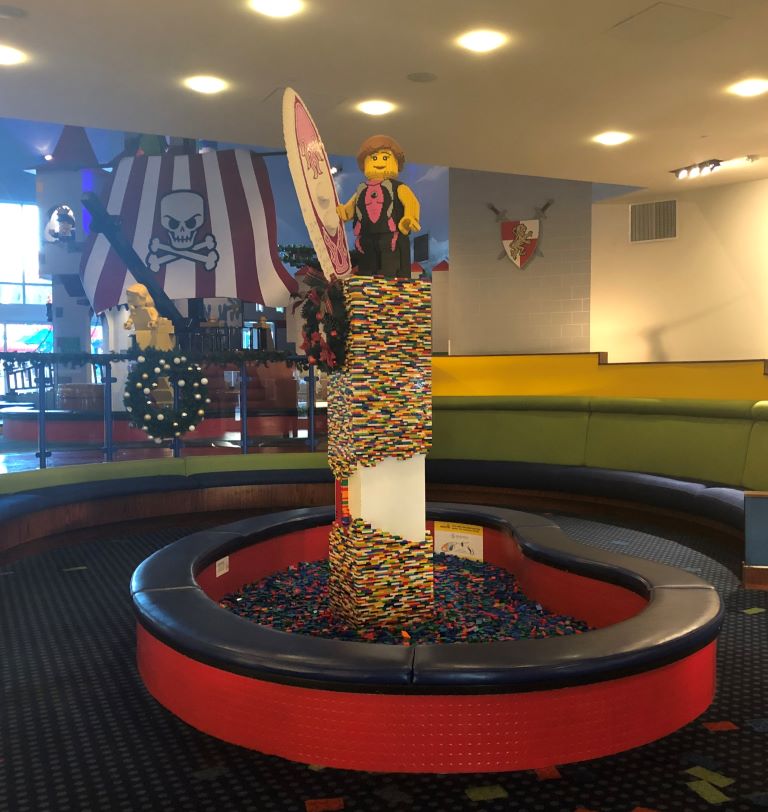 10.
LEGOLAND California Hotel Treasure Hunt
Upon LEGOLAND check in, you go on a scavenger hunt through the hotel to crack the code to the safe in your room. In it, you will find LEGO gifts to take home.
The single most important of the LEGOLAND California Resort Carlsbad tips is that housekeeping replenishes these each day. The code does not change from day to day, so no need to run around multiple times. Don't leave your gifts behind.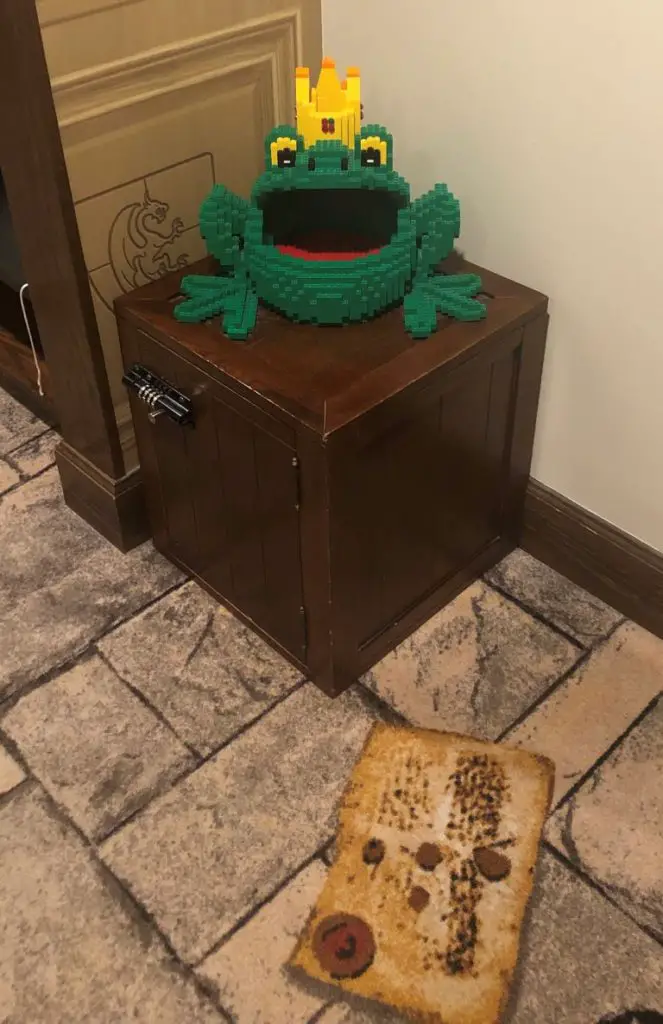 11.
LEGOLAND California Hotel Dining
Should you eat on property? Eh. Other than the included breakfast, the food at the hotel is not great. It also costs just slightly less than your child's braces.
Can I bring food to LEGOLAND Hotel? Sure, no one will stop you. There are plenty of good restaurants near LEGOLAND California. Visit them and bring food back to your room. You will have a small refrigerator to store leftovers.
There is a Free LEGOLAND California Hotel Breakfast Buffet
A daily breakfast buffet is included with your stay at both properties. LEGOLAND Hotel's breakfast is at Bricks and the Castle Hotel's is served at Dragon's Den. There are a lot of options, many of which are gluten free, including eggs, fruit, smoothies, cereals, meats, and potatoes. There are plenty of kid friendly choices as well.
Pro LEGOLAND California hack: The breakfast is free, but you need a reservation. Don't forget to make one.
Pro tip: They will make gluten free pancakes upon request.
LEGOLAND Hotel at LEGOLAND California Resort Options
The LEGOLAND California Bricks Restaurant
LEGOLAND Hotel's Bricks serves a dinner buffet in addition to the free breakfast. Dinner is not included. The dinner is advertised as a character meal, but it's really not. Find Lloyd in the lobby and eat off property.
Skyline Cafe
LEGOLAND Hotel California food is overpriced. Skyline Cafe is no exception. It is a table service restaurant offering things like burgers, flatbreads, salads, and appetizers. It also offers cocktails of the obscenely expensive variety. You can get a better meal off property, but it is a convenient option if you don't want to leave.
LEGOLAND Castle Hotel in California
Dragon's Den Restaurant and Bar
Dragon's Den Restaurant and Bar serves the complimentary LEGOLAND California breakfast buffet. It operates as a full service restaurant for dinner. The menu includes burgers and flatbreads, and also has more expensive options like steak and seafood. You could certainly find a better deal off property.
Room Service is Available
LEGOLAND California offers room service for lunch and dinner. The menu is overpriced, and they add an $8.00 delivery fee plus 18% gratuity. This is highway robbery. Walk to the restaurant yourself, or, better yet, go off property.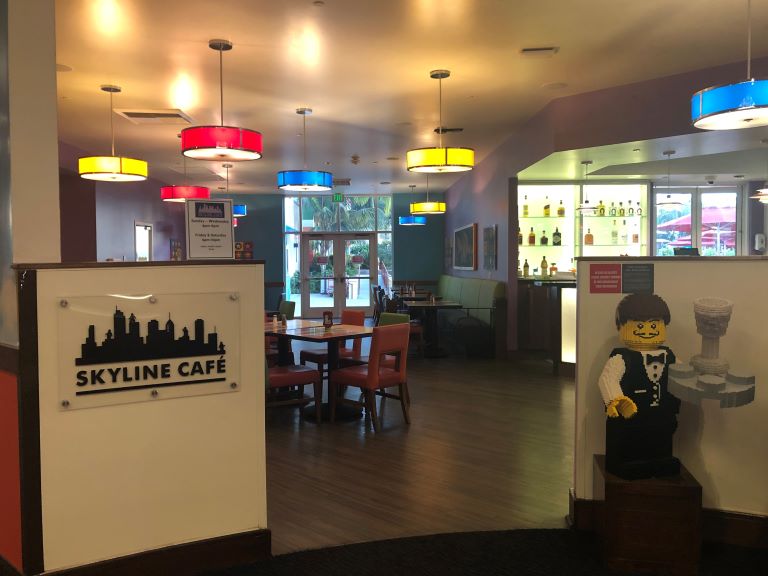 12.
Save with LEGOLAND California Hotel Discounts
LEGOLAND is expensive, but there are ways to save. Don't pay full price.
Direct Bookings
LEGOLAND California Resort consists of LEGOLAND California theme park, LEGOLAND Water Park, and SEA LIFE Aquarium. Packages often include the LEGOLAND California Resort Hopper tickets that get you into all three. Do the math to see if this makes sense for you.
Does LEGOLAND Offer Military Discounts?
There are LEGOLAND California Resort military discounts offered for tickets. Check the current offers at the time of your booking.
LEGOLAND California Hotel Membership Discount
LEGOLAND California annual passholders get 15% off hotel stays. Do you plan to visit more than once? An annual pass may be worth it to you.
First Responder Discount
First responders sometimes get a discount at LEGOLAND California. Contact the resort at the time of your visit.
LEGOLAND California Resort Hotel Bookings with Miles and Points
Miles and points are a great way to get deals on LEGOLAND Hotel California. You can earn several hundred dollars worth of points with a single signup bonus. Check the current offerings when you apply.
Capital One Venture
The Capital One Venture line of credit cards allow you to erase travel purchases from your statement. You can book your LEGOLAND California vacation package directly with this credit card, then erase it from your statement.
Citi ThankYou Points
You can book deals for LEGOLAND California in the Citi ThankYou portal. You can earn ThankYou points from multiple Citi cards.
LEGOLAND Hotel California Groupon
You can occasionally find LEGOLAND California Hotel specials on Groupon. This isn't always the cheapest route. Compare prices before finalizing your purchase.
LEGOLAND California Hotel AAA Discounts
AAA members save a minimum of five percent on special packages for LEGOLAND California Hotel and park tickets. Five percent isn't really something about which to write home, so confirm this is the best deal for you.
Third Party Bookings
You can sometimes find discounted rates for LEGOLAND California on third party sites like Booking.com, Hotels.com, Tiqets.com, Get Your Guide, Tripadvisor, Travelocity, and Expedia.
You may also be able to save on tickets with a bundle of attractions through Go City San Diego. Do the math to determine if it makes sense for you.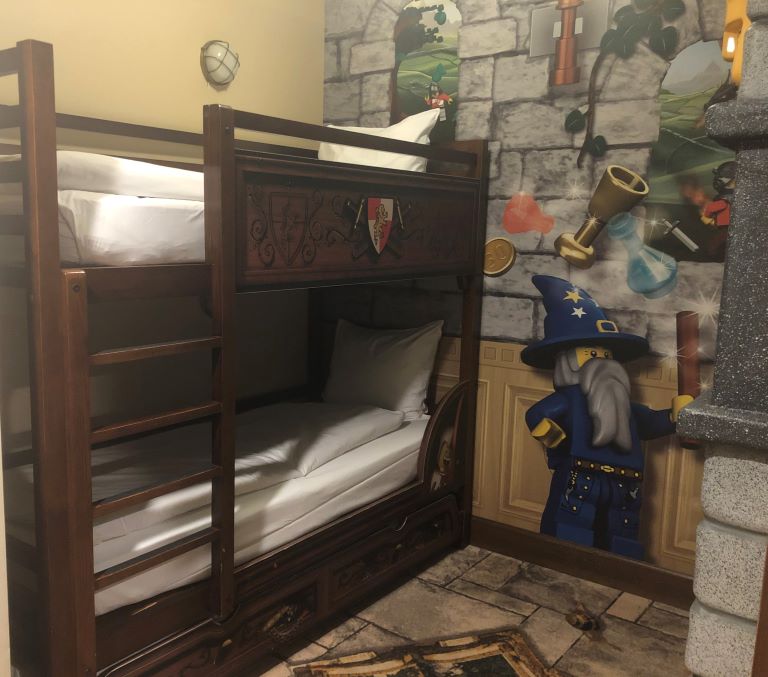 13.
Early Admission to Theme Parks
How do I get the most out of LEGOLAND? Don't miss the early park entry.
Guests who stay at an on property hotel get to enter the parks thirty minutes before LEGOLAND California Resort hours begin for the general public. This is a huge perk and should be utilized whether or not your kids feel like getting out of bed.
Note: As of the time of this writing, your early entry gets you onto four LEGOLAND California rides, Coastersaurus, Fairy Tale Brook, Coast Cruise, and NINJAGO The Ride. Make a quick decision and head there. The lines will build before the park opens, and the park is opened to all guests well before the 30 minutes is up.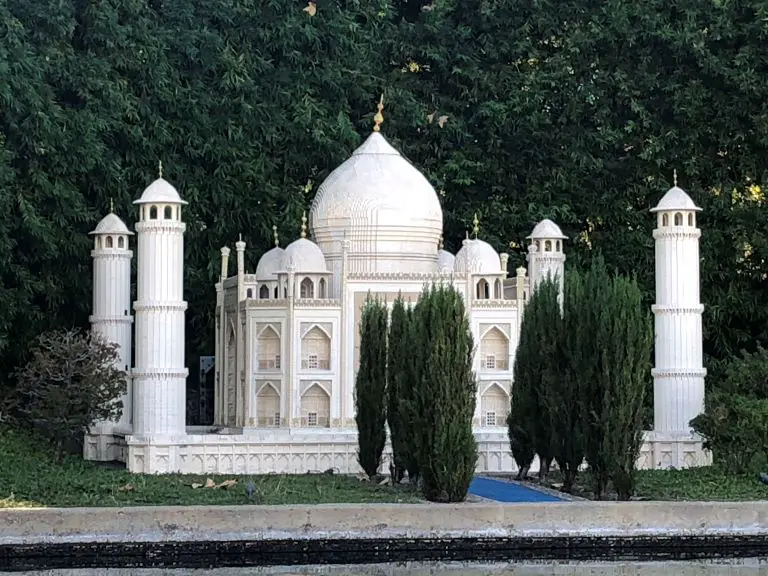 14.
LEGOLAND California Resort Ideal Age Range
What can adults do at LEGOLAND? Other than testing their sanity, not much.
The best age group for LEGOLAND is somewhere between three and 12. The parks best serve young children. Almost all of the rides are little kid friendly. A teenage boy would have more fun at the fabric store.
15.
Should You Visit the Water Park and SEA LIFE Aquarium?
Should you include LEGOLAND Water Park and the SEA LIFE Aquarium in your vacation package? If they're included, sure, but I wouldn't pay extra.
LEGOLAND Water Park is OK at best. There isn't really anything you can't find at Six Flags, and the majority of it needs an update.
The SEA LIFE Aquarium is entertaining for a few minutes, but it's nothing about which to write home.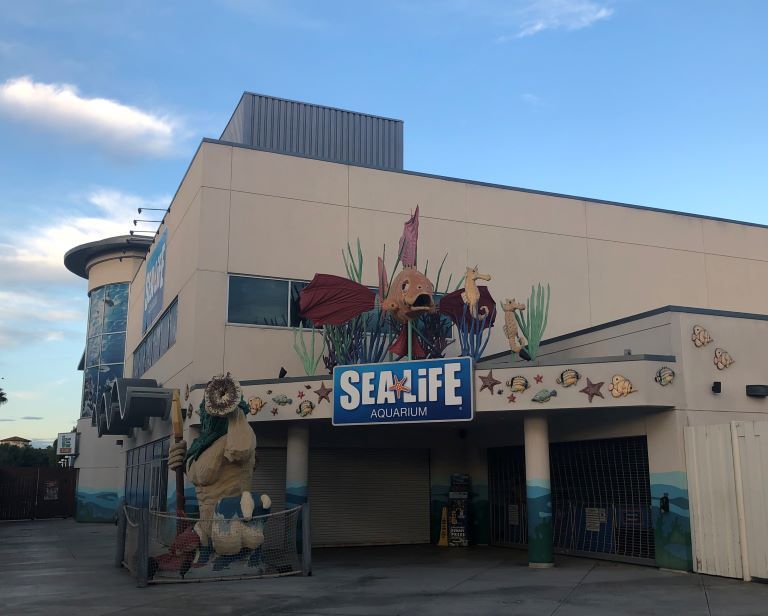 16.
Should I Add Reserve 'N Ride?
Should you add Reserve 'N Ride to your vacation package? It depends.
LEGOLAND Reserve and Ride is a front of the line pass. It allows you to virtually get in line for a ride on the LEGOLAND California Resort app. You go to the ride when it is your turn, so you can do other things in the meantime. There are different tiers available with different amounts of waiting.
Is Reserve and Ride worth it at LEGOLAND? It is pricey, but it is worth it on a crowded day. This is the best way to ensure you can ride everything. LEGOLAND California is not winning any awards for efficient ride loading. People on the Oregon Trail made it to their destination faster.
Note: Sometimes, people with Reserve 'N Ride are held in lines when they arrive for their ride times. This wait can be negligible, or it can result in a wait almost as long as the one found in the regular queue.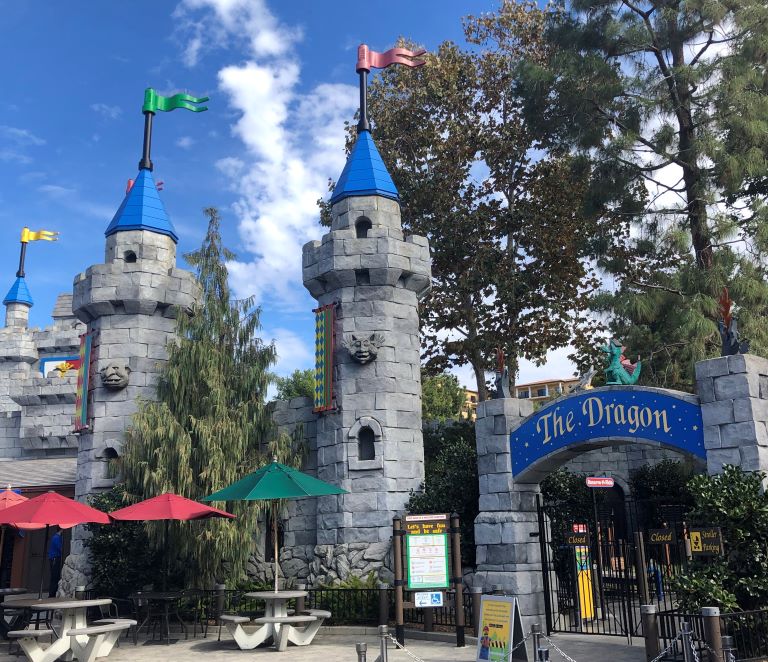 17. LEGOLAND California Customer Service Concerns
If you're wondering what to know before going to LEGOLAND California, the most important thing to keep in mind is that it is not Disney. The hotel has some things going for it, but it has some glaring issues of which you should be aware.
A.
The Resort is Pure Chaos
LEGOLAND California Resort is not for everyone. Unlike Disney, which offers something for most people, LEGOLAND California Resort really only caters to little kids. Think that through.
Every. Single. Room. is occupied by little kids. Did I mention the hallways are narrow? It is Lord of the Flies meets Kevin McCallister.
At one point, I found a lost kid in the hall (last name Legoland, per the child). I could have kidnapped him twenty times in the amount of time it took me to locate an employee with a walkie talkie.
B.
Practices That Feel Dishonest
LEGOLAND California Resort gives off the vibe that it is trying to get away with something. We had several negative experiences, too many to be a one off rather than representative of its culture.
Signs in Rooms Warning of Fines
The hotel rooms include LEGO statues. The statues add a lot to the room and make it feel special to kids. However, they are accompanied by signs warning of a hefty fine if you alter them. It is reminiscent of the FBI warning you used to see on VHS tapes. How about applying some super glue to those suckers and saving the threats?
LEGOLAND California Hotel Parking Fee and Package Discrepancies
Our package purported to include the hotel stay, LEGOLAND California theme park, LEGOLAND Water Park, SEA LIFE Aquarium, and parking.
When I got to the resort, the woman checking us in told me parking was not included. I subtly pushed back on that, and by subtly, I mean I let the woman know there was no freaking way I was paying for parking a second time. She accepted that, but I heard chatter by the pool from nice less assertive people who paid for parking a second time.
LEGOLAND California Resort Water Park was also supposed to be included in our package. When we arrived with excited children in swim trunks, the employee told us it wasn't. I involved a manager who finally made it right, but I wasted 30 minutes doing that. While we were waiting for a manager, another family walked up, insisted they purchased the water park, and was sent packing.
I should have saved the energy I wasted arguing about getting into the water park because half of it was closed. I have a sneaking suspicion they didn't make this obvious to people who paid full price to enter only half the park. This suspicion was formed when I observed countless people attempt to enter the closed half.
Character Meal
The description of the character dinner at Bricks led me to believe it would have several characters, singing, and dancing. In reality, Lloyd stands in the corner, and that is the extent of the character interaction the entire meal.
The Park Opens Early to the General Public
The park opens to the general public before the posted park opening time? How is this a problem?
Here's the thing. One of the incentives offered by the hotel to stay on property is 30 extra minutes in the park. In reality, guests get a few minutes at most before the masses are unleashed.
Reserve 'N Ride Often Comes with a Wait
Guests who purchase Reserve 'N Ride get into a line virtually on the app, then go to the ride when it is their turn to ride. Sometimes, those guests have to wait in line upon arrival. On several occasions, we experienced an extended wait, thus negating its value.
Pro tip: On our most recent trip, the waits were so egregious that I emailed customer service. I never got a response, but the Reserve 'N Ride charge was refunded. If you experience issues, don't be afraid to contact the resort.
C.
Employee Morale
Almost every employee I encountered (minus the teenagers that run the nighttime entertainment) had an IDGAF attitude about any issue with the guests. I assume this apathy developed over time because people are constantly berating them for not honoring their purchases. Customer service gets two thumbs down, and I promise you, we are not high maintenance.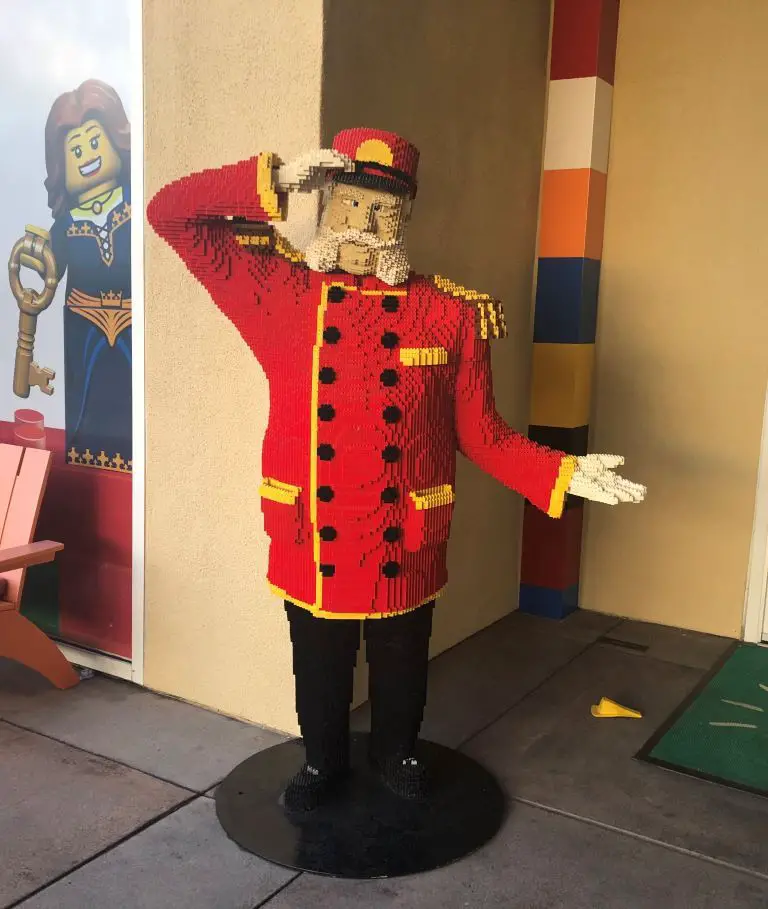 18.
LEGOLAND California Hotel Cancellation Policy
Understanding the draconian cancellation policy enforced by this hotel is one of the most important LEGOLAND California Resort Carlsbad tips. The official policy is that payment is due in full at the time of booking, and you cannot make any changes. At all. No refunds.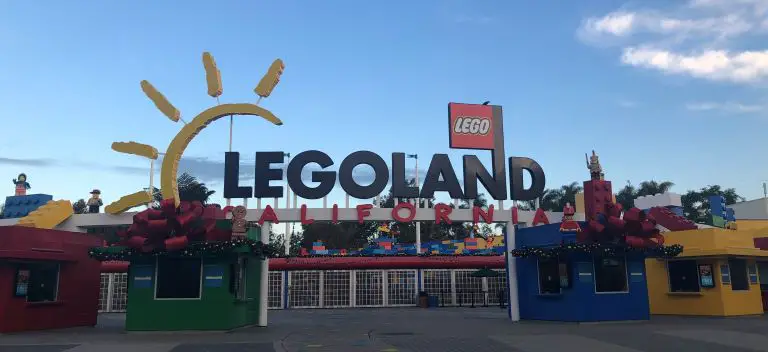 19.
Wi-fi is Included
Wi-fi is included in your stay, which is possibly the most valuable of the LEGOLAND California Hotel amenities. Don't forget to jump on the network.
20.
Skip the LEGOLAND California Hotel Gift Shop
The LEGOLAND California gift shop is exactly what you would expect from a theme park property. It is small, overpriced, and doesn't really contain anything you can't find elsewhere. Take a walk around if you want, then hop onto Amazon to make your purchase.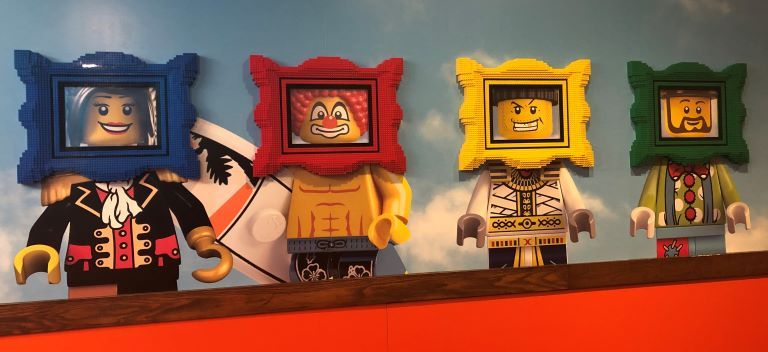 21.
How Many Days Should You Spend at LEGOLAND California?
How long do people spend at LEGOLAND California? LEGOLAND California has the theme park, water park, and SEA LIFE Aquarium. You don't need a full day for each. The water park and aquarium do not warrant that much time.
Two days is the ideal amount of time to visit the resort. You won't be able to take much more. Plan to visit the theme park one day, then bounce between the others and revisit your favorite LEGOLAND California attractions on the other.
Pro tip for LEGOLAND: If you want to visit the park the day you arrive before your room is ready, the front desk will store your luggage.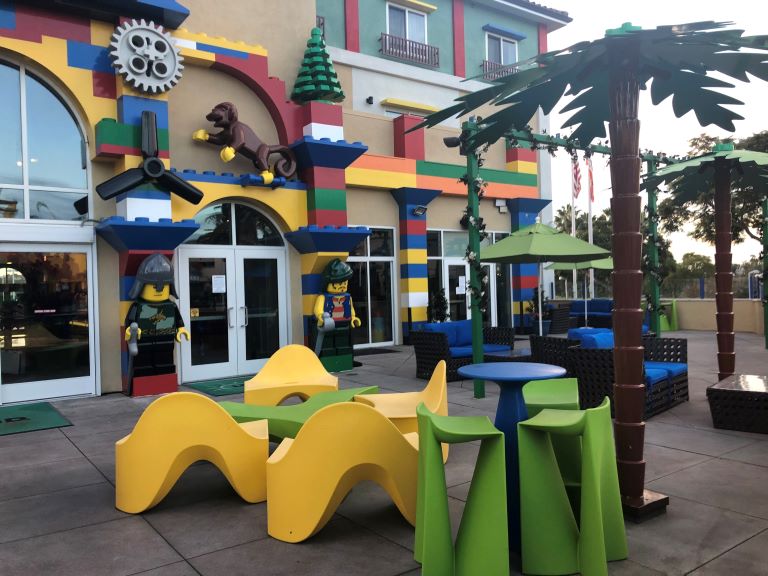 22.
Download the LEGOLAND California App
The LEGOLAND California app isn't going to do much for you at the hotel, but it will give you a ton of information you need when you visit the theme park, including current wait times.
23.
Check the LEGOLAND California Is It Packed Crowd Calendar
If you have flexibility in when you can visit, consult a LEGOLAND California calendar when choosing your trip dates. When school is in session, you will find lower crowds.
Note: When deciding the best time to visit LEGOLAND, remember that off season times may also come with reduced park hours. Decide how important this is to you when making your decision.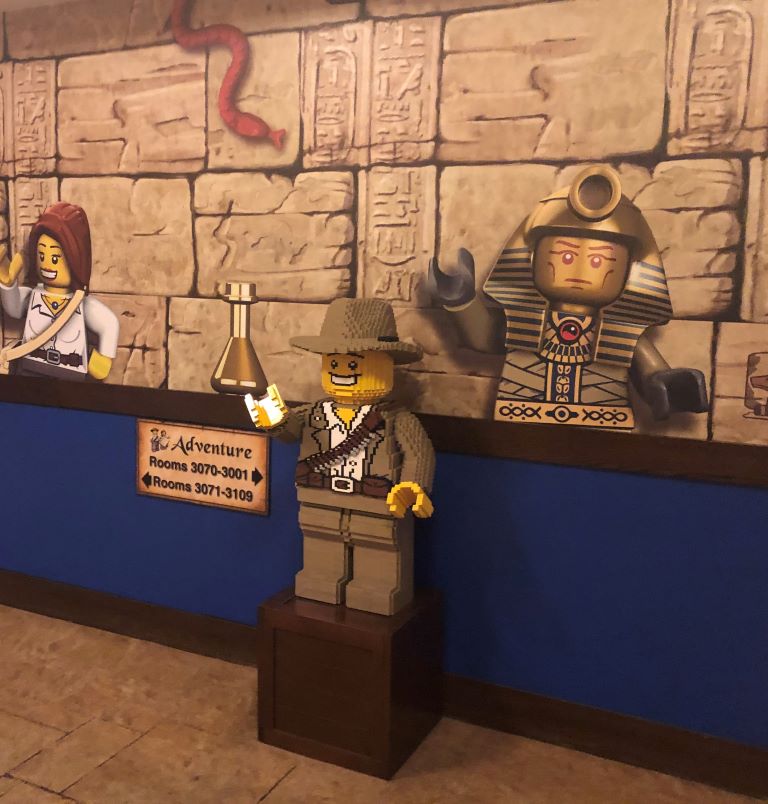 24.
Microwaves Are Available
Microwaves are not in every guest room, but you can request one. They are first come first serve, so you may not get one.
Pro LEGOLAND tip for parents: If you don't, there is a communal one located on the first floor next to the vending machine.
25.
Request a Room on a Higher Floor
A room on a higher floor equals less foot traffic directly above your head. On top of that, the elevators at LEGOLAND California are themed. Even if you are on the ground floor, be sure to ride in one once.
26.
LEGOLAND California Parking
As of the time of this update, it costs $25 per night to park at the hotels. Valet is $28 per night.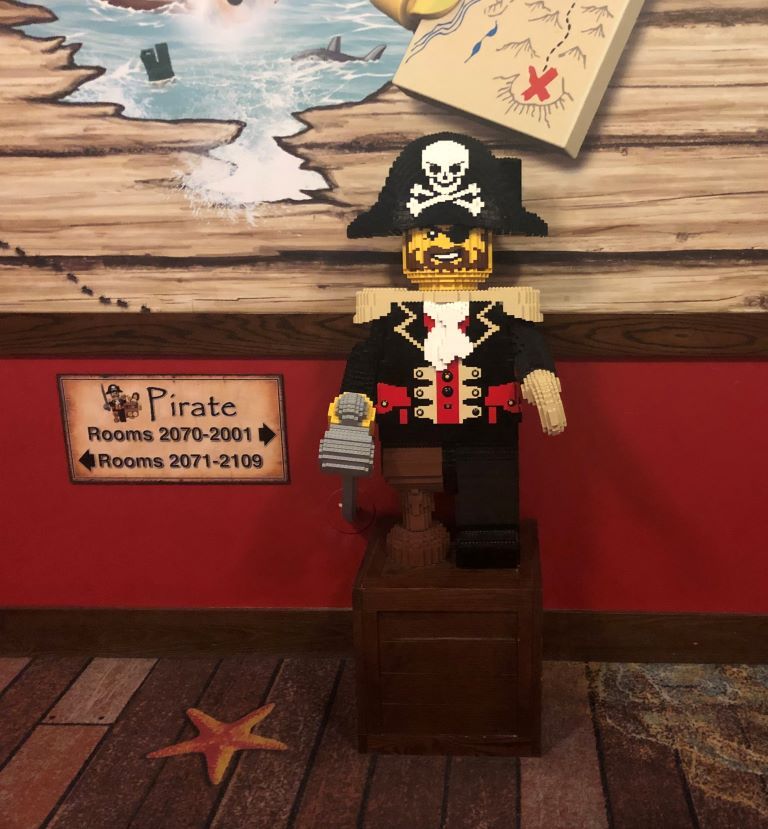 27.
You Need a Theme Park Reservation
Even though you reserve a room and tickets for a specific date, you still need to make a separate theme park reservation. Don't forget to make one.
28.
COVID-19 Precautions
As of the time of this update, masks are required indoors for all guests ages two and up, regardless of vaccination status. If you are uncomfortable in crowds, this is not a good time to visit.
29.
LEGOLAND California Resort Carlsbad Tips for Packing
How do I prepare for LEGOLAND vacations? Don't overpack.
The rooms are larger than the average hotel studio, but they are still small. This free LEGOLAND California packing list will help you bring what you need and skip what you don't.
Pro tip: Check the LEGOLAND California weather before your trip to ensure you have what you need.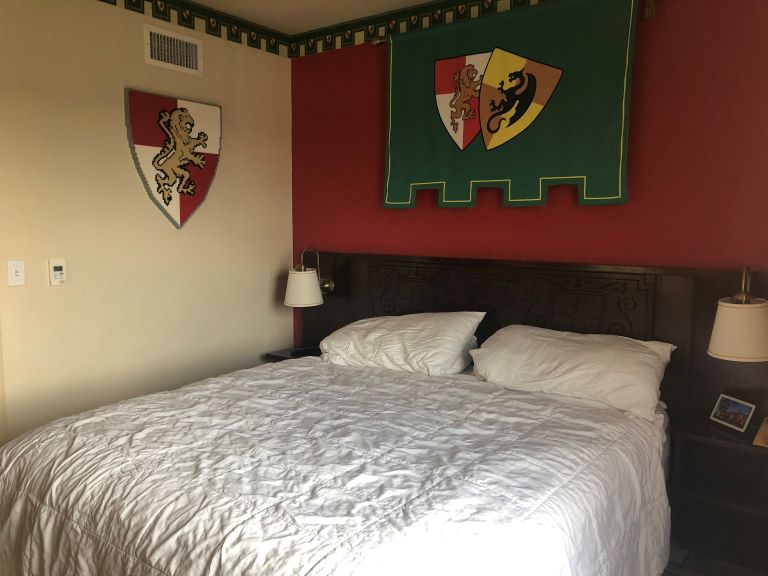 Final Thoughts – LEGOLAND California Resort Carlsbad Tips
The hotel has awesome theming, but the decor does not make up for its faults as a whole. Is LEGOLAND California worth it? It might be to you if your kids love LEGOs. Try it once.
If you choose to visit, use the LEGOLAND California Resort Carlsbad tips to maximize your trip. Look for the best LEGOLAND deal, go at an off time, and set your expectations appropriately. It won't be as good as a trip to Disney, but it will be a special memory for your kids.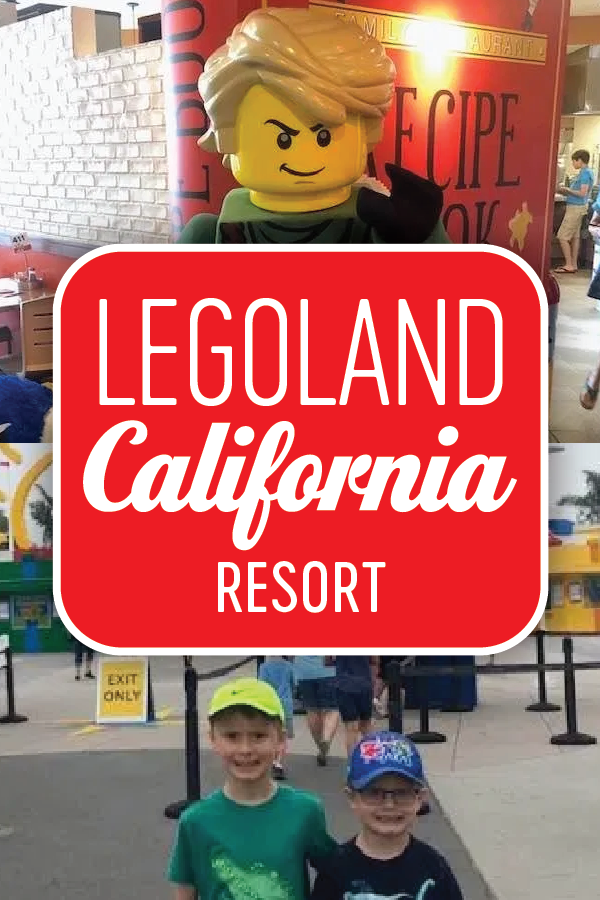 Related Articles to LEGOLAND California Resort Carlsbad Tips: Leave the Teenagers at Home
LEGOLAND California Resort Carlsbad Tips