Homestead Resort Michigan: You Can Do Better with Kids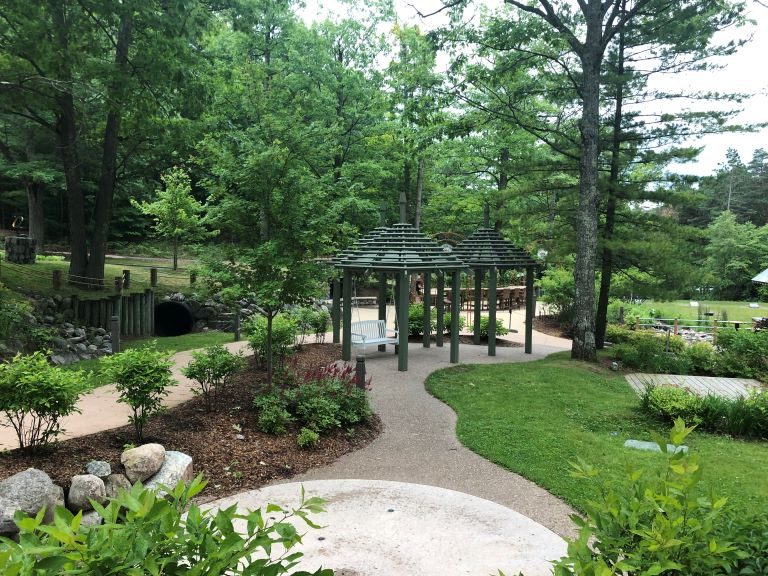 The Homestead Resort Michigan is a quiet place located in the middle of nowhere. It is perfect for the AARP members who make up the vast majority of the guest population. I cannot say the same for families with kids. There is very little for them to do, particularly in the summer. If you do decide to try it out, what do you need to know to plan your trip?
What Do You Need to Know to Plan Your Trip to the Homestead Resort Michigan?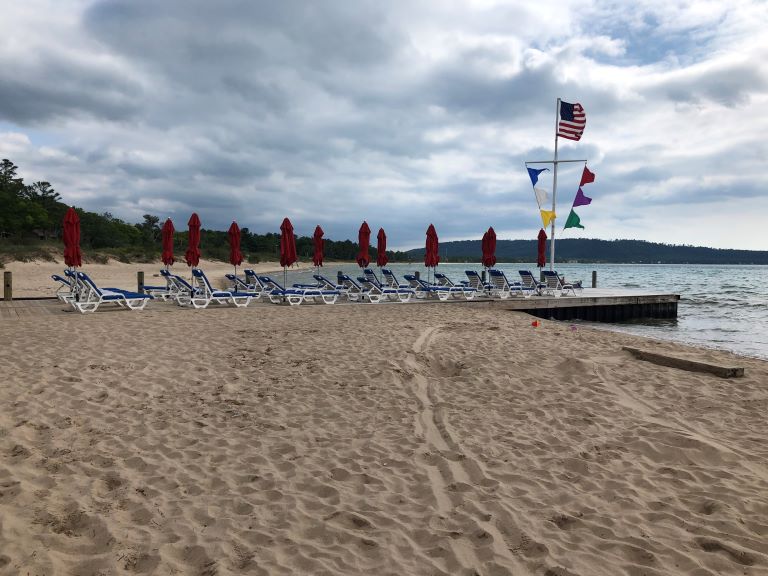 As an Amazon Associate, I earn from qualifying purchases.
DISCLOSURE: This post may contain affiliate links, meaning when you click the links and make a purchase, we receive a commission.
Homestead Resort Michigan
1.
Homestead Resort in Michigan Location
Next Stop Heaven The Homestead Resort address is 1 Wood Ridge Road in Glen Arbor. This upstate resort is isolated from pretty much everything.
2.
Homestead Resort Rooms
The room options at the resort are more complicated than most. There are several buildings, some that cost hundreds of dollars per night with no air conditioning. Read that one more time. No air conditioning. To further add to the confusion, certain properties have access to pools that others do not.
The resort section of the property is comprised of four buildings. In addition to the resort section, there are private condos and villas to rent.
Note: The resort policy is to charge extra guests $100 per day.
Resort Hotels
The Inn
The Inn has been around for 90 years. It shows in the decor. This building is located near the pool and beach area. It is one of the few buildings that has rooms with interior doors. This should be your building of choice with kids, but it is stupid expensive.
Rooms here range from studios to two bedroom suites. The suites come with a kitchen. All rooms have fireplaces.
Pro tip: This building has a guest laundry facility.
Number of guests per room: Two to four
Air conditioning: Yes
Wifi: Yes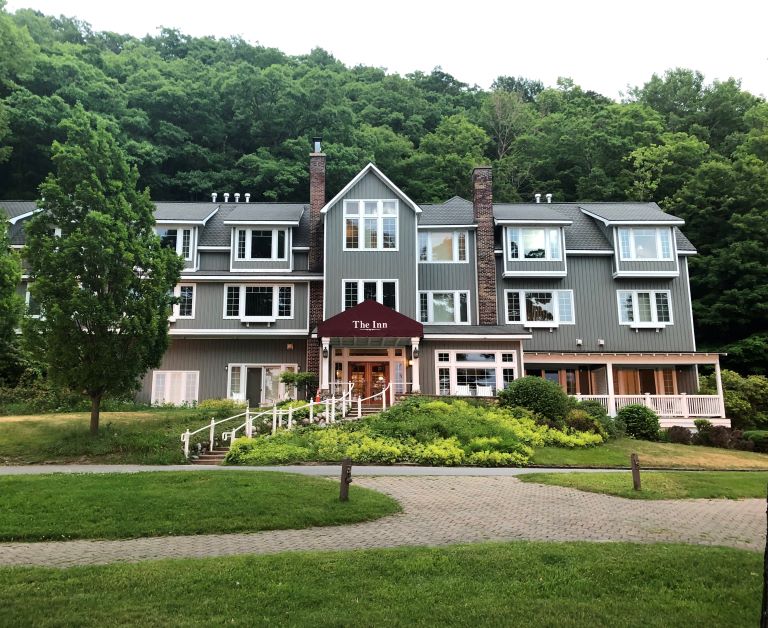 Stony Brook Lodge
The Stony Brook Lodge has one and two bedroom suites available. It is rustic. Lots and lots of wood. This property comes with an outdoor pool that is only accessible to guests of this building.
Number of guests per room: Four
Air conditioning: Yes
Wifi: Yes
Little Belle
Little Belle is for couples only. Kids are not welcome, nor are singles. Two adults only. I find this Just. So. Odd. Kids are allowed on the rest of the property. What does limiting one building to two adults only do for the experience? Does Sandals own this building? What if one adult gets stood up by the other?
All rooms are one bedroom with a tub that holds two. It's like the Poconos, except the tubs aren't shaped like a champagne glass.
Number of guests per room: Two
Air conditioning: Yes
Wifi: Yes
Homestead Resort Fiddler's Pond
Motel 6 Fiddler's Pond is a series of buildings with rooms with exterior doors. I cannot state emphatically enough to avoid these buildings if you are traveling without a pet.
The rooms are outdated and dark. Dresser drawers sound like nails on a chalkboard when opened. The location isn't good. Worst of all, the room description says beds are queen sized, but they are actually standard full sized beds.
When we pulled up to our room that cost almost $300 per night, our eight year old asked why we were staying at a motel. If an eight year old who thinks Taco Bell is fine dining can see the problem with the quality, something is seriously wrong. Spend the extra money to stay in a different building.
Pro tip: Some of the rooms in Fiddler's Pond allow pets. This is the only area of the resort that allows them.
Bonus pro tip: All rooms are studios, but you can get connecting rooms.
Number of guests per room: Two to four
Air conditioning: Yes
Wifi: Yes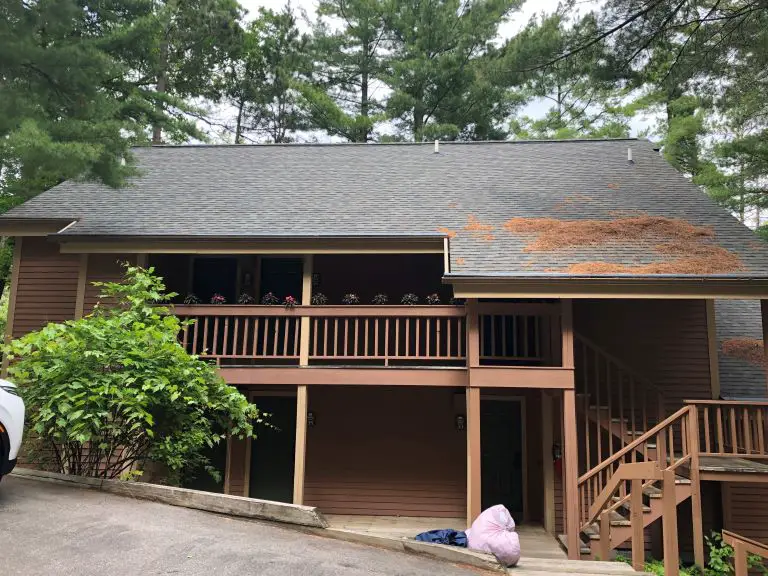 Homestead Resort House Rentals
You can rent a private home or villa through the resort. Renting through the resort instead of another agency gets you access to hotel amenities. Interestingly, the resort ranks these Homestead Resort rentals by their quality and allows you to search for a property in this fashion. Rankings consist of grand, classic, and simple quality.
Note: Only the grand quality properties are guaranteed to have air conditioning and Wifi.
3.
Ways to Save
Homestead Resort rates are generally steep. What can you do to save?
Homestead Resort Discount Packages
The resort sometimes offers a Book Early and Save rate. If you book this way, you have to pay upfront, and it is not refundable. Your payment will be held for two years in the event you want to reschedule. Check the website for the current Homestead Resort deals at the time of your booking.
Join the Ambassador's Club
Do you plan to visit more than once? The Ambassador's Club is the resort's loyalty program, giving guests points for stays and referrals.
Third Party Homestead Resort Bookings
You can book some of the Homestead Resort vacation rentals on third party sites, like Expedia, Tripadvisor, and Travelocity, but you will not have access to the Beach Club if you book this way.
Use Miles and Points
The Capital One Venture line of cards allow you to erase travel expenses from your statement. You can book the hotel direct, then remove it from the statement.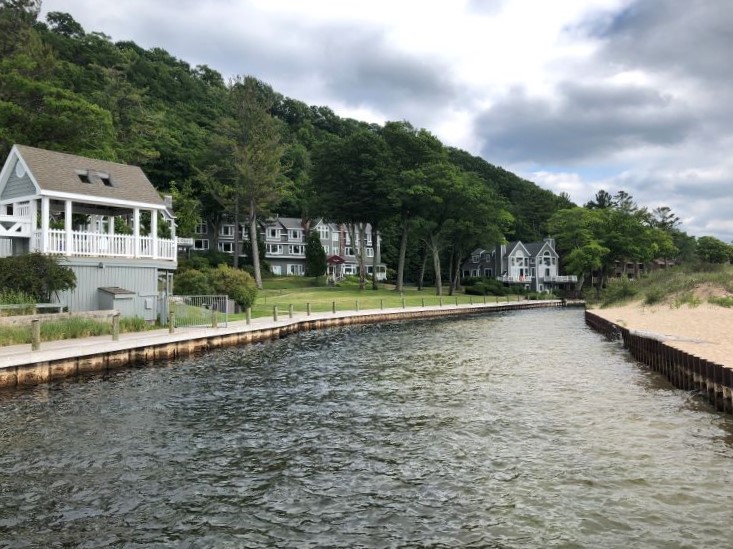 4.
Homestead Resort Cancellation Policy
You can cancel your Homestead Resort reservations up to 14 days before your trip for a refund, less a $50 fee. If you cancel within 14 days, the resort holds your deposit for up to two years in case you want to reschedule.
5.
Check in Time
Check in begins at 5:00 p.m. If your room is ready early, they will let you in.
Pro tip: You can use the resort amenities on the day you check in even if your room isn't ready yet.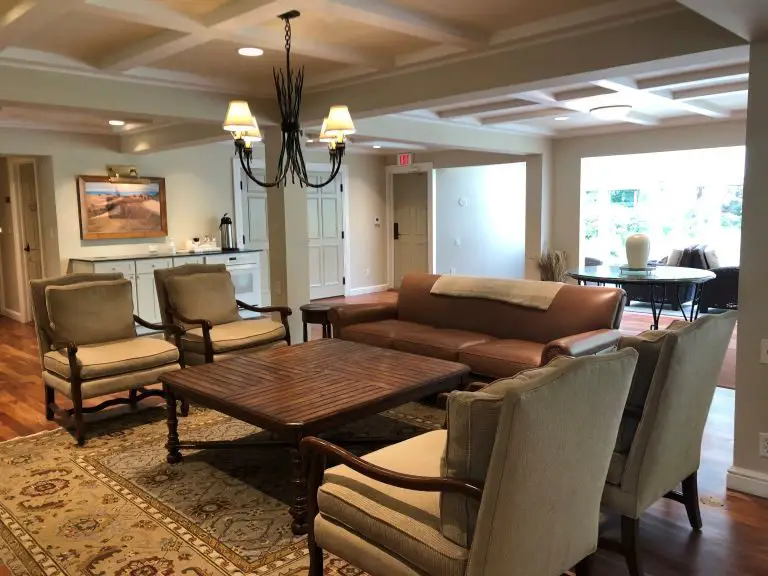 6.
Download the Homestead Resort Map
I find the resort confusing and difficult to navigate. We required more than one lap around the property to locate our room. Have the Homestead Resort Michigan map ready to go.
7.
Parking
Parking is included. That is the extent of the positive things I have to say on this topic.
You need a parking permit to park anywhere on property. On more than one occasion, we had to park very, very far from our room. There also isn't parking anywhere near the pool except for guests staying at one of the nearby resort buildings. The resort used to have a shuttle, but discontinued it due to COVID-19.
8.
Quiet Time
The resort wants you to be quiet from 11:00 p.m. through 7:00 a.m. No one is making noise anyway, but it's nice to have a policy in place for good measure.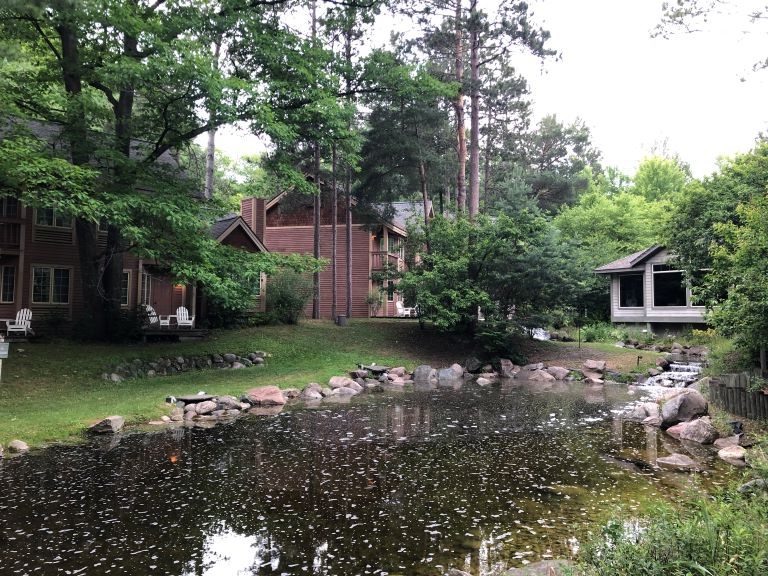 9.
Homestead Resort Dining Options
There are a few dining options on property, as well as a handful of options off. Overall, the choices are very limited. The resort does not even serve a sit down breakfast.
Homestead Resort Restaurants
Cafe Manitou
Cafe Manitou is a restaurant overlooking the water that is available to guests only. Entrees cost roughly the same as a kidney on Ebay. I would most definitely not bring children here.
Homestead Resort Nonna's
Nonna's has Italian food. It's only open in the fall and winter. It also runs expensive.
Cavanaugh's
The grocery store Cavanaugh's is the place you buy things you forgot at the grocery store. It does, however, cook some food too. The family sized pizzas (not gluten free) are a decent value.
Pro tip: There is gluten free pizza available, and it's not totally terrible.
Bonus pro tip: If you want an actual grocery store near Homestead Resort, try Anderson's.
Whiskers
This is where you'll find the kids. Whiskers is the fast food option on property. The menu is affordable, but it will not be your best option with dietary restrictions.
Pro tip: You can play bags outside this restaurant for free.
Restaurants Near Homestead Resort and Spa
There is basically one street within a few minutes of the resort with a handful of restaurants. That is really it. The street is packed, because there is nowhere else to go.
Pro tip: A lot of the restaurants in Glen Arbor are cash only. I guarantee your bank won't have an ATM nearby. Bring more cash than you normally would to avoid a fee.
Cherry Public House
Cherry Public House has the best food near Homestead Resort. In addition to having good food, the property has a cute outdoor area. It also has a walk up ice cream shop and a store that sells all things cherry.
Pro tip: Gluten free buns are available.
Bonus pro tip: Hours are limited. This is not the place for a late night dinner. Check the schedule at the time of your visit.
M22
M22 is a winery with a small outdoor seating area. The wines and ciders are tasty and reasonably priced.
The Pine Cone
The Pine Cone is a walk up ice cream stand. It is cheap and has a lot of options.
Pro tip: The Pine Cone is cash only.
Boone Docks
Oh, Boone Docks. Avoid. Avoid. Really. Avoid. The food is terrible and overpriced. There are no gluten free buns. My son's grilled cheese came out without the cheese melted and in a pool of liquid. There is a reason this place has horrible reviews.
Hop Lot Brewing
Hop Lot is about thirty minutes from the resort, but it is worth a stop. It has ample outdoor seating, food and alcohol that is reasonably priced, a woodsy area to explore, and bags to play free of charge. It is far better than anything you will find on property.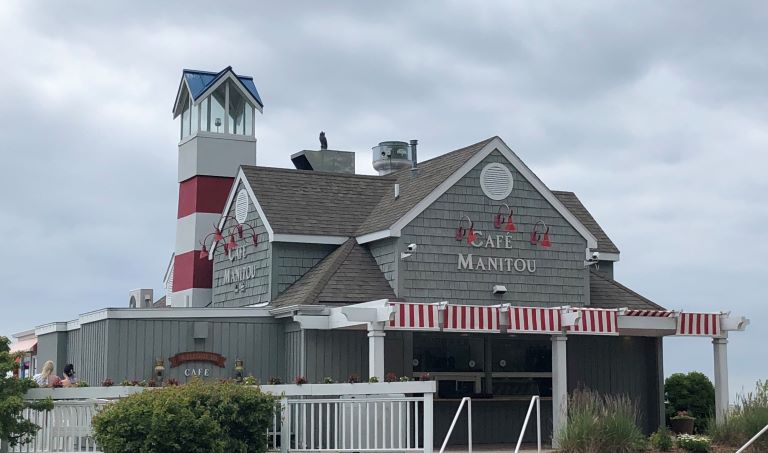 10.
Homestead Resort Activities
The resort has some activities, but the vast majority of them come with an extra charge. It has little to no organized activities for kids. If you are looking for complimentary things to do in Homestead Resort, plan to swim, and that's probably it.
Note: A lot of the resort amenities are closed or operating at reduced hours due to COVID-19.
Homestead Resort Beach Club
The Beach Club portion of the property has beachfront access, an outdoor pool, and a hot tub. This area is very pretty and not to be missed.
Pro tip: Parking is a nightmare. Be prepared for a long walk. You may want to have one adult drop everyone else off before finding a spot.
Bonus pro tip: Homestead Resort pool hours can be limited. Make sure you check the hours upon arrival.
Stony Brook Pool
This outdoor pool is available to Stony Brook guests only.
Mountain Village Pool
This small pool has an even smaller water slide. There is also a hot tub in this area. This section usually comes with a crowd.
Pro tip: They will give you towels to use, but you cannot take them back to your room.
Homestead Resort Fitness Center
New Leaf Health and Fitness is the gym on property.
Note: The Homestead Resort gym is currently closed due to COVID-19.
Homestead Resort Spa
Amira Spa offers spa treatments, obviously at a substantial added cost. The spa is adult only. There is a pool available, also to adult guests only.
Pro tip: Check for spa specials at the time of your visit.
Lillyjade Salon
Lillyjade is a salon that provides hair and nail treatments. While Amira is open to adults only, Lillyjade allows children.
Tennis
The resort has tennis courts near the Beach Club area. One may expect that these would be included with your stay. They are not. As of the time of this writing, they cost $18 to rent for a total of three hours. You can also take private lessons for $60 per hour.
Bags
You can play bags in front of Whiskers free of charge.
Homestead Resort Winter Activities
The resort is more appealing in the winter if you are into skiing. There is a lift on property. You can rent equipment and take lessons on property as well.
Snowboarding and ice skating are also available.
Pro tip: Check out the Homestead Resort trail map to determine your priorities.
Note: Homestead Resort skiing is available to the general public. Guests don't have this to themselves, but they do get a discount.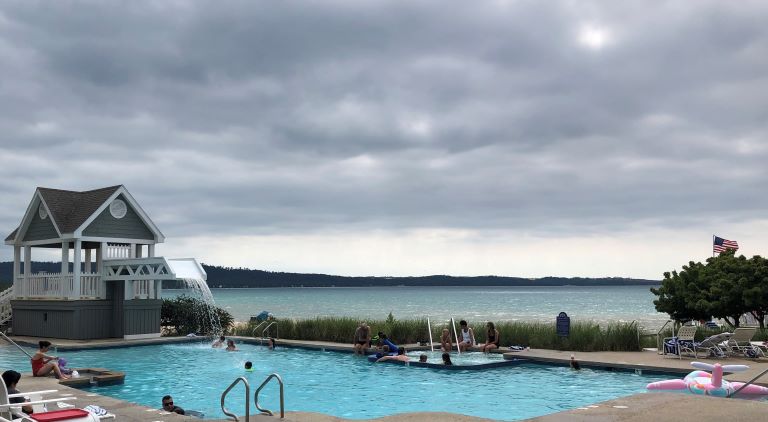 11.
What to Do Near Homestead Resort
Sleeping Bear Dunes
The major tourist attraction near the resort is Sleeping Bear Dunes National Lakeshore. You need a vehicle. It can be reached in approximately fifteen minutes by car. Sleeping Bear Dunes has beaches and hiking trails that are worth a visit.
Homestead Resort Golf Course
Manitou Passage Golf Club is located near the resort.
Boat Rentals
You can rent a variety of watercraft to cruise around the water. Fishing trips can be booked as well.
Bicycle Rentals
Bikes can be rented from The Cyclery nearby.
12.
Is the Homestead Dog Friendly?
Is the Homestead Resort pet friendly? Sort of. You are allowed to bring pets, but they can only stay in the Fiddler's Pond building at the resort.
13.
Pack Appropriately for the Homestead Michigan
The resort is located in upper Michigan near the water. Homestead Resort weather can be cold and windy. Be sure to check the forecast when packing.
Pro tip: If you plan to hike, be sure to pack appropriate shoes.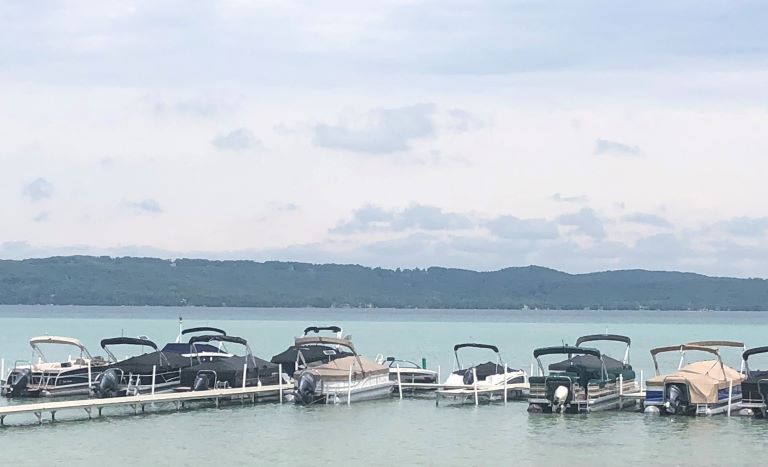 14.
Check-out
Check-out time is 11:00 a.m. The resort accepts requests for late check-out, but will not guarantee one. If you leave your room late without permission, the resort may charge you for an additional night.
Pro tip: You can still use the resort amenities after you check out of your room.
15.
The Employees at Homestead Resort in Northern Michigan Are Great
The resort leaves a lot to be desired in a lot of ways, but the employees are great. Every one we encountered was friendly and helpful.
Room Change
We started our stay at Fiddler's Pond. When I discovered that the beds described as queens were in fact full sized, I contacted the front desk. I understand complaining about bed size is a first world problem, but that doesn't change the fact that it is uncomfortable to share beds with children that roll around all night.
I called the front desk and asked if we could change rooms to a room with the queen beds I booked. The very nice front desk employee explained to me that I did in fact have queen beds, and all rooms in Fiddler's Pond are the same. Unfortunately for her, the width of a standard queen sized bed is the same number of inches as one of my children, so I had a human measuring stick.
I relayed the size discrepancy to her, to which she responded that the resort "considers" those beds to be queens. Well, that's great, but the rest of the world doesn't, so…..
To their credit, all I wanted was to be moved to a room with the queen beds for which I paid. I wasn't looking for an upgrade. However, when the manager called back, we got a huge upgrade to a two bedroom suite at The Inn and a resort dining credit. I'm not sure if that was the most amazing guest recovery ever or if the manager did some furniture googling, but I was happy with the result.
16.
Homestead Resort COVID-19 Precautions
Masks Required
Masks are required for guests in indoor areas.
No Housekeeping
Daily housekeeping has been suspended. You can call the desk for more towels.
Social Distancing Encouraged
Social distancing is encouraged. Other than in the pool areas, this won't be hard.
Hand Sanitizing Stations
The resort has placed hand sanitizing stations throughout the resort.
Services Suspended
Some Homestead Resort amenities, such as the fitness center, have been closed due to COVID-19.
Note: In addition to closing things, the resort has reduced hours and staffing. The Homestead Resort prices continue to be high. This may frustrate you for multiple reasons. If you are concerned, consider postponing your trip.
17.
What Might Be Better Than the Homestead Glen Arbor?
If you want to visit the Sleeping Bear Dunes area, you may want to consider Crystal Mountain instead. It is also pricey and isolated, but it has more to do. Alternatively, Traverse City is about forty minutes away. You will find tons of family friendly options there, including a Great Wolf Lodge.
Final Thoughts – Homestead Resort Michigan
The Homestead Resort Michigan has awesome views from certain places, but you can have a better experience with kids elsewhere. The resort is expensive, in the middle of nowhere, and lacks activities to entertain them. If you do visit, spring for a room in The Inn. Work the resort into a road trip, stay for a couple of days at most, and check out what else Michigan has to offer.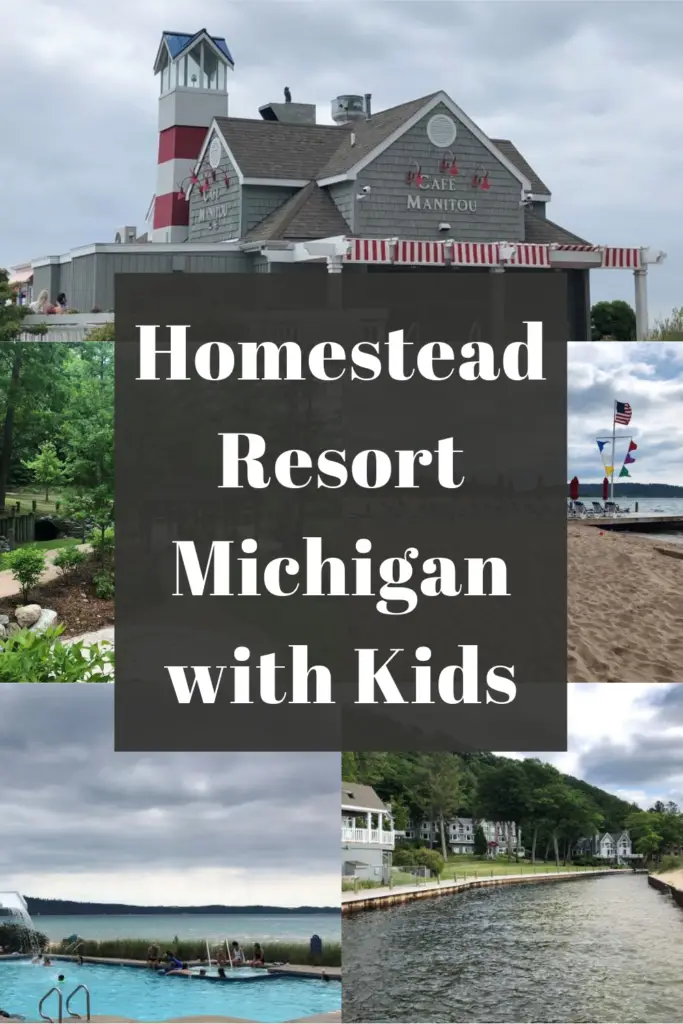 Related Articles to Homestead Resort Michigan: You Can Do Better with Kids:
Homestead Resort Michigan