Last Updated on March 13, 2022
Our family recently spent a long weekend at Universal Orlando Resort. Universal Orlando Resort has two theme parks, Universal Islands of Adventure park and Universal Studios Florida. There is also a water park, Volcano Bay. You enter and exit both theme parks through City Walk, Universal's much smaller version of Disney Springs. City Walk has restaurants, shops and lines of young men wearing button down shirts flocking to the clubs after dark to get their macks on.
This was our first family trip to Universal Islands of Adventure park. We had a good time, but we prefer Disney parks, mainly because you don't spend the majority of the day in motion simulators fighting to hold down your Butterbeer.
As an Amazon Associate, I earn from qualifying purchases.
DISCLOSURE: This post may contain affiliate links, meaning when you click the links and make a purchase, we receive a commission.
Loews Portofino Bay Hotel
We stayed at Loews Portofino Bay Hotel. This is an one of Universal Orlando Resort's on property hotels. I chose it because the stay includes Universal Express Unlimited for all guests in the room for the length of your stay. Universal Express Unlimited is like a FastPass at Disney World or MaxPass at Disneyland, except better. It applies to most attractions. It is unlimited, so the only thing stopping you from getting on motion simulator after motion simulator is nausea.
I booked Loews Portofino Bay Hotel using Citi ThankYou Points earned on the Citi Premier card. ThankYou points can be used on most travel. They are redeemed in a travel portal, so you are not limited to certain brands. At the time of this writing, the signup bonus is 60,000 ThankYou Points after spending $4,000 with an annual fee of $95. It earns 3 points per dollar on travel and gas, 2 points on restaurants and entertainment and one point on everything else.
You can combine ThankYou Points without a fee. My husband and I pooled ours to cover this trip. ThankYou points expire 90 days after they are combined. Do not share until you are ready to spend them.
Universal Islands of Adventure Park Tickets
You can find discounted tickets on sites like Undercover Tourist and Viator. If you have some time, sign up for Undercover Tourist's newsletter and wait for additional discounts they send periodically through email.
Universal Orlando Resort offers single park and park to park tickets. Universal Studios Florida and Universal Islands of Adventure park are walking distance. There is also a train, Hogwarts Express, to take you between the parks. In the interest of making more money, Universal Orlando Resort only allows people with park to park tickets to ride Hogwarts Express.
I took the bait and bought the park to park so my Harry Potter loving child would not miss out.
It was cutely decorated….
But it was not money well spent. If you are going to hop between the parks anyway, go for it, but you will not ruin childhood if you do single park tickets and skip Hogwarts Express. If your kid ends up in jail, this will not be the reason.
The Wizarding World of Harry Potter – Hogsmeade
The Wizarding World of Harry Potter – Hogsmeade is the highlight of Universal Islands of Adventure park, just as The Wizarding World of Harry Potter – Diagon Alley is the best part of Universal Studios Florida. Universal Orlando Resort hits all things Harry Potter out of the park.
The theming is amazing.
There is a ton to see. You could spend a considerable amount of time just walking through the land.
The rides (but not their corresponding lines) are great.
Universal Islands of Adventure park has a store called Ollivanders where kids can drain their entire college accounts customize wands. You can use said wands to interact with things throughout the land. We didn't even enter because I left the Black Card at home and there was zero chance the wand still would have been intact after a day. We tried someone else's once. It didn't seem to work that well. Lots of kids violently flicking their wands in frustration.
With this amazing experience comes crippling crowds. The mornings were fine, but it was miserable by the afternoon. I definitely recommend going here first if you have a disdain for crowds. I'm not sure what Harry Potter jail would look like, but I have a feeling it would involve fire and general unpleasantness. It is probably best to avoid it.
Oh! The Stories You'll Hear!
Oh! boy. This is a show on the street with Dr. Seuss characters. A woman with a very odd fashion sense reads a story and the characters jazz hand around.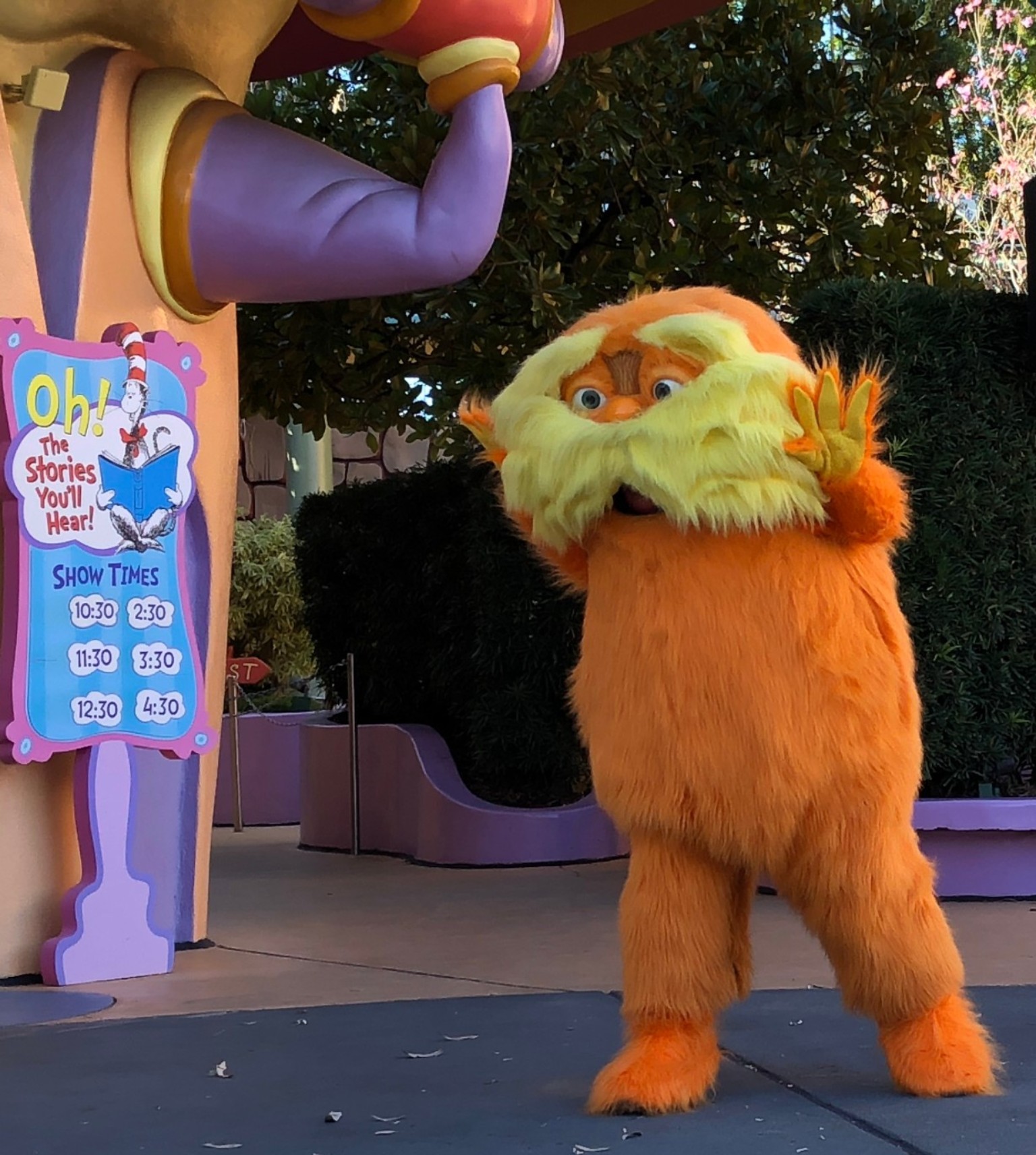 The woman was super sweet and greeted the kids before the show, but she has logged some serious community theater hours. I'm pretty sure when she gets mad at someone she calls them a cotton headed ninny muggins. It was a short show that didn't really hold my kids' attention. It would probably be more interesting to toddlers.
Universal Islands of Adventure Park Play Areas
Camp Jurassic
Camp Jurassic is a great place for kids to run around and burn some energy after standing in lines for long periods of time. This place made me nervous because I was not sure if there were multiple ways to exit the play structure. I did my share of rope climbing in flip flops.
Kids can explore different rock tunnels.
They can shoot water at dinosaurs below, also manned by children.
There is a little splash pad area.
The kids had a great time in this area. I managed to escape the Universal without a broken ankle.
Jurassic Park Discovery Center
Jurassic Park Discovery Center is an indoor interactive center. It is a great break from hot or inclement weather. A lot of the exhibits were pretty cool. When we were there, it was not crowded.
It has large dinosaur skeletons that span both floors.
You can use some kind of microscope to examine these guys, despite the fact that they are not real dinosaurs.
You can look for fossils(?)
There is a station that allows you to figure out what you would look like as a dinosaur. My codependent/grabby kids ended up doing a combination of themselves because they just couldn't take turns.
Inbreeding is illegal for a reason.
Not too sure what is happening here, but I'm sure it was supposed to be educational.
Finally, you can see baby dinosaurs hatch.
The Jurassic Park Discovery Center was enjoyable. I had to drag the kids out of there after an extended period of time, because, touring plan, obviously. I'll tell you where you can have fun, kids. You're welcome.
Universal Islands of Adventure Park Characters
Universal Islands of Adventure Park has some unique characters, namely superheroes and the Seuss characters from the show with Mrs. Rogers up there.
They were deep in character. Wolverine scolded me for telling my children to hold up their nails. "Claws!"
Some deep wisdom was imparted.
There was almost no wait to see any of them. If we would have had to wait for Dr. Doom for any amount of time, my kids would have chickened out.
Throughout the day, Spider-Man and crew ride down the street on motorcycles, then nothing else happens.
We'll be scaling walls in no time.
Universal Islands of Adventure Park Gluten Free Dining
Three Broomsticks
Three Broomsticks is a quick service restaurant located in The Wizarding World of Harry Potter – Hogsmeade. Like the rest of the land, the decor is really well done. It is definitely worth a visit for the ambiance alone.
Unfortunately, everyone knows this. There is a line out the door to get into this place. Try to eat at an off time.
The menu is relatively limited, particularly for gluten free.
There is not a separate gluten free menu, but the rotisserie smoked chicken platter was safe.
I have two beefs with Harry Potter. The chicken tasted like it had been run through a dehydrator, and there were no diet soft drinks. I can appreciate a good theme and all, but it doesn't help middle-aged parents who desperately need to feed their addiction to caffeine and artificial sweeteners.
Confisco Grille
Confisco Grille is one of the few sit down restaurants at Universal Islands of Adventure park. We ate here on the last day because we didn't have it in us to eat another expensive, sub-par, quick service meal. We had to wait about a half hour to get a table. The interior is spacious and clean. There was nothing overly exciting, but it did the job.
The menu had a few gluten free items marked, including salads, pad thai and wings. It wasn't marked gluten free, but I ordered nachos because I am not sensitive to cross contamination and I need a steady stream of cheese running through my body at all times. I have never had a problem with a common fryer. People with greater sensitivity should avoid that. The food was decent and the prices were reasonable. We would eat here again.
Final Thoughts
We had a great time at Universal Islands of Adventure park. The crowds were not bad in most areas, Universal Express Unlimited was awesome and the Wizarding World of Harry Potter – Hogsmeade is really special. Before this trip, when I thought of places to visit in Orlando, Universal Orlando Resort was a distant second to Disney World. I still prefer Disney, but Universal is closing the gap a little. We would definitely visit again.