Universal Studios Florida Park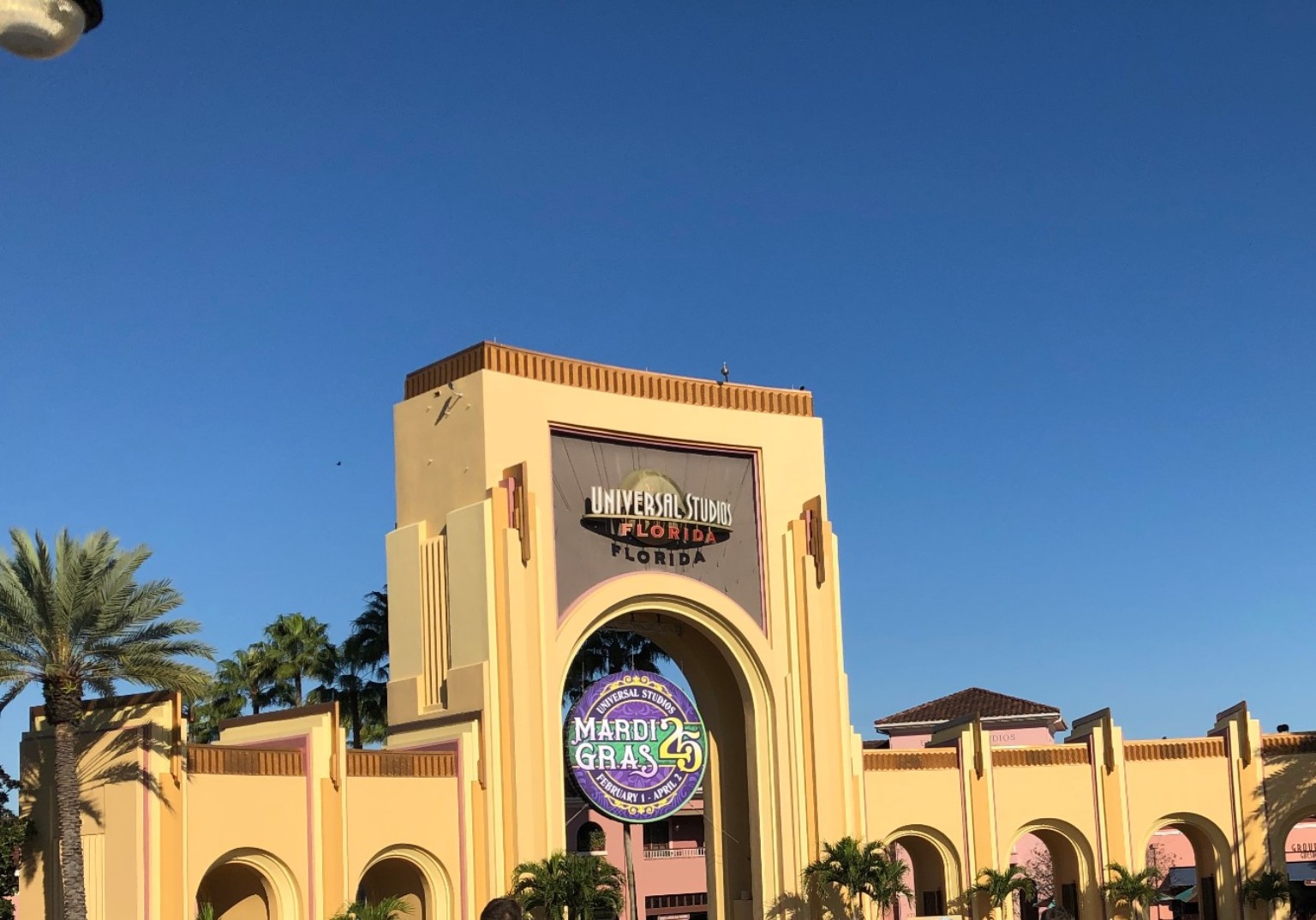 We recently visited Universal Orlando Resort. The resort has several hotels, two theme parks, Universal Studios Florida Park and Islands of Adventure, and a water park, Volcano Bay. Both theme parks exit into City Walk, which is comparable to Disney Springs. It consists of shops, restaurants and people heading to Da Club who forgot to cover their underwear with skirts.
As an Amazon Associate, I earn from qualifying purchases.
DISCLOSURE: This post may contain affiliate links, meaning when you click the links and make a purchase, we receive a commission.
We spent three days hopping between the two theme parks. The parks are very well done. The kids liked the themes of a lot of the rides more than Disney, which distracted them from the fact that all the rides were basically the same. Universal Orlando has the market cornered on simulator rides, not that anyone needed to corner that market. Pack the Dramamine.
Loews Portofino Bay Hotel
We stayed at Loews Portofino Bay Hotel, one of the on property hotels. I chose this hotel because it includes Universal Express Unlimited, which gives everyone in the hotel room front of the line passes on most rides at the theme parks.
I booked Loews Portofino Bay Hotel using Citi ThankYou Points earned mainly from signup bonuses on the Citi Premier card. ThankYou points are redeemed in a travel portal, so they can be used on most travel. At the time of this writing, the signup bonus is 60,000 ThankYou Points after spending $4,000. The annual fee is $95.
You can combine ThankYou Points with someone else. My husband and I combined our points to cover the stay. Super important: If you combine ThankYou Points, they expire in 90 days. I have yet to read of an exception made online. You must redeem them, but not necessarily travel, within 90 days, or they are gone. If you cancel your ttrip after the 90 day mark for any reason, they are gone. Do not combine them until you are ready to use them.
Universal Studios Florida Park Tickets
Universal Orlando offers both single park tickets and park to park tickets. Unlike Disney World, the parks are walking distance. The parks also have Hogwarts Express, a train attraction to transport you between the two parks. You cannot ride Hogwarts Express if you do not have a park to park ticket. This is how they get you.
My kid really loves Harry Potter, and I heard Hogwarts Express was special, so I bought the park to park. We only switched parks one of the three days we were there. The train was cool, but the experience did not justify the added cost. If you would not switch parks otherwise, I would save the money.
You can find tickets at a discount on Undercover Tourist and Viator. Undercover Tourist sends a newsletter which sometimes contains added discounts. I would wait for an extra discount prior to purchasing the tickets if you have time.
The Wizarding World of Harry Potter – Diagon Alley
Universal Studios Florida Park is well themed throughout the park. Each section is distinct. There is a lot to see everywhere you turn. With that said, none of the other sections can touch The Wizarding World of Harry Potter – Diagon Alley.
My son's love for Harry Potter is the reason we made the trip. Since Harry Potter is not featured on the Real Housewives of New Jersey, I haven't kept up with it. However, even a non-Harry Potter fan can appreciate The Wizarding World of Harry Potter – Diagon Alley. The amount of detail that went into this land is above and beyond what I expected.
When you enter the land, you no longer feel like you are in the rest of the theme park. They did a great job secluding it. It is like its own town.
There are storefronts, some decorative and some real.
It has its own bank.
There is a Knight Bus with a talking head in the driver's seat.
The best part of the decor is a fire breathing dragon over Gringotts Bank.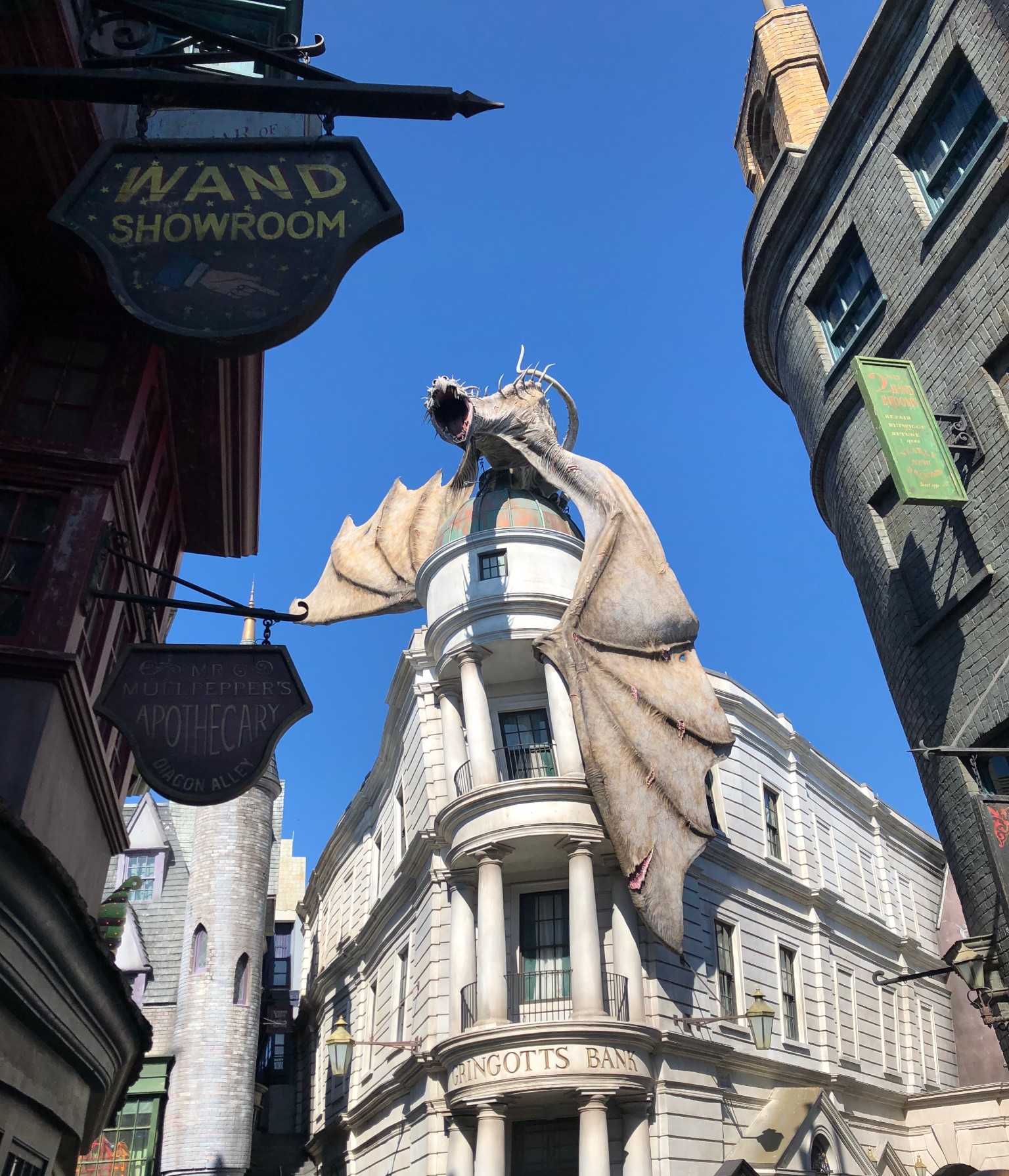 We did not do this, but there is a store called Ollivanders where you can customize a wand. There are interactive areas throughout the land to use said wands. They don't seem to work all that well from what I saw. Enter Ollivanders with caution. I have heard there is a little show where a wand picks a kid. So cute until you figure out you have to pay for that wand or be labeled the worst parent ever for years to come. My son borrowed a wand to do this because I fall into the bad parent category.
The Wizarding World of Harry Potter – Diagon Alley is the best part of Universal Studios Florida Park by a long shot. Unfortunately, this is the worst kept secret of all time. By midday, the crowds are swarming like a bunch of middle-aged party-pantsers were just told White Claw has been discontinued and the last available case is at Trader Joe's. It went from "Oh, this is so cool!" to "Get me the f— out of here" quite rapidly. Hit this section first thing in the morning.
Universal Studios Florida Park Mardi Gras Parade
This. Was. AWESOME. We loved it! I cannot say enough good things about it. It felt very authentic to New Orleans. It was high energy. The floats were amazing.
Everyone marching in it was enthusiastic.
There was no shortage of beads thrown despite the minor children keeping their shirts on.
Highly, highly recommend. This was my favorite thing we did the entire trip. I read you can sign up to ride in one of the floats. We didn't try this because our kids did not qualify, but I'm sure it would have been fun. This is a must see if you are there during Mardi Gras.
Universal Studios Florida Park Shows
Animal Actors on Location
Animal Actors on Location stars domestic animals. The animals run around and do tricks. It was super cute. I feel guilty visiting establishments with animals, but this was no SeaWorld. I'm not sure where the dogs reside outside of business hours, but they seemed happy. My son was selected to be a volunteer in the show. It is a special memory for him despite being accused of instructing a dog to bring him a bra. Low hanging fruit.
FEAR FACTOR LIVE
To be clear, FEAR FACTOR LIVE is in all caps because that is the way Universal Studios Florida Park lists it. It is not in any way to suggest this show is something about which to get excited. This was as cheesy as they come. Two dads with Napoleon complexes reliving their Polk High glory days battle it out to win nothing.
Between the dad bouts, they put some guy's head in a box and dropped some scorpions on it, then two men drank a blender full of rotten seafood and milk. Call me lame, but I don't need to watch grown men puke to have a good time.
Throughout the show, people speak into cameras as if the show is being televised. I am not sure why this is necessary. If you are looking for somewhere to take a break from walking, this would fit the bill, but I would not make a special point to watch this show.
Beat Builders
I dropped the ball on this one. My youngest son is obsessed with construction related activity. I thought this was a construction show. I built it up to excite him. In reality, it is some guys drumming on buckets in orange vests on scaffolding. Think Stomp meets Village People for approximately four seconds. At the end of the very short show show, my son asked when they were going to start building something. This is something to pause to watch if you are walking by anyway, but not worth staking out a spot ahead of time.
Universal Studios Florida Park Play Areas
Curious George Goes to Town
Curious George Goes to Town is a cute play area and splash pad. Kids can operate water guns to spray others. I had to give a kid the Meet the Fockers eyes on you signal to stop him from spraying me more than once.
The interior has a large play area with balls to shoot and send through tubes into the air.
My kids could have entertained themselves in this area all day.
Fievel's Playland
Fievel's Playland is much smaller than Curious George Goes to Town, but there is a lot packed into this area. Everything is enlarged to give the impression the child is the size of a mouse.
The highlight of this area is a water slide upon which you can ride on a raft while clothed. I cannot think of another time I have seen that.
The kids had fun and all, but can you think of a person born after 1992 who has seen any of these movies? Fievel is hardly relevant at this point. It is time for an update.
Universal Studios Florida Park Characters
Universal Studios Florida Park has some pretty great characters, and boy do they use jazz hands. Shaggy and Beetlejuice definitely did some method acting before donning those wigs.
Universal Studios Florida Park Gluten Free Dining
Bumblebee Man's Tacos
Bumblebee Man's Tacos is a food truck. While not listed on the menu, they do offer gluten free corn tortillas.
I'm not sure how safe it would be if you are worried about cross contamination. They did ask about allergies, so I assume some precautions are in place. The price was reasonable given its theme park location. The tacos were just OK, but they did come out of a truck with a demented bumblebee man on top, so they met expectations.
Leaky Cauldron
Leaky Cauldron is located in The Wizarding World of Harry Potter – Diagon Alley. We went for breakfast. As is the case with the rest of Diagon Alley, the restaurant is well themed.
You order at a counter, then get sat by a staff member. They bring the food to you, so it doesn't have the chaos of a lot of other fast food restaurants.
Again, the gluten free option, pancakes, are not listed on the menu.
It was pretty pricey, and they don't have Diet Coke (let's not get carried away with the theming there, Harry), but I'm glad we tried it. The food was decent, particularly for a counter service theme park restaurant.
Final Thoughts
Universal Studios Florida is a great park. The theming is awesome, the attractions are well done (although nauseating) and the play areas are nice. Universal Orlando Resort has been an afterthought to people who regularly visit Disney parks for a long time. People compare it to Six Flags in a disparaging way. I still think Disney is better, but Universal has come a long way. It is worth a visit.