Loews Portofino Bay Hotel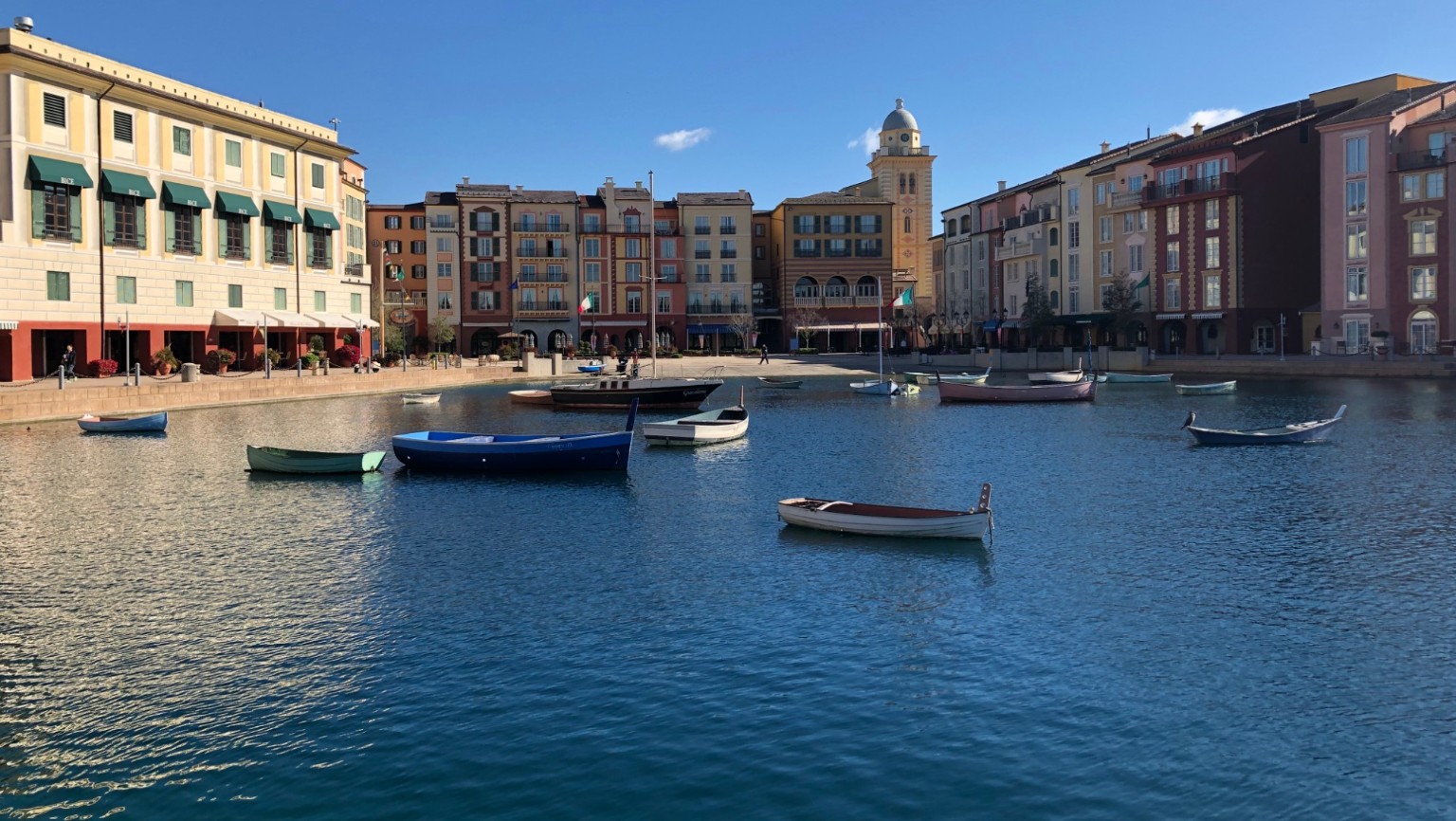 Our family recently visited Universal Studios Florida. We recovered from the constant exposure to motion simulators each night at Loews Portofino Bay Hotel. Loews Portofino Bay Hotel is beautiful, but I would probably not stay there again with children.
As an Amazon Associate, I earn from qualifying purchases.
DISCLOSURE: This post may contain affiliate links, meaning when you click the links and make a purchase, we receive a commission.
Loews Portofino Bay Hotel Booking
Loews Portofino Bay Hotel is one of Universal Studios Florida's on property resorts. It is the most expensive of the properties. In the months leading up to our trip, I compulsively checked the price to see if I could get a better deal. I never saw rates for less than $499 per night. This was in February, not over President's Day weekend. This was certainly not peak season. At Disney properties, you can save a substantial amount by renting Disney Vacation Club points. There is no similar option of which I am aware at Universal Studios Florida. If you do not want to pay the rack rate, you need to utilize points and miles.
I booked Loews Portofino Bay Hotel using Citi ThankYou Points earned from the Citi Premier card. ThankYou points are redeemed in Citi's travel portal, so they can be used for most things travel. The annual fee is $95. At the time of this writing, the signup bonus is 60,000 ThankYou Points after spending $4,000.
My husband and I combined our respective ThankYou points to cover the stay. It is important to remember ThankYou Points expire 90 days after they are combined. If you do not redeem them within 90 days, you lose them. You should wait until you are ready to book to combine.
Universal Express Unlimited
Loews Portofino Bay Hotel guests receive Universal Express Unlimited for everyone in the room. Universal Express Unlimited is a front of the line pass on most rides at the theme parks. I use the term "front of the line" loosely, because we were often far from the front. Even so, this is a huge perk. The price varies by the season, but the unlimited passes are often priced well over $100 per person per day.
Loews Portofino Bay Hotel Check-in
We visited Universal Studios Florida over a long weekend. We do not pull our kids out of school. I can't risk our kindergartener missing that episode of Peppa Pig, after all. For this reason, we had to take an evening flight which landed at midnight. Unlike Disney World, Universal Studios Florida does not offer complimentary airport transportation. We booked a private car to pick us up.
By the time we got to the hotel, it was pushing 1:00 a.m. Did I mention my kids are 5 and 7 and their bedtime is 8:00 p.m. (hence the name of the blog)? We were on the edge.
I waited a few minutes at the desk before someone came out from the back to check us in. The woman was nice and gave me some water bottles, but I was still confused by the directions she scribbled on the map when I walked away. To be fair, my sense of direction is sub-par. My senior dog with poor vision and an inability to read could have found the room faster.
After a relatively long and confusing walk, we located our room. We booked a basic, studio room with two queen beds. I opened the door….
Wow! We must have been upgraded!
I was really tired by that point, so I thought it was just me, but don't hotel rooms usually come with beds? I walked the room like three times to make sure I wasn't hallucinating, then called the front desk.
Oops, we must have put you in the parlor room.
Yeahhh…..we kind of need beds too.
After another twenty minutes (and approaching 2:00 a.m.), someone came to let us into the room Right. Next. Door. The person who brought the new keys said the woman who checked us in must have been confused because most people book the parlor room and the studio together.
It would have been a super nice gesture for them to leave that middle door unlocked since I am pretty sure no one was in the parlor room during our stay, but that was a hard no go. We never heard about this incident again. While I didn't complain to anyone and it wasn't a big deal, I would have expected someone to address this at a $500 per night hotel knowing it happened in the middle of the night with little kids.
Loews Portofino Bay Hotel Room
Yep, this looks right.
At least it had beds.
The room was pretty standard for a basic hotel room. The bathroom was spacious. Not like Waldorf Astoria Chicago spacious, but large enough for multiple people to move around freely.
It had a separate bathtub complete with weird shutters which allowed you to take a bath on full display to the rest of the room. Johnny Knoxville would have had a field day.
Our room had a balcony with a great view.
From what I could see, the majority of rooms do not have balconies.
Loews Portofino Bay Hotel Overview
Loews Portofino Bay Hotel is very well done. It does not feel crowded at all. The lobby was a ghost town, my favorite kind of town when I am traveling.
It has an Italian theme.
There are fountains everywhere.
Men sing fancy songs off balconies in front of a bunch of branches.
And the view cannot be beat.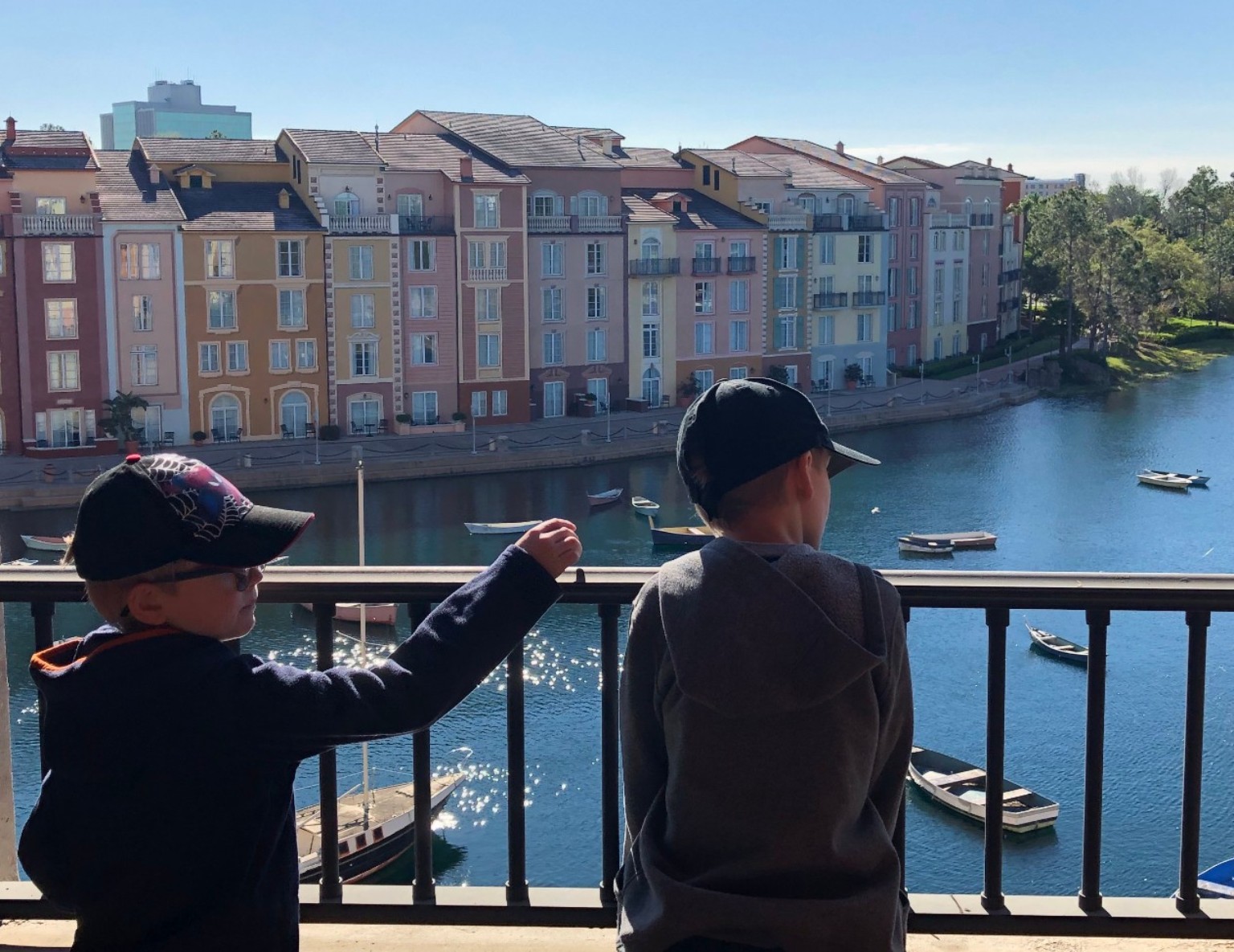 Loews Portofino Bay's pool was closed for construction while we were there. It was a giant mound of dirt, so I don't have any sense of what that will look like. We were told we could swim at another on property hotel. It was pretty cold while we were there, so we never exercised that option.
There was also a very small arcade. It seemed like they threw it in because they felt obligated. Definitely not worth a stop.
Loews Portofino Bay Hotel Location
Loews Portofino Bay Hotel is technically walking distance to City Walk and the theme parks, but I think it would be a long walk. The hotel offers free boat transportation from early morning until late into the night. If you want to check out what thongs the kids are wearing these days, the boat will bring you back from City Walk at midnight.
We never waited very long for the boat. On our last ride of the trip, we got a boat captain who blasted YMCA and got the whole boat rocking out like everyone was two White Claws in. I had no idea I had been on the sad boat before. Even on the library boat, I highly recommend taking it. It is super convenient.
Loews Portofino Bay Hotel Dining
Loews Portofino Bay Hotel had several restaurants. They looked fancy and not overly kid friendly from the outside. For these reasons, I only visited Starbucks at the hotel. We ate at the theme parks during the day and had dinner each night at City Walk.
Universal Studios Florida City Walk Gluten Free Dining
The Cowfish
The Cowfish is a burger and sushi place. It has a fun decor. Kids can design a fish, then see it swim in a virtual fish bowl in a different location in the restaurant.
The Cowfish offers gluten free buns, but the majority of the sushi rolls cannot be made gluten free. I ordered a burger. The table also shared some sushi. The food was good, but I like our local sushi restaurant better.
Toothsome Chocolate Emporium & Savory Feast Kitchen
I had such high hopes for Toothsome. I mean, seriously, how cool is that exterior?
Toothsome has a ton of intricate desserts. I thought this place would be a huge hit with the kids.
It was a disaster.
We had 7:45 p.m. reservations. We arrived around 7:30 p.m. and were told they had the reservations down for 8:00 p.m. The hostess said, and I quote, "We have tables now, but we aren't going to seat you until closer to your reservation time."
We tried to walk around the candy store, but it was basically like Grand Central Station at rush hour. They had a lot of cute stuff in the store at which to look on the rare occasion we could see it through the crowd.
There is nowhere to sit to wait for your table, so there was a mob of people pressed up against a wall. When the hostess said she would seat us closer to our reservation time, she actually meant she would seat us a half hour after the incorrect time she had in her computer, so we were seated about 45 minutes after our original reservation time.
The service was bananas slow. Blanche and Sophia would have served us faster. We started to wonder whether they had food at all.
The employees at Toothsome really need some training on what not to say out loud, because after the hostess informed us we were going to wait for no reason, the server told us our food was sitting under the heat lamp. Why aren't you just bringing it out again?
Spoiler alert, it didn't come out for a long time after that. When did it come out, you ask? 9:20 p.m. As you may remember, we arrived at 7:30 p.m. We were in Toothsome for 110 minutes before we received our food, all after a long day at the theme parks with little kids who normally are asleep by that time.
When the food came out, it very obviously had been sitting under that heat lamp as promised. My husband's pasta had a thick layer of film over it.
I ordered a reuben on a gluten free bun. My food was actually pretty decent, but no one else liked theirs.
We ended up skipping dessert completely because we didn't have it in us to wait another hour. This place was a huge disappointment.
Jimmy Buffett's Margaritaville
We chose Jimmy Buffett's Margaritaville on a whim on our last night because it was conveniently located without much of a wait. The restaurant screams vacation. It gets bonus points for having a separate gluten free menu. There were several options from which to choose, including sandwiches with a gluten free bun and a gluten free dessert. I ordered nachos as a meal rather than an appetizer.
This was disgustingly large. I didn't make a dent, and I love my nachos. If you are going to order this, you should definitely share.
Final Thoughts
Loews Portofino Bay Hotel is really nice. The resort is calm, the boat is great and I like the Italian theme and views of the water.
Is it worth it? That depends. If you were going to buy the Universal Express Unlimited anyway, it is definitely worth the price. If you weren't, probably not.
Despite being a theme park resort, I don't think this resort appeals to children. I do not think we will stay here again as a family. There was nothing for kids to do. It really falls short compared to Disney properties right down the street. Putting aside the fact that the pool was closed, there were no scheduled kids activities throughout the day and the arcade was puny. None of the dining appealed to us with children. I expected them to cater to kids at least a little given the whole theme park resort thing. They must know kids are coming, right?
Overall, we had a good stay, and I'm glad we tried it once. I didn't see the other hotels personally, but some, like Hard Rock, also offer Universal Express Unlimited. I believe one of these would be more appealing to kids. If we return, we will probably try another resort.