Seven Reasons to Fly Southwest Airlines with Kids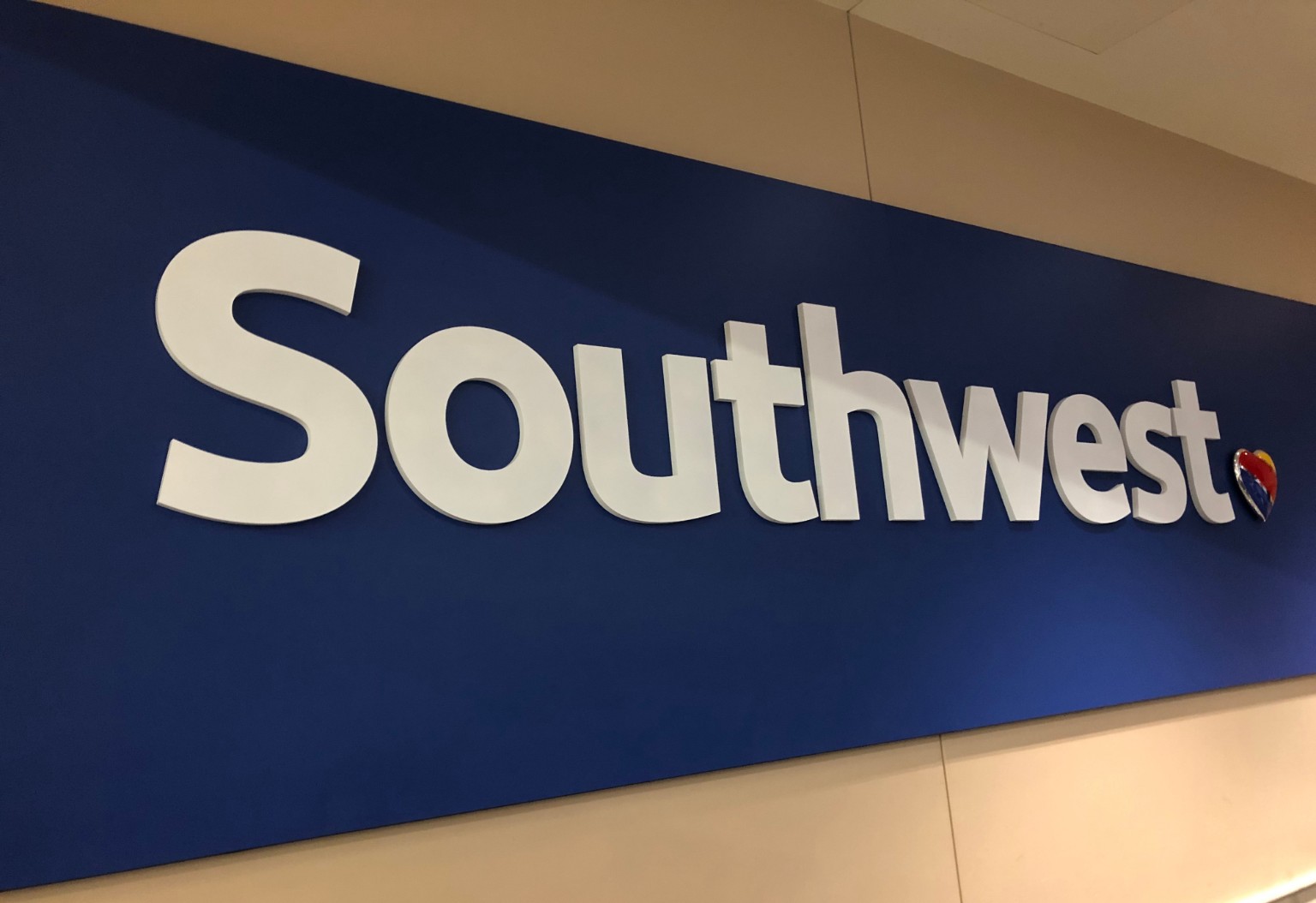 People either love or hate Southwest Airlines with kids. There is no in between. I don't know for sure, but I bet their ridiculous boarding process has a lot to do with it.
As an Amazon Associate, I earn from qualifying purchases.
DISCLOSURE: This post may contain affiliate links, meaning when you click the links and make a purchase, we receive a commission.
Southwest Airlines Boarding
With Southwest Airlines, no seats are assigned prior to boarding. Instead, everyone is assigned a place in line to get on the plane. The line to board the plane is a cattle call reminiscent of the bus area at Disney World.
The boarding groups are divided into groups A, B and C. Each person is assigned a number with the boarding group letter. To sit with your group, you probably need to be in A or B. There are a couple of ways to obtain a good number.
You are assigned your boarding number based upon when you check in in most cases. You can check in 24 hours before your flight time. To try to get the best number possible, you should set an alarm to log onto the app promptly at that time. Every second counts. You can also get a better number by paying $15 extra per person for EarlyBird Check-In.
Once on board, people frantically look for an aisle or window seat. Those already in aisle or window seats place something in the middle seat and avert their eyes to deter people from taking it. There is no guarantee you will sit together on Southwest Airlines with kids.
This nonsensical boarding method gave me major anxiety about flying Southwest Airlines with kids. I was worried we would have an unaccompanied minor situation on our hands. After all, who wouldn't want to sit next to these unsupervised guys and listen to them whisper secrets into each other's ears at a megaphone-like volume about all things toilet?
I realize the answer is everyone except their parents would pass on the seat, and even we want to avert our eyes sometimes. Despite full knowledge of this reality, I formed a plan in my head to convince others to give up their seats by handing stubborn adults a bag of sugar and telling them to administer it regularly to my children through an IV.
Turns out, the stress was for nothing. Everything went smoothly. There are plenty of reasons to fly Southwest Airlines with kids.
1. Family Boarding
The concept of the EarlyBird Check-In charge kind of annoys me. Fortunately, I have not yet had to pay it because I have a five year old. We still qualify for family boarding.
Southwest Airlines' family boarding is the single best reason to fly Southwest Airlines with kids. If your kid is six or under, the family gets to board after boarding group A, regardless of what your ticket says. I read about family boarding before we took our first Southwest Airlines flight as a family, but I was nervous about how it would work. I was picturing having to cut in front of resentful people in an obnoxious way.
In reality, it is super easy. There is an announcement when it is time for family boarding. People with young children who will inevitably annoy someone else on the plane line up with their strollers and file onto the plane in the ultimate walk of shame. We had no trouble whatsoever finding seats together. I'm sure some people are annoyed family boarders get to jump the line, but I didn't notice any dirty looks. I am not looking forward to aging out of the family boarding benefit.
2. Southwest Rapid Rewards Chase Cards
You can save a substantial amount of money on Southwest Airlines using points and miles. Chase offers Southwest Rapid Rewards credit cards. There are three cards from which to choose. We have the Southwest Rapid Rewards Plus Chase Card. The annual fee is $69. The earnings aren't all that exciting, 2x points on Southwest purchases, and 1 point per $1 on everything else. The signup bonus on the other hand, is quite good. At the time of this writing, the signup bonus is 65,000 Rapid Rewards points after spending $2,000 in the first three months. You also earn 3,000 points on each anniversary. Apply here.
Keep in mind Chase's 5/24 rule. If you have taken out or been listed as an authorized user on 5 credit cards from any company in the last 24 months, you will likely be declined.
3. Booking Flexibility
Southwest Airlines has extremely generous change and cancellation policies. Most major airlines hit you with hefty fees to make changes and cancel. They will not refund you the difference if the price goes down. Southwest Airlines lets you do you.
Southwest Airlines does not charge change or cancellation fees. You can change the flight either online or over the phone. If you want to change your flight, you just have to pay the difference in fare. If you cancel, or change the flight to one with a cheaper fare, you get a travel credit to use within a year from the date you booked. Note, this is the date you booked, not the date you traveled. If you paid with Rapid Rewards points, the difference in the miles gets credited back to your account. This is huge.
I always book the day flights are released. Southwest Airlines is considerate enough to tell you when the next batch of dates are coming out. After booking, I compulsively check the prices to see if they go down, then change the flight (to the same flight) to get the lower price. I have successfully found a cheaper fare every single time so far. Southwest takes the guessing out of booking because you don't have to wait until you think you have found the best fare.
4. Southwest Airlines Leg Room
Southwest Airlines doesn't have first class, which another big reason a lot of people hate them. I have heard Southwest Airlines referred to as a bus in the sky. Well, that Greyhound has some decent sized seats. My husband is 6'4″ and spends the majority of most economy flights with his knees in his mouth. Southwest Airlines is more comfortable. Don't get me wrong, there is nothing fancy happening, but those couple extra inches matter. It makes it easier to juggle the kids and their sugar bags.
5.

Southwest Airlines App
The Southwest Airlines app is one of my favorites. In addition to allowing me to obsess over check prices all day to try to save a few miles prior to the flight, it has free in-flight entertainment. You need to download the app before the flight to use it. It has free shows, movies and games. I maintained my sanity by catching up on the Real Housewives of New Jersey and playing some Candy Crush ripoff while my kids ate more junk food than they consumed the entire month before and played on their tablets. Flying brings out my best parenting.
6.

Free Checked Bags
Most major airlines charge baggage fees on domestic flights. Southwest Airlines has not jumped on this bandwagon. It is really nice to pack as much as we want without worrying about consolidating to save money on a second bag. Those twenty books at which the kids will never look aren't going to find their own way to the hotel.
7.

Southwest Airlines Employees
The airport feels like a hostile place. Everyone is crabby. The morale of most airline employees seems low. Some seem both exhausted from arguing with disgruntled customers and high on power trips because they can prevent people from boarding. This has not been my experience with Southwest Airlines with kids.
The vast majority of Southwest Airlines employees we have encountered have been friendly and helpful. The flight attendants tell jokes. They give the illusion they are delighted to pass out snacks, which is more than most other carriers do at this point. The employees seem happy to work there, which improves everyone else's moods as well.
Final Thoughts
Southwest Airlines is a great option for families with small children. It won't replace a first class flight, but it beats the hell out of most economy experiences. I still think the boarding process is stupid. If you qualify for family boarding, it will not affect you. If you don't, consider paying extra for EarlyBird Check-In. At a minimum, be online to check in right when it opens. If none of that works, I assume someone will take pity on you and move. Don't forget the sugar bag.