Disneyland Vacation Packing List for People in Touch with Reality
A trip to Disneyland is exciting. For weeks beforehand, it is only natural to obsess fantasize about every detail of the vacation. Deciding what to pack is a major detail, and is often stress inducing. If you love to plan as much as I do, and I have a feeling you do, you have probably already started your Disneyland vacation packing list. Let me save you some time. If you are even questioning whether to bring it, don't.
If an item is unnecessary in your day to day life, you don't need it in your suitcase. If the hotel offers said item, you don't need it in your suitcase. If an item is purely a luxury and will not substantially add to your sanity, you don't need it in your suitcase. Make your life as easy as possible by juggling as little as possible. It's bad enough your toddler refuses to walk.
Disneyland Vacation Packing List Essentials
As an Amazon Associate, I earn from qualifying purchases.
DISCLOSURE: This post may contain affiliate links, meaning when you click the links and make a purchase, we receive a commission.
In my never ending quest to plan perfect vacations, I have come across some ridiculous items on sites claiming to have the best Disneyland packing lists. What are the odds you are going to need a shoe repair kit during a four day trip to Disneyland? In fact, when in your life have you ever used a shoe repair kit? Around the same time you were whittling wood? If your shoe breaks, wear a different shoe.
These free packing lists will help you bring what you need and not what you don't:
Disneyland Vacation Packing List
1. Clothing
I know it's tempting, but resist the urge to over pack. You don't need twenty outfits.
If you are going to Disneyland for more than a few days and will have a day off from the parks, consider bringing a couple of laundry pods. Most hotels have laundry facilities. If you do that, you can bring half of what you would otherwise need. That means half the stuff to carry, half the stuff over which to trip in a small hotel room, and half the luggage to check at the airport This can save you money if you don't get free checked baggage.
Disneyland Weather by Season
Disneyland is located in Anaheim, California. The weather is just a teensy bit better than that of Disney World, located in the swamp that is Orlando. None of the months are overly rainy. It can, however, get cool. Check the weather predictions when you pack.
Average temperatures are as follows:
Winter
Average high: Low 70s
Average low: High 40s
Spring
Average high: Mid 70s
Average low: Mid 50s
Summer
Average high: Mid 80s
Average low: Mid 60s
Fall
Average high: Low 80s
Average low: High 50s
DisneylandPackingList-1-1-1

What to Pack for Disneyland
A. T-shirts – People old enough to roll around town without a change of clothes on a daily basis need one extra at most.
B. Long sleeved shirts – Pack only as many as you need based upon the weather, which may mean none at all.
C. Shorts – Pack the same number of shorts as you did T-shirts.
D. Pants – Bring only as many as you need based upon the weather, but at least one pair is a good idea.
E. Pajamas – Only pack what you would normally go through at home. I doubt people who don't have issues staying dry all night need extra.
F. Underwear – This sounds like a personal choice. I'm not going to weigh in on this one.
G. Bras – Again, personal.
H. Socks – You need one to two extra pairs at most.
I. A jacket – Note I said "a". One will do it.
K. Walking shoes – Bring these only if you're not comfortable in sandals or flip flops all day. I personally don't pack these.
L. Swimwear – You need two per person at most. Hang the wet suits in the bathroom and alternate between the two. Do not bother with them in the theme parks. The little bit of utility they might provide is totally outweighed by the space they take up in your day bag. The sun has this amazing ability to dry things.
This doesn't seem like enough! What if I get wet, or the apocalypse happens, or every shirt I bring spontaneously combusts, or I just don't feel pretty in some of my clothes?
Hang the wet clothes in the bathroom overnight, it won't happen, it won't happen, and suck it up, everyone looks like crap at a theme park.
What Not to Pack
A. Costumes – This will likely be an unpopular opinion, but they are bulky, hot, and largely unnecessary. People ages 14 and over aren't allowed to wear them, and your kid is unlikely to leave it on all day. Unless you are attending a party, skip it.
B. A sewing kit – Come on.
C. Formal wear – You might think you are going to dress nicely for dinner. This is almost never necessary. Most of the restaurants realize their patrons are coming from a theme park. It is unlikely you will feel like gussying up after a long day at the park.
D. Workout gear – Unless you are attending one of Disneyland's running events or marathons, or will actually work out at the hotel, save the space. You are already going to be walking all day. The hotel gym was a ghost town every time I walked past it holding my thousand calorie cocktail.
2. Accessories
By accessories, I mean things that will help you functionally, not things that will improve your appearance.
What to Pack for Disneyland
A. Sunglasses – Wear these to shield you from the sun and prevent people you know from recognizing you with your frizzy hair.
B. Hats – Bring hats in addition to or instead of sunglasses if sunglasses won't be enough to do the job.
C. Hair ties – You definitely don't want to find yourself without a way to tie your hair back.
D. Goggles – Bring these for the hotel pool, not the theme parks. You don't need goggles for Splash Mountain.
E. Ponchos – Disneyland doesn't get much rain, but you might want ponchos for water rides.
F. Face masks
What Not to Pack
A. Floaties – Don't bother unless your hotel doesn't provide life jackets.
B. A large selection of jewelry – Disneyland is a great place to lose and damage family heirlooms.
C. Umbrellas – Stick to a poncho. Umbrellas are large, unwieldy, and not well controlled by children. The last thing you need is for your kid to take someone's eye out.
3.

Toiletries and Bathroom Essentials
Try to stick to travel sized items. When you make your Disneyland vacation packing list, google your hotel to figure out what the hotel provides. You can probably shave about five pounds off of your luggage.
Pro tip: Purchase travel bottles to bring your favorite products in smaller quantities.
What to Pack for Disneyland
A. Shampoo – Bring shampoo only if you need a special kind (like tear free for babies and toddlers) or the hotel does not supply it.
B. Conditioner – Same criteria as the shampoo.
C. Body wash – Some hotels supply this, while some only offer bars of soap. Check before you go.
D. Loofah
E. Toothbrush
F. Toothpaste
G. Floss
H. Mouthwash
I. Razors
J. Deodorant – This should be at the top of the list.
K. Contact solution and extra contacts
L. Glasses
M. Face wash
N. Lotion – Check to see if this is provided by the hotel.
O. Cotton swabs
P. Sunscreen
Q. Feminine hygiene products – If needed. You know what I'm saying.
R. Tweezers
S. Makeup
T. Hairbrush
V. Tissue
What Not to Pack
A. Hair dryer – It is almost definitely already in the room, but double check to make sure.
B. Nail clippers – Clip your nails before you leave.
C. Anything you can get from the hotel
4.

Medications and First Aid
The following may look like a long list, but most of these items can be combined into a small bag. Only bring what you need for the length of your trip.
What to Pack for Disneyland
A. Medications
B. Vitamins
C. BAND-AIDs – Capitalized because of the way the brand is spelled, not because they are of special importance.
E. Pain relievers – Pack this for both adults and children.
F. Thermometer – This may seem unnecessary, but I prefer to know if my kid has a fever rather than guessing.
H. Any necessary medical equipment
What Not to Pack
A. Full bottles of things that can be condensed into a small bag
5.
Important Documentation
Yes, we all have cell phones. Yes, you can access reservations on said phones. If you are comfortable with just using the phone, you can skip printed versions of some of the items below. I still get paranoid I won't have reception when I need it, so I prefer to have paper backups.
What to Pack for Disneyland
B. Identification for all travelers
C. Airline reservation confirmations and boarding passes
D. Hotel reservation confirmations
E. Rental car and ground transportation reservation confirmations
F. Proof of car insurance – You only need this if you are renting a car.
G. Dining reservation confirmations
H. Health insurance card
I. Touring plans – A printed itinerary may be easier to access than an app from Disneyland's Wi-Fi.
J. Priority Pass card
What Not to Pack
A. Any duplicate or unnecessary documentation with your personal information
6.

Methods of Payment
Until the sun rises in the west and sets in the east, you can count on Disneyland costing a bag of money. All methods of payment are not created equal.
What to Pack for Disneyland
A. Credit cards – Good.
B. Disney gift cards – Good if purchased at a discount.
C. Cash – Bad. There is no financial benefit to using it. However, having a little on hand to tip or buy a bottle of water is a good idea.
What Not to Pack
A. A lot of cash – It's unnecessary and can be lost or stolen.
B. Debit card – Debit cards are even worse than cash. Unless you think you will need to visit an ATM, leave it at home.
7.

Baby Stuff
Babies need a ton of stuff, but you probably don't need to supply all of it. Check with your hotel to see what they provide.
What to Pack for Disneyland
A. Diapers – Don't forget both regular and swim diapers.
B. Wipes
C. Bottles
D. Formula and baby food – As should be expected, you are allowed to bring anything you need into the park. Disneyland offers Baby Care Centers to feed and change with privacy.
E. Stroller – Consider renting a stroller if you don't want to deal with one outside of the theme parks.
F. Sippy cups – Bring these only if necessary to avoid dehydration.
G. Bibs
H. Pacifiers
I. Car seat – You might not need to bring a car seat. A lot of ground transportation providers offer them. Check before you go.
J. Breast pump and accessories – Bring this if you can't get by without it. Make sure you will have somewhere to store what you produce in your room before you waste your time.
What Not to Pack
A. Pack and Play – Your hotel very likely has a stockpile of these.
B. Baby monitor – If you can't monitor your baby from three feet away, you've got bigger problems. You will not need a baby monitor in a studio hotel room. Only bring a baby monitor if your accommodations are large enough to warrant it.
C. High chair – There is no way the limited use a high chair provides is worth the hassle. Your hotel may have something you can borrow. Otherwise, you have a lap.
8.
Miscellaneous
The miscellaneous category includes things you will need for the room, theme parks, and/or travel.
What to Pack for Disneyland
A. Airplane and hotel room entertainment – Read: sugar, screens, and one book so you can save face as a parent.
B. Cell phones and chargers – Like you were going to forget those.
C. Portable cell phone charger – You will want this for the theme parks. Obsessively refreshing the app is going to drain that battery real fast.
D. Autograph book – Only bring this if your child really cares.
E. Lanyard – Some people want a lanyard to carry park tickets and room keys. Honestly, a wallet would do the job just fine, but bring one if it will make you happy.
F. Refillable water bottle – Disneyland counter service restaurants will give you free ice.
G. Noise canceling headphones – The fireworks and shows are extremely loud. Bring these if the noise will freak your kid out.
H. Gum – Disneyland doesn't sell it.
I. Snacks – We pack snacks for the plane and room. You can get away with bringing some limited food items into the theme parks, but we don't. You will need to go to a picnic area to consume food that is not pre-made or a snack item. Eating at Disneyland is part of the experience. Unless you need to bring food for budgetary or dietary reasons, just buy your kid that Mickey bar. There are ways to save a substantial amount of money without sacrificing the experience.
What Not to Pack
A. Extra towels – Some people suggest bringing towels to the park to sit on them and wipe your sweat away. Ask yourself if dabbing your forehead while exclaiming "I do declare" and sitting on a towel on already soft grass is worth carrying them around all day. The answer is no. You're at a theme park, not a spa. Expect to get hot and encounter hard surfaces from time to time. It's part of the experience.
B. Shoe organizer – Just don't pack enough shoes to require one.
C. Pool toys – Your kid is at Disneyland. You've done enough.
D. Hamper – An empty suitcase is a rolling laundry basket.
E. Cameras – Do you really want to carry a camera around? You have a smart phone for a reason.
F. Night light – Leave the bathroom light on and crack the door.
What Do I Need to Bring to the Park?
When packing your day bag for the theme parks, less is more. If your children are still in a stroller, you have a storage area on wheels. The rest of you will not want to carry a bunch of stuff around all day. A lot of the items can easily be carried in a purse as well. Check the weather, and pack only the items you need from the list below.
DisneylandDaybagList-1-1-1

What to Pack in Your Day Bag for the Theme Parks
A. Sunscreen
B. Methods of payment
C. Identification
E. Touring plans
F. Dining reservations
G. Jackets
H. Ponchos
J. Tissue
M. Cell phone and portable cell phone charger
P. Baby stuff you need on a typical day
Q. Gum
S. Lanyard
T. Sunglasses
U. Hats
V. BAND-AIDs
W. Face masks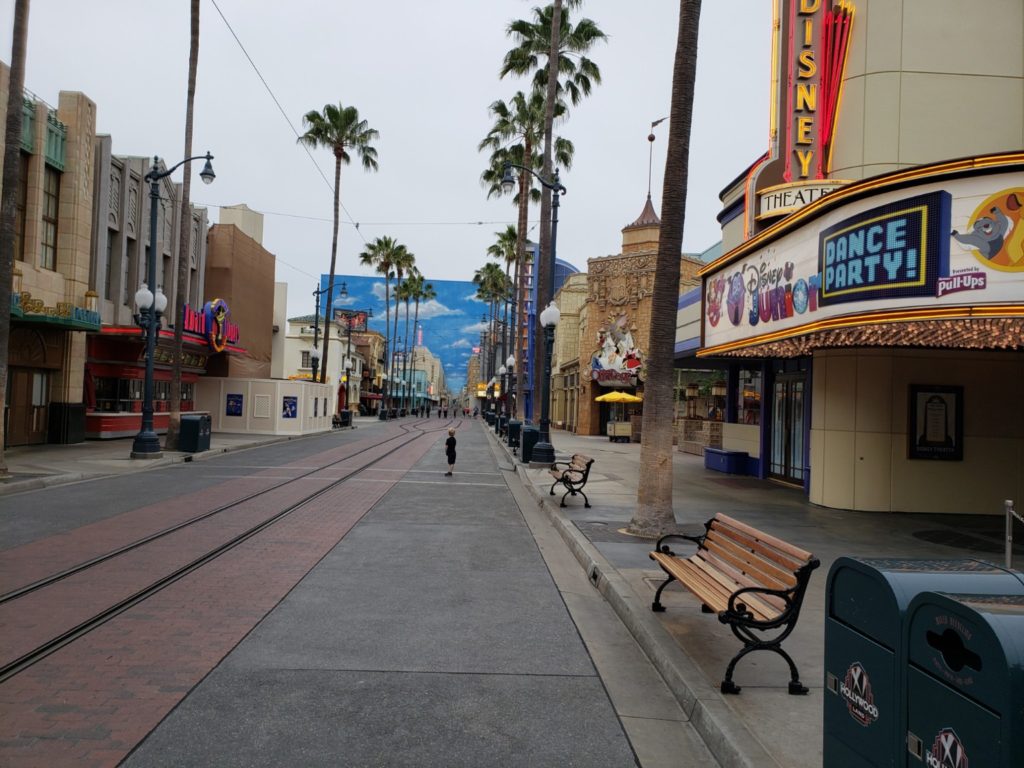 Final Thoughts – Disneyland Vacation Packing List
Disneyland is awesome, so it's natural to be excited, but don't go crazy with the packing. Unnecessary items will only add stress. Hotel rooms are small. The last thing they need is clutter. Make a Disneyland vacation packing list with which you can live, and stick to it.
In a pinch, you will able to buy something you need in a gift shop. I guarantee it. Disney knows how to make money. Enjoy your planning and have a great trip. Go make some memories.