Caribbean Disney Cruise Packing List: Don't Go Crazy
Going on a Disney Cruise to the Caribbean is exciting. It must be awesome, because it cost the same as your last car, right? It is natural to want to ensure you have everything you need, but don't overpack. Most of the staterooms are essentially dorm rooms. You will curse that shoe repair kit when you trip over it. What needs to be on your Caribbean Disney Cruise packing list?
What Needs to Be on Your Caribbean Disney Cruise Packing List?
As an Amazon Associate, I earn from qualifying purchases.
DISCLOSURE: This post may contain affiliate links, meaning when you click the links and make a purchase, we receive a commission.
Caribbean Disney Cruise Packing List
Download these free printable Disney Cruise packing lists:
1.
Disney Cruise Packing Rules
How Many Bags Can You Bring on a Disney Cruise?
The Disney Cruise baggage allowance lets each person bring two bags weighing up to 50 pounds each, one carry on, and one personal item. Do not feel the need to max this out. If you travel with a family of four, you do not want to haul eight bags weighing four hundred pounds total around the airport.
What Can You Not Bring on a Disney Cruise?
Going on a cruise is not the same as staying at a hotel. You cannot bring everything you can on land. There is a complete Disney Cruise prohibited items list on the website, but the highlights (some obvious and some not) include:
Firearms and weapons (including knives and scissors longer than 4″)
Toys resembling firearms (except things like plastic swords)
Pool floats (you can rent tubes on Castaway Cay in the Bahamas)
Flowers
Balloons (don't buy them at Disney World if you go there first)
Candles
Large coolers
Appliances
Inflatable mattresses
Musical instruments
Over the door hanging organizers
Power tools
Remote control vehicles
Most sporting equipment
Most recreational equipment (like skates and some wagons)
DisneyCaribCruisePackList-1

2.
Disney Cruise Attire
Average Weather in the Caribbean
Most Caribbean cruises sail out of Port Canaveral, Florida. You may get some nice, breezy weather on the islands, but Port Canaveral feels like it is located in the core of the sun during the summer.
Regarding your ports of call, the Caribbean is a big place. You should check the weather of each island you plan to visit before your trip. Check both the temperature and the chance of rain, particularly during hurricane season (June through November). For the most part, you can count on highs somewhere between the 70s and 90s year round.
Given all the sweating you will be doing, you shouldn't overpack, but you also shouldn't plan to wear the same clothes multiple times without washing them (unless your goal is to repel strangers, in which case, bravo, and go for it).
How to Dress for a Disney Cruise
What to Wear on a Disney Cruise During the Day
Disney Cruise Line is generally cruise casual. During the day, things like shorts and T-shirts are fine. Swimwear and tank tops are not allowed in the dining areas. However, I did not see anyone wearing a normal tank top get turned away. I think the tank top rule is just intended to deter hairy men from coming to lunch in their undergarments.
Evenings in the Main Dining Rooms
Disney Cruise dinner attire is cruise casual on most nights. There are opportunities to dress up, but they are optional. Even formal night does not require you to dress formally. In general, you can expect:
Three Night Cruises: One cruise casual night, one pirate night, and one formal night
Four Night Cruises: Two cruise casual nights, one pirate night, and one formal night
Five Night Cruises: Three cruise casual nights, one pirate night, and one formal night
Six Night Cruises: Four cruise casual nights, one pirate night, and one formal night
Seven Night Cruises: Four cruise casual nights, one pirate night, one formal night, and one semi-formal night
Disney Cruise Line Dress Code at Specialty Dining Restaurants
Disney Cruise Line offers specialty dining for adults at Remy and Palo at an extra charge. Kids are not welcome. Both restaurants have a stricter dress code than the main dining rooms.
Disney Cruise Palo Dress Code: Men must wear dress pants or jeans and a collared shirt. Women must wear a dress, skirts, or pants. No shorts or flip flops allowed. Palo costs $40 per person as of the time of this writing.
Remy Disney Cruise Dress Code: Remy, charging $125 per person for dinner as of the time of this writing, is really impressed with itself. It expects you to dress accordingly. Men must wear a suit jacket, and women should wear an evening dress or pants suit.
Do Laundry Onboard
Pro tip: If you want to pack light (and you should), consider packing laundry pods and doing laundry onboard. This cuts the items you need to lug around in half. There is always downtime on a cruise. Doing laundry will not ruin your vacation.
Laundry is reasonably priced and convenient. You can put laundry in the machines and walk away. The Disney Cruise Line app will notify you when it is done.
Doing laundry onboard offers the added bonus of saving on checked bags at the airport if your airline doesn't check them for free.
What Should I Pack for a Disney Cruise?
A. T-shirts – If you won't do laundry, I would pack one or two more than the number of days of your trip.
B. Shorts – One pair more than the number of days of your trip is plenty.
C. Underwear
D. Bras 
E. Pajamas – You don't need extra unless you are worried about child accidents.
F. Pants – For evenings and dinners.
G. Nicer shirts – For evenings and dinners.
H. Sandals or flip flops
I. Socks – Bring one or two pairs above the number days you are planning to wear real shoes.
K. Nicer shoes – For evenings and dinners.
L. Swimwear – Two per person. Hang wet suits in the bathroom and alternate.
Pro tip: Put swimsuits in your carry-on. You won't get your luggage for a few hours after embarkation.
M. Any formal wear you want for formal night or dinners at Remy or Palo
N. Costumes and themed kids travel clothes – Optional, but you may want them for Disney Cruise theme nights, like Pirate Night or Halloween parties.
Pro tip: If your child wants to go to Bibbidi Bobbidi Boutique, pack your own princess dress. Disney will sell you a costume. For the price of a black market kidney.
Bonus pro tip: Housekeeping leaves bandanas in your room on Pirate Night.
O. Workout gear – Optional. Bring it if you plan to participate in the Castaway Cay 5k or will actually use a Disney Cruise Line gym onboard.
P. Rain jacket – Optional. Check the weather.
Q. Water shoes – Optional.
What Not to Include in Your Caribbean Disney Cruise Packing List
A. A sewing kit
B. An iron – It isn't allowed.
C. Wrinkle release spray – Steam from the shower has the same effect.
3. 

Accessories
Accessories are items that make your life easier, and not those that make you prettier. With that said, a little jewelry, with an emphasis on "little", for dressing up is OK.
What to Pack for a Disney Cruise
A. Masks – As of the time of this writing, Disney Cruise Line hasn't told us what sailing will look like when it resumes, but I would bet a lot of money that masks are going to be required.
B. Sunglasses – In addition to or instead of hats.
C Hats – In addition to or instead of sunglasses.
D. Hair ties 
E. Goggles 
F. Ponchos – Check the weather before you leave to see if you need these.
G. Jewelry – If you feel like you need to accessorize, bring a small amount, and nothing expensive. Your cruise will be ruined by an unintentional Heart of the Ocean situation.
H. Belt – If needed.
What Not to Add to Your Disney Packing Checklist
A. Umbrella – Unless you like lawsuits. Your kid will whack a stranger in the eye for sure.
B. Floaties – Lifejackets are available.
C. A large selection of expensive jewelry
4. 

Toiletries and Bathroom Disney Packing Essentials
You will need to shower to get all of that sand off, probably more than once. This doesn't mean you need to supply your own shampoo. The staterooms include more than you may think.
Pro tip: Purchase travel bottles to bring your favorite products in smaller quantities.
What to Add to Your Packing List for a Disney Cruise
A. Contact solution and extra contacts
B. Glasses
D. Chapstick
E. Toothbrush
F. Toothpaste
G. Floss
H. Mouthwash
I. Face wash
J. Lotion – Optional. Only bring it if you need a special kind.
K. Deodorant 
L. Tissue
M. Cotton swabs
N. Shampoo – Optional. Bring it only if you need a special kind, like tear free.
O. Conditioner – Optional. Bring it only if you want or need a specific kind.
P. Body wash – Optional. Bring it only if you need a specific kind.
Q. Loofah
R. Razor
S. Sunscreen
U. Makeup
W. Tweezers
X. Hairbrush
AA. Bug spray – Depending on the weather and where you are traveling.
BB. Nail file – In case of emergency.
What Not to Add to Your Disney Checklist
A. Anything offered on the ship
B. Hair dryer – They're in the staterooms.
C. Nail clippers – Clip your nails before you leave or use a file.
D. Nail polish – Paint from the comfort of your home.
5. Baby Items for Your Caribbean Disney Cruise Packing List
If you decide to take a Disney Cruise with infants or toddlers (which I would seriously rethink), you will need to pack a lot of things. Don't add to the pile by packing things you don't need.
What to Add to Your Packing List for a Disney Cruise with Toddlers and Babies
Pro tip: The dining rooms will make baby food. You may not need all those jars.
B. Bibs
C. Stroller – Optional. Cruises require much less walking than theme parks. Our three year old made it through the trip without a stroller. Yours probably can too.
Pro tip: If you need a way to move your slow moving child from Point A to Point B, consider a sling instead of a stroller. Disney Cruise Line rooms are small, and strollers are not.
D. Baby sling – Optional. Instead of a stroller.
E. Car seat – For ground transportation to and from the port and on excursions, and only if not provided by the companies transporting you.
Heads up: A lot of ground transportation providers in the Caribbean are not as concerned about the use of car seats as we are in the US, meaning, they don't use them at all.
F. Breast pump and accessories – Be sure to plan ahead so you know where you will be able to store things if you know what I'm saying.
G. Diapers – Both regular and swim.
H. Wipes
I. Bottles
J. Sippy cups 
K. Pacifiers
L. Dish soap to clean bottles
What Not to Add to Your Disney Cruise Family Packing List
A. Baby monitor – You will be able to see and hear the baby at all times in the box that is your room.
Note: Some people leave their kids in their stateroom while they go to another stateroom to drink White Claw visit another person. That is a personal choice, and a little Madeleine McCann-ish. If you think you want to do that, you should pack the baby monitor.
B. Pack and Play – Disney Cruise pack and plays are available.
C. High chair – The restaurants have them, and you most definitely don't want them taking up space in your stateroom.
6. 

Methods of Payment
Disney cruise ships are essentially cashless. You charge everything to your onboard account (except some cash tips for room service), and settle up at the end. You can pay your balance with cash, credit cards, or my personal favorite, Disney gift cards.
What Should I Pack for a Disney Caribbean Cruise?
A. Disney gift cards – Disney gift cards are a great way to save a substantial amount. You can combine them up to $1,000 per card so you don't have to bring fifty of them.
Heads up: The downside to purchasing Disney gift cards is that if you cancel, your refund will be in the form of Disney gift cards. People hit hard by the pandemic found themselves with thousands of dollars on Disney gift cards that they would have preferred to have in their bank accounts. I will continue to buy them, but consider your tolerance for risk.
Pro tip: Put enough on your gift cards to cover the cost of a Disney Cruise placeholder ($250 as of the time of this writing) if you decide to book a future cruise.
B. Disney Visa credit card – This isn't your best method of payment, but it will get you some small perks, including discounted Disney Cruise photo packages, merchandise, spa treatments, and rentals at Castaway Cay.
C. Credit cards – Credit cards may not be as cost effective as Disney gift cards onboard, but they are much better than cash. For spending at the ports, bring a credit card with no foreign transaction fee.
D. Cash – By cash, I mean some dollars to tip room service and random people at the ports. You should not be making it rain with cash on this trip. You get a better value from your spending with credit cards and Disney gift cards.
E. Coins for tolls – If you are driving to Port Canaveral, you will encounter some tolls along the way. Most booths have a live person working to provide change, but not all. Calculate how much you need prior to leaving.
What Not to Add to Your Disney Cruise Line Packing List
A. Debit card – There is no financial benefit to doing so, and you will be hit with hefty fees at the ports.
B. A lot of cash 
7. 
Important Documents for Your Caribbean Disney Cruise Packing List
While you can access things on your phone in the US, you may not have that same luxury onboard or at the ports. Roaming charges are a beast.
What to Pack for Disney Cruises
A. Identification for all travelers – Passports and birth certificates are accepted.
Pro tip: Spring for the passport. If you have an emergency and need to fly home from an island, you will be glad you did.
B. Health insurance card
C. Priority Pass card – If you have it, for airport lounge access.
D. Airline reservation confirmations and boarding passes – Optional if you are flying to and from somewhere with cell service.
E. Hotel reservation confirmations – Optional. If you are staying somewhere before or after your cruise in the US, you can access it on your phone.
F. Dining reservation confirmations – If you make reservations for Palo or Remy, you should be able to see those on the Disney Cruise Line app. If you want a paper backup, go for it.
G. Rental car and ground transportation reservation confirmations – Optional if traveling within the US, but a backup is nice.
H. Proof of car insurance – Only if renting a car.
I. Confirmations for shore excursions
J. Disney travel documents needed to board the ship as outlined during online check in.
Pro tip: Don't forget authorizations to travel with minors if you are bringing a child without his or her parent.
K. Luggage tags – Provided by the cruise line.
L. Proof of travel insurance – If purchased.
What Not to Add to Your Disney Packing Lists
A. Any unnecessary or duplicate documentation with your personal information
8. 

Medications and First Aid
You need your medications, but you don't need a three month supply. Condense these items, and only pack what you actually need.
What to Add to Your Disney Cruise Caribbean Packing List
A. Motion sickness medication and/or Sea-Bands – This is a Disney Cruise must pack, even if you don't normally get sick. It could mean the difference between a great vacation and a miserable week.
Pro tip: The cruise has free motion sickness medication at guest services.
B. Medications
C. Pain relievers – For both children and adults.
D. Thermometer – It is nice to not have to guess if your kid has a fever or just ate too much junk food.
E. Vitamins
F. BAND-AIDs 
H. Any necessary medical equipment
What to Omit From Your Disney Lists
A. Full bottles of anything
9. 
Miscellaneous
What to Add to Your Disney Cruise Packing Checklist
A. Refillable drink bottle – There are free fountain drinks onboard, but the cups are small. You may also want to bring the bottle onto the islands you visit.
B. Hotel room and airplane entertainment – Must have travel items for kids include sugar, screens, and one book you will never read.
C. Snacks – For the plane and hotel room before your cruise, not to bring onboard. Food is everywhere and included. There is no need to bring your own. If you insist, you are allowed to bring non-perishable foods in their original packaging, baby food, and items relating to dietary restrictions. You cannot bring homemade or perishable items.
Pro tip: Disney Cruise Line is great with food allergies. You will have tons of options, so bringing your own food is not as important as it may seem.
D. Cell phones and chargers – You won't be making calls from the ship, but you will be able to use the Disney Cruise Line app to communicate with your fellow travelers.
E. Gum – Disney doesn't sell it.
F. Lanyard to hold your Key to the World Card – Optional.
G. Autograph book – Only bring this if your child really cares.
H. Waterproof cell phone case – If you want to take pictures in the water.
I. Noise canceling headphones – The shows and fireworks on Pirate Night are loud. Bring these if your kid won't enjoy that.
J. Disney refillable popcorn bucket – Only bring this if you have it anyway and want to use it. Don't go out of your way to buy it. Eat food that is included instead.
K. Alcohol – Each guest ages 21 and up can bring two bottles of unopened wine or champagne up to 750 ml OR six beers.
Pro tip: Alcohol must be in your carry on, NOT your checked luggage.
Bonus pro tip: You can replenish your alcohol at ports of call as long as you stick to the rules above each time you bring it on. Liquor purchased at port will be taken and returned to you on debarkation day.
L. Corkscrew – Disney charges an absurd corking fee of $25 per bottle if they have to open your wine for you.
M. Beach toys – Optional. You can buy them on Castaway Cay, and the beach itself is probably entertaining enough.
What Not to Add to Your Packing List for Disney Caribbean Cruises
A. Pool toys – Floats aren't allowed anyway.
B. Night light – Leave the bathroom light on and the door cracked.
C. Shoe organizer – You shouldn't have enough shoes to require organization.
D. Hamper – An empty suitcase is a rolling laundry basket.
E. Cameras – Phones have cameras now.
F. Snacks for the cruise – Unless your child need something specific that is not offered onboard.
G. Cooler – Unless you need it for something like breast milk. Disney limits the size of the coolers, so make sure yours will make the cut.
H. Autograph pillowcases – You used to be able to get a pillowcase signed by the characters. No more.
I. Extra towels and cooling cloths – You don't need them.
J. Travel clothesline and clips – People bring these to hang their swimsuits. The shower curtain rod does the same job.
K. Fish extender gifts – Fish extenders are gift exchanges between guests. That sounds fun and all, but practically speaking, you need to pack an entire suitcase full of crap, and you go home with said suitcase full of other crap.
L. Disney door decorations – A lot of people think these are great. I think they're a waste of space.
M. White boards and markers – Use the Disney Cruise app to communicate.
N. Snorkel equipment – Unless you are married to your own, renting definitely seems like the way to go.
O. Neck fans – Really?
P. Power strip – Everything doesn't need to be plugged in at once all the time.
Q. Pins for trading – Some people are really into trading Disney pins. If you're not one of them, now is not the time to start.
R. Expensive electronics
S. Selfie sticks and extension poles – They are prohibited.
10.
Embarkation Day Carry-On Disney Travel Bag
EmbarkationBag-1

When you board the ship, you lose your bags for a few hours, and your room will not be ready until after lunch. Pack a separate carry-on with things you will need right away.
A. Identification
B. Method of Payment
C. Cell phone and charger
D. Swimsuits
E. Sunscreen
G. Gum
H. Medication
I. Hats
J. Sunglasses
K. Alcohol – Even if you don't want to drink it. If it's not in your Disney Cruise carry on, it will be confiscated until debarkation.
L. Masks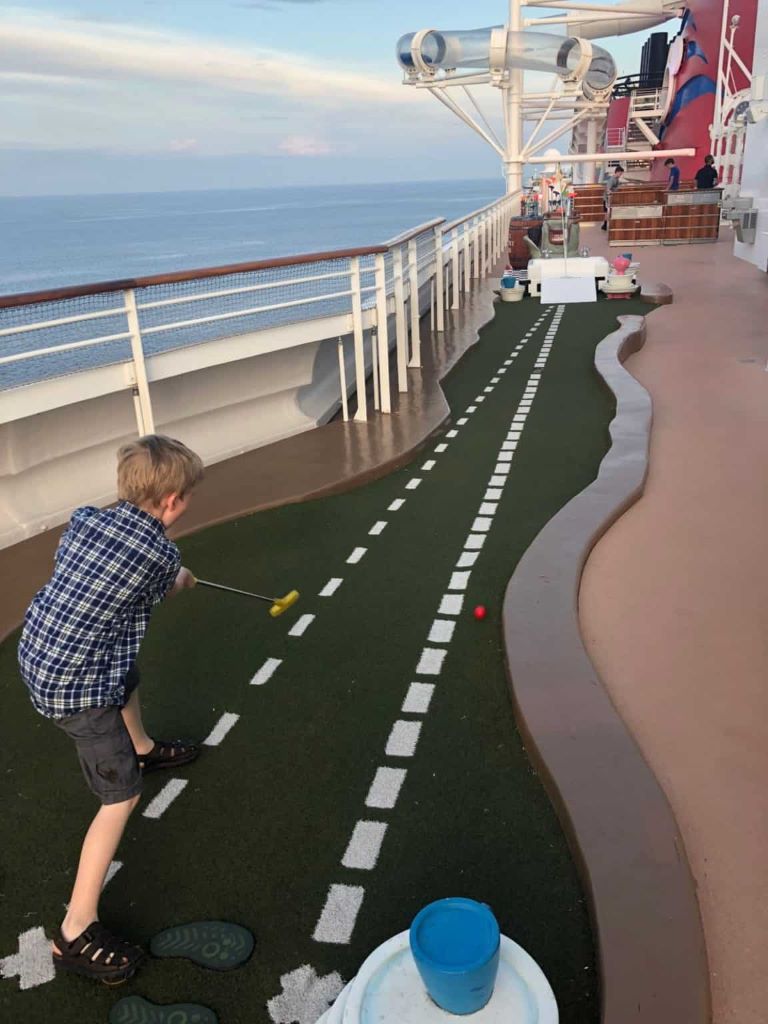 11.
What to Pack in Your Day Bag
BeachBagList-1

This is technically optional, but you probably want one for beach days.
What Do You Need on Your Caribbean Disney Cruise Packing List?
A. Shore excursion documentation
B. Identification
C. Ground transportation documentation
D. Proof of car insurance – If renting a car
E. Methods of payment
F. Sunscreen
G. Masks
I. Cell phone and portable cell phone charger
K. Tissue
L. Hats
M. Sunglasses
N. Gum
O. Ponchos or rain jackets – Only if needed
Q. Chapstick
S. BAND-AIDs
T. Baby stuff you need on a typical day
U. Waterproof cell phone case – If necessary.
V. Change of clothes – If necessary depending upon what you are doing.
W. Beach toys – Optional.
Final Thoughts – Caribbean Disney Cruise Packing List
I understand why people think they need to overpack for a Disney Cruise, but they honestly don't. Staterooms are small. They will feel even smaller if you are tripping over unnecessary items. In a pinch, you can always buy something from a store onboard or at a port. Packing for Disney Cruises should not be stressful. Less is more.
Try Disney Cruise Line with young kids. You will not regret it.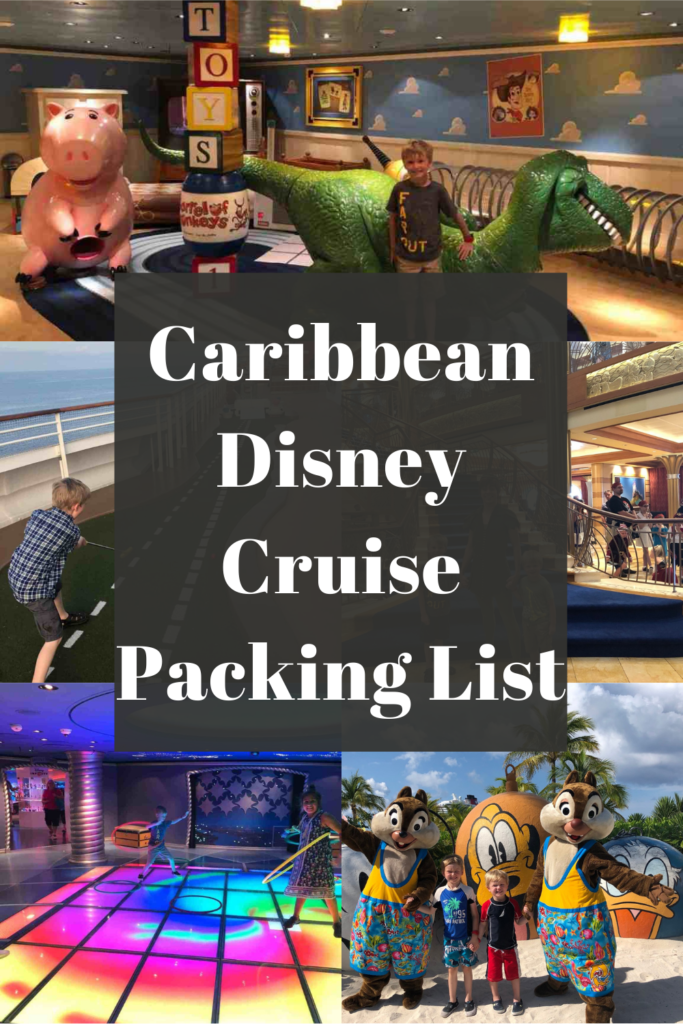 Related Articles to Caribbean Disney Cruise Packing List: Don't Go Crazy:
Caribbean Disney Cruise Packing List