Bicycle Street Inn on Mackinac Island: Not Really for Kids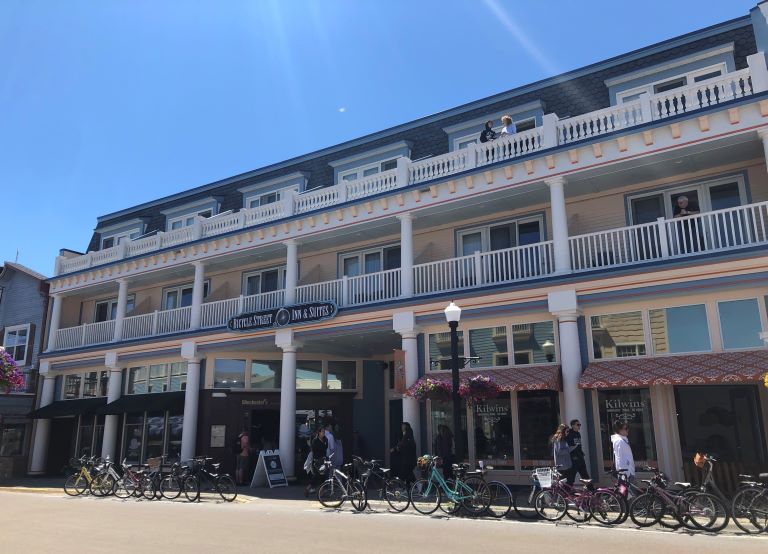 Mackinac Island is a small island in Michigan that does not allow cars. It can only be accessed by boat or plane. Even Amazon packages are delivered via horse. This quaint charm comes with limited lodging options and high prices. The Bicycle Street Inn and Suites is a boutique hotel at the heart of the action. Is it a good choice with kids?
What Do You Need to Know About Bicycle Street Inn on Mackinac Island?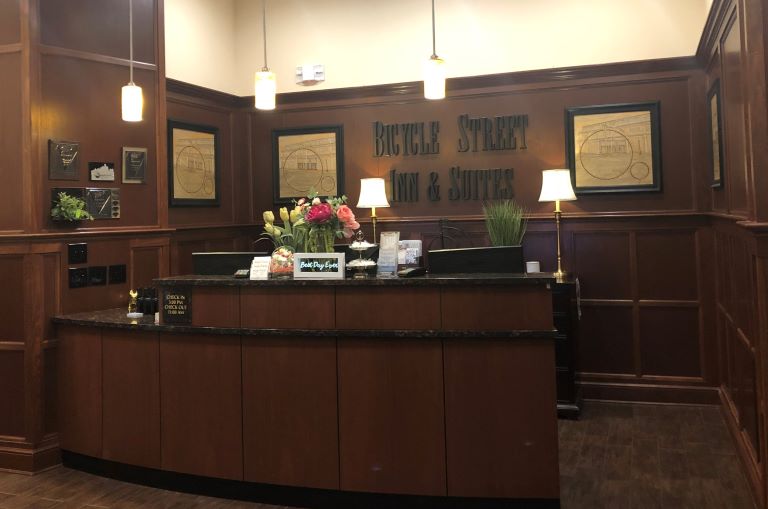 As an Amazon Associate, I earn from qualifying purchases.
DISCLOSURE: This post may contain affiliate links, meaning when you click the links and make a purchase, we receive a commission.
Bicycle Street Inn on Mackinac Island
1.
Location
Bicycle Street Inn is located at 7416 Main Street on a very crowded street in the downtown area. The road in front of the hotel is packed with senior citizens people and horses day and night.
2.
How Can You Get to Bicycle Street Inn?
There are no cars on the island, so you are stuck with a ferry or plane. Planes cost a small fortune. Go for the boat.
Check out the schedules for Star Line and Shepler's Ferry. The porters will deliver your luggage to your hotel.
Pro tip: There are different ferry options, including express and themed choices.
Bonus pro tip: Shepler's terminal is located directly in front of Bicycle Street Inn. Star Line is not quite as close, but is still an easy walk.
Extra bonus pro tip: Dress for the weather. The docks and boat ride are windy and unforgiving in chilly weather.
Yet another bonus pro tip: Occasionally, there are Bicycle Street Inn ferry discounts available. Check any current deals at the time of your trip.
3.
Bicycle Street in Mackinac Island is Small
With only 43 guest rooms and three floors total, this hotel is a small. Really small. It is also quiet and populated largely by people who qualify for Social Security. If your kids are hoping to meet other kids, this is not the place for you.
Note: The hotel is only open seasonally, from May through October.
4.
Bicycle Street Inn Michigan Rooms
While the hotel itself is small, the rooms are decently sized. They come with a bedroom and separate sitting areawhich allows for some privacy and breathing room.
Pro tip: The rooms come with a microwave, refrigerator, and coffee maker.
Bonus pro tip: None of the rooms are particularly special and the smell of horses that don't use toilets will deter you from spending much time on a balcony. Go for the cheapest room that fits your family size.
There are three room types offered:
Premium Waterview Balcony Suite King
These rooms have a private bedroom with either a king or two queen sized beds, a separate area with a queen sized sleeper sofa, and a balcony overlooking Main Street. You will be able to see the water from these rooms.
Maximum number of guests: Six
Mezzanine Guestroom
The Mezzanine Guestrooms are located on the first floor. You can choose between a king or two queen sized beds. The view is of the interior of the building.
Maximum number of guests: Four
Atrium Suite King
The Atrium Suites are on the second and third floors. They come with a king or two queen sized beds and a separate area with a single sleeper sofa.
Maximum number of guests: Five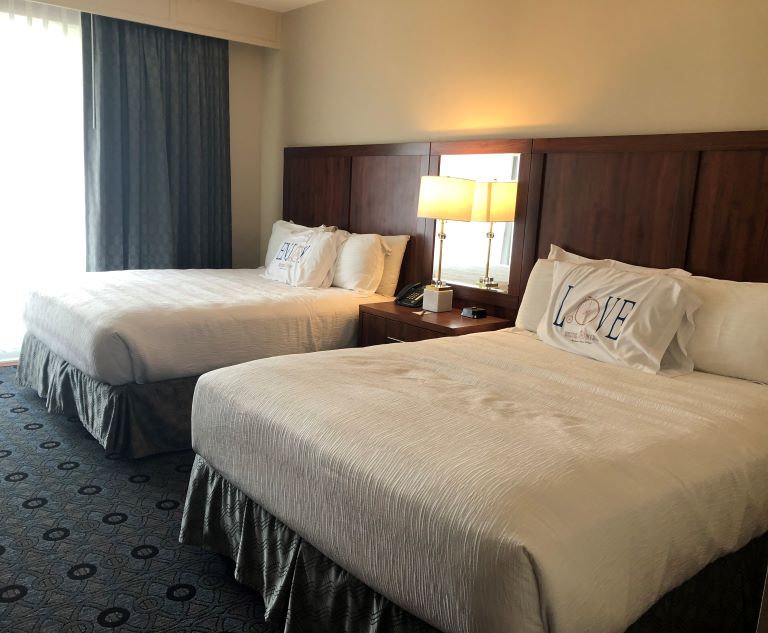 5.
Pack 'n Plays Are Available
Pack and Plays are available. Contact the hotel prior to arrival to have it placed in your room.
6.
Bicycle Street Inn Check in Time
Check in is at 3:00 p.m. If your room is ready early, they will let you in.
Pro tip: The hotel also offers a guaranteed early check in for $50 that can be booked at the time you make your reservation. This seems unnecessary. The hotel will store your luggage. Save your money.
7.
Wi-Fi is Included
Wi-fi is included with your stay.
8.
Does Bicycle Street Inn Have a Pool?
The hotel does not have a pool. If this is a deal breaker for your kids, try another property.
9.
Bicycle Street Inn Breakfast is No Longer Free
The hotel used to offer free breakfast bags delivered to your door. This perk has been discontinued. As of the time of this writing, the hotel continues to display a review on its homepage praising this service, so I understand if you are unsure whether it is available. It is not.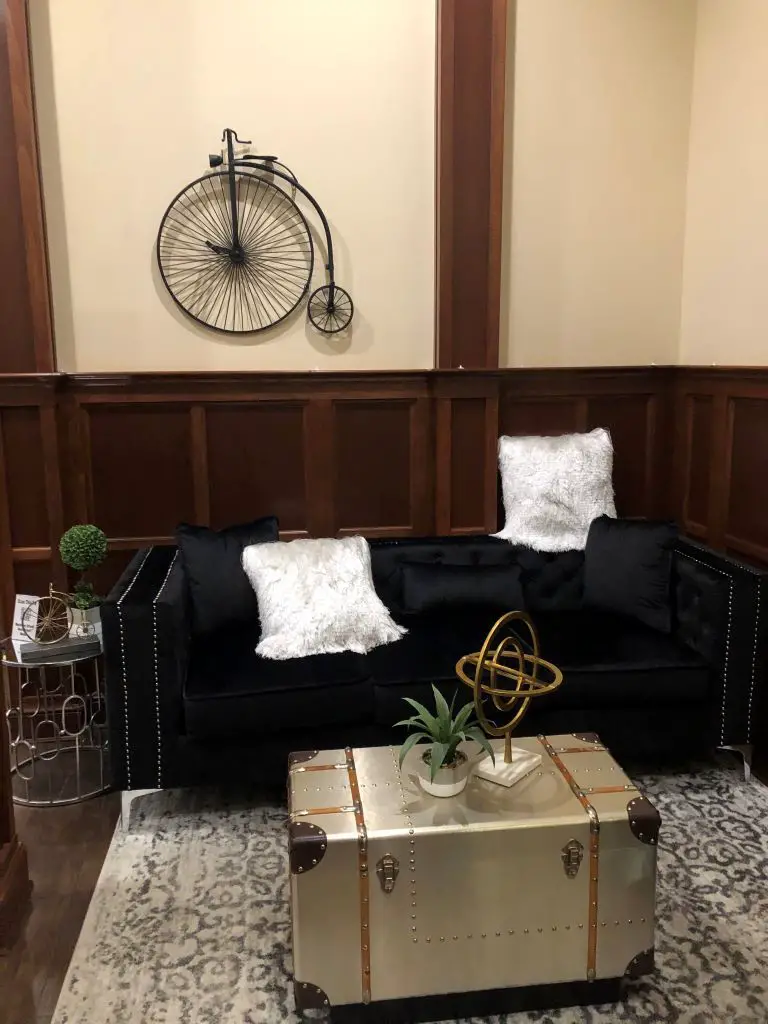 10.
Ways to Save
Given the size of the hotel and its limited season, discounts are hard by which to come. However, there are some ways to save.
Bicycle Street Inn Booking Discounts
Third Party Bookings
Bicycle Street Inn is available on third party sites like Hotels.com, Travelocity, Tripadvisor, and Expedia.
AAA Discounts
Discounts through AAA may be available.
Use Miles and Points
Miles and points are a great way to save a substantial amount on your trip to Mackinac Island.
American Express
Bicycle Street Hotel Mackinac Island can be booked on American Express' travel portal using Membership Rewards points. These can be earned using several different credit cards.
Capital One
The Venture cards from Capital One allow you to erase travel expenses from your statement. You can book the hotel directly, then remove the charge.
Chase
The hotel can be booked using Ultimate Rewards points on Chase's travel portal. You can earn these points with several different cards.
Citibank
You can book the hotel using ThankYou points from Citi on its travel portal. These points can be earned with multiple credit cards.
Discounts at Nearby Businesses
As of the time of this writing, you get discounts at the following locations when you present your room key:
Tourist Attractions
Butterfly House & Insect World
Dining
Great Turtle Brewery & Distillery – Gluten free buns are available
Kilwins – This shop has great fudge and desserts and is connected to the lobby of the hotel
Winchester's Whiskey & Bourbon Room – Gluten free items are marked on the menu
Bicycle Rentals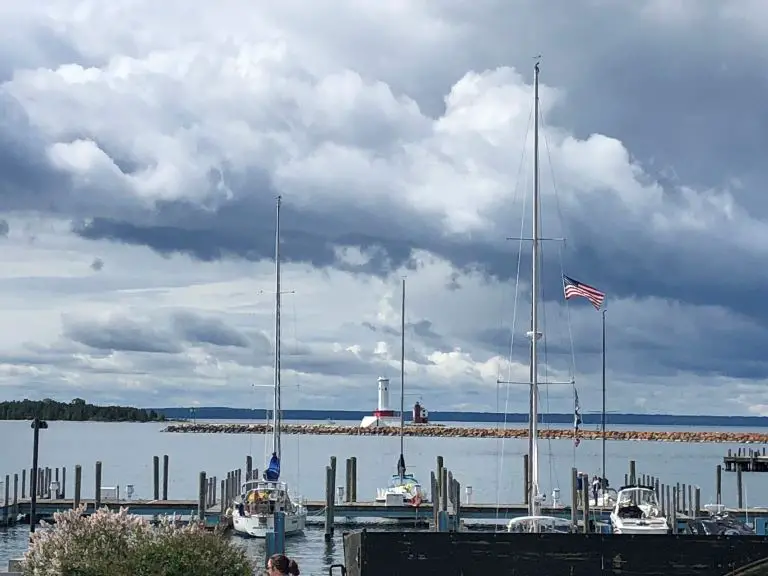 11.
Dining Options Nearby
In addition to the Bicycle Street Inn restaurant discounts listed above, there are some other choices with gluten free options in the area. You may want to consider:
Pink Pony has gluten free bread and decent food.
The Good Day Cafe has some of the best ice cream ever. Don't miss it.
For quick service, Island Slice Pizzeria has gluten free crust. With that said, I cannot recommend it in good conscience. The dining area was dirty, like chunks of cheese and pools of liquid under your table dirty, and the pizza was average at best. Takeout would be the way to go here.
12.
There is a Fitness Center
There is a teeny, tiny fitness center for guest use. Given that you are on an island with great hiking and bicycles to rent, this may not be necessary.
Pro tip: You need to get a key from the front desk to access the fitness center. Your room key won't work.
13.
Bicycle Street Mackinac Island Laundry Facilities
The hotel has laundry facilities available to guests.
14.
Most People Rent Bikes on the Island, But You Don't Need One
Bicycle rental is a hot commodity on Mackinac Island. There are no cars and a lot to access via bike. However, if you have little kids, you really don't need one. You can walk and/or take horse taxis to the vast majority of places that will interest them.
On top of that, the cost to rent bikes is stupid expensive. If you're not going to get a lot of value, skip them or bring your own.
Pro tip: If you want to rent one, check the Mackinac Island Bike Shop. You get a discount with your room key.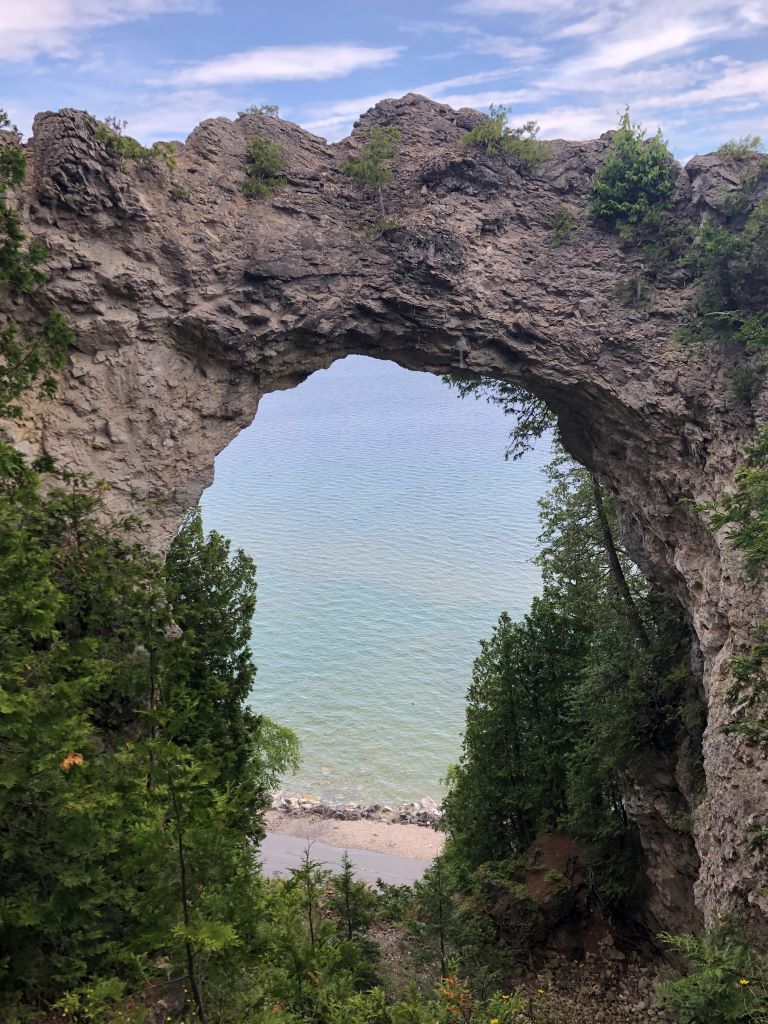 15.
You Can Store Your Bikes in the Basement
Bike storage isn't a high priority at some vacation destinations, but since there are no cars, it is huge on this island. You don't need to clutter your hotel room.
16.
No Pets Allowed at Bicycle Street Inn
You will see a lot of dogs on the island, but you won't see them at this hotel. If you want to bring your pets, you need to stay elsewhere.
17.
No Smoking
Smoking is not allowed anywhere on the property.
18.
Checkout
Checkout time is 11:00 a.m. You can request a late checkout, which is granted based upon availability.
Pro tip: The hotel porters will take your bags to your ferry for you.
19.
Bicycle Street Inn and Suites Mackinac Island MI Cancellation Policy
The cancellation policy is annoying and draconian. You have to pay a $25 fee, cancel at least 72 hours before your trip, and you can only cancel by phone.
If you miss the deadline, not only do you lose your deposit, but the hotel will charge you for the rest.
Pro tip: Double check the cancellation date in your confirmation. It is usually 72 hours before your travel, but can be longer than that depending upon your travel dates.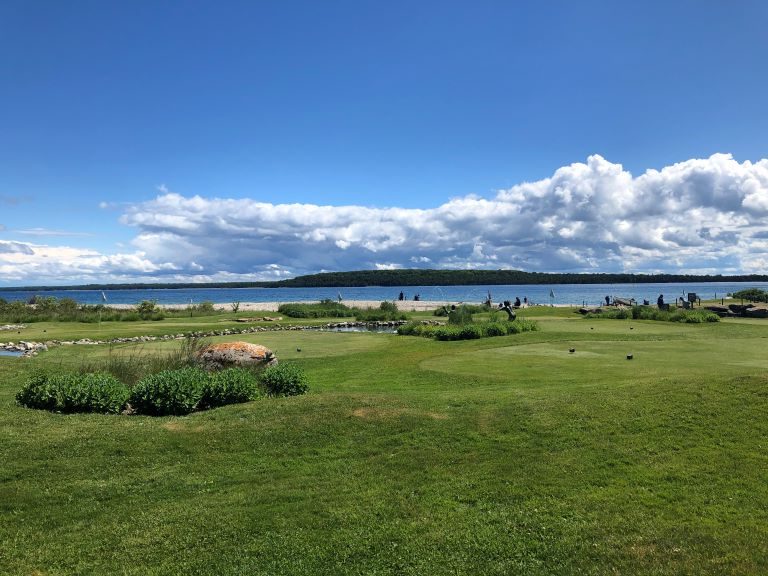 20.
Nearby Activity Highlights
There isn't a ton to do on the island that is of interest to children, but you should be able to entertain them for a couple of days. There are free public playgrounds you will encounter that are sure to be a hit. For activities you can't find elsewhere, consider:
Fort Mackinac
Fort Mackinac has several buildings to explore, people dressed in period clothing, and regular cannon firings. Kids will enjoy this area, and it will fill a few hours.
Horse Taxis
Taxis are a mode of transportation, and also a tourist attraction in themselves.
Pro tip: They are cash only.
Bonus pro tip: You have to call for a ride. You can't hail them on the street.
Extra bonus pro tip: Just because you reserve a taxi does not mean you get a private ride. You don't. They will pick up and cram in as many people as possible along the way. The driver even requested I put my paying son on my lap to squeeze in a woman who had clearly visited the fudge shops a couple of times that day. Get your mask ready if this makes you uncomfortable.
Mackinac Island Haunted Theatre
The Haunted Theatre was built over forty year ago, and it shows. It has some scary-ish displays, but no one jumps out at you.
Pro tip: The owner is great. My son wanted to quit about halfway through because he was too scared. The owner walked us through the entire building with a flashlight and told us the history of the exhibits.
Mini Golf
There is a mini golf course at the Mission Point Resort. It isn't special, and it's really expensive. It will, however, entertain your kids in a pinch.
Hike to Arch Rock
If your kids can roll, consider taking a hike to Arch Rock. You can skip rocks in the water along the way.
Pro tip: The climb has a lot of stairs. This will be challenging with a stroller.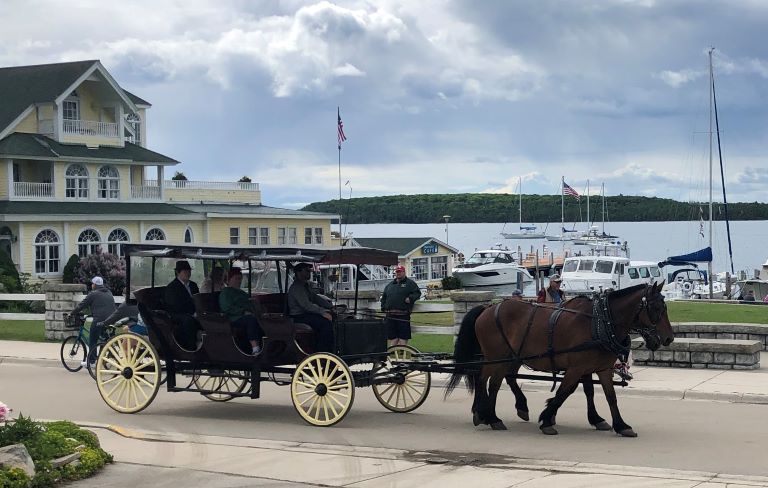 21.
Another Mackinac Island Hotel to Consider
Turns out, Mackinac Island knows it is unique. Hotels don't need pools to draw crowds. The Grand Hotel Mackinac Island is one of the few that offers one.
Is this a better option? It depends on what you want. The Grand Hotel is a giant estate. It is the first thing to which one's eyes are drawn when approaching the island on the ferry. There is an old vibe that you may or may not find appealing. It is also incredibly expensive. It may be worth it to you if you plan to spend time at the resort.
Final Thoughts – The Bicycle Street Inn Mackinac Island Michigan
Bicycle Street Inn on Mackinac Island is nice, but it isn't the best choice for kids. There is no pool, there aren't any activities, and they won't encounter other kids. With that said, the location cannot be beat. Two days is enough at Mackinac Island regardless of where you stay, so if you decide to stay here, it won't be a topic of conversation at their future therapy sessions.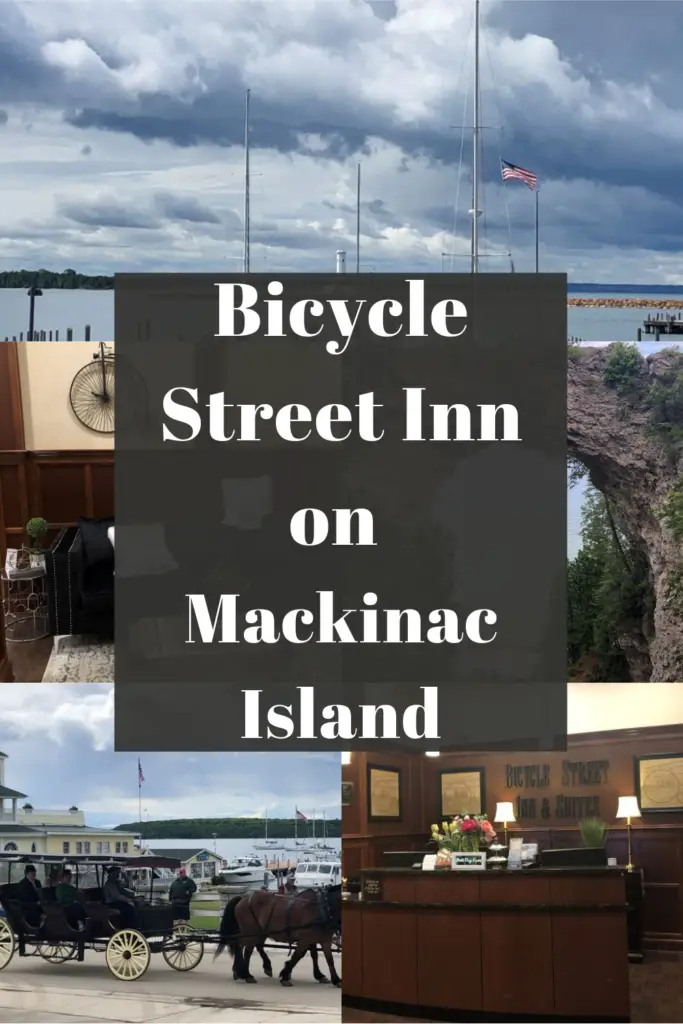 Related Articles to Bicycle Street Inn on Mackinac Island: Not Really for Kids:
Bicycle Street Inn on Mackinac Island