Disney's Animal Kingdom Lodge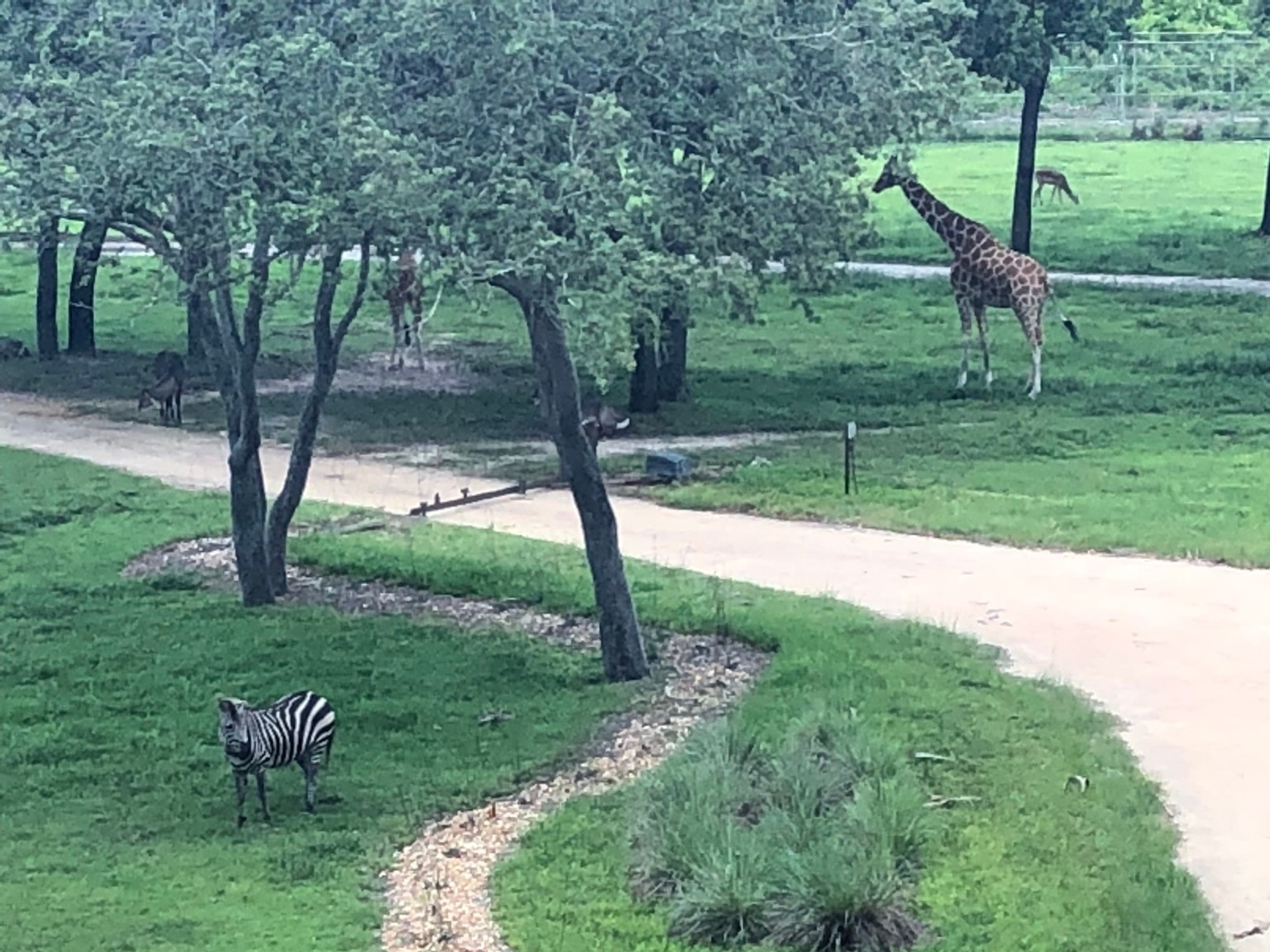 We recently stayed at Disney's Animal Kingdom Lodge at Disney World, followed by a cruise on the Disney Dream. This was a hot two weeks filled with a whole bunch of family togetherness. There were times the Torrance family from The Shining had it more together than we did. Overall though, the trip was amazing. I would do it again in a heartbeat.
As an Amazon Associate, I earn from qualifying purchases.
DISCLOSURE: This post may contain affiliate links, meaning when you click the links and make a purchase, we receive a commission.
Disney's Animal Kingdom Lodge Booking
Renting Disney Vacation Club Points
We have stayed at Disney's Animal Kingdom Lodge twice. The pictures throughout this post are from both trips, hence the time warp. On our most recent trip, we booked through David's Vacation Club Rentals. This company rents Disney Vacation Club points. The rate was basically half the price of booking directly through Disney. I have found David's to be easy to use. They accept credit cards and are very responsive.
Perks of Staying on DVC Points
You get most of the perks regular guests staying on property receive when booked on someone else's points. There are free shuttles to Disney Springs and all the theme parks.
A huge perk of staying on DVC points is free parking. For a long time, parking was free for all guests. Disney recently realized it was making it way too easy for people to pay less than $17 for a bottle of water. They remedied that by charging $25 per night to park at the hotel. It is still free if you are staying on points.
Downsides to Renting DVC Points
There are some downsides to renting DVC points. You have to book pretty far in advance to find availability. Booking opens 11 months before your travel date. I always put in the request the first possible day. You have to pay in full and it is nonrefundable. If you think you might need to cancel, you should book directly with Disney or get trip insurance.
You get limited housekeeping, but seriously, who cares? You are barely going to be in the room anyway. I don't make my bed at home. Why would I care if it is made in a hotel room? We were told we would not get trash removal and fresh towels every day, but we did. I heard they started doing this so they have daily access to the rooms for safety reasons, but I don't know for sure. Regardless, with the fresh towels, we did not miss housekeeping at all.
Disney's Animal Kingdom Lodge Overview
Disney's Animal Kingdom Lodge is beyond impressive. The lobby is immaculate. It is my favorite hotel on property. Disney World has approximately 4,000 hotels in various classes. This hotel is in the bend over and take it deluxe class. The hotel is African themed. There is art throughout the hotel which I assume is authentic, but would have no idea if it wasn't.
The resort is massive. Some rooms are located pretty far from the lobby. If a long walk everyday bothers you, make a specific room request.
Disney's Animal Kingdom Lodge Location
Disney's Animal Kingdom Lodge is an on property hotel, but none of the theme parks are walking distance. People complain about the location. While other deluxe properties are located closer to the parks with access to the monorail, Disney's Animal Kingdom Lodge only has buses. However, we never had to wait more than a few minutes, and the routes are direct to each theme park and Disney Springs. The kids were able to get a seat most of the time, despite the middle-aged, Minnie ears-wearing, park goers in turkey leg- induced tryptophan comas.
While the buses may be annoying, I have visited some of the other hotels. Disney's Animal Kingdom Lodge feels more calm. As I have mentioned before, I get a teeny bit irritated with entitled people in crowds. I will take a slightly longer bus ride over having to exercise self control any day.
Disney's Animal Kingdom Lodge Room
We booked a basic Savanna View room when we rented points. The room came with a king sized bed and pullout couch. The DVC villas often come with different sleeping arrangements than the regular rooms. If you decide to book this way, you should double check the bed situation. Our kids had to sleep on a couch. I cannot think of anything in life about which I feel less guilty, but you may care more if you have older kids who will voice an opinion. The room is nice enough, but it is a basic hotel room with nowhere to go to avoid your family.
The balcony overlooking the animals made up for the small space for the most part. We could only sit on the balcony for limited periods of time because this resort is located in the core of the sun. The balcony comes with a small table and chairs, both of which I promptly moved because I wanted to check out of the resort with both children. It seemed unlikely an animal would get involved to help if one of them fell. No opposable thumbs and all.
Do you need a Savanna view room to enjoy your stay? Probably not, but I wouldn't stay here without it.
Disney's Animal Kingdom Lodge Animals
The highlight of this resort is the animals. They have a ton, and not just wild alligators. I have never stayed at a hotel with zebras wandering around before. We woke up to some variation of this view from our balcony each morning:
I feel guilty about visiting establishments with animals. Obviously not enough to stop doing it, but I talk a good game. I googled the resort before I booked with visions of giraffes tied to trees dancing through my head. A PETA article didn't come up on page one of the search, so it must be just like the wild. The animals were free roaming. Not one of them rode a tricycle the entire time we were there.
Disney's Animal Kingdom Lodge Pool
Disney's Animal Kingdom Lodge has the Uzima Springs Pool. It is quite large. The pool didn't feel crowded despite having a lot of people in it all the time. It was zero depth entry, so kids of any age could splash in it, and has a water slide. There is a bar in the area with hyper vigilant lifeguards to scold you for drinking in the pool.
There is also a small arcade located right outside the pool entrance. This was brilliant on Disney's part because people congregate in there (and spend money) when it starts raining.
Disney's Animal Kingdom Lodge Activities
Disney's Animal Kingdom Lodge has a few activities throughout the day. The selection was fairly limited, probably because most people go to the theme parks during the day. We came upon drum lessons in the lobby one evening, which was really cute.
We saw movies playing outside at night. There were some arts and crafts in the lobby. There is also a small playground at the resort.
Kidani Village
When you stay at Disney's Animal Kingdom Lodge, you have access to Kidani Village, which consists of timeshare villas. You can walk to Kidani or ride the bus.
The lobby at Kidani Village is much less impressive. It seems to be lacking in food options. What it does have going for it is Samawati Springs Pool. The pool itself is much smaller, but it has a nice splash pad with climbing structures and water cannons. When we were there during the day, it was not crowded at all.
Disney's Animal Kingdom Lodge Club Level
On our first trip, before I learned about renting DVC points, I booked through Disney directly. We had the option to add Club Level to our stay. The "club" is a room accessible by key that has food and non alcoholic beverages throughout the day, and includes cocktails and beer in the evening. I added Club Level because it made financial sense to do so. It was about $50 more per night, and we saved on meals by eating breakfast and getting a couple of cocktails. We were always at the parks during the day, so we didn't get much use of it beyond that.
The breakfast was not that exciting for anyone, and particularly not so if you are gluten free. The food was pretty limited. I ate a lot of bananas and boxed cereal. I did appreciate the mini fridge that fed my Diet Coke addiction throughout the trip.
The club has a TV and some tables, but not much else. Notably, it does not overlook the animals. It seems like they missed something important here. This is supposed to be a premium experience. I think most people expect it to have a view. The club also comes with concierge service to help with reservations, but we never used it.
You can book Club Level using Disney Vacation Club points. I read it is harder to get, and you are not guaranteed to get a Savanna view, so I didn't even try to get it the second trip. If it makes financial sense to add it, I would, but it is not a premium experience.
Disney Dining Plan
Disney World has three dining plans, the Disney Quick-Service Dining Plan, the Disney Dining Plan and the Disney Deluxe Dining Plan. Each plan comes with a certain number of credits based upon the number of nights of your stay.
You must be staying on Disney World property to add a dining plan. It can be added even if you are staying on Disney Vacation Club points. You must book a dining plan for the entire length of your stay and each person in your hotel room must purchase one. Unlike Six Flags, Disney World has mastered the art of preventing you from sharing.
The credits are divided between quick service and table service credits. You can use your credits any way you want, so you could theoretically use them all the first day. You can also convert a quick service credit to three snack credits. The receipts you receive at restaurants show how many credits you have left.
All meal credits come with alcoholic or non alcoholic beverages. Before you get too excited about this, understand that Magic Kingdom is seriously lacking in alcohol. The rest of the theme parks and resorts offer it more liberally.
The plans also come with refillable drink mugs. The refillable mugs can only be used at the resorts, not the theme parks.
Disney Quick-Service Dining Plan
The Quick-Service plan comes with two quick service meals and two snacks per person per night of your stay. In 2020, the cost is $55 per adult and $26 per child per night. Note, a 10 year old is an adult at Disney World. Apparently the age of majority in this country is attained in 5th grade.
Disney Dining Plan
The Disney Dining Plan includes one table service credit, one quick service credit and two snack credits. In 2020, the cost is $78.01 per adult and $30.51 per child.
Deluxe Dining Plan
The Deluxe Dining Plan comes with three table service credits and two snack credits per night. In 2020, the cost is $119 per adult and $47.50 per child.
Is it Worth it?
Why would anyone buy a dining plan at those prices? Our family doesn't spend nearly that much on food!
Your family doesn't live at Disney World.
I do not think the Quick Service Dining Plan has value. You will have a hard time getting your money's worth and it will limit where you can eat.
The Deluxe Dining Plan is more food than any person would ever want to eat. Table service meals move about as fast as the grandma in The Wedding Singer. If we ate three of those per day, we would never ride a ride.
I like the Disney Dining Plan if you were going to do table service meals anyway. If you do a couple of character meals and order some alcohol, the plan pays for itself. Most of the menus and prices are on Disney World's website, so you can do the math to figure out if it makes sense for you.
I purchased fruit and donuts from Mara with snack credits for breakfast each morning. We had a few snack credits left at the end of the trip. I stocked up on bags of trail mix and Mickey treats to take home to help with the Disney withdrawal. I'm sure we could have eaten for less at quick service restaurants, but I think we got value for what we wanted to do.
I also like the idea of everything being prepaid. I personally enjoy not paying along the way on vacation. It feels more all inclusive, and it is nice to not worry about the cost of things while we're there. I paid for the dining plan using Disney gift cards I purchased at a discount. You could also purchase Disney gift cards and use them to pay at Disney World if you don't want to purchase a dining plan.
I would definitely skip the dining plans if you do Club Level. The combination of the two would be way too much food.
Dining Reservations
You often need them! You can make them 180 days before your trip, and you can book for up to 10 days of your trip on that first day. I did not realize that my first trip. I woke up each morning at 5am to make one day's reservations. Amateur.
Gluten Free Dining
Disney's Animal Kingdom Lodge has restaurants at the hotel. The buses will also drop you at Disney Springs. If you want to eat at another resort, there is no direct route. You have to take a bus to one of the theme parks or Disney Springs, then change buses. This takes a very long time. Uber has car seats. Just saying.
Between our two stays, we tried several restaurants at Animal Kingdom Lodge, Disney Springs and other resorts on days we did not visit the theme parks.
Boma
Boma is a buffet at Disney's Animal Kingdom Lodge. There are no characters. It serves breakfast and dinner. It has African food, but also some American stuff. We tried the dinner. The location was obviously convenient and the food was decent, but it was pretty crowded.
It is one table service credit on the Disney dining plan. The meal would have been very expensive for what we got had we not been on the plan. As of the time of this writing, adults are $49 and kids are $27. It would be difficult to justify that price in my mind.
With that said, it has a lot of meats, soups and salads. I could eat the vast majority of it, and it was actually relatively high quality. I am not sensitive to cross contamination, so I declined, but they do offer to have a chef walk you around and bring you safe food from the back. We will likely eat here again in the future.
I made an advanced dining reservation right at the 180 day mark, but I'm not sure that was actually necessary.
Mara
This is a quick service location. The food is definitely of the fast food variety, but it is OK. You can order hot meals. There are baked goods, snacks and refrigerators full of premade stuff. You can use quick service and snacks credits on the dining plans.
There are several gluten free options. I ordered a flatbread. It was not half bad. This resort gets excited about its Zebra Domes, which are little cakes. These are available gluten free and were also pretty good.
The employees get very worked up about food allergies. This is unnecessary in my case, but I'm sure people with severe allergies appreciate it. To order from the gluten free menu, you have to wait for a special chef to take the order. Apparently said chef has a magic pen that protects your food from gluten. I'm pretty sure this chef has to walk over from EPCOT with his pen to take your order. Ordering food from the allergy menu takes substantially longer. Plan on being there awhile.
Chef Mickey's
This restaurant is located in the Contemporary Resort. You can get there from Disney's Animal Kingdom Lodge by riding a bus to Magic Kingdom, then walking or riding the monorail to the Contemporary. You can also ride a bus to one of the theme parks or Disney Springs, then change buses to the Contemporary. Alternatively, you can accept that that will take a ridiculous amount of time and make other arrangements for a nominal fee.
Chef Mickey's is similar to Goofy's Kitchen at the Disneyland Hotel. It is a buffet with American fare. Mickey, Minnie, Donald, Goofy, and Pluto affectionately referred to as the Fab Five by Disney nerds lovers, walk around taking photos with the kids and periodically wave napkins in the air. The waving of napkins is even less exciting than it sounds. The food is fine, but not worth the price they charge. The draw is definitely the characters.
If you are sensitive to cross contamination, a chef can walk you around and bring you stuff from the back. You will have to wait for the one allergy chef at all of Disney World to walk over from Mara. On this occasion, I told the server I didn't need the chef, but she insisted I did. I didn't want to get kicked out of Disney World, so I complied. I waited. And waited. And waited.
When the chef finally came out, I told him I really thought I could figure it out. He granted me permission to go to the buffet unsupervised. There were no gluten free desserts on the buffet, but he brought me a gluten free cupcake from the back. This was nice and all, but I'm pretty sure it was baked the same weekend Free Willy hit the theaters. It was the consistency of a rock. Even the kids wouldn't touch it.
If you are on a dining plan and your kid cares about the characters, it is probably worth a stop. It is one table service credit. Paying out of pocket would have been steep. As of the time of this writing, it can be up to $60 per adult (WTF).
This was not our first character meal of the trip, so the kids were becoming less impressed by the minute. My youngest could not be bothered to put his food down to take a picture. That pineapple wasn't going to eat itself.
This restaurant is popular, so you should make reservations well in advance if you want to eat here.
Ohana
Ohana is located at the Polynesian Resort. It serves breakfast and dinner. You can get here the same ways you get to the Contemporary Resort. It is also accessible by monorail.
We had dinner. It is basically a poor man's Fogo De Chao. There are no characters for dinner. The internet led me to believe there would be Hula dancing and coconut races. I could hear some noise in the distance from our table, but we could not hear or see what was going on, and no one walked around to try to involve kids in whatever they were doing.
The servers come around with skewers of meat. The sides are family style. They had gluten free rolls. This was the best meal we had anywhere at Disney World.
I'm glad it was tasty because it was crazy expensive. This one can also be up to $60 per adult. Maybe I'm cheap, but this price would be tough to swallow. It is, however, a great use of one dining plan table service credit.
This is a coveted reservation. You want to book this one right at the 180 day mark. We tried to add another couple to our reservation the day we were going, and they couldn't even accommodate that.
Pro tip: The Electrical Water Pageant floats by the Polynesian in the late evening. If you book your reservation time correctly, you can watch the show. This show basically consists of some objects with lights floating along the water slowly.
Second pro tip: Skip the Electrical Water Pageant. It is lame. Eat when you want.
The Polite Pig
The Polite Pig is a quick service barbecue restaurant at Disney Springs. Buses from Animal Kingdom Lodge go directly to Disney Springs. In addition to restaurants, Disney Springs has several stores of interest, such as The LEGO Store, if you like overpaying for things readily available on the internet.
The food was average. Most meats and salads can be made gluten free. It gets a big thumbs down from me for not offering gluten free buns. It also applied the dining plan in weird ways. For example, a $22 piece of salmon is included, but we had to pay $5 extra to add a piece of chicken to an $11 salad. The Polite Pig was OK, but I wouldn't make a special trip.
T-Rex Cafe
This is Rainforest Cafe with dinosaurs instead of gorillas. It is heavily themed. The kids appreciated the decor.
T-Rex Cafe is located in Disney Springs, so a direct bus is available. I am not sure it is completely necessary, but it takes advanced reservations, so I would recommend making them.
The food was pretty standard. I ordered a Cobb salad. It was good, but nothing special. They do have gluten free buns. They do not offer fried items, so I hope you like seasoned vegetables with your burger. If your kids are into dinosaurs, I would consider a visit. This restaurant is one table service credit on the dining plan.
Final Thoughts
I love Disney's Animal Kingdom Lodge. It is one of my happy places. The hotel is unique, it feels serene and there is constant entertainment from the animals. It is very expensive, so I recommend trying to rent Disney Vacation Club points to save money. It is definitely worth a try if you have not been. We will be back.