The Lincoln Museum in Springfield Illinois: Wax Figures Abound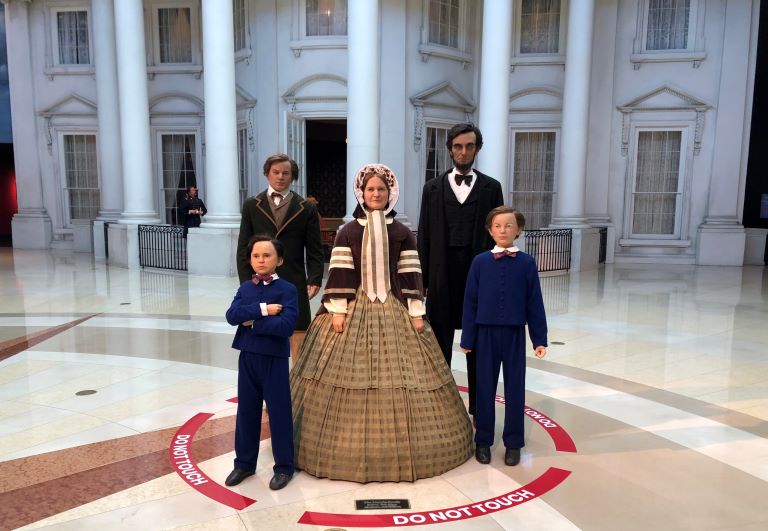 Illinois is really proud of its ties to Abraham Lincoln. It's the state's Polk High. Everyone clings to something, right? If you want to really explore this obsession in all its wax figure glory, the Lincoln Museum in Springfield Illinois should be your first stop.
What Do You Need to Know About Visiting the Lincoln Museum in Springfield Illinois?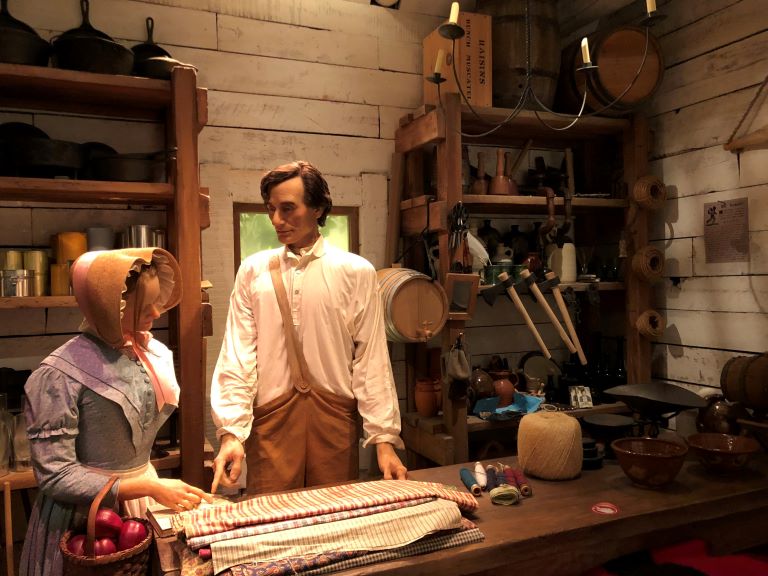 As an Amazon Associate, I earn from qualifying purchases.
DISCLOSURE: This post may contain affiliate links, meaning when you click the links and make a purchase, we receive a commission.
The Lincoln Museum in Springfield Illinois
1.
Where is Lincoln Museum?
The Abraham Lincoln Presidential Library and Museum in Springfield Illinois is located at 212 North Sixth Street. I wouldn't say there is a lot to do nearby, but you can entertain your family for the day.
Pro tip: Want to see more of Springfield? Consider a scavenger hunt.
2.
The Lincoln Museum Springfield Illinois Parking
There is a parking garage at the corner of Sixth and Madison. It normally costs $0.75 per half hour with a $9.75 daily maximum, but it appears to currently be free of charge.
Note: The parking garage closes at 7:00 p.m. Don't go on a late night bender without retrieving your vehicle.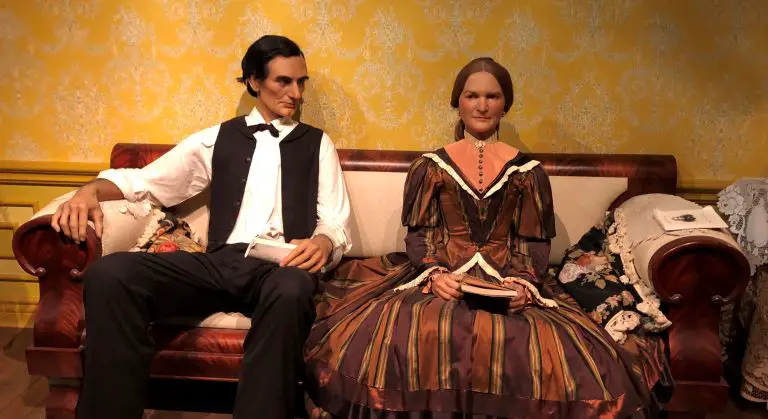 3.
Ways to Save on Lincoln Museum Springfield Tickets
How much does it cost to get into the Abraham Lincoln Museum? Not much.
This experience is not an all day affair, as is reflected in its reasonable price. You may be able to shave a few dollars off the Lincoln Museum prices with deals, but even if you can't, it isn't going to break the bank.
Tickets to Abraham Lincoln Museum Through Direct Purchase
As of the time of this writing, rack rate is $15 per adult, $12 for seniors and students, $10 for military personnel, and $6 for kids ages five through fifteen. Buy your Abraham Lincoln Museum tickets online ahead of time and select a time to enter.
Children ages four and under are free.
Check for Specials
Are you vaccinated or a student in Illinois? As of the time of this writing, that gets you in for free. These are temporary specials that will certainly go away, but check for similar promotions in the future.
Pro tip: To get your Abraham Lincoln Museum free admission if you are vaccinated, check out as normal, then select "COVID" as your ticket of choice.
Lincoln Springfield Museum Groupon
You can sometimes find deals on Groupon. Do a quick search here before purchasing directly.
Group Tours
Groups of adults can visit at a discount during normal times. This does not seem to be open to kids, so this is likely not a good option for families.
Abraham Lincoln Foundation Springfield IL Members Get in Free
Members of the Abraham Lincoln Presidential Library Foundation get free admission to the museum.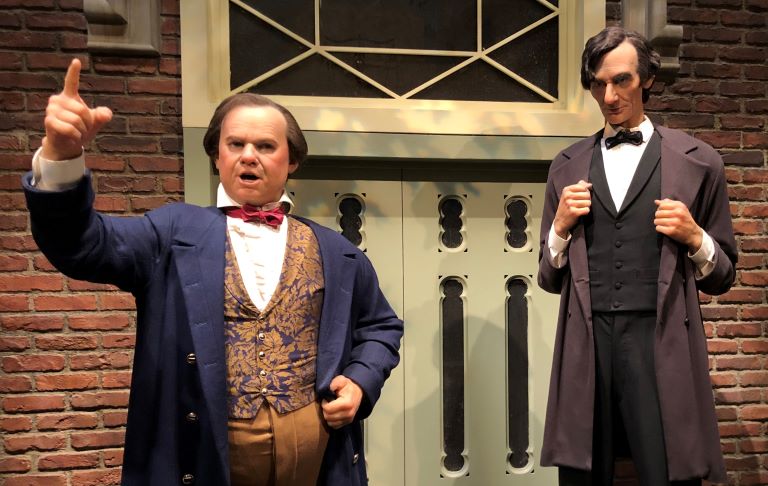 4.
Lincoln Museum Springfield Hours
The museum and Union Station are open daily from 9:00 a.m. through 5:00 p.m. You can visit year round, except on Thanksgiving, Christmas, and New Year's Day.
The library is open Monday through Friday from 9:00 a.m. through 4:30 p.m. It is closed on several holidays and requires reservations to enter, so plan ahead.
Pro tip: The Abraham Lincoln Springfield Museum is least crowded on Sundays and Mondays.
5.
How Long Does it Take?
The museum is relatively small. There are two shows worth watching. Even with both shows, you can easily see everything at a reasonable pace in three hours.
6.
Lincoln Exhibits Springfield IL
The exhibits in the museum are unique, well done and full of wax figures I would be terrified to encounter in the dark. Technology is incorporated more nicely than one would expect.
The Plaza
The Plaza is basically just a giant room through which you have to pass to enter the other exhibits. If you were hoping for a creepy photo of your family with a bunch of wax figures, you're in luck.
Journey 1
Journey 1 is a walkthrough exhibit that starts in Kentucky and ends in Washington D.C. Everything in this section is about Lincoln's time before he was president.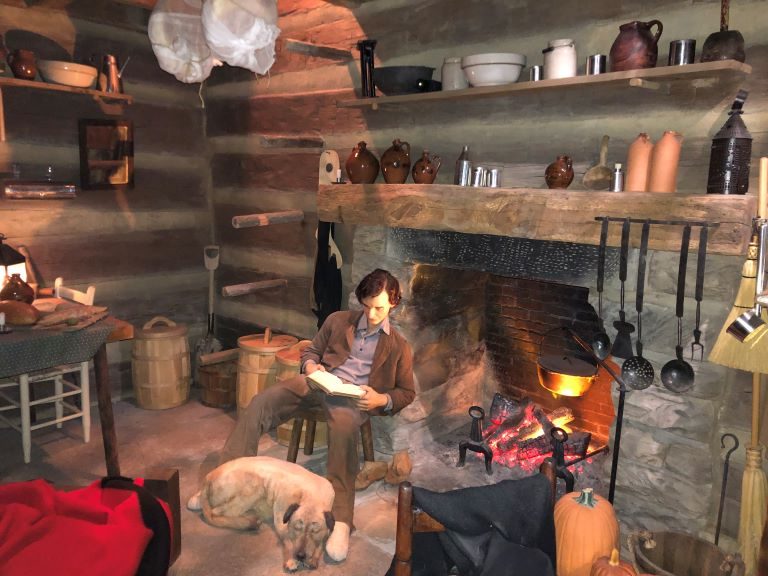 And you thought your house was crowded.
Turns out, his kids were brats.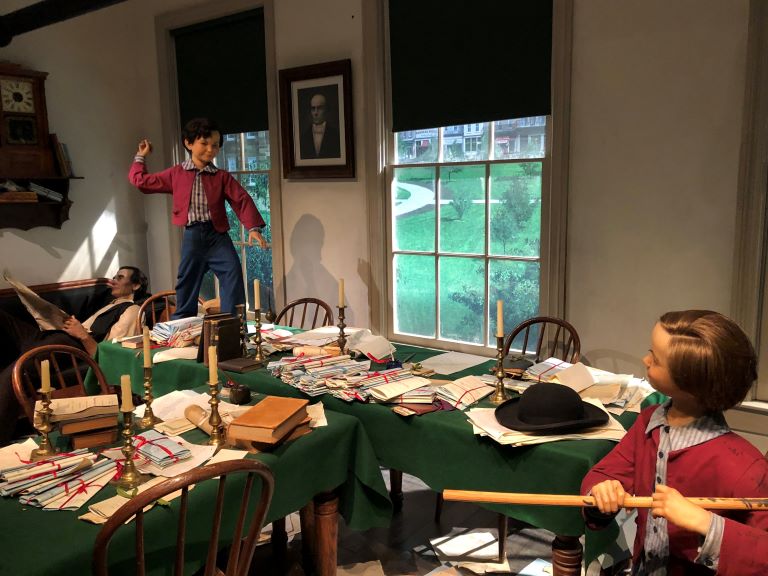 Note: The slave auction is disturbing for adults. I'm guessing young kids won't be happy to learn that Freddy Krueger owned slaves. You might want to distract them during this part.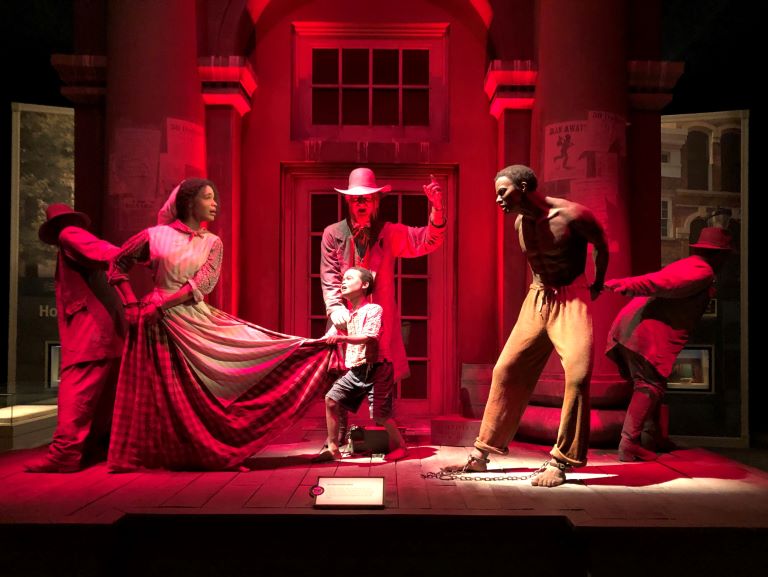 Journey 2
Journey 2 features his time in the White House through his death. The exterior of the exhibit is the White House itself.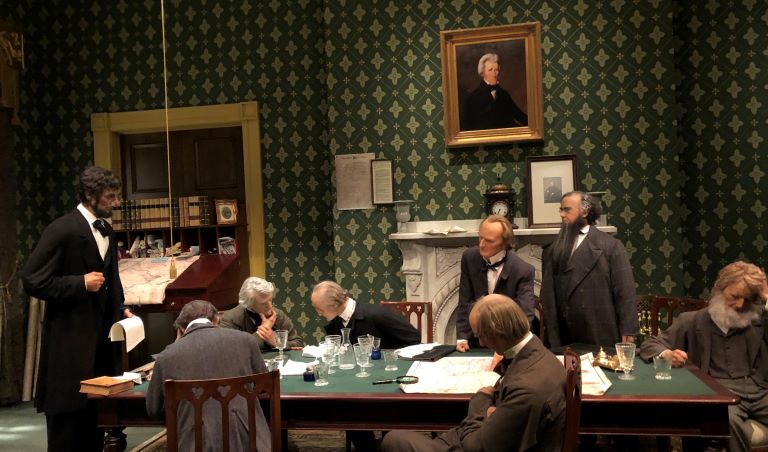 There is a section with clips from harsh media publications that is particularly interesting. The country has been blunt about its disdain for politicians all along.
Heads up: There is a section dedicated to Lincoln's young son dying. I tried to zip my kids through that one. You may want to do the same.
Treasures Gallery
Treasures Gallery houses Abraham Lincoln Museum artifacts, including documents and personal items. The display changes, but it is a certainty that it will not hold the attention of a young child for long.

Illinois Gallery
Exhibits in the Illinois Gallery change annually. It is currently featuring an exhibit called The State of Sound. Apparently Lincoln was a Chance the Rapper fan.
Check the Lincoln Museum website to see what is on display at the time of your visit.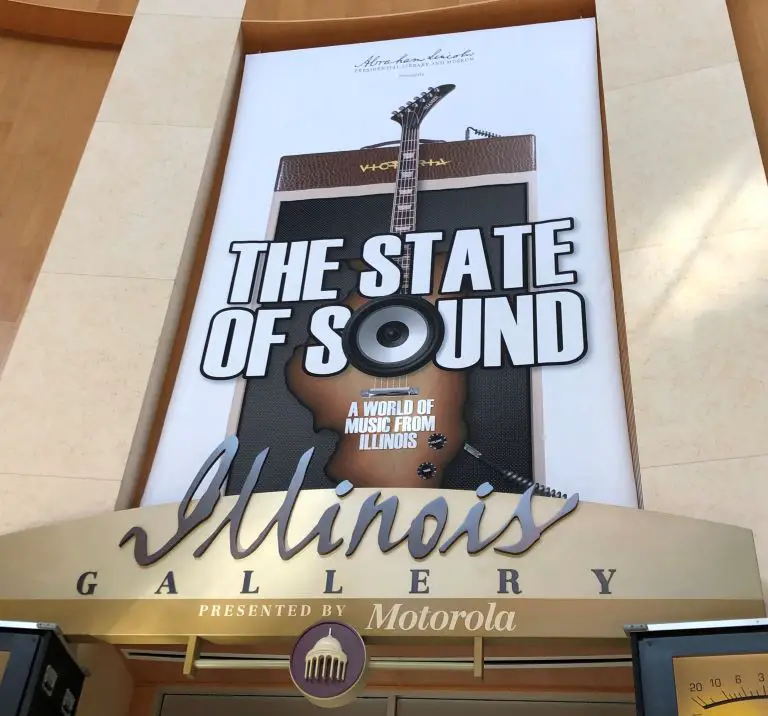 Mrs. Lincoln's Attic
Mrs. Lincoln's Attic is a small (and, really, I mean small) play area for kids. Kids can dress up, do chores, and play games in this area.
Note: Mrs. Lincoln's Attic is temporarily closed to do COVID-19.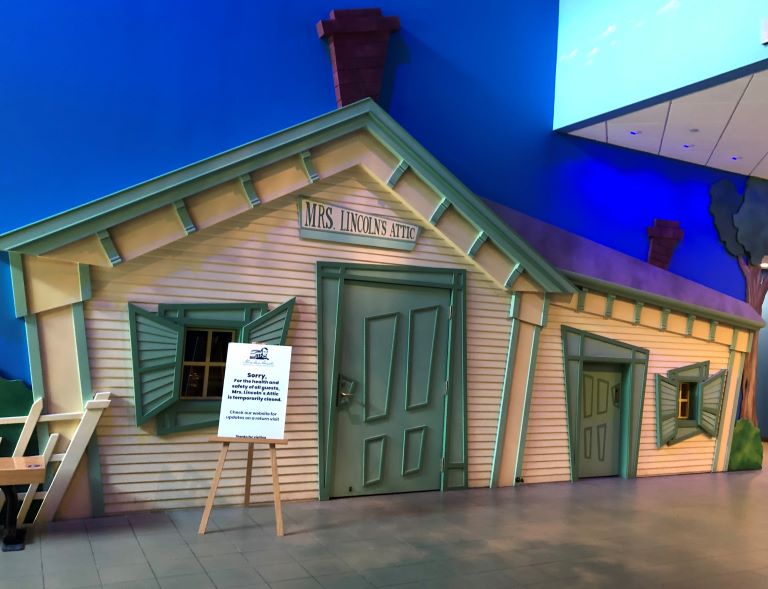 The Mr. Lincoln Theater
When open, the Mr. Lincoln Theater offers rotating mini-theater experiences.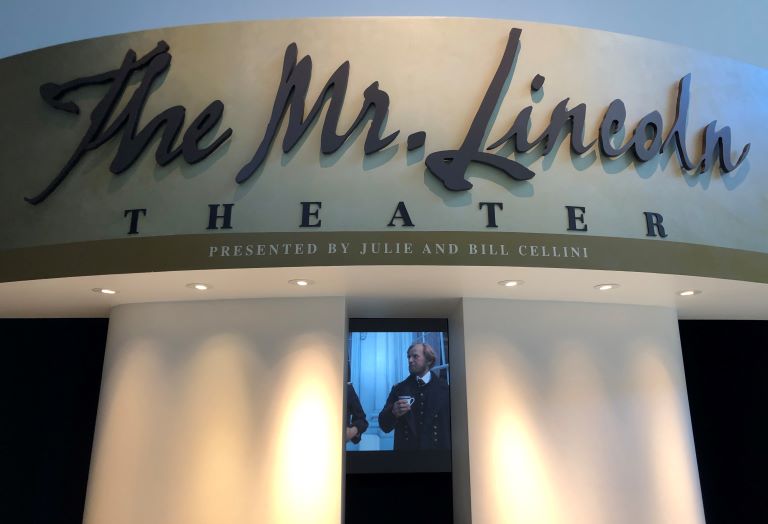 7.
Shows
The biggest surprise of the day was that the shows didn't completely blow. I am not a fan of theater. My bar was set nice and low, but the shows were much better than expected. They are worth a watch with kids.
Both shows run frequently, so it doesn't take much effort to work them into your day.
Abraham Lincoln Museum Ghosts of the Library
The Sixth Sense Ghosts of the Library plays in the Holavision theater. It is a nine minute presentation with a single live actor who turns out to be dead. Lincoln Museum holograms enter the mix. There are screens and smoke to further jazz it up.
Pro Abraham Lincoln Museum tip: The show is mild, but there are loud noises at the beginning. Consider noise canceling headphones if this will be a problem for your child.
Lincoln's Eyes
Lincoln's Eyes is more of a movie than a theater production that plays in Union Theater. It is seventeen minutes long. It was interesting, but in keeping with the theme of the rest of the museum, a little dark. If you don't want you kids to know that Lincoln's kids and a bunch of people died in the war, you might want to skip this one.
Pro tip: This show is all kinds of loud. There are also strobe lights and vibrating seats. Bring noise canceling headphones and plan accordingly.
8.
Springfield Lincoln Library Museum
Admission to Lincoln's library is included with your ticket. The museum seems to believe you will use your time there to research things. There is zero chance that is happening with small kids, but it is probably worth a walk through to see it.
As of the time of this writing, you need an appointment to enter.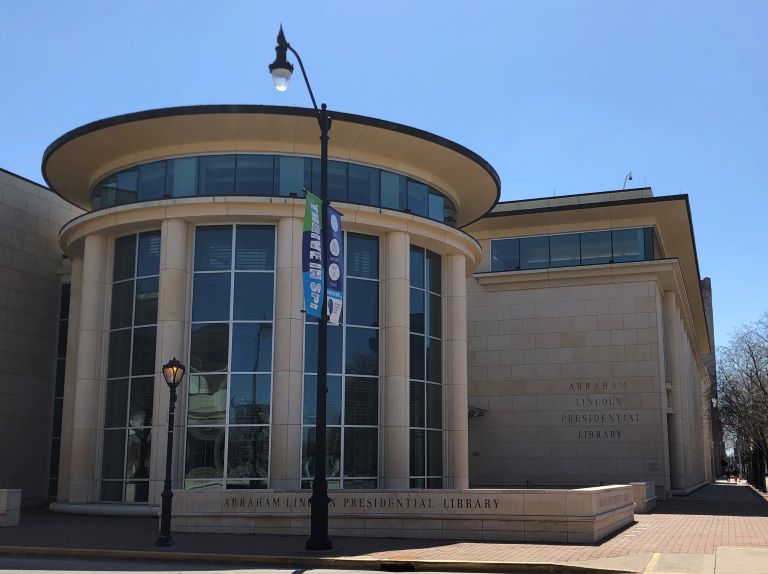 9.
Union Station
Union Station is the Lincoln train museum located directly across the street from the main building. It was an actual working train station from the late 1800s through the 1970s. The building now houses exhibits that change periodically. It is included with your Lincoln Museum admission.
Note: As of the time of this writing, Union Station is temporarily closed due to COVID-19.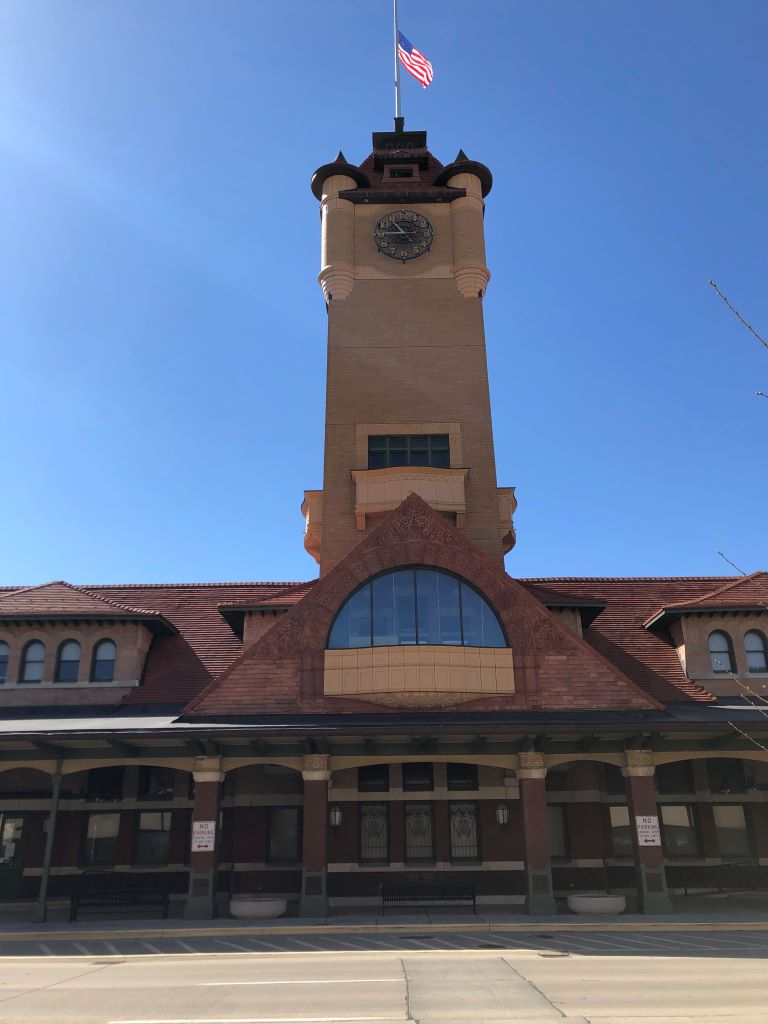 10.
No Outside Food Allowed at the Lincoln Museum in Springfield Illinois
You aren't allowed to bring in outside food, but honestly, you don't need to. The museum allows you to come and go as you please. Visit around the kids' mealtime and eat elsewhere.
11.
On Property Dining
There is a SUBWAY on property. If this doesn't do it for you, there are several restaurants within walking distance of the museum. You are allowed to leave and come back at will.
Pro tip: The Information Desk will tell you which restaurants are nearby and provide you with their menus.
12.
Abraham Lincoln Museum Gift Shop
No tourist attraction is complete without a gift shop. The Lincoln Museum Springfield gift shop does not disappoint. It is themed nicely and has a lot of unique items. Some are reasonably priced, some not so much.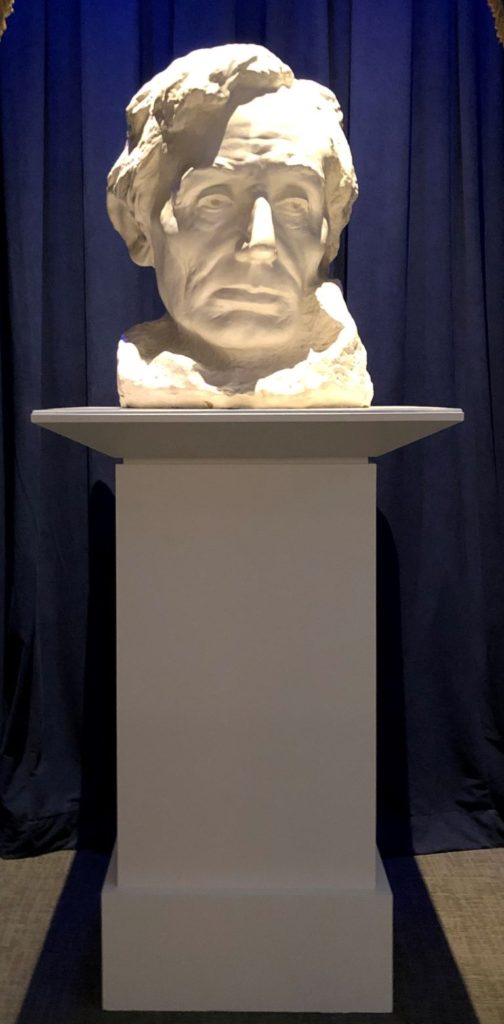 13.
COVID Precautions at the Lincoln Museum in Springfield Illinois
As of the time of this writing, there are several COVID-19 precautions in place. It is easy to spread out and avoid people in the museum, so I would not hesitate to visit during this time.
Reservations Required
Purchase your tickets in advance and reserve a time to enter the museum of Lincoln. This is a better system anyway, because you won't have to wait in a long line to check in or fight the masses.
Capacity is Limited
I can't be the only one who is excited about this. The museum is so much more enjoyable when you don't have to throw an elbow to see things. Shows are socially distanced with smaller audiences, but we had no issue getting into both.
Face Coverings Required
Masks that cover both your face and nose are mandatory for all guests.
Temperature Checks and Health Screenings
Guests' temperatures are taken upon arrival. If you have 100.4 or higher, or have been in close contact with someone who tested positive recently, you will be sent packing.
Temporary Closures
Mrs. Lincoln's Attic, Union Station, and the SUBWAY restaurant (big loss) are closed as of the time of this writing.
Touch Screens Are Disabled
Exhibits with touch screens are turned off. I only noticed this a couple of times, so I don't think it will affect your experience that much.
Social Distancing Encouraged
In a stroke of true marketing genius, the museum encourages guests to stay "one Lincoln" apart. Good thing that dude was tall. Practically speaking, I never saw an employee enforcing social distancing, but the crowds were small enough that it didn't really matter.
Enhanced Cleaning Measures
This Lincoln history museum claims to have stepped up its cleaning game. Theaters are cleaned between each show. The museum was definitely clean, so I don't doubt that the employees are cleaning more.
Hand Sanitizing Stations
Hand sanitizing stations are available for guest use throughout the museum.
Final Thoughts – The Lincoln Museum in Springfield Illinois
The Lincoln Museum in Springfield, Illinois is worth a stop. The exhibits are unique, the kids will be entertained, and the cost is reasonable. It is not, however, worth a trip way out of your way to visit. There isn't much to do in the area. You can definitely fill a day, but not much more.
If you are in the area anyway, consider a visit to the Lincoln Presidential Museum.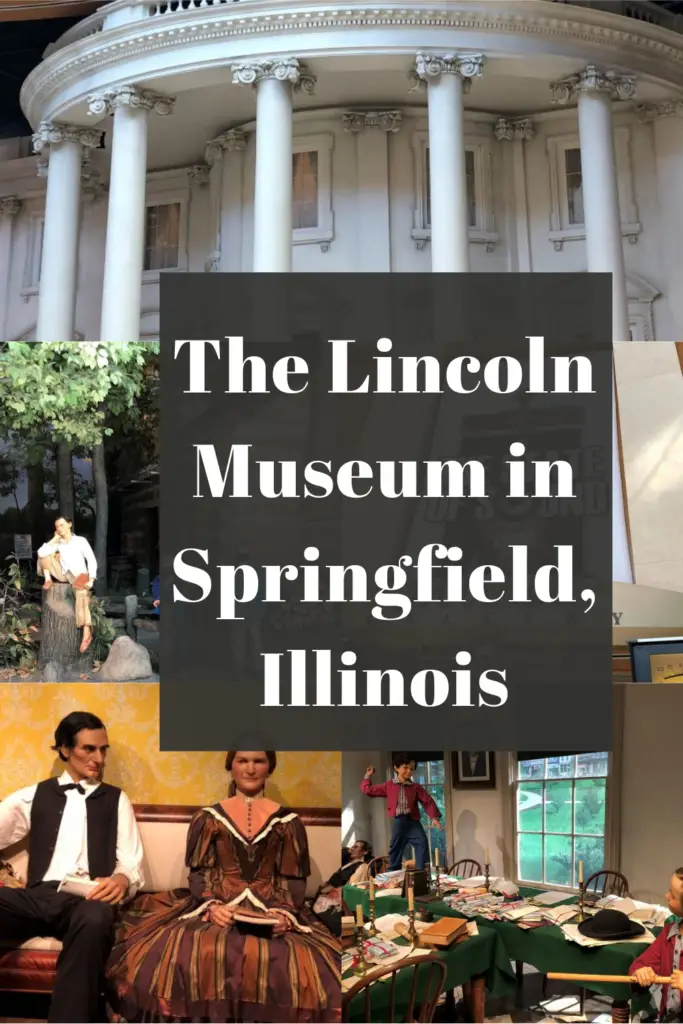 Related Article to The Lincoln Museum in Springfield Illinois: Wax Figures Abound:
The Lincoln Museum in Springfield Illinois