Governors Island Tips: There is No Shelter From the Weather
Governors Island is part of New York City, but it doesn't feel that way when you visit. It is a great place to get out of the hustle and bustle of the city. It is not a great place to get away from the weather. What Governors Island tips do you need to know to plan your day?
What Governors Island Tips Do You Need to Know to Plan Your Day?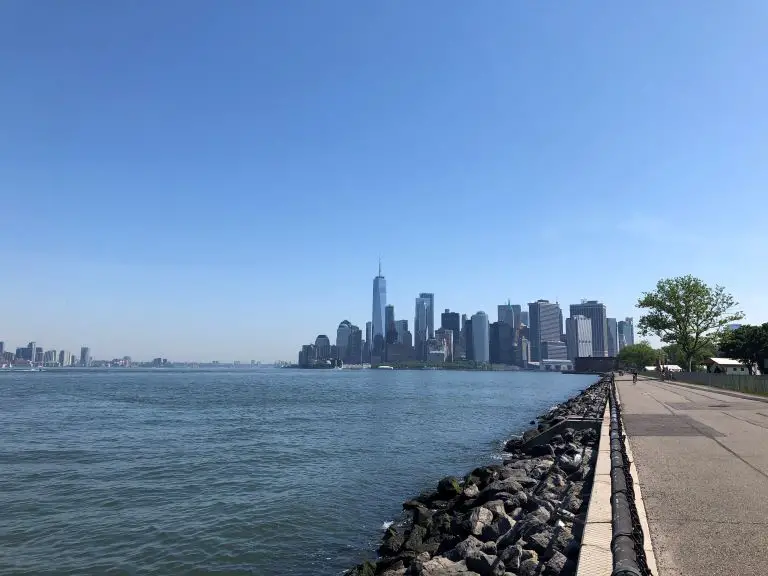 As an Amazon Associate, I earn from qualifying purchases.
DISCLOSURE: This post may contain affiliate links, meaning when you click the links and make a purchase, we receive a commission.
Governors Island Tips
1.
Governors Island Location
Governors Island is a part of Manhattan, but it is an isolated land mass that can only be accessed via ferry.
The island offers unbeatable views of the Statue of Liberty, the New York Harbor, and the Financial District. You can get great photos without fighting crowds or cropping out strangers later.
2.
Be Prepared to Walk
How long is the walk around Governors Island? It isn't a perfect circle, but the island is 172 acres. There aren't cars. Be prepared to walk.
3.
How Long Should You Spend on Governors Island?
The length of your visit will depend on what you want to see and how much time you want to spend in a hammock. With that said, three hours will be sufficient for the average person.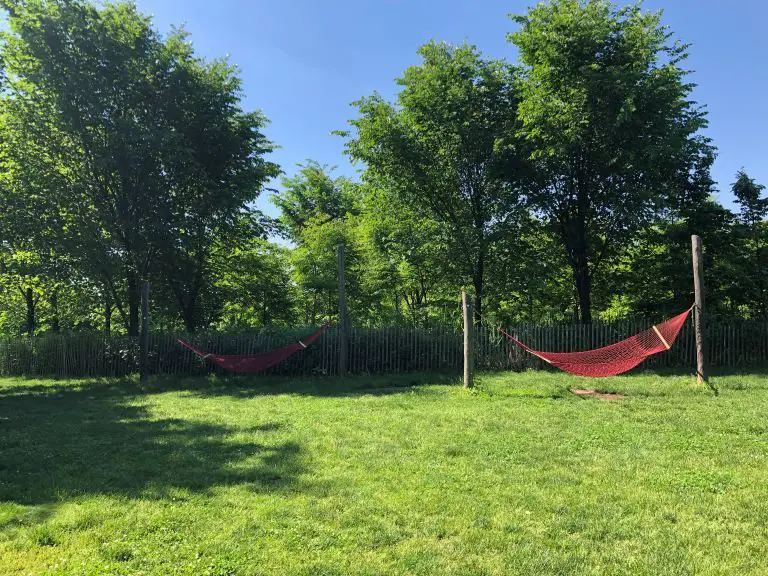 4.
There Isn't Much Shelter From the Weather
The majority of the attractions on the island are outdoors. The few indoor structures you will find aren't open all of the time. If it is hot outside, you're going to be hot. Check the weather and bring a refillable water bottle.
5.
Arrive Early for Your Governors Island Day Trip
Almost a million people visit the island each year. Do the math. That is a crap ton of people daily.
Governors Island is best enjoyed first thing in the morning before the crowds descend. The playground is not pleasant when 1,000 kids are on it. Get to the island early.
Note: If you want to do something specific at the island, check the Governors Island times. Some things are only open during specific times.
6.
Visit on a Weekday
When school is in session, the island will be less crowded. If you can visit at an off time and don't care about missing things that aren't open during the week, a weekday is a great option.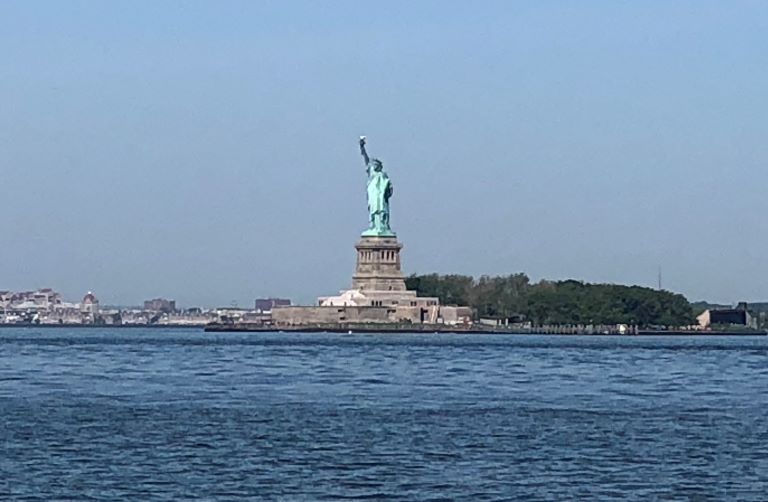 7.
Cost
How much does it cost to go to Governors Island? As of the time of this writing, admission to the island is free. You only have to pay for the ferry.
8.
How to Get to Governors Island
Governors Island is an island, meaning a body of land surrounded by water. Trying to drive there will end badly. Ferries are the only way.
Which ferry goes to Governors Island? As of the time of this writing, ferries are operated by Governors Island NYC Ferry and the Trust for Governors Island. They leave from both Manhattan and Brooklyn.
You need to reserve tickets for Governors Island, but you do not have to pick your return time. Times vary by the day. Check the Governors Island ferry schedule at the time of your visit.
How much is the ferry to Governors Island? As of the time of this writing, the cost is $4 per person for people over age 12.
How long is the Governors Island ferry ride? It takes approximately 10 minutes.
Governors Island Ferry Tips
Pro tip: Seniors, military personnel, and kids 12 and under are free. However, you still need to obtain a Governors Island ticket.
Bonus pro tip: The ferry is free to everyone on Saturdays and Sundays before noon.
Extra bonus pro tip: There is no extra charge to bring bicycles onto the ferry.
Note: You have to arrive at least 15 minutes before your departure time. The doors close five minutes before the boat sails away.
Note: As of the time of this writing, the official policy is that masks are required on the ferry to Governors Island. This rule is not enforced in our experience.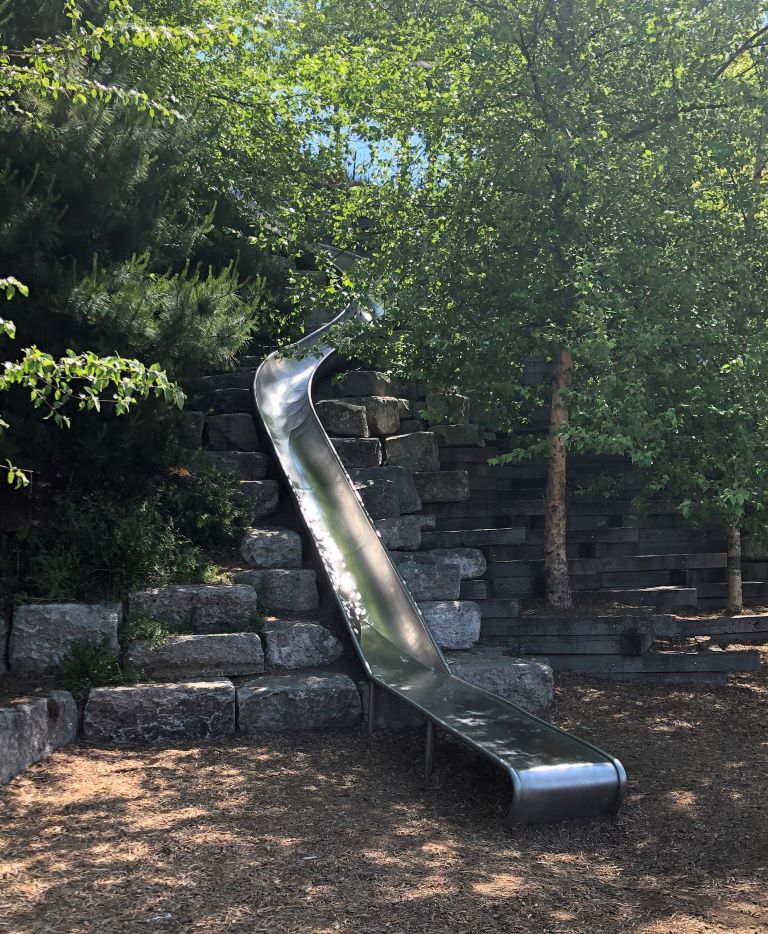 9.
When Does Governors Island Open?
As of 2021, the island is open year round to the public. You can visit between 7:00 a.m. to 6:00 p.m. Sunday through Thursday, and 7:00 a.m. to 10:00 p.m. on Friday and Saturday.
10.
What to Bring to Governors Island
You don't want to overdo it here. If it's hot, you won't want to carry a bunch of stuff around. With that said, don't forget:
A. A poncho (if applicable)
B. A hat or sunglasses
C. Snacks
F. Sunscreen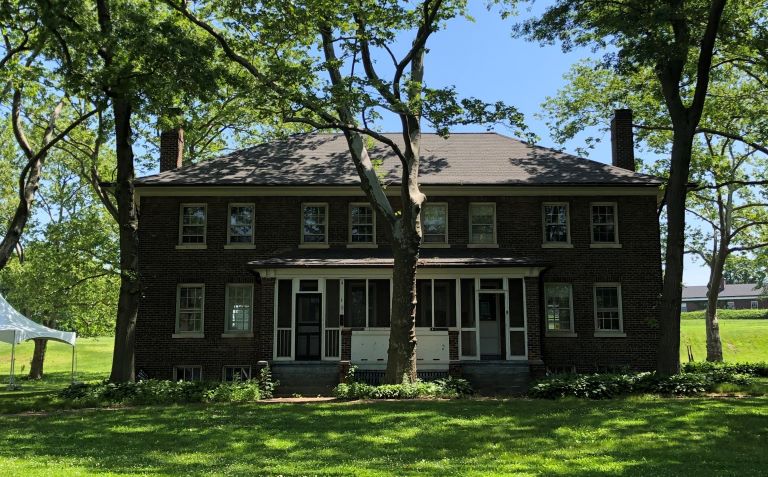 11.
What is Governors Island in New York City?
The island, dubbed "Nut Island", was originally utilized by the Lenape tribe and early settlers for fishing, beginning in the 1500s.
Why is it called Governors Island, you ask? The name was changed to Governors Island (big upgrade) in 1699 when the British needed a new residence.
The government then decided that using it for the military was a better idea. A total of three forts were constructed on the property between the 1700s and 1800s. During the Civil War, Confederate prisoners of war were housed in them.
By the 1900s, land was added to the island, allowing for more warehouses and military housing. Said land was made using dirt and rocks that were removed to build the Lexington Avenue Subway.
Eventually, the property changed hands from the United States Army to the Coast Guard in the 1960s. The Coast Guard abandoned ship (see what I did there?) in 1996, leaving a town behind.
After almost 200 years of being closed to the public, President Clinton designated part of the island as a national park in 2001, placing it under the control of the National Park Service.
In 2003, the federal government sold the remainder of the island to the City and State of New York with the stipulation that it be used for public benefit. Governors Island guided tours began in 2003, and the island opened to the general public in 2005.
12.
The Governors Island Map Leaves Something to Be Desired
The island has a map posted throughout. Some find it confusing. Take a look before you visit to familiarize yourself with the area and make a touring plan.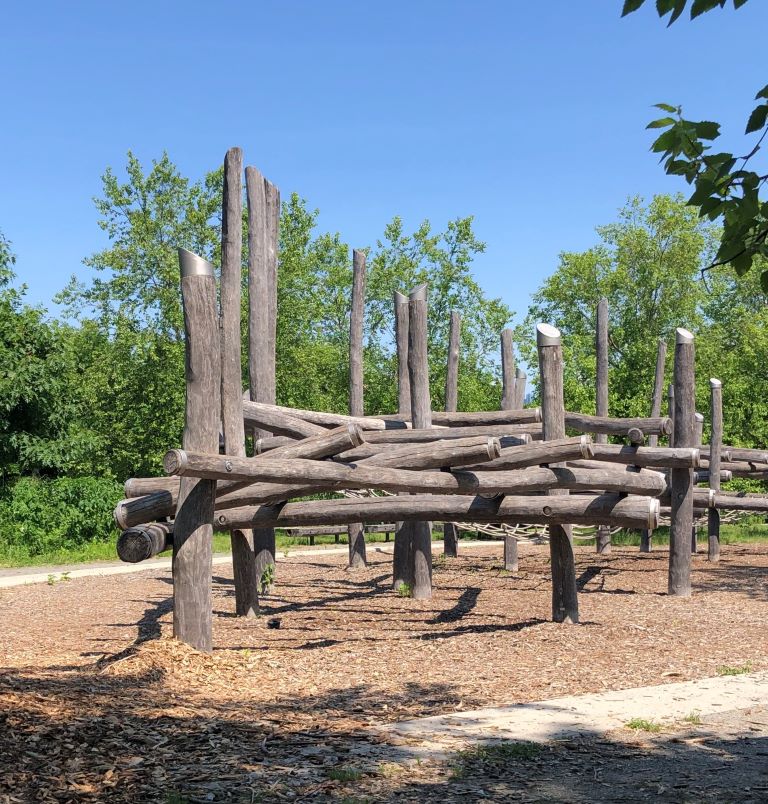 13.
What Are Some of the Best Things to Do on Governors Island?
There are several Governors Island activities from which to select.
Visit The Hills
The Hills section encompasses several different hills.
The highlight for young kids is definitely the Governors Island Slide Hill which features a total of four slides, one of which is the longest slide in New York City, clocking in at 57 feet, or three stories.
Outlook Hill is also fun for kids. The area has a ton of large rocks on which you can climb 70 feet from ground level. It is not an ideal place to be if you have a stroller or mobility issues, but there is an accessible path nearby.
Pro tip: Both the rocks on Outlook Hill and Slide Hill are not in perfectly straight lines. You will not be able to see your kids if they get very far ahead of you.
Visit the Governors Island Forts
Some of the most popular Governors Island attractions are the three forts, Fort Jay, Castle Williams, and the South Battery. The structures are not always open to the public.
As of the time of this writing, Fort Jay and Castle Williams are open on Saturday and Sundays.
Lay in a Governors Island Hammock
Hammock Grove has quite a few hammocks. And sheep. Obviously.
Note: Sometimes teenagers and adults like to lay in hammocks. In pairs. You get it.
Rent Equipment
If you spend a lot of time in New York City, you understand that biking among the traffic is not unlike a game of Frogger. There aren't any cars to take you out on Governors Island.
You can rent a bunch of stuff on the island from Blazing Saddles bike rentals, including surreys and scooters.
During the winter, a Governors Island winter village appears, at which time you can rent ice skates and sleds.
As of the time of this writing, you can also rent kayaks for free from Downtown Boathouse.
Pro tip: Bring your own bike. There is no extra charge.
Bonus pro tip: You can rent something for free for one hour on weekdays between 10:00 a.m. and noon.
Play on a Governors Island Playground
When your kids are ready to burn some real energy, there is a playground in the Hammock Grove area, an adventure playground called The Governors Island Yard, and a boulder on which to climb.
Note: The playgrounds are not open all the time. Check the hours at the time of your visit.
Splash in the Liggett Terrace Fountains
There are fountains in the Liggett Terrace area where kids can get wet and cool off.
Take a Free Governors Island Tour
There are free, one hour Governors Island walking tours that leave from the Welcome Center. Check the schedule at the time of your visit.
Go Fishing
Visitors over age 16 can fish, but the island doesn't make it easy. You must catch and release, and you have to hold a New York State fishing license.
Check Out the Governors Island Art Exhibitions
New York loves its artwork. This island is no exception. Some Governors Island exhibits are permanent, while others rotate. Check the offerings at the time of your visit.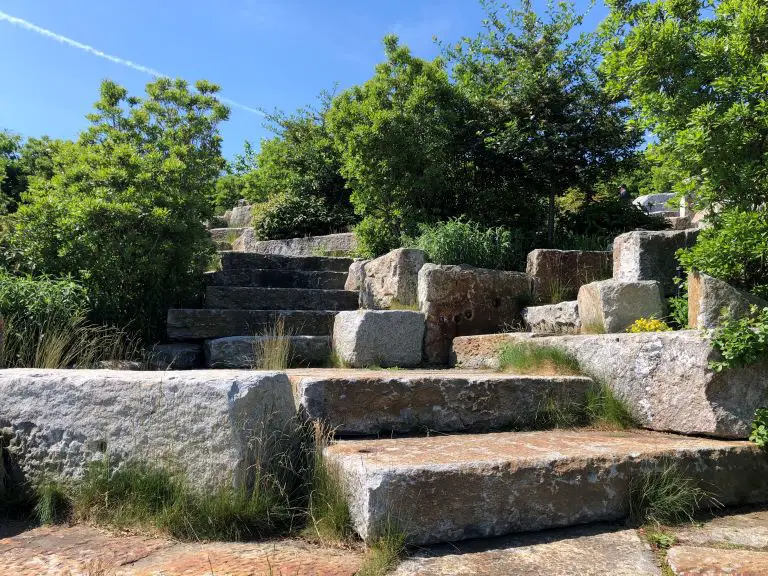 14.
There Are Governors Island Restaurants
Does Governors Island have food? Yes there are a bunch of options.
The island has several food and beverage options, most of which are housed in trucks. Gluten free and other allergy friendly options are available. Check the offerings at the time of your visit for both food and Governors Island bar options.
15.
Can You Bring Food to Governors Island?
You can bring outside food to the island, but you cannot bring your own alcohol. There is alcohol available for purchase. Governors Island picnic tables are available. You can even reserve a grill.
16.
The Bathroom Situation Isn't Great
Actual bathrooms are located in the Lower Manhattan Cultural Council Arts Center building near Soissons Landing. Other than that one location on the huge island, there are some trailer restrooms and portable toilets.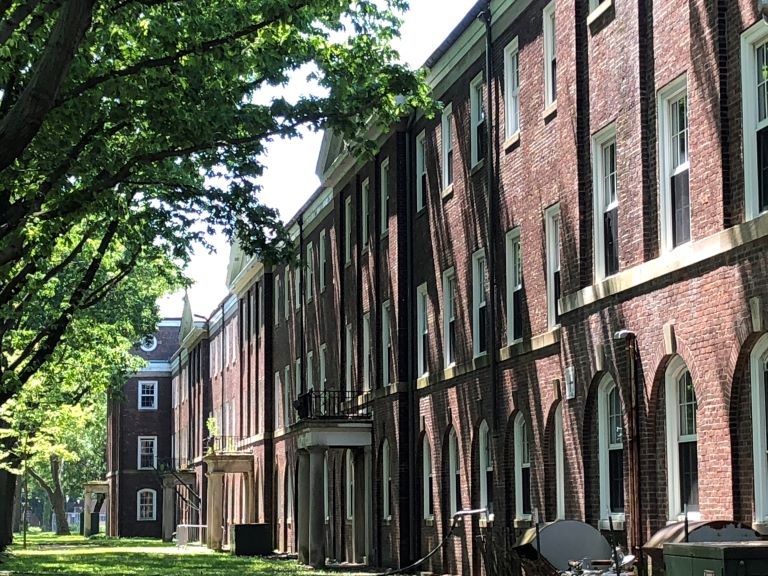 17.
It Has a Governors Island Day Spa
QC NY Spa is located across from Army Barrack buildings (as all good spas are). The spa features saunas, steam rooms, a full service treatment menu, and Governors Island pools. You definitely need a reservation.
18.
There Are Special Governors Island Events Throughout the Year
The island hosts events throughout the year. Some options may include special art exhibits, movies, concerts, and marathons. Check the offerings at the time of your visit.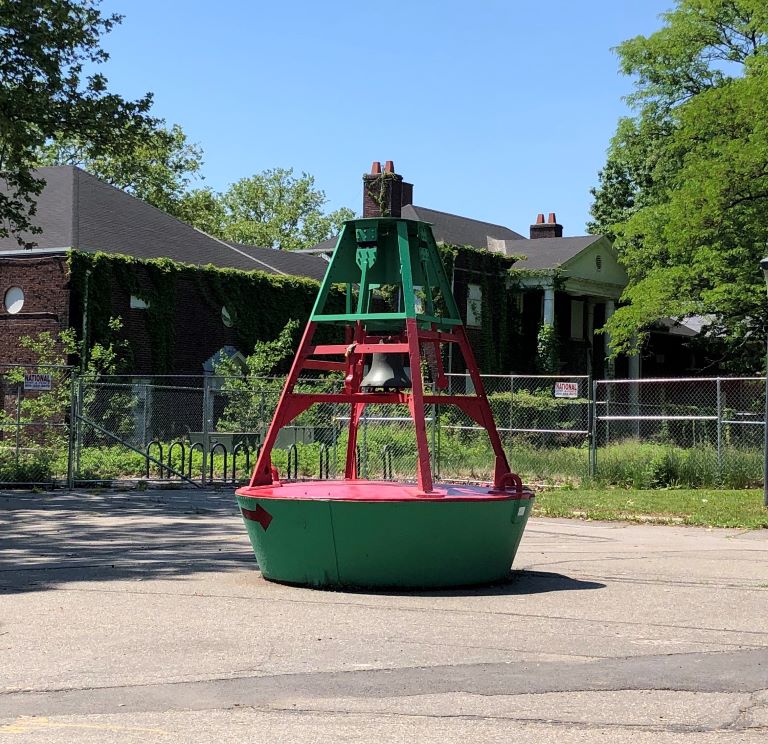 19.
You Can Go to High School on the Island
Perhaps the most mind blowing thing about the island to us is that it has its own public Governors Island school (but no residents).
20.
Does Governors Island Have Wi-Fi?
The island has free Wi-Fi for guests.
Note: Outlets are not readily available. Be sure to bring a portable cell phone charger.
21.
Governors Island Glamping is a Thing
Can you stay on Governors Island? Yes, you can. Glamping, Real Housewives-style, is available through Collective Retreats.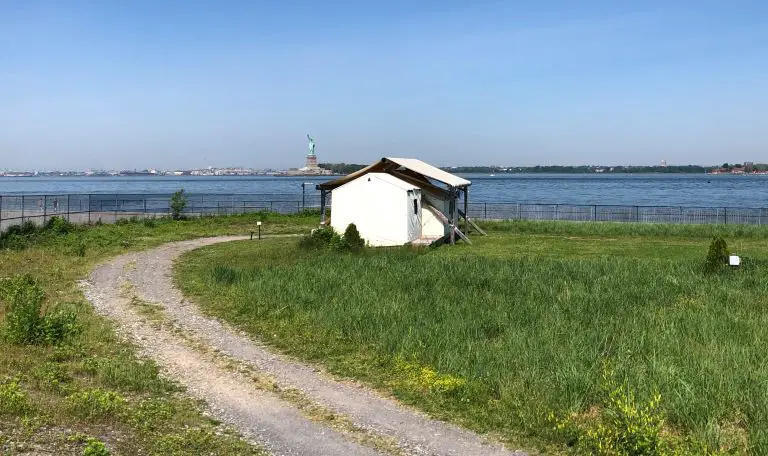 22.
Can Dogs Go to Governors Island?
As of the time of this writing, the official policy is that dogs are not allowed. However, the island recently tested a program that allowed dogs to visit during specific times. Check the official policy at the time of your visit.
23.
The Island is Smoke Free
Smoking is prohibited on the entire island.
24.
It Might Be Haunted
Lots of people died on Governors Island. Lots. And lots. And lots. Of people. Oh yeah, and there are still bodies there. It is no surprise that people have claimed to have seen ghosts.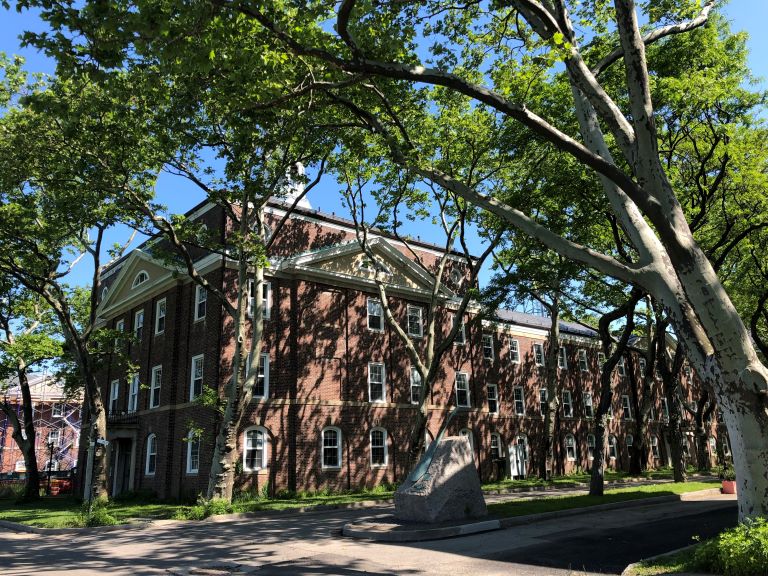 Final Thoughts – Governors Island Tips and Tricks
Is it worth going to Governors Island? Absolutely. It offers amazing views of Manhattan and the Statue of Liberty, has a ton of history, allows you to escape the hustle and bustle of the city, and comes with a fun ferry ride.
A lot of the attractions aren't open all the time, so check the schedule before your visit to ensure you will get to do what you want.
Use the Governors Island tips that help you to plan your trip and give it a try. You will not regret it.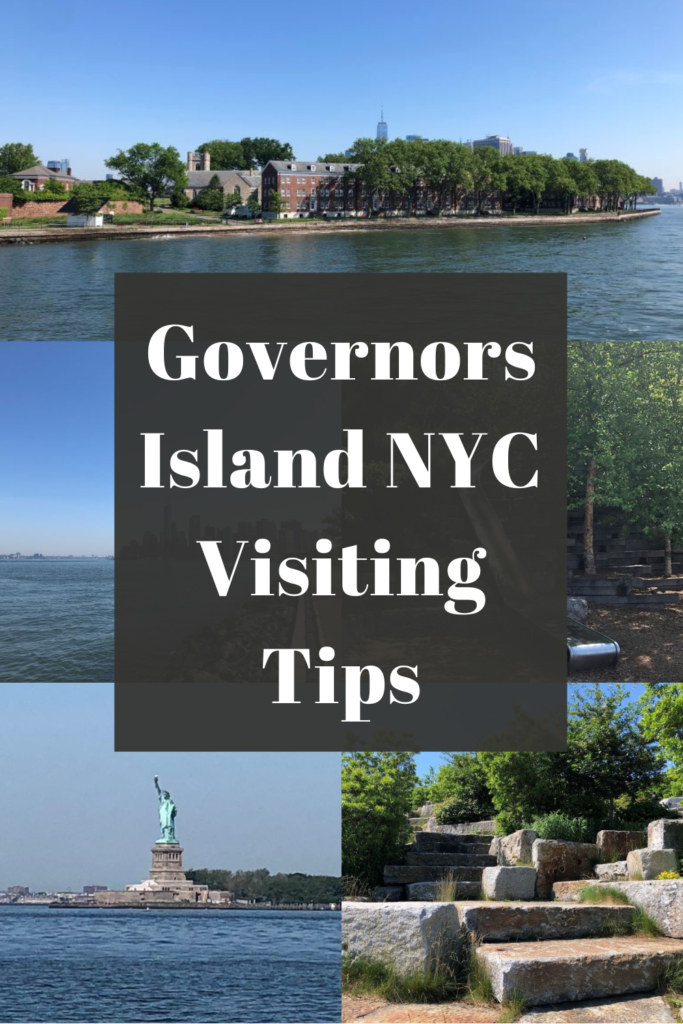 Related Articles to Governors Island Tips: There is No Shelter From the Weather:
Governors Island Tips